Last Updated on November 8, 2021 by Ran
Manila, August 11
03:30
K's phone alarm goes off. He stirs in his sleep, murmuring something unintelligible. Annoyed at the repetitive beeping, I reach over to the other side of the bed, turn off the alarm, and close my eyes. Back to dreamland~
06:15
I wake up to someone calling my phone. 5 missed calls, dozens of messages. Apparently, K and I had just missed the Partas bus going to La Union. Oh no. Oh jeez. We still have to take a bath and prepare. I still have to flat-iron our clothes. I still have to pack our 'baon' for the day. I still have to… oh man, oh no. We're late! I scramble out of the bed in a panic.
08:15
We're now making our way through the crowded and high-traffic EDSA road to the Cubao bus terminals. It's a busy Saturday and one look at the speed of cars can tell you that. I cross my fingers, hoping that there are still available seats on the bus.
09:05
Finally, we arrive at the Genesis Bus Station, which was one of our transportation options. We did some research beforehand and found that there are various ways to reach San Juan, La Union, if you're coming from Cubao bus terminals.
Genesis – Baguio-bound, ask to stop at La Union
Partas – La Union, Vigan, or Laoag-bound
Victory Liner – Baguio-bound, ask to stop at La Union
Dominion – Vigan-bound, ask to stop at San Juan, La Union
I chose the Genesis Bus specifically because I remember it from my high school years. Our school would always hire Genesis for our annual field trips, so in my mind, it's already a trusted brand.
Unfortunately, when we get to the station, the dispatcher tells us that the Baguio-bound bus doesn't stop at La Union, and we have to take the another bus instead. Sad. 🙁
So we we walk around, looking at all the Cubao bus terminals to see if there are any La Union-bound buses. We eventually find one in the Dominion Bus Line. Surprisingly, the fare is way cheaper than all the other bus lines we researched online.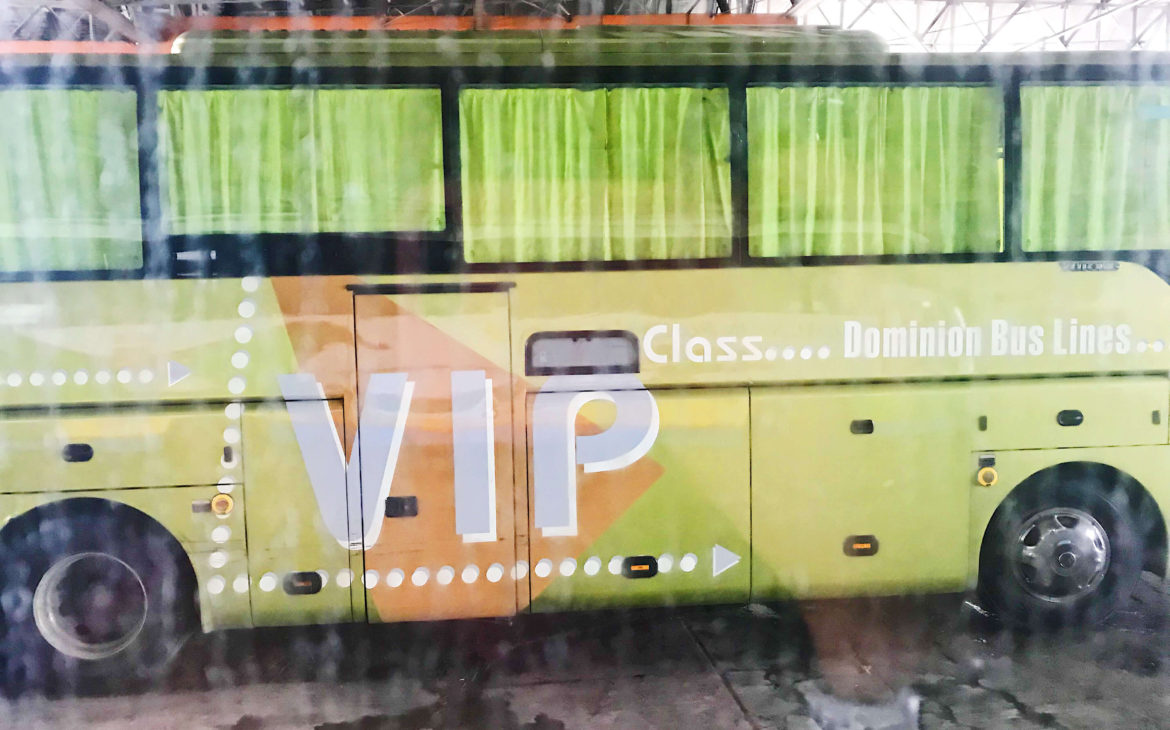 The fare is only ₱390, cheaper for someone like K who still has a student discount. My friends, who took Partas, paid ₱524 each. All of sudden, K and I don't feel so bad about waking up late.
09:57
Just three minutes before the clock strikes 10, the bus slowly comes to life. Before we know it, we're already heading off to La Union.
11:25
K is sleeping soundly beside me, his head falling off to the side over and over again. I'm trying to catch his head with my hand, but he keeps removing it. Oh well, I'll let him sleep.
Meanwhile, I'm coordinating another upcoming trip with some high school friends of mine, this time for my and another friend's birthday. It's the 9th birthday that I'm celebrating with Mimi! Last year, we went to El Nido, Palawan, where we had a lot of fun island-hopping and exploring the town. We even met other backpackers at our hostel.
Can you guess where we're going next? Feel free to let us know your guess in the comments below!
Hint: it's a well-known tourist destination that's very near to Manila. Unlike last year where we had already booked and planned the trip months in advance, this time we're running out of time and money, so we're just going on a budget overnight trip somewhere nearby.
Dagupan, Pangasinan, August 11
12:00
I receive a call from one of our friends, asking me to prepare the Booking ID for the resort. Thanks to Agoda, we actually got this resort room for a steal! They still haven't checked in, but they're already in Puerto de San Juan, apparently, enjoying the waterpark. From the looks of it, I guess we made the right decision when choosing which resort to book!
12:45
We stop over for a quick food and restroom break. Something else happens during this time. Hopefully, this won't ruin the rest of our trip.
La Union, August 11
14:39
Just a few meters away from our resort, we alight the bus right in front of the San Juan Public Market. This is actually nearer than our resort from La Union 2016, Costa Villa Resort.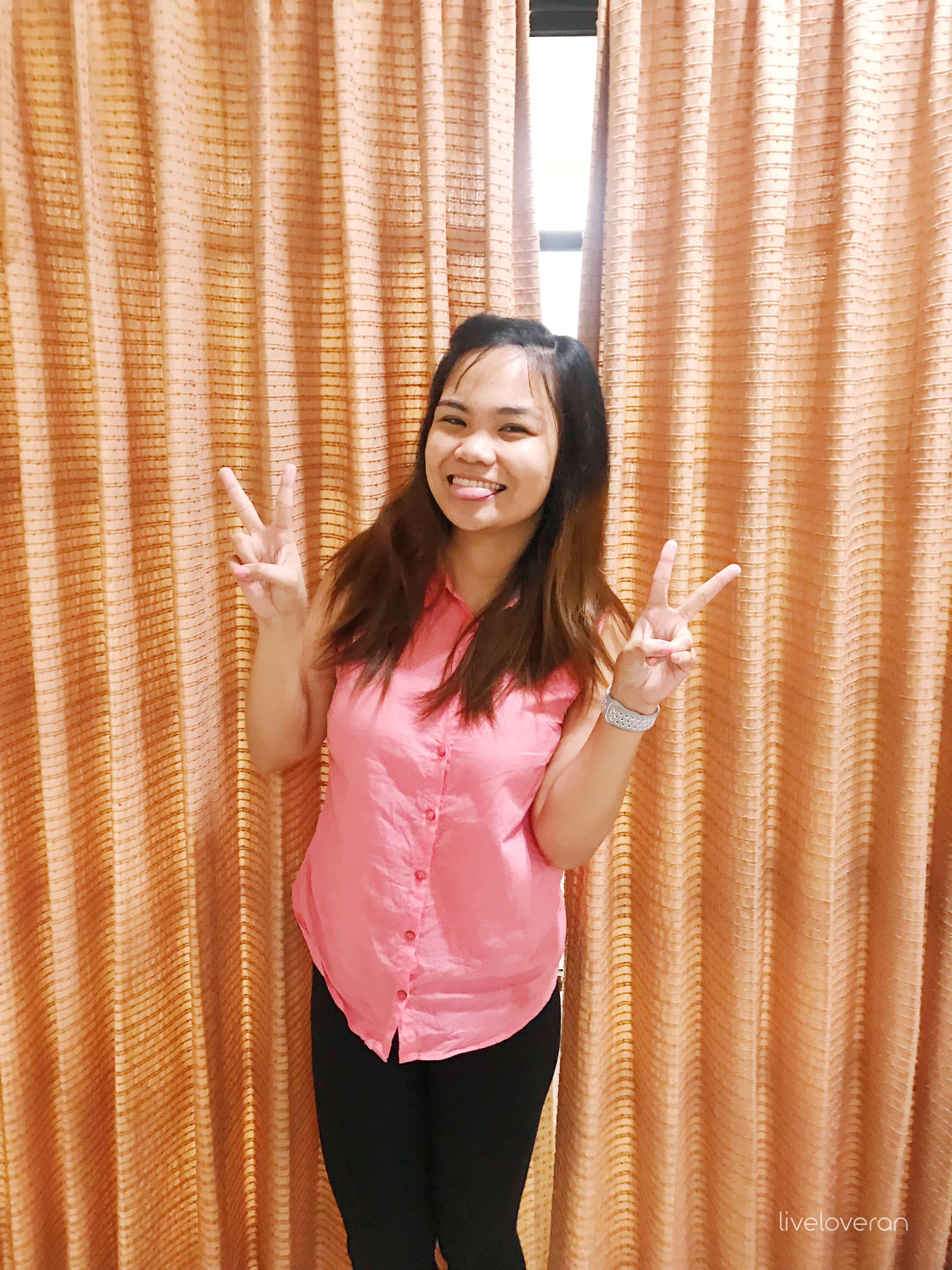 Aaaah, after such a tiring day, we finally get to rest! Plus, I am absolutely amazed and awestruck at how nice this place is! I did check out reviews before coming here but I didn't expect that it would look this nice!
15:45
We leave for the public market to try to get some quick grabs. Luckily, from the resort, the public market is only a walking distance away. It's also near a mini-mart and a 7/11.
I think we picked the wrong time in coming to La Union, because we didn't realize that it would be raining this hard. It's raining so much we all walk back to the resort half-wet.
16:40
And we're now back at our room. K is still bummed out about what happened earlier. To be safe, remember to always keep an eye on your belongings and stay aware of your surroundings at at all times!
18:30
We head to the pool area to go check out the amenities. Damn, this rain is much worse than we thought! The entire path from our cabin to the actual hotel is flooded. How high? Almost knee-high.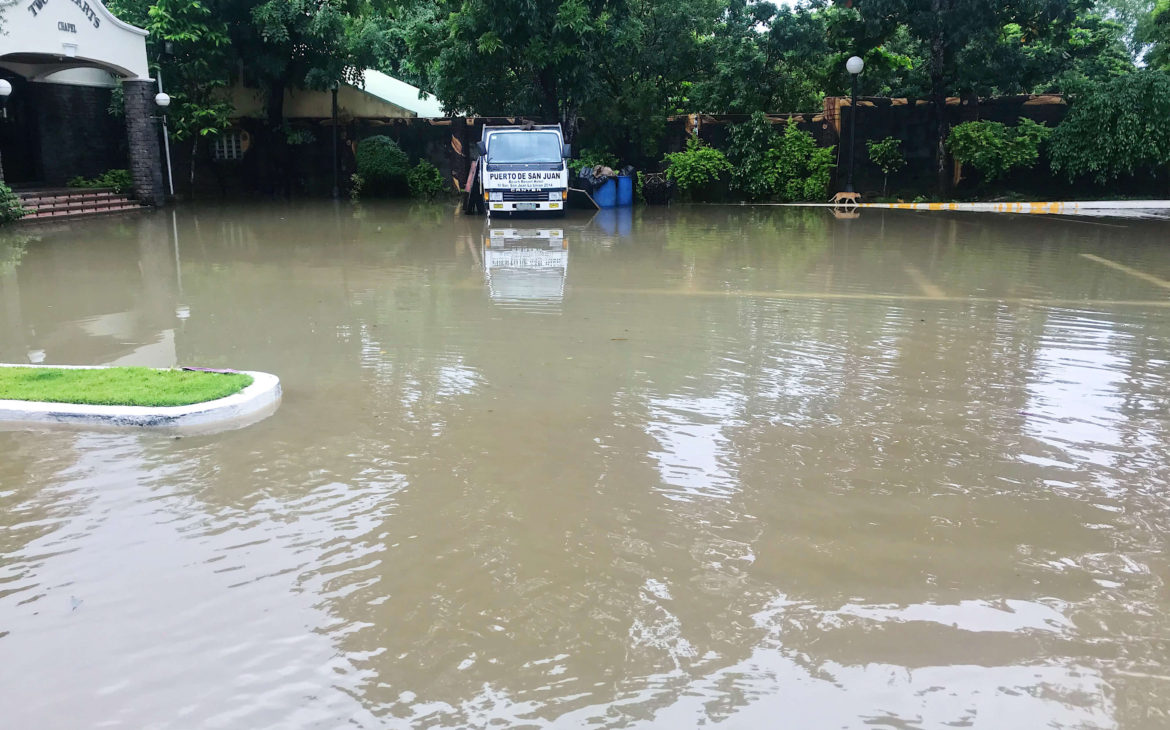 To make light of the situation, we all start joking that this place should be the next venue for our annual geography camp. Talk about a suitable obstacle course!
It's a good thing that Puerto de San Juan looks absolutely spectacular, even at night. I really can't help but stare in awe at how big the whole resort is. There's a slight drizzle as we head out to the pool area, but even that is easy to ignore due to our excitement.
19:45
After 40 minutes of playing and relaxing in the swimming pool, we all decide that's time for dinner. The restaurant is conveniently located beside the pools and guests are free to eat despite being dripping wet.
It takes the restaurant roughly 30 minutes to prepare our orders. Dinner for tonight consists of 5 different viands: Crispy Pata, Chicken Binakol, Chopsuey, Chicken Teriyaki, and Citrus Tanigue.
Each viand comes with 2 'free' cups of rice, which we thought would be enough for our party of 9. It isn't enough though and so we order 2 more extra rice. Take note, their extra rice is way bigger than the 'free' servings.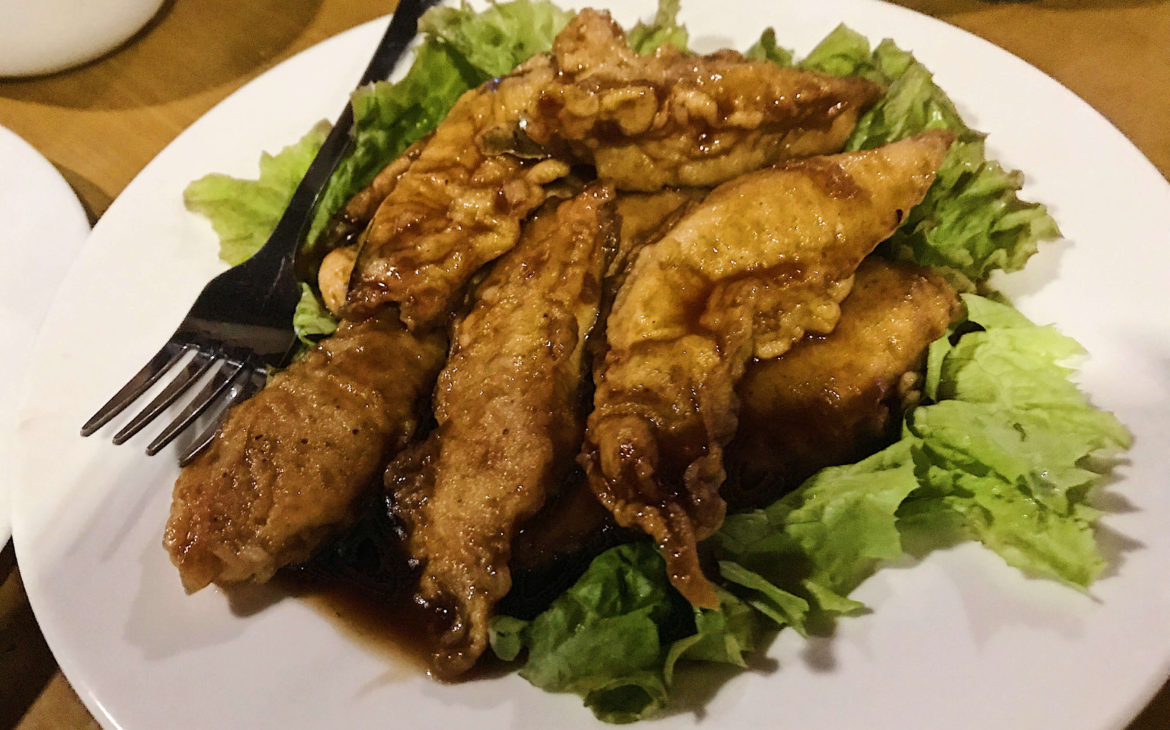 I ask the waitress which dessert they have available, but they only have halo-halo so I decide not to order. Still a pretty filling meal, nevertheless.
We also end up ordering two crates of beer after dinner, because you know, a group trip like this isn't complete without drinks!
23:22
Aaaah, what a long day! Good thing this double bed looks really nice and comfy!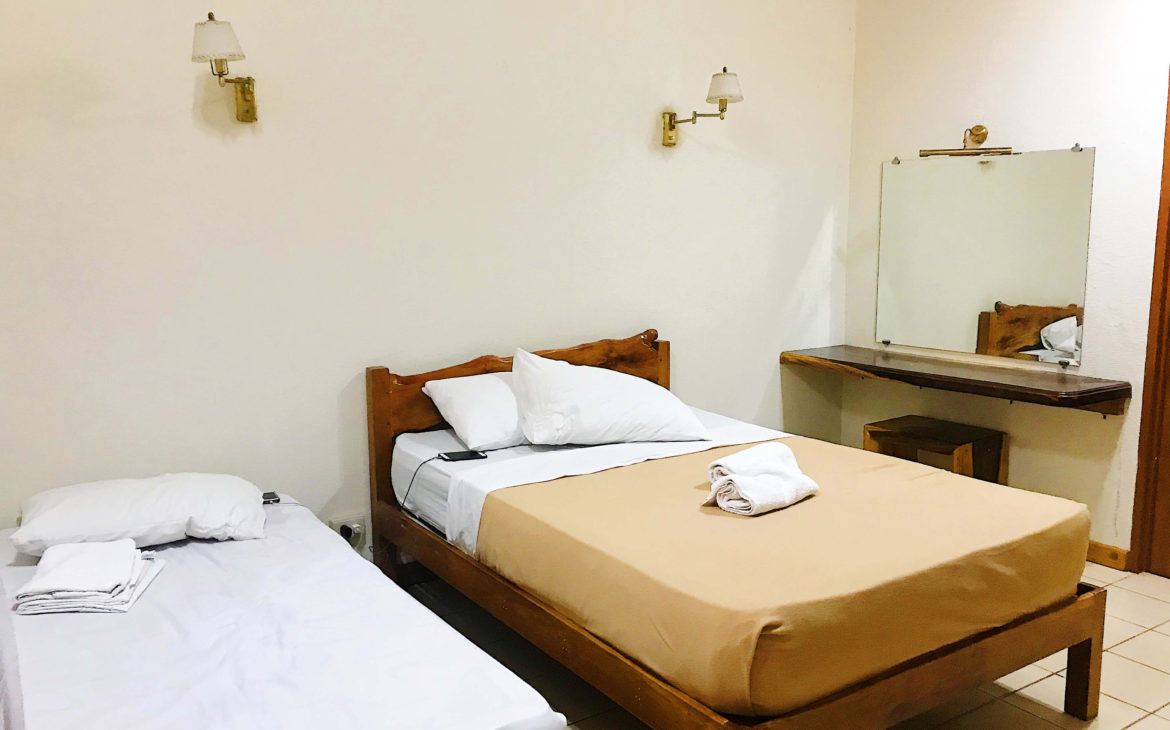 When I went to La Union in 2016, we visited a couple other tourist spots, like the Ma-cho Temple and Tangadan Falls. Unfortunately, due to the rain, looks like that won't be an option. K and I were thinking of going to Baguio too after this, but again, it seems like we have to save that plan for another (clearer) day.
Let's see what tomorrow brings, then!