Last Updated on November 8, 2021 by Ran
There's no doubt that Henann Group has largely dominated the newly-renovated Boracay Island with its numerous resorts, each one with its own personal charm. But with all your options, which one should you pick?
To help you choose, here's a review of one of the best hotels on the island: Henann Lagoon Resort!
Side note: K and I loved our stay so much that we ended up taking way too many photos – forgive me in advance for the photo dump that's about to happen!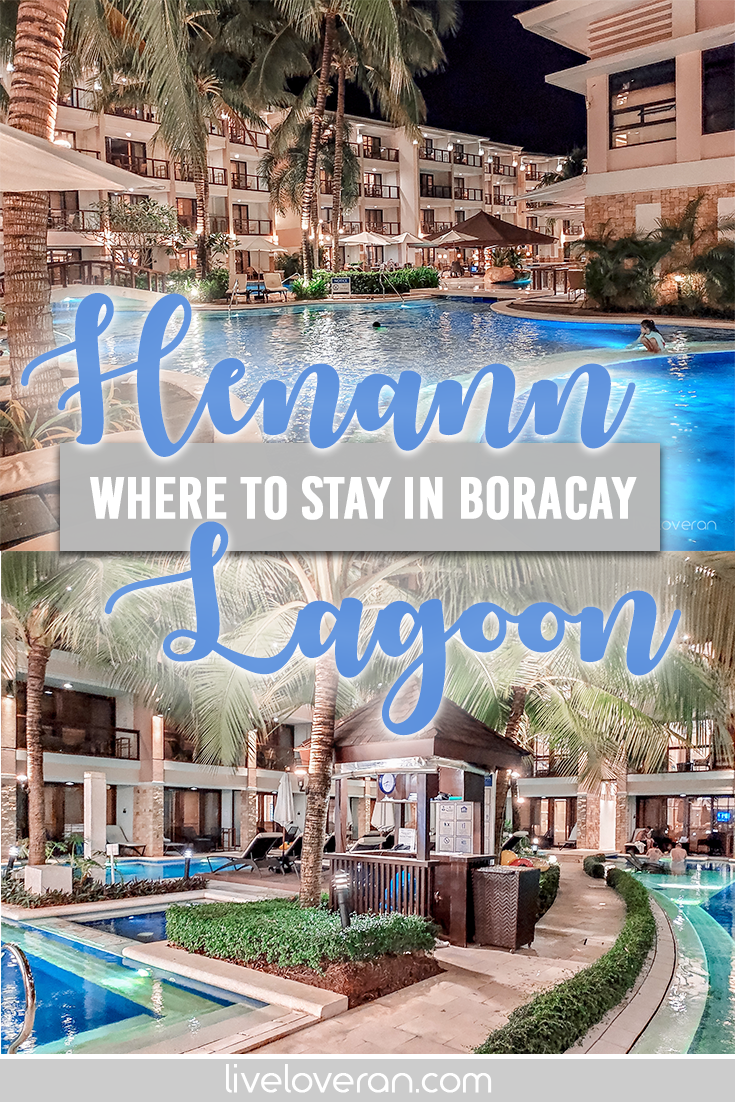 Location
Henann Lagoon Resort is located in Station 2, Main Road, Boracay. If you're imagining a Boracay vacation where you can wake up to the view of its sandy white beaches and perfectly blue coastline, well, you won't find that here.
What you will find, however, is a spectacular hotel that provides amazing value for your money and is sure to give you a vacation to remember.
Since Henann Lagoon is located right beside the main road, it's very near to commercial establishments like restaurants, convenience stores, and even banks.
Honestly, Henann Lagoon is one of those places that I think is much better for a staycation, anyway. You've got literally everything you need inside the hotel, and for the price, gugustuhin mo nalang talaga sulitin eh, haha.
Price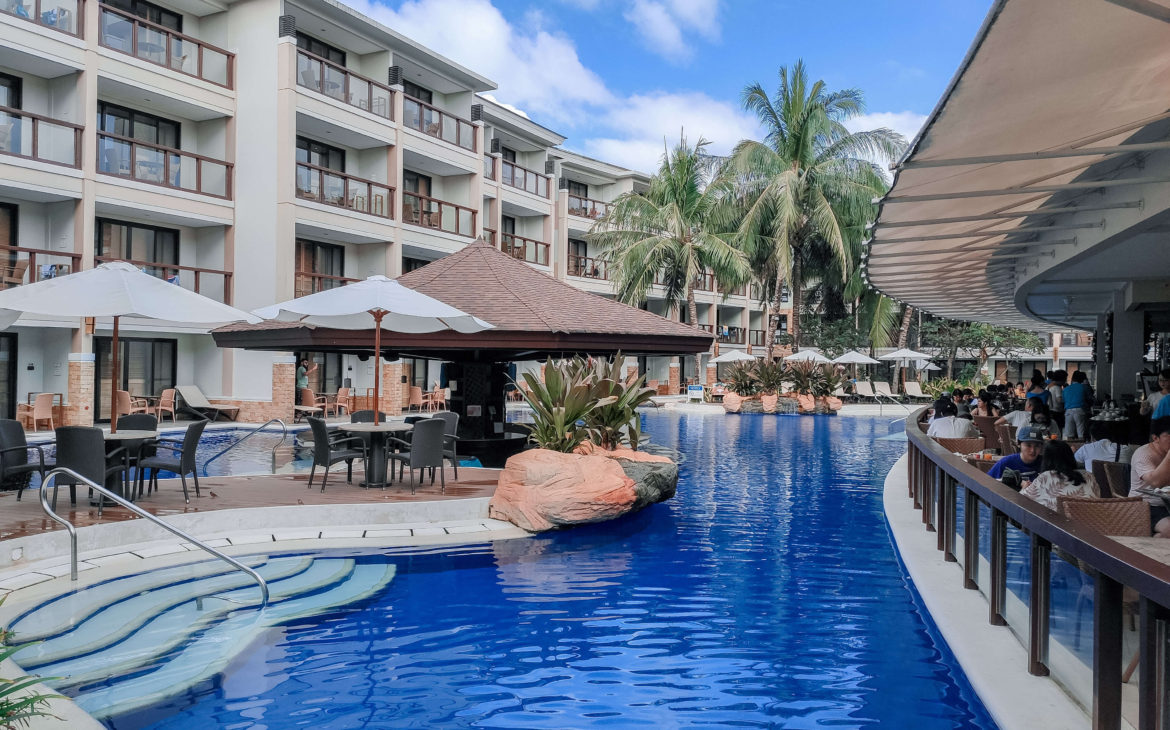 Price-wise, you can't go wrong with Henann Lagoon. Considering that it's a five-star hotel located in one of the most popular tourist destinations in the Philippines, it's actually rather affordable. For as low as ~7,000 PHP a night, you can have an amazing vacation at Boracay.
While the price differs greatly depending on when you're planning to stay, here's a sample price range that I got by scouring random peak season dates on Henann's website. Peak season in Boracay runs from November to May, when the weather is most agreeable.
Deluxe Room – 6,797-7,531 PHP (135-149 USD)
Premier Room – 7,561-12,597 PHP (150-249 USD)
Premier With Direct Pool Access – 9,534-15,553 PHP (189-308 USD)
Grand Room – 8,065-13,403 PHP (160-265 USD)
Grand With Direct Pool Access – 14,538-16,360 PHP (288-324 USD)
Suite – 10,287-13,403 PHP (204-265 USD)
Family Room – 11,401-16,225 PHP (226-321 USD)
Suite With Plunge Pool – 11,270-16,225 PHP (223-321 USD)
Suite With Direct Pool Access – 12,271-18,241 PHP (243-361 USD)
Executive Suite – 15,961-23,408 PHP (316-463 USD)
This is in no way an exhaustive list, but as you can see, the range is quite wide.
Here's a helpful tip from a friend of mine who worked in Henann: you can typically get a better deal if you're going to book on booking sites rather than on Henann's website. (What a surprise, huh?)
That is, of course, unless you always book Henann. If that's the case, you should probably book directly on the site so that you can benefit from Henann's rewards program. Other than that, it's always cheaper and better to book someplace else.
Check Henann Lagoon Resort rates on Agoda
Personally, we chose to book via Agoda since it offered the best price for our stay period. We went to Boracay during the peak season so prices on the official hotel website were understandably on the higher side. Booking via booking website solved that problem, though!
Room Inclusions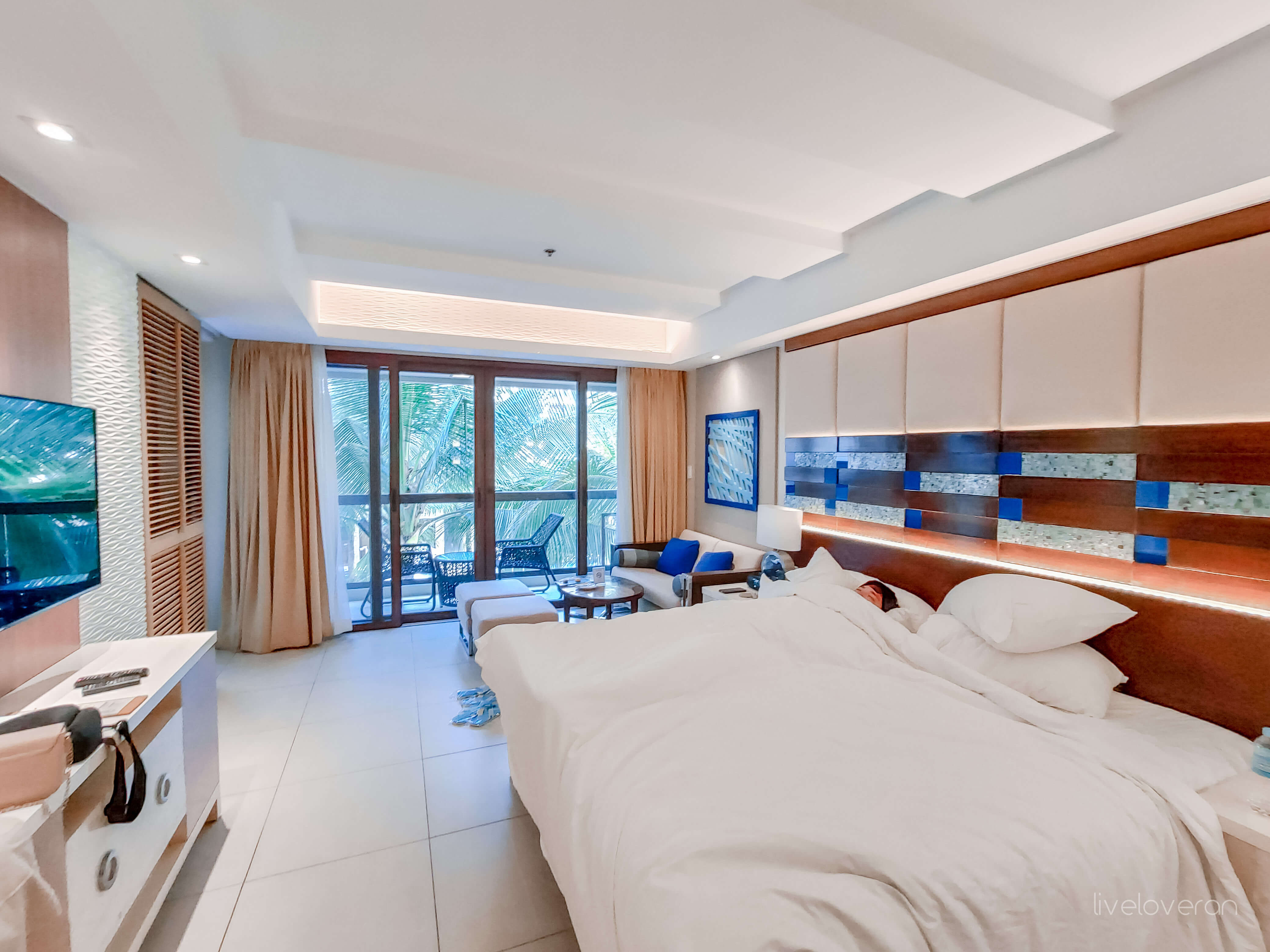 There's only one reason why we chose Henann Lagoon over all the other Henann hotels in Boracay. Simply put, it offers something that no other hotel in Boracay has: a suite room with its very own private plunge pool.
For roughly 11,000 PHP (220 USD) a night, our 49 sqm suite room with plunge pool included:
a king-sized bed
40-inch flat-screen TV
living area with sofa
private balcony
walk-in closet
mini-bar with complimentary drinks
freestanding bathtub
complete toiletries
Henann-labeled flip-flops
private 8 sqm plunge pool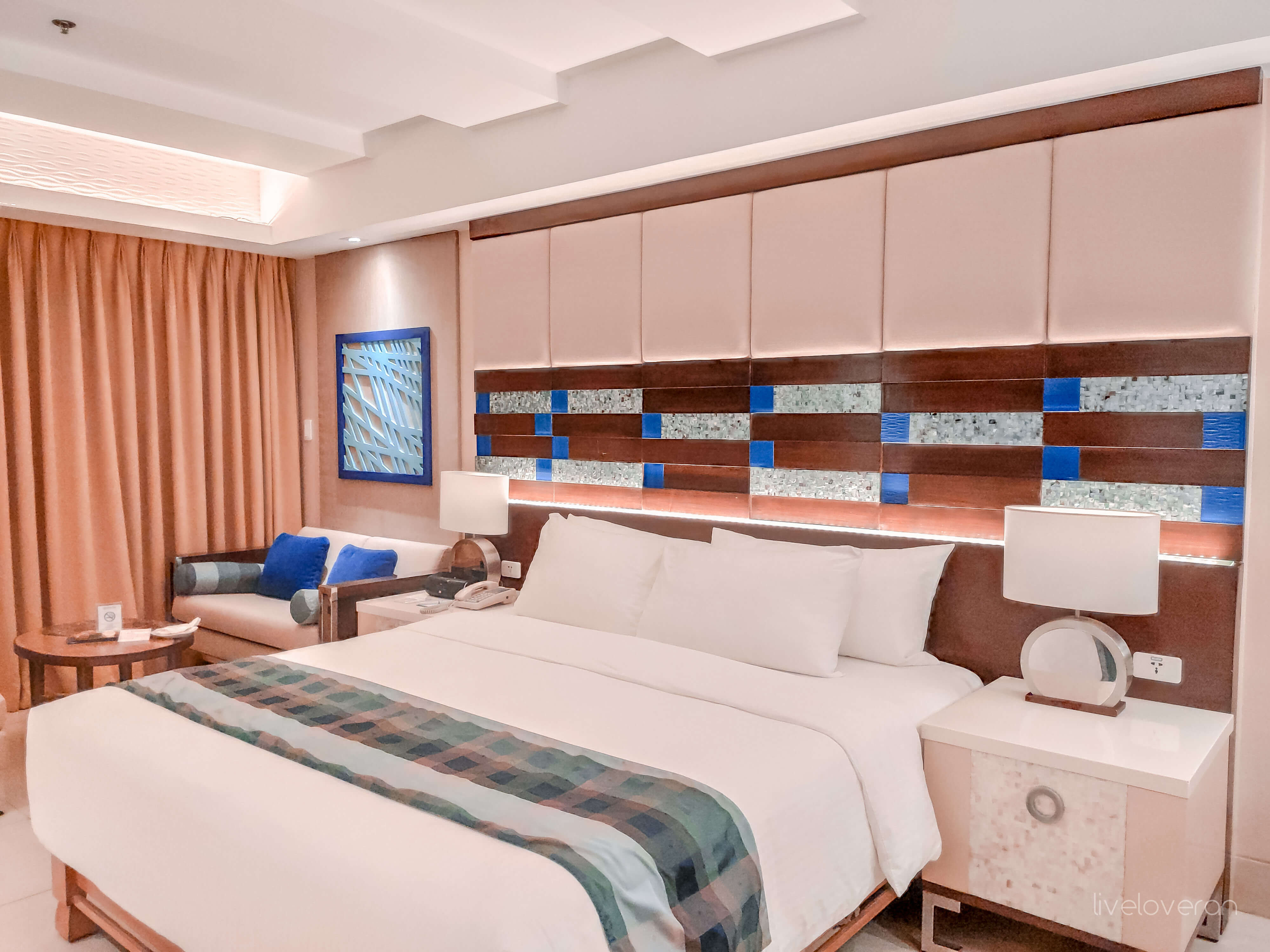 I just want to say, Henann Lagoon's bed is one of the comfiest beds I've ever come across in my life. The sheets were so soft and smooth and the pillows were also pretty amazing. I took a peek at the tags and it turns out they're from Mandaue Foam, so I guess that explains the quality.
I could literally stay all day in that bed. Then again, I could also literally stay all day in the plunge pool, the freestanding bathtub, you name it.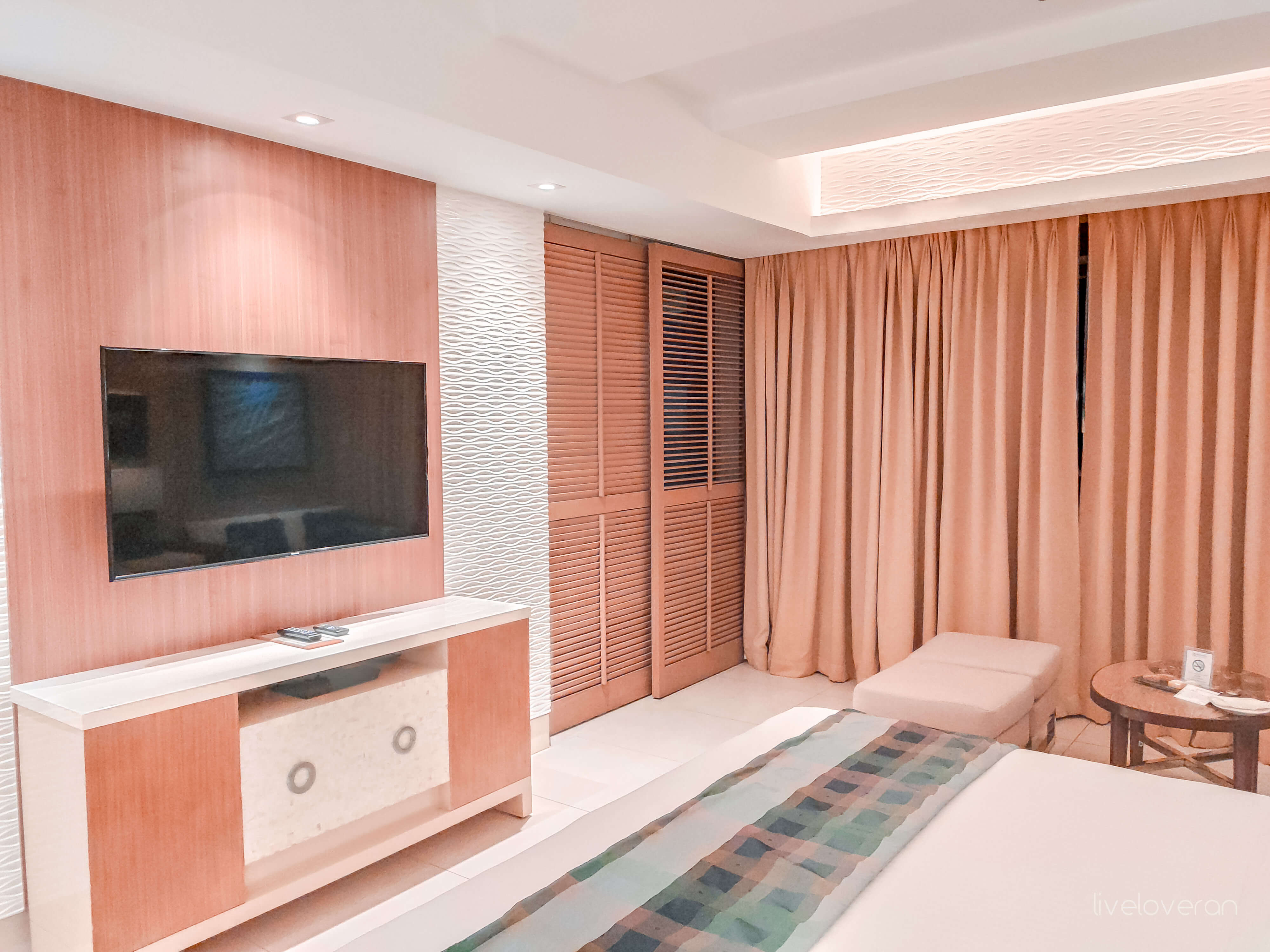 There's a 40-inch cable TV in case you want to watch something. I was kinda hoping it would be a smart TV since I don't really watch anything on the TV now except for news, but sadly it's just regular cable TV.
There's also a vanity mirror and desk with a copy of Henann's very own 'Sands' magazine. The desk is big enough that you won't have a problem if you want to take out your planner and your laptop. Because work doesn't stop even when you're on vacation! *cries in deadlines*
The mini-bar is cleverly hidden inside a wooden cabinet that matches the interior design of the suite. It has some complimentary drinks inside, which includes two bottles of water, two bottles of Fit n' Right, two cans of regular Coca Cola, and two cans of San Miguel Pale Pilsen, to K's delight. Yup. You can always count on a Korean to feel happy at the sight of an alcoholic drink, haha.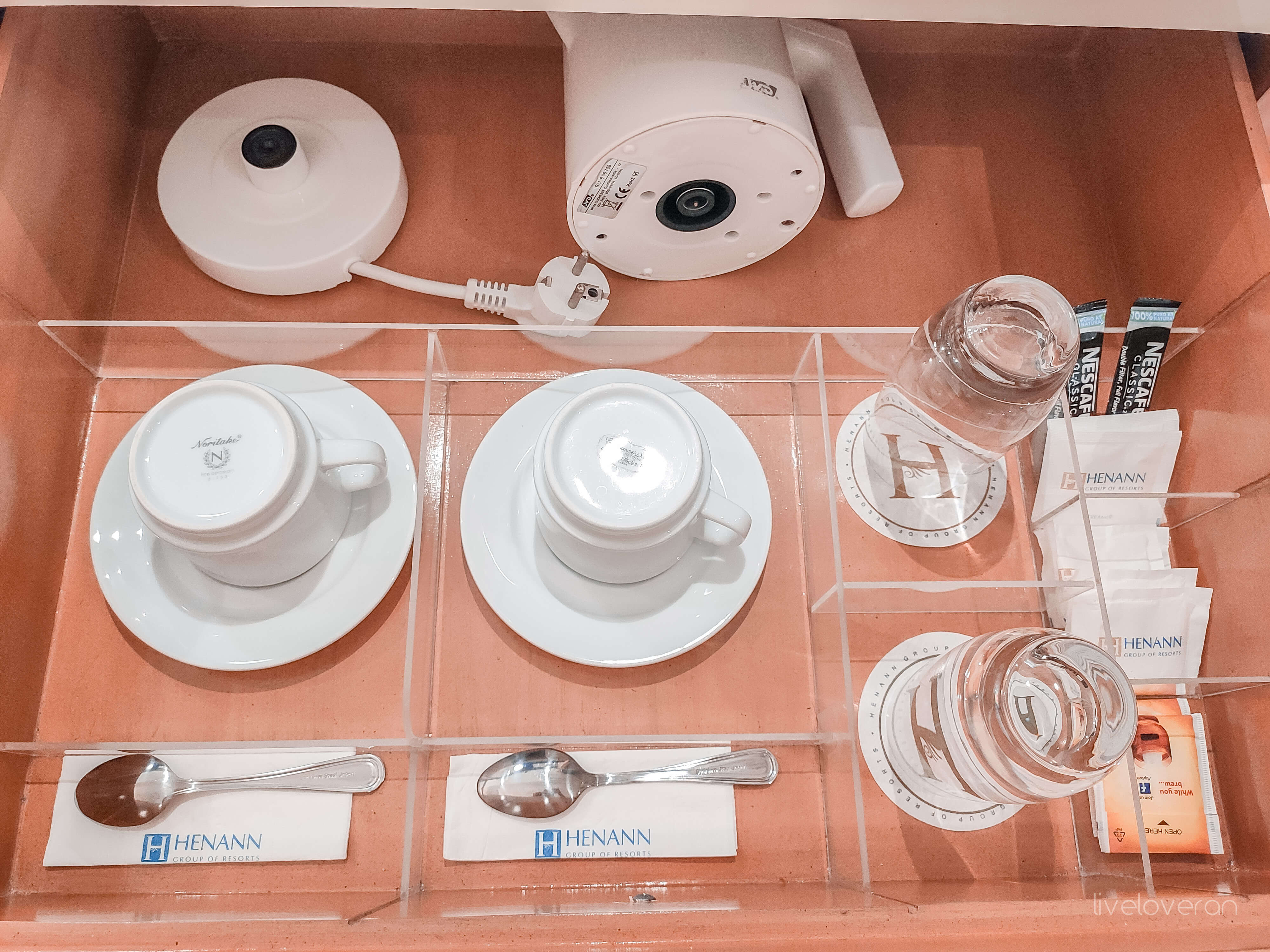 If you ever feel the need to make some hot drinks, Henann Lagoon's got you covered too. Stocks are replenished daily by housekeeping.
To the left side of the room are the walk-in closet area and the bathroom. The bathroom connects directly to the private plunge pool, which also connects to the living area of the suite.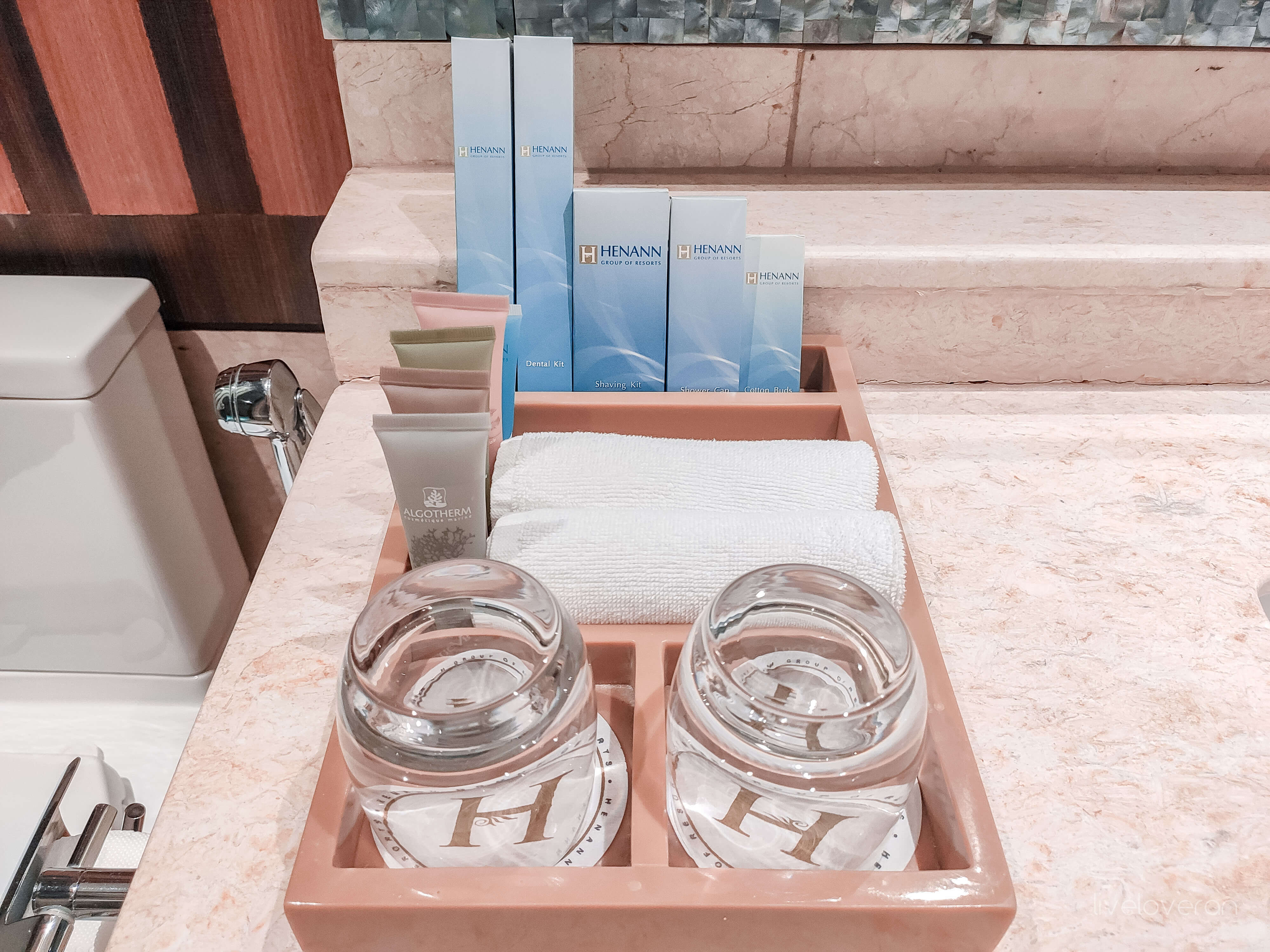 There's also a complete set of toiletries in the bathroom including two dental sets, a shaving kit, a shower cap, a pack of cotton buds, and your standard mini bottles of shampoo, conditioner, bath gel, and lotion. You can also ask housekeeping to replenish your stock in case you run out. Most of the time you wouldn't even have to ask since it's one of the things they do when they come in for their daily cleaning.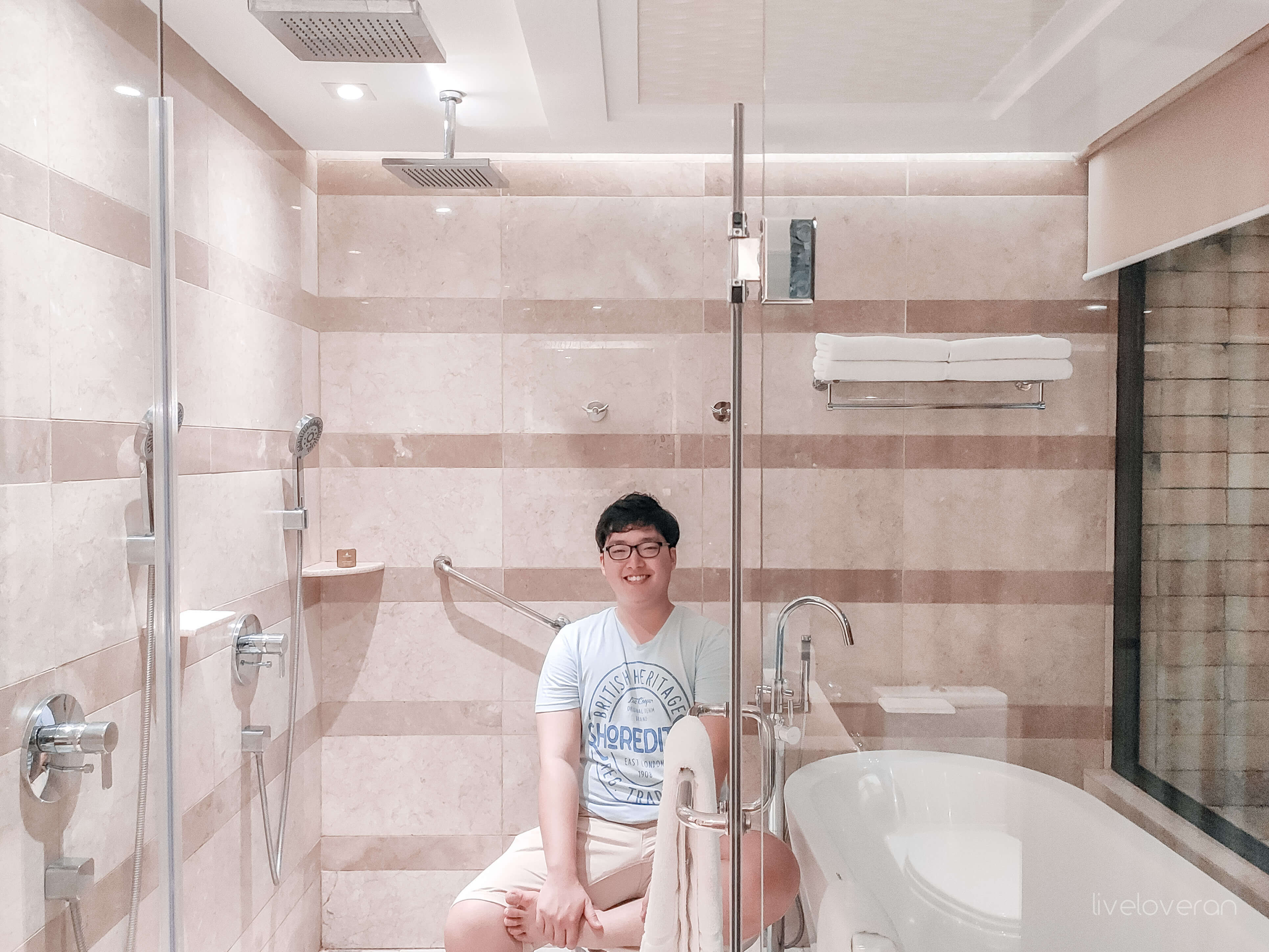 I have to say that this is one of the weirdest bathroom layouts I've ever seen, though. The bath area is completely facing the toilet and sink area, with just that glass wall in between. This means that if someone decides to take a bath while another person is pooping, they'll both be in full view of each other. I don't know about you, but that's pretty weird to me.
…K and I may or may not have experienced the exact same situation I'm talking about.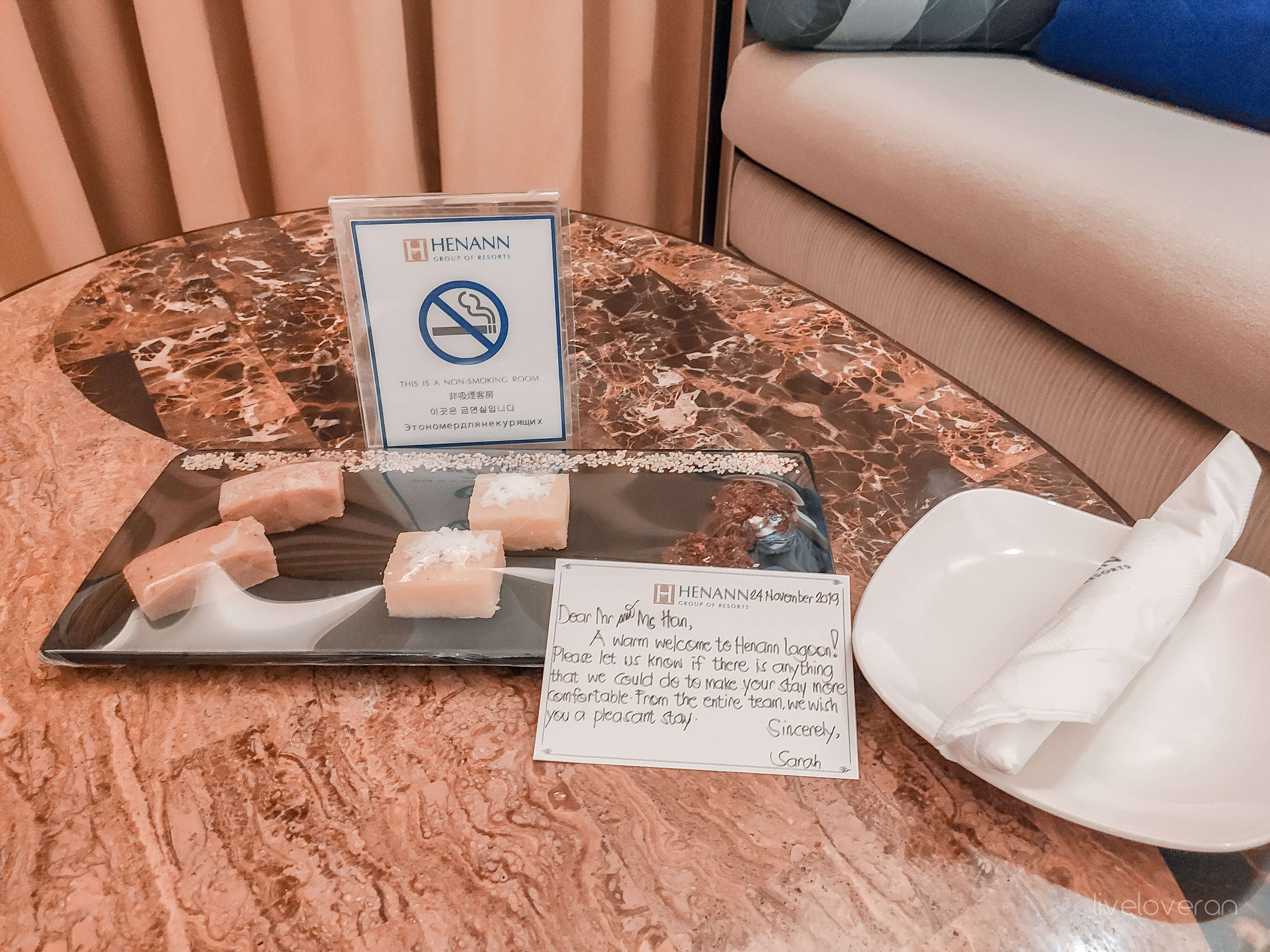 One more thing before we go to the main point: I really appreciated the personal touch, even if it just came in the form of a short note and a small plate of native delicacies! It really means a lot as a guest and it definitely adds value to the experience as a whole. I'm not sure if they do this to all guests or just to VIP guests, though.
Plunge Pool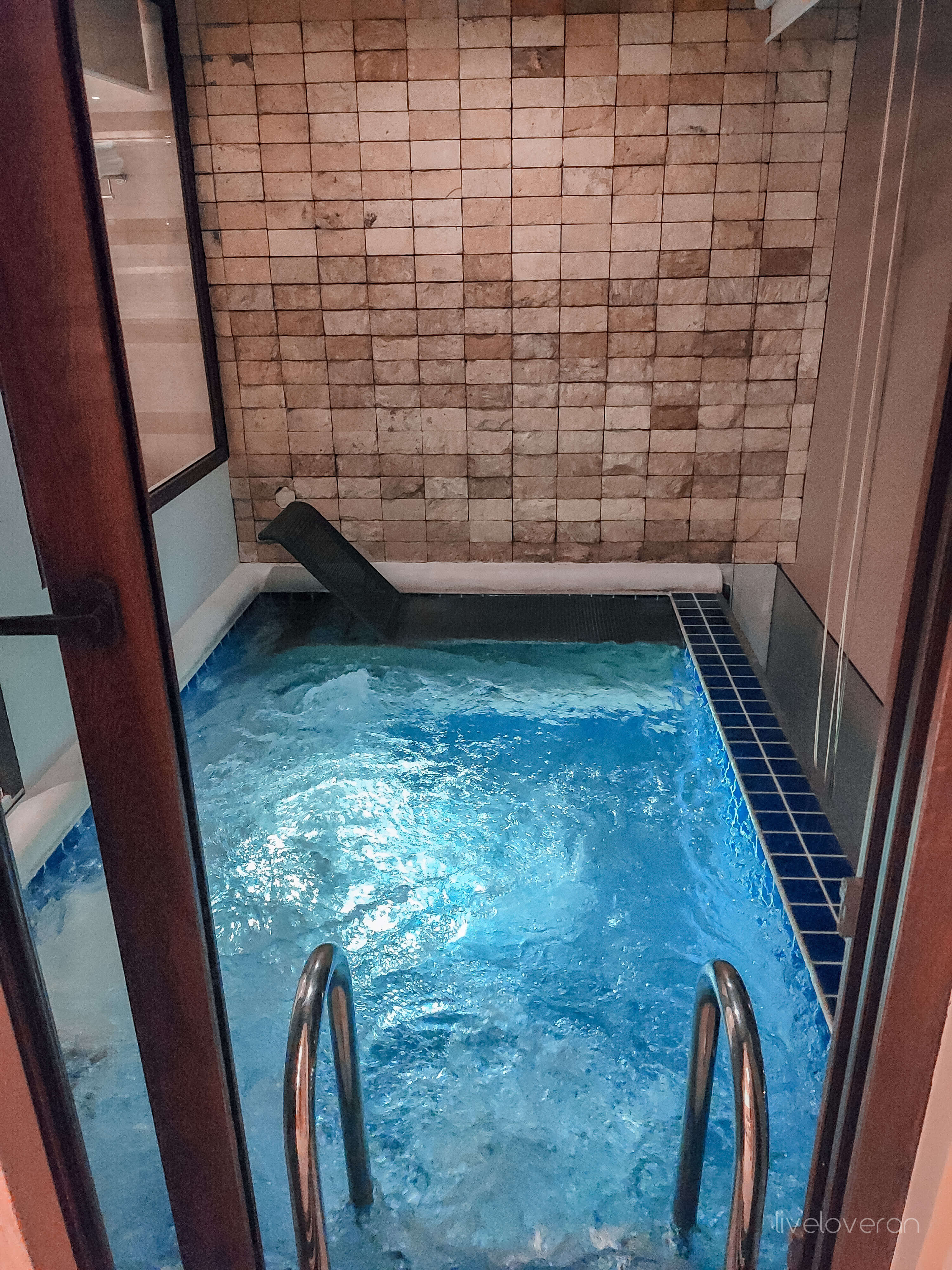 Finally, we're going to talk about my favorite part of this entire hotel! I'm still so thrilled about this that I could barely type right now. Seriously, I want one in my own home so bad.
Also, I don't know what I can say about it other than that it's super amazing. It's not quite as big as a full-sized pool, definitely, but it's not as small as a jacuzzi either. I could still 'swim' back and forth without feeling too restricted and I'm 5 feet and 7 inches tall.
But at the same time, it functions very similarly to a jacuzzi. If you want to get bubbly water, just hover your hand over the sensor near the door. It will stop automatically after 15 minutes but you can always activate it again.
If you want additional privacy, you can roll down the blinds (as seen in the left picture above) to prevent people from seeing you from below.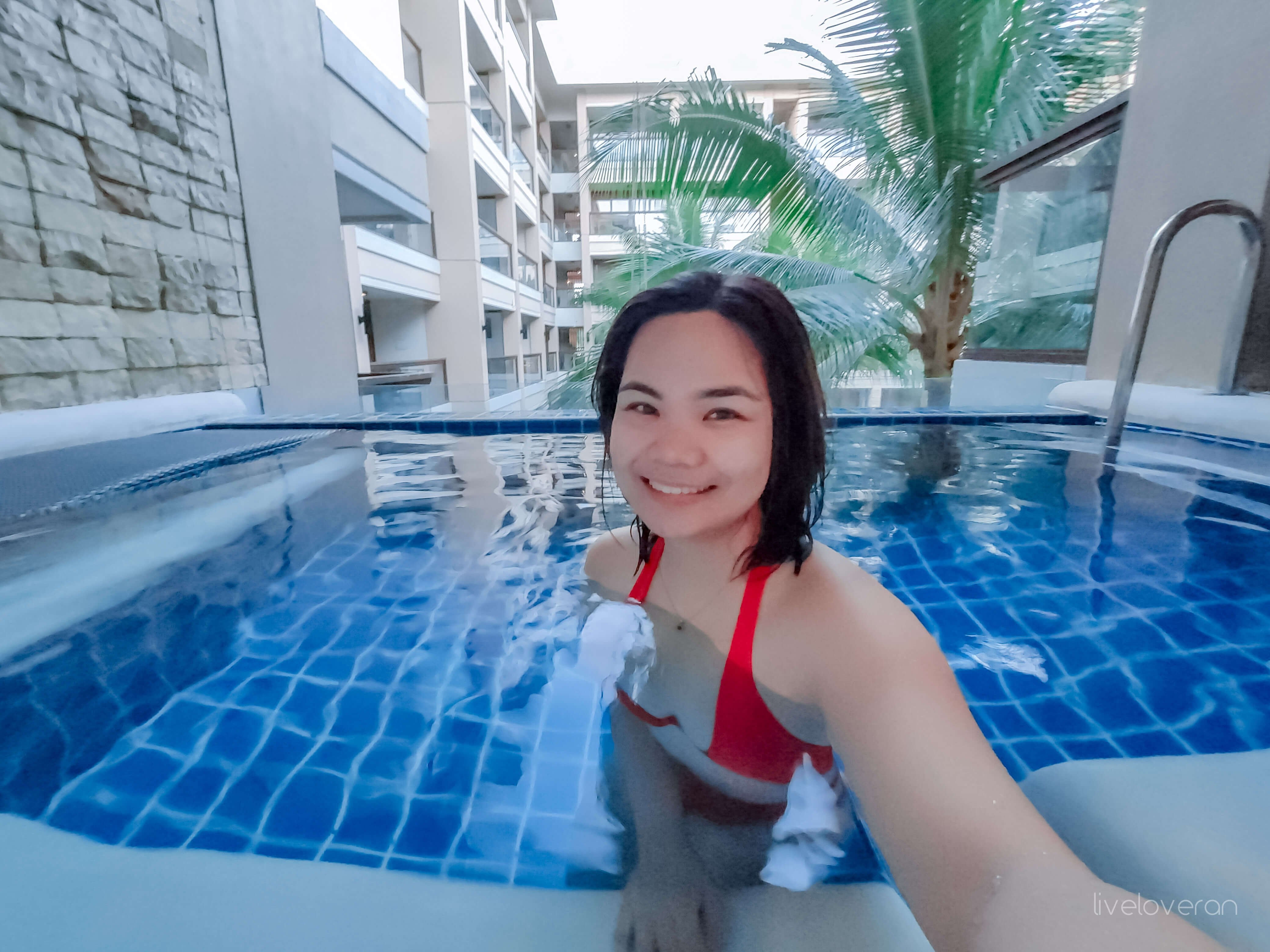 If it isn't obvious yet, I loved the plunge pool so much I actually woke up early the first morning (and I mean really early – 3:30, in fact) and spent the first few hours of my day bathing while waiting for the sun to rise. It was so soothing, so relaxing to just spend some time here, not caring about anything else in the world.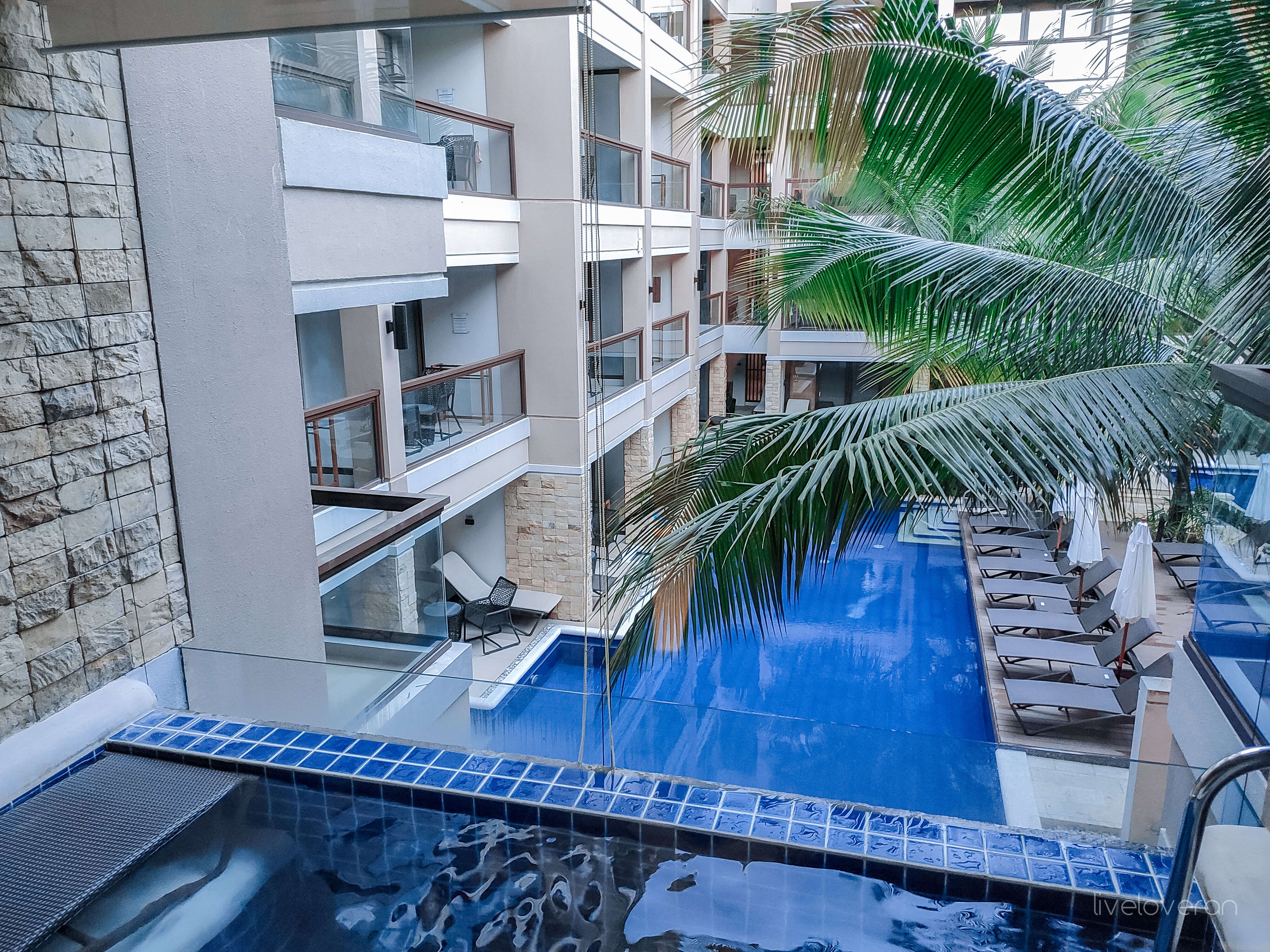 I swear, once K and I have saved up enough money to build our own home, we'll have our very own plunge pool. Mark my words! (Please?)
Amenities
Like all other Henann hotels, Henann Lagoon also has a wide variety of amenities for its guests to enjoy.
VIP Lounge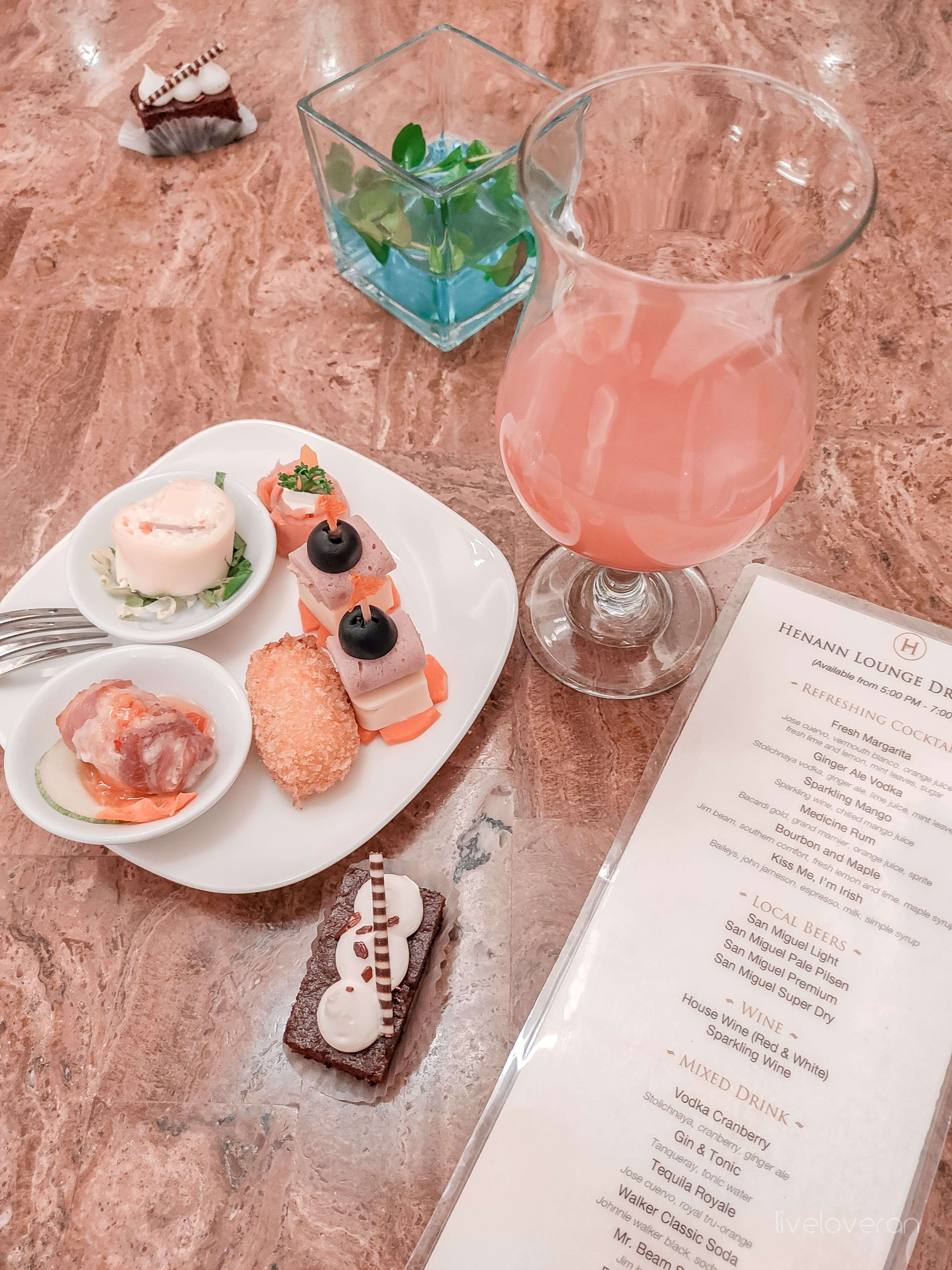 The VIP Lounge at Henann Lagoon Resort is only accessible to those staying in suite rooms or in rooms with direct pool access. It's open from 6 AM to 7 PM and offers various complimentary snacks and beverages.
Since we were booked in a suite room, we had automatic access to the lounge.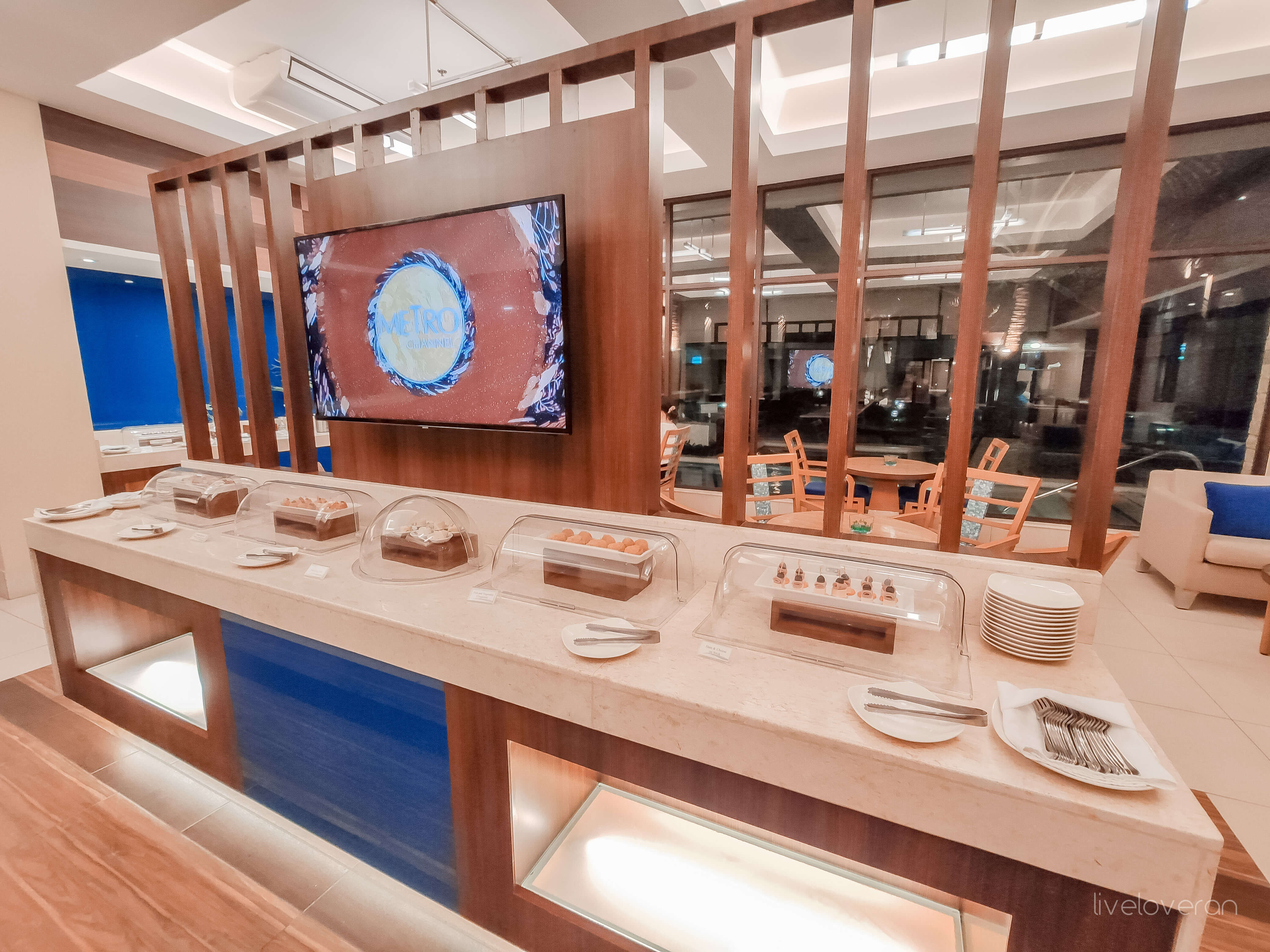 Regular non-alcoholic drinks and snacks are served from 10 AM to 7 PM, while alcoholic drinks and cocktails are served from 5 PM to 7 PM. Everything in here is complimentary so don't hesitate to sample each one.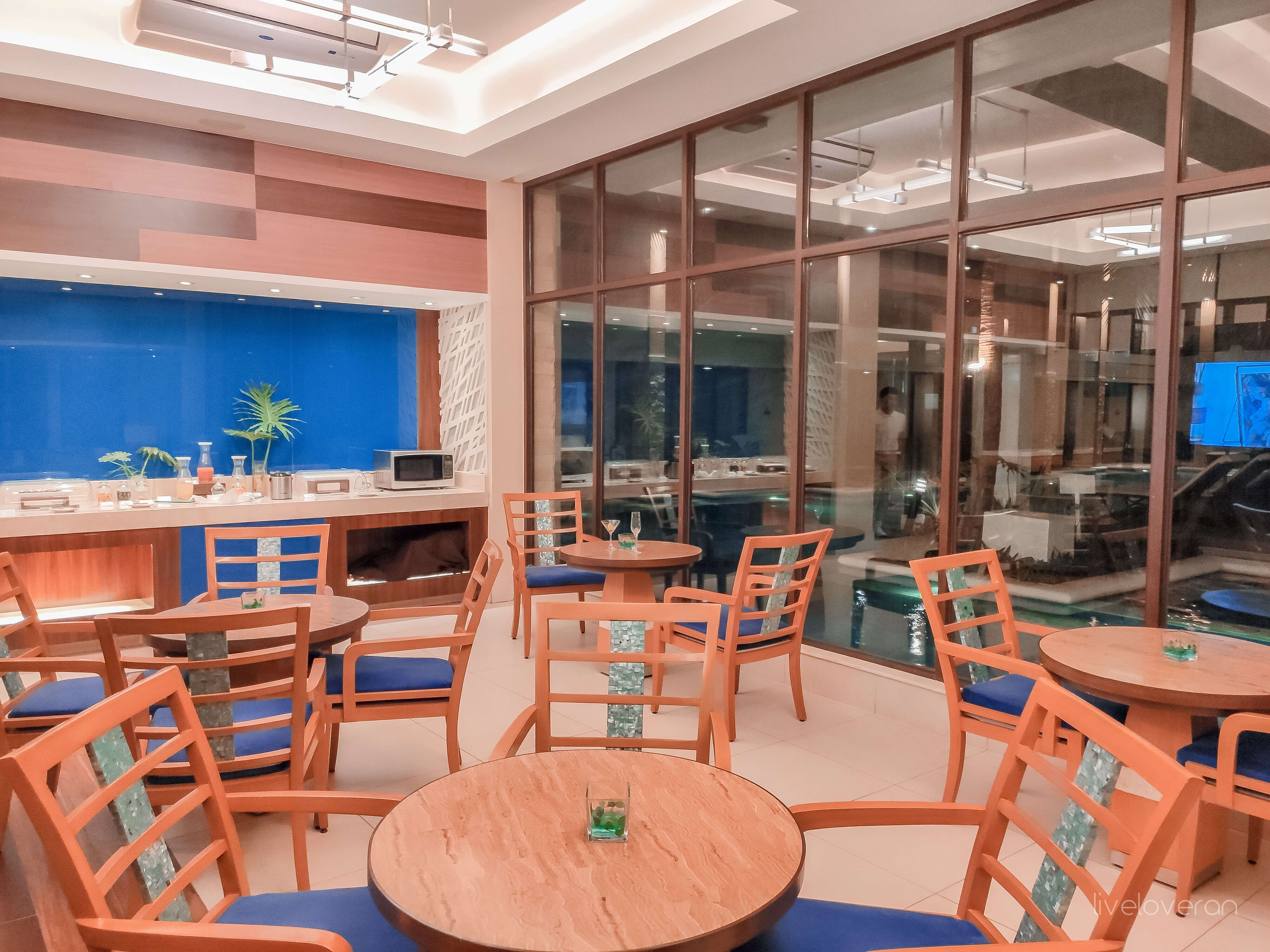 There are juices available on the counter but if you'd like a drink from the menu like tea or coffee, you can always ask the staff to make one for you free-of-charge. Don't worry, they're all very kind and helpful.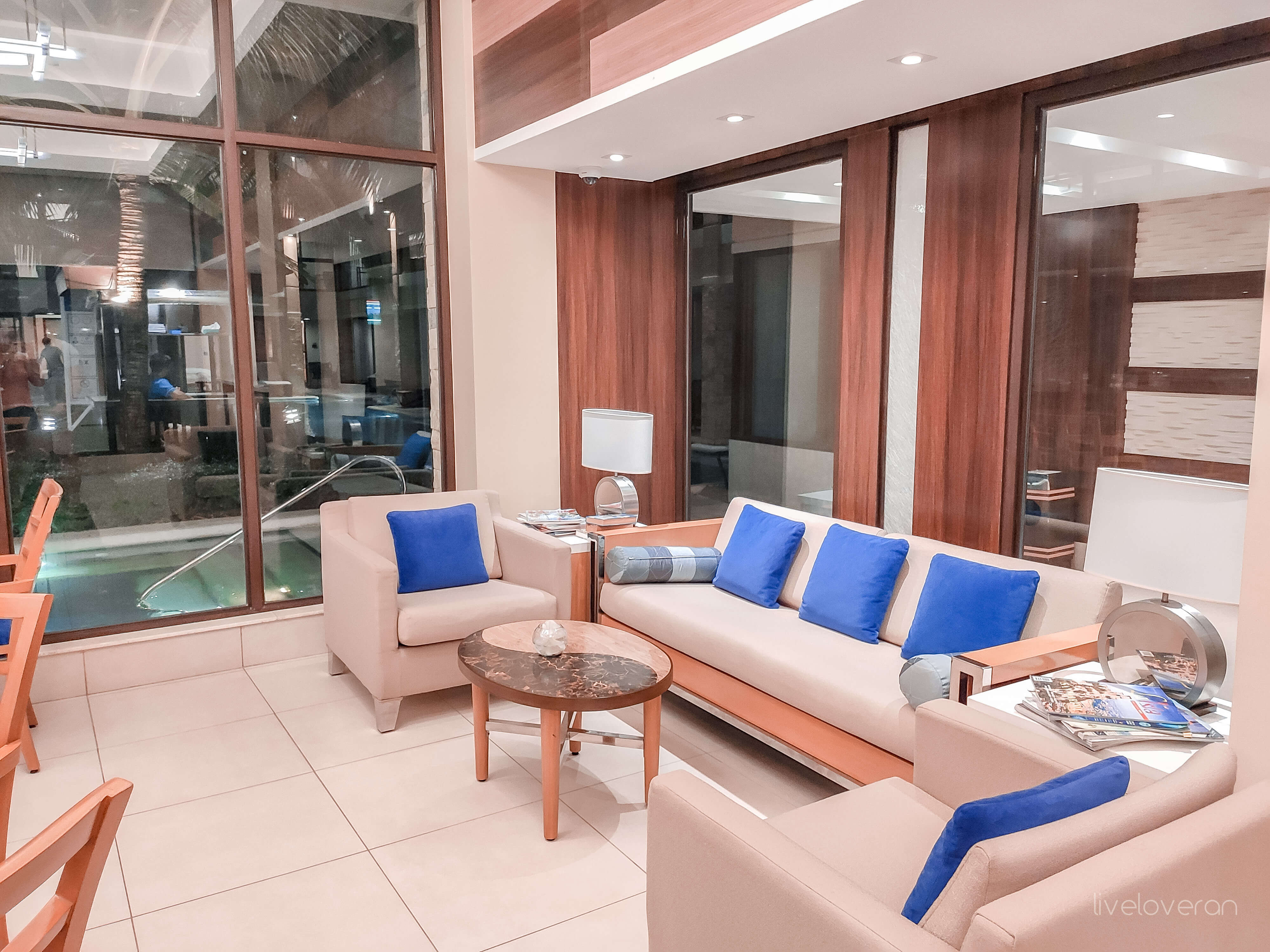 The VIP lounge is also a good place to just relax and talk with your friends. The ambiance here is pretty warm and cozy, kinda like your favorite coffee shop back at home.
Breakfast at the VIP Lounge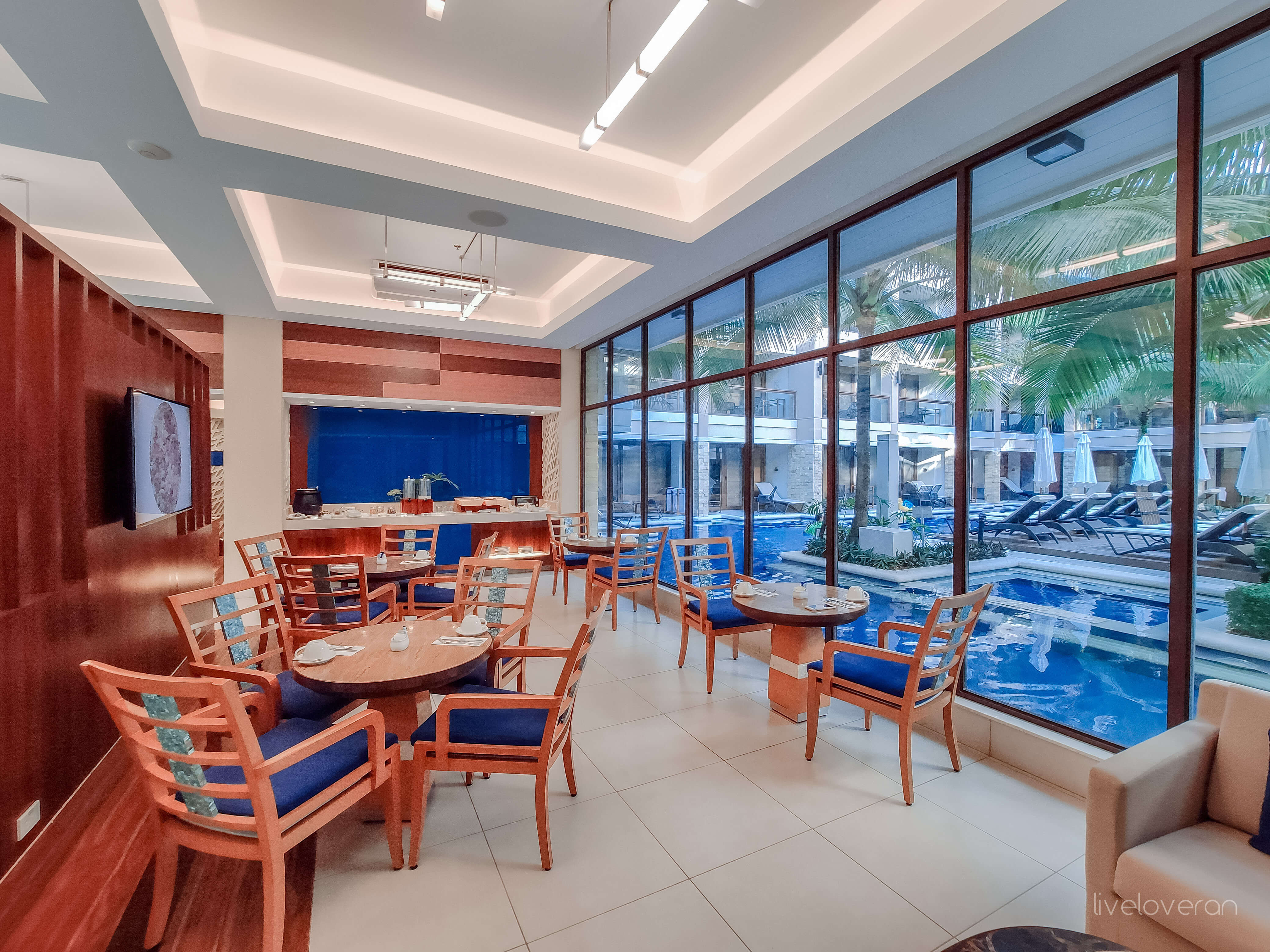 If you would like to eat your breakfast in an airconditioned area, you can do so at the VIP Lounge, provided that you are staying in the aforementioned rooms. Do take note that the breakfast in the VIP Lounge is not a buffet unlike the regular breakfast option at the Lagoon Cafe. It's actually a set meal based on the menu that the staff will present to you once you get inside the lounge.
That said, you're free to order anything you want from the menu. You also have a buffet spread of cereals, salads, pastries, and congee.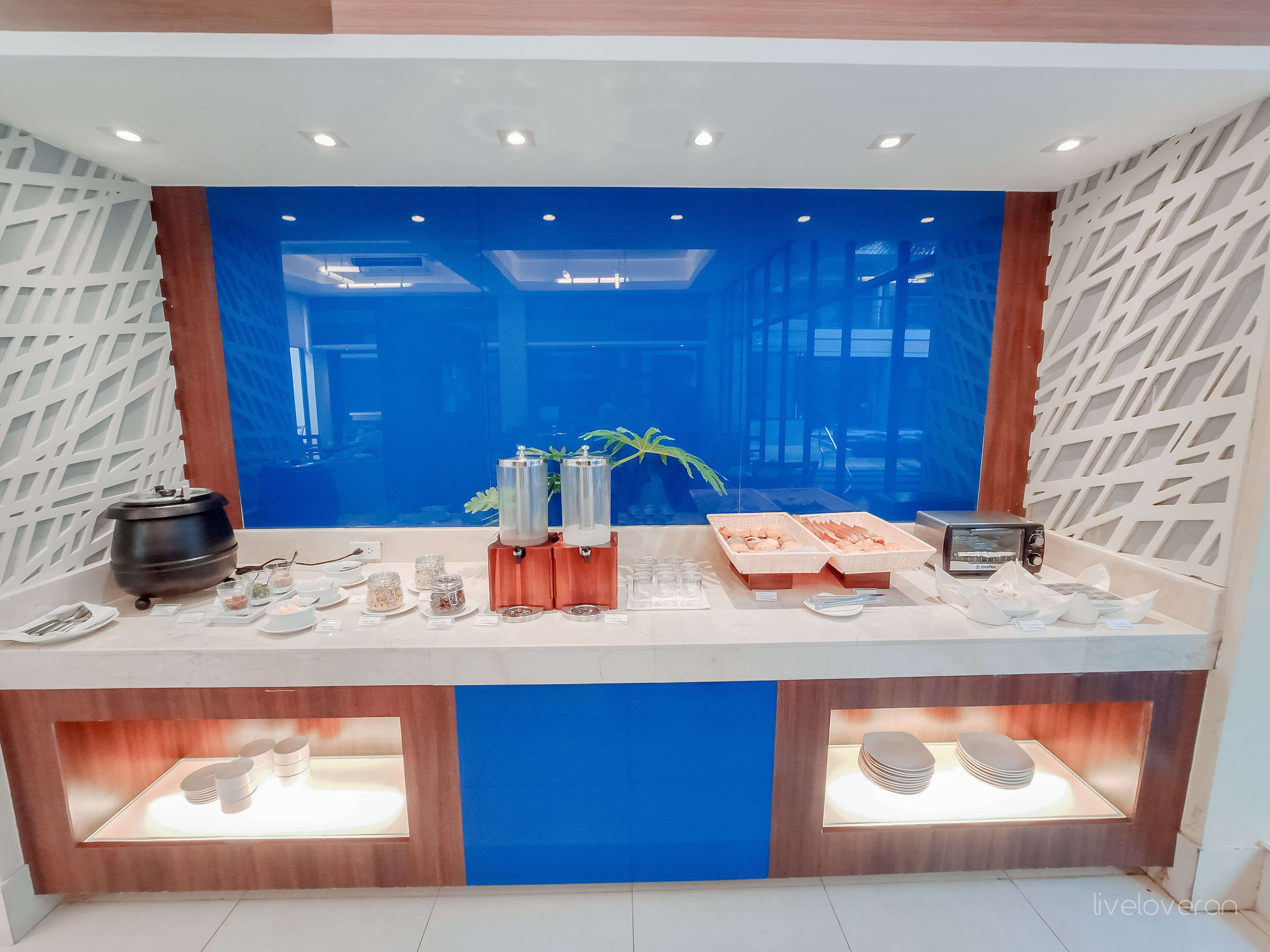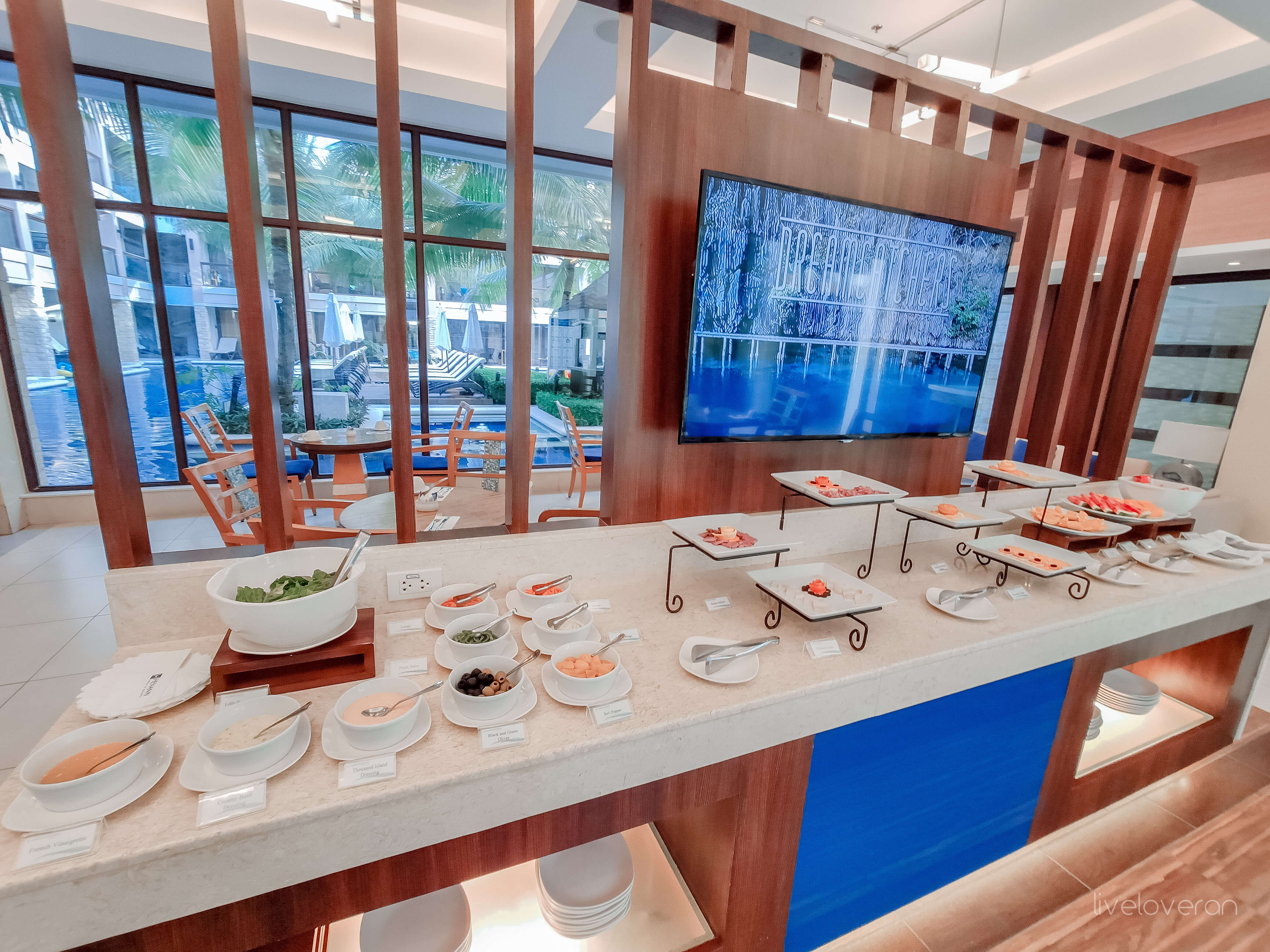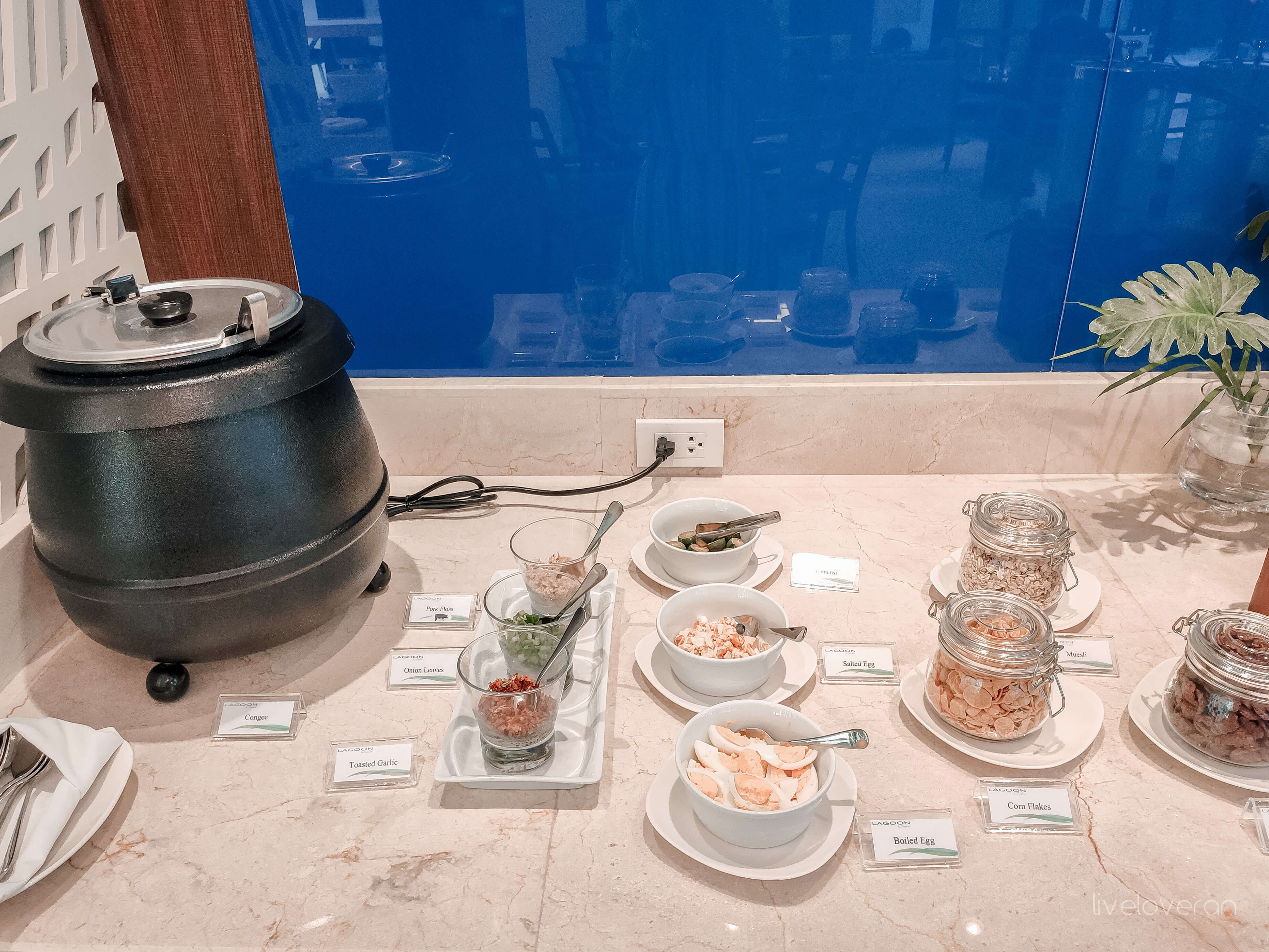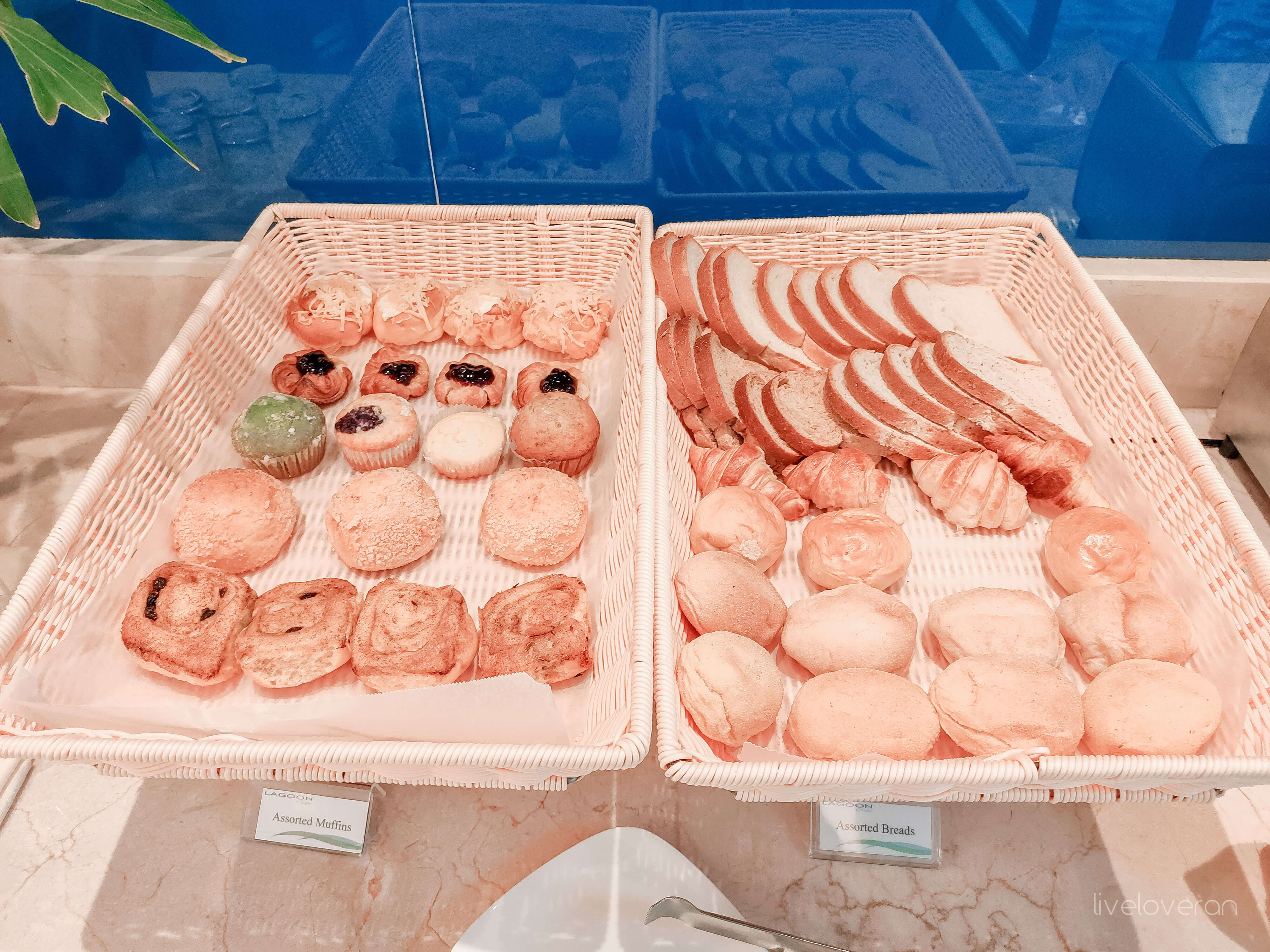 K and I ordered Scandinavian and Pinoy set meals for breakfast, respectively. He also got a toasted French bread at the side, while I was too shy to request more from the wait staff. I guess that's the only downside to eating at the VIP Lounge – if you're pretty shy, like me, you'll have a hard time asking for more food even if your tummy is already begging for it, haha.
The food was alright. I had maybe three cups of congee, a piece of ensaymada, and who knows how many glasses of chocolate milk before I felt full. Honestly, I was rather disappointed at the bangsilog. Keep in mind, I'm not the kind of person who has like Gordon Ramsay-level standards when it comes to food. It's just that, it wasn't anything special and I definitely expected more from a 5-star-hotel.
In the end, I gave up forcing myself to finish my meal and just gave the rest of it to K. Sadly, UCC Cafe's breakfast bangus and Denny's garlic bangus both taste so much better.
Lagoon Cafe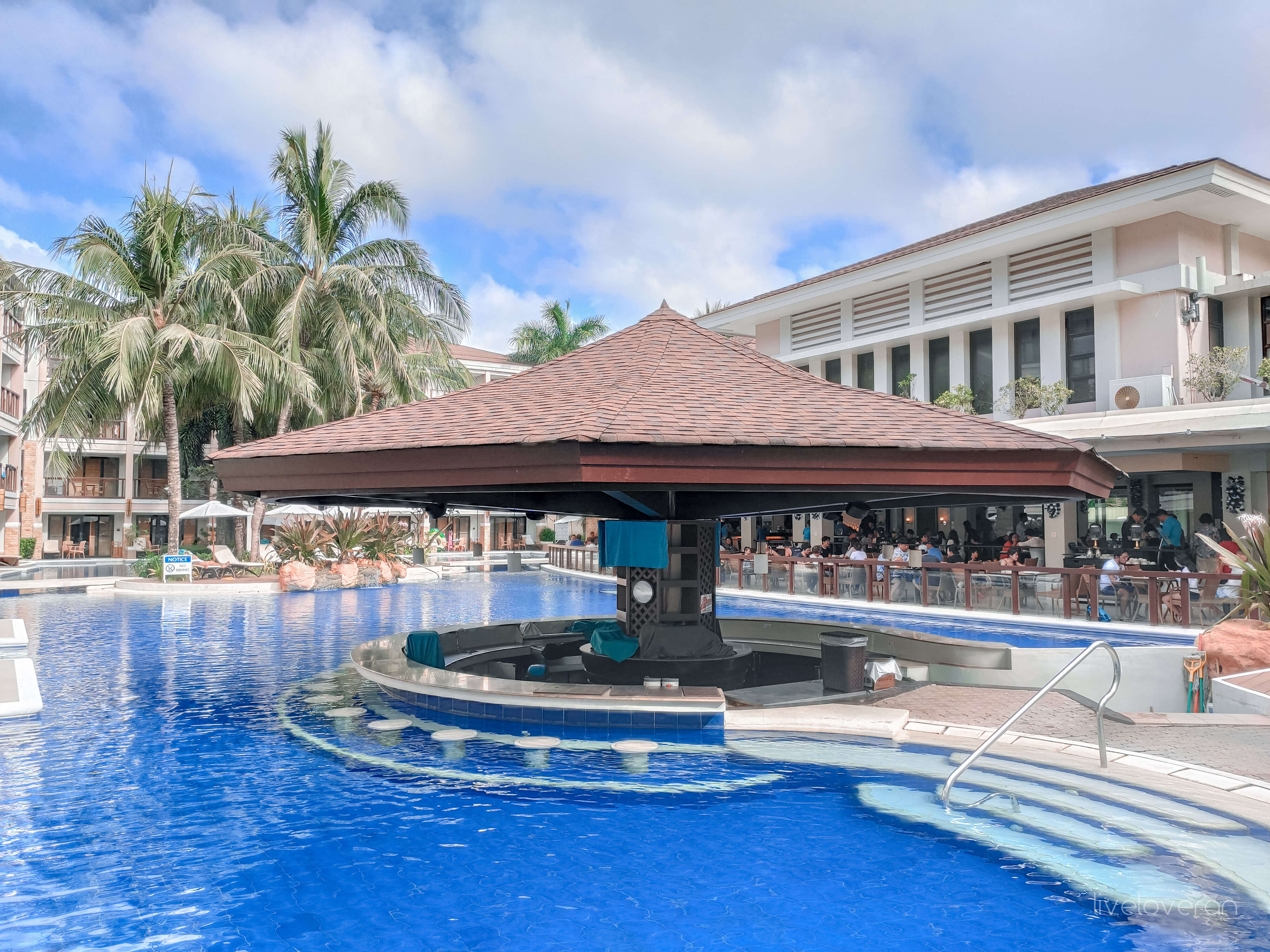 If you'd rather eat your breakfast out in the open, you can also do so at the Lagoon Cafe. Breakfasts here are done buffet-style, so you'll have plenty more options to choose from than if you opted for breakfast at the VIP Lounge.
Swimming Pools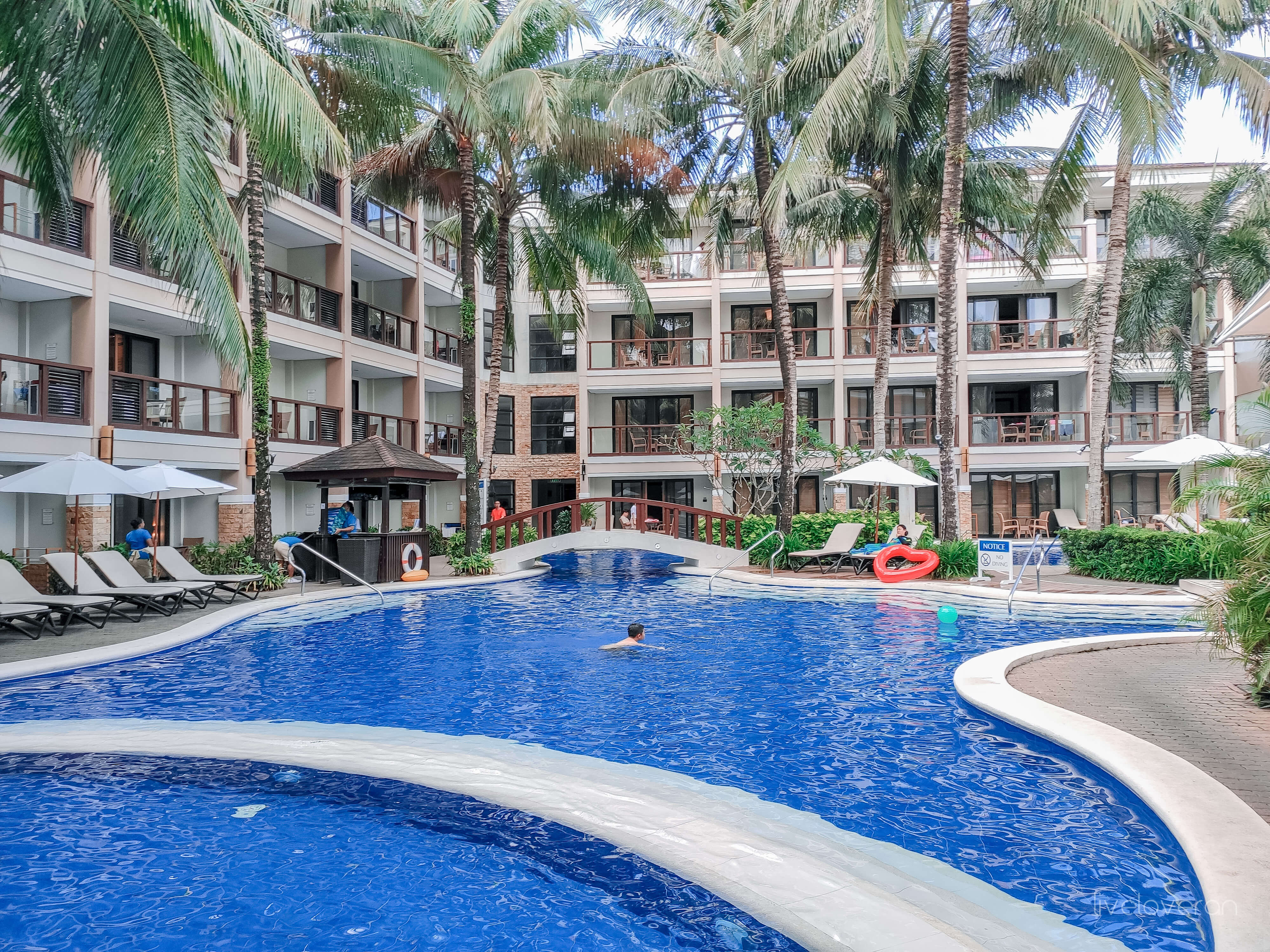 According to my friend who worked in Henann, one of the best-selling features of Henann Lagoon is its uniquely-shaped pool. Can you guess what natural body of water it's trying to simulate?
That's right – a lagoon.
The entire pool spans 1,200 square meters, making it the biggest out of all the Henann resorts in Boracay. Pool lovers will certainly have fun here!
Fitness Center
There's also a gym and fitness center in Henann Lagoon, but we weren't able to check it out during our stay. Remember, you would need to have gym-appropriate clothes in order to go inside.
Final Thoughts
Pros:
Price – believe it or not, Henann Lagoon Resort is actually one of the more affordable five-star resorts in Boracay. It's also one of the most affordable Henann resorts. I guess it's mainly because of the fact that it's not a beachfront property, but still, it's an awesome deal.
Room quality – everything about the room screams topnotch. It's very obvious from the furniture used to the interior design that this is a five-star hotel.
Amenities – Henann Lagoon's charm lies in its magnificent pools, and it certainly didn't fail in that aspect. The VIP Lounge was also a pretty great addition.
Hospitality – every single staff we came across greeted us good morning, good afternoon, or good evening.
Personal touch – it may not seem like much, but K and I really appreciated the personalized note. We think it's a great way for Henann to make the guests instantly warm up to their rooms.
Cons:
Location – although it's just a few minutes walk away from the beach, it still failed to give us the Boracay beach vibe, if you know what I mean.
Food – surprisingly, I felt a bit let down in terms of food. It wasn't exactly bland or anything, but since we were paying over 200 USD per night, I honestly expected the food to be a bit more enjoyable.
Cold welcome – okay, this is a super-duper minor quibble but… what's with the cold welcome, Henann Lagoon Resort? The people checking in before us at the reception desk were given welcome drinks right in front of us, but we weren't. What's worse is that I actually made eye contact with the guy giving the drinks and he still didn't offer me any. Like, what? I'm not imagining those iced tea glasses on your tray, right? Super minor quibble like I said, but it's still pretty bothersome to me considering that it happened again to us in their sister hotel, Henann Prime Beach. I don't want to assume that it's just because they realized I wasn't a foreigner, though it's easy to assume that since we were literally always the only Tagalog-speaking guests every time we checked in (I was even kidding around with K that we may have mistakenly landed in his country instead). And it seemed like we were the only ones that Henann didn't give welcome drinks to. Sad.
I find Henann Lagoon Resort to be a double-edged sword for me. If you're coming to Boracay to experience its white sands and explore the beauty of the island, my budget-conscious self recommends that you do not book this resort, or any of Henann's resorts, for that matter.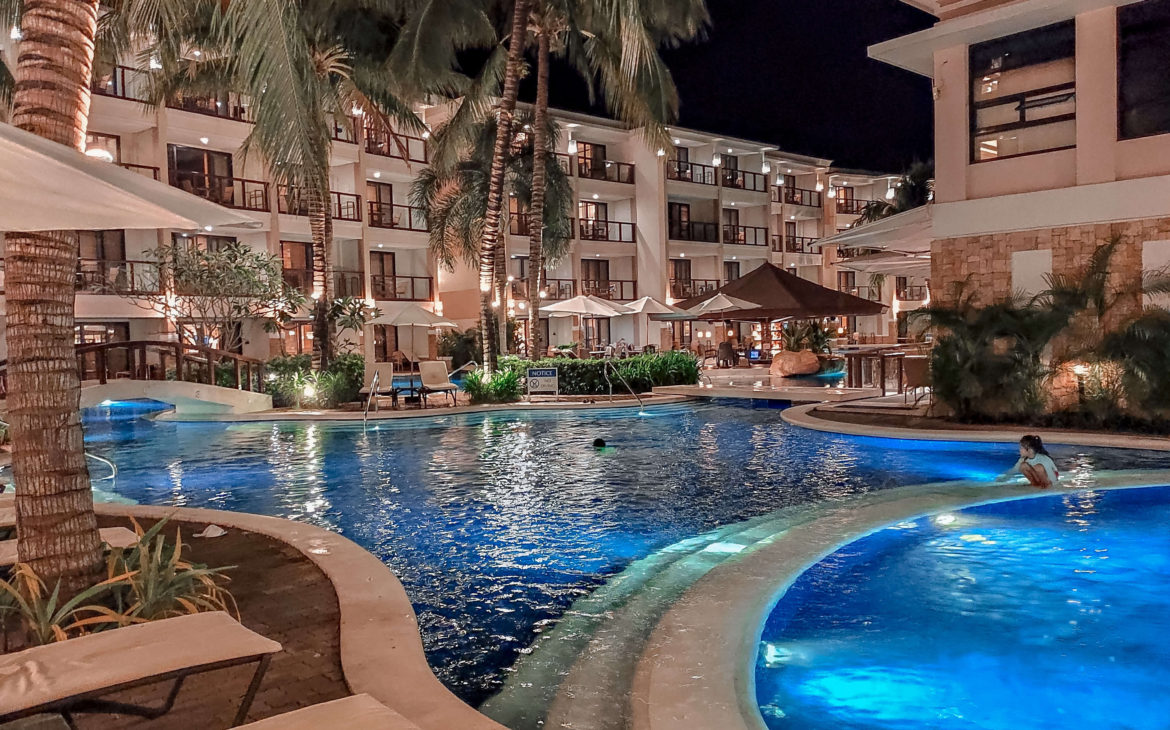 Why? For the price, and for everything that's included in it, you wouldn't want to leave this hotel. At all. Yes, not even to go out and enjoy the outdoors, such as Boracay's world-famous white beaches, for example.
Of course, there's nothing wrong with that, but it does seem counterproductive if you think about it. After all, why travel to a small island if you're just going to spend your entire time inside a hotel, anyway? You'd be better off spending your money on a slightly more affordable hotel so that you'd have more money to spend on adventures.
However, another part of me knows that this hotel is worth every penny, especially if you get a room on the lower end of the price range. At least you'll get a good long rest at the end of a tiring day out!
Overall, we greatly enjoyed our stay at Henann Lagoon Resort. If we ever come back to Boracay (and we certainly will), we'd definitely book this place again. Here's to hoping we'll get a warm welcome next time! 😉
For more Boracay posts, please check out this tag!
'til our next adventure,