Last Updated on December 10, 2022 by Ran
Boracay is that one place that you'll always remember going to, no matter how long it's been. It's been over a decade since my last visit so I really wanted to savor this one.
For today's article, I'll be sharing my Henann Palm Beach review!
Henann Palm Beach Review
We were lucky enough to get to experience two Hennan properties during our last Boracay vacation. The first one was Henann Lagoon while the second one was Henann Palm Beach.
I already listed down my reasons for choosing Lagoon in a previous article, but here are the two reasons why we opted for two resorts in the first place:
I really wanted to stay in Henann Lagoon for our entire trip since it's the only Henann resort that offers a suite room with a private plunge pool, but K also wanted to stay at a beachfront property. As a compromise, we decided we'd just book two hotels. Since our two choices are both hotels from Henann Group, we figured transfers would be easier.
We were supposed to book at Henann Crystal Sands, but the cheapest rate we could find for our dates of stay was roughly 15,000 PHP (300 USD) per night on average. And that's only for the deluxe room, which is the most basic room in Henann resorts. While we don't mind splurging every once in a while, we agreed that it was too much considering that there were other Henann properties nearby that were far more affordable.
After putting in some thought, we finally ended up booking a room at Henann Palm Beach.
Read More: Where to Stay in Boracay: Henann Lagoon Resort Review
Location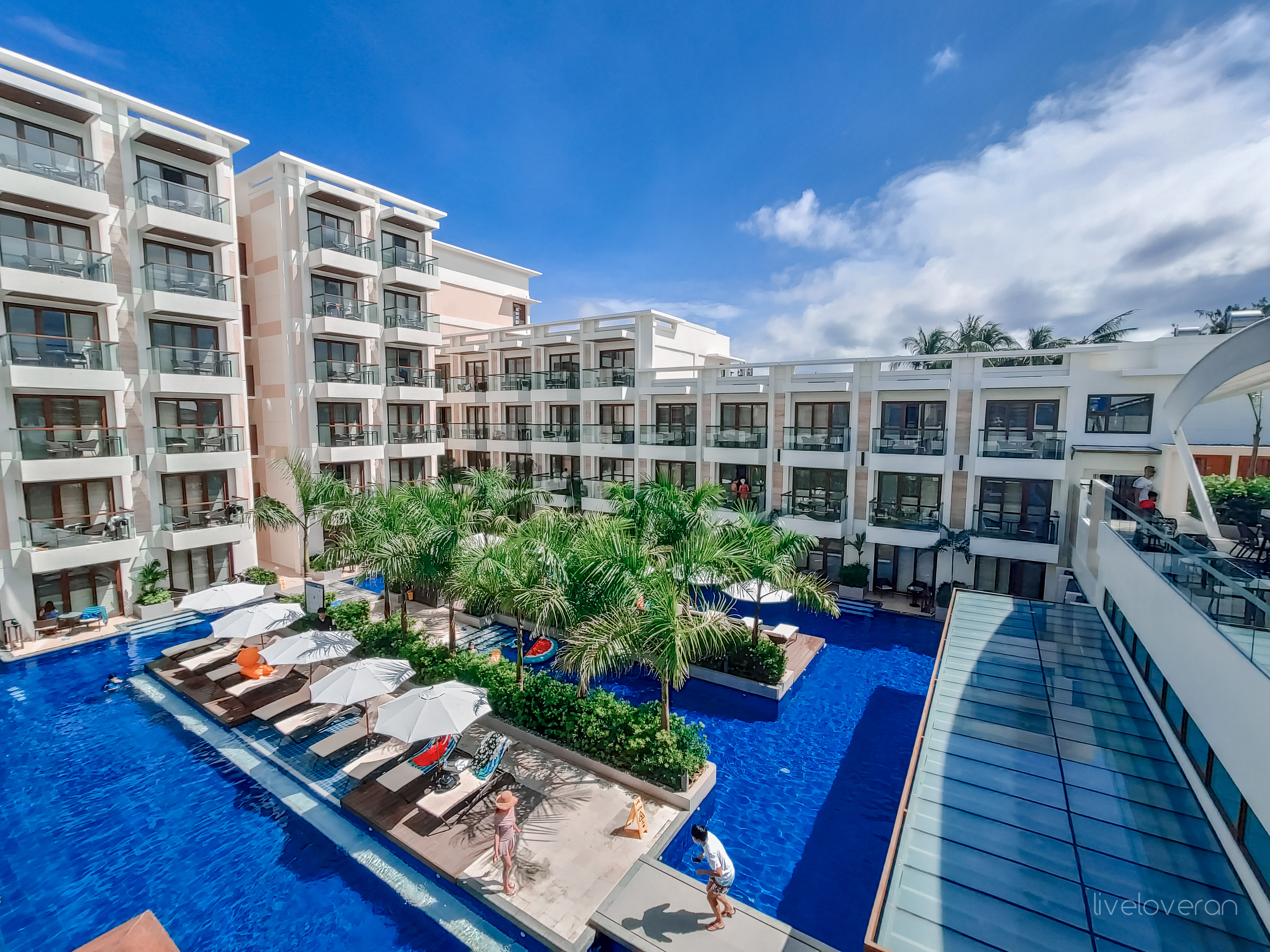 Henann Palm Beach Resort is located in Station 2, White Beach, Boracay. Interestingly, it's actually aligned with Henann Lagoon, which means transferring from one to another isn't an issue at all.
In our experience, going from Henann Lagoon to Henann Palm Beach was pretty easy. As mentioned above, they're almost right next to each other—the only difference is that Palm Beach is, well, right next to the beach, while Lagoon is right next to the main road.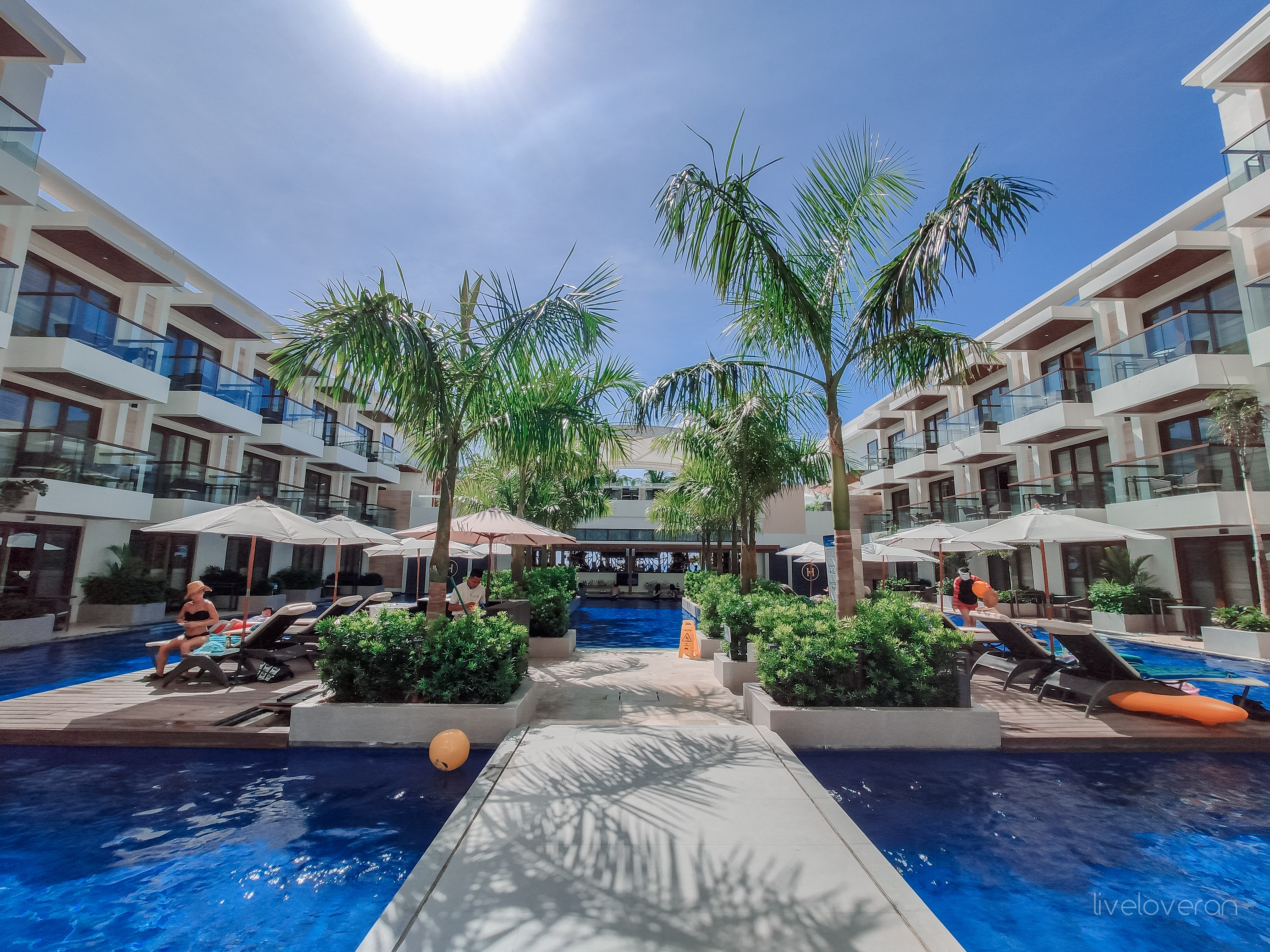 If you're coming from Lagoon, or anywhere on the main road, actually, you have three options:
You can take a tricycle from the main road to Palm Beach.
You can wait for Henann Group's free shuttle that takes guests to the beachfront area. Vehicles aren't allowed on the actual beach though, so it actually stops in the middle of the street right before you exit to the beach.
You can walk, which is what K and I did since we didn't want to wait for the shuttle. It won't take you more than 10 minutes to reach Henann Prime Beach this way.
However, do take note that we don't recommend walking if you're carrying luggage unless you're fine with getting them dirty. Sadly, there's no concrete road going to Palm Beach, so you'd have to walk on a dirt road with lots of rocky bumps. I think it had recently rained when we went there too, so there were mud puddles all around.
Price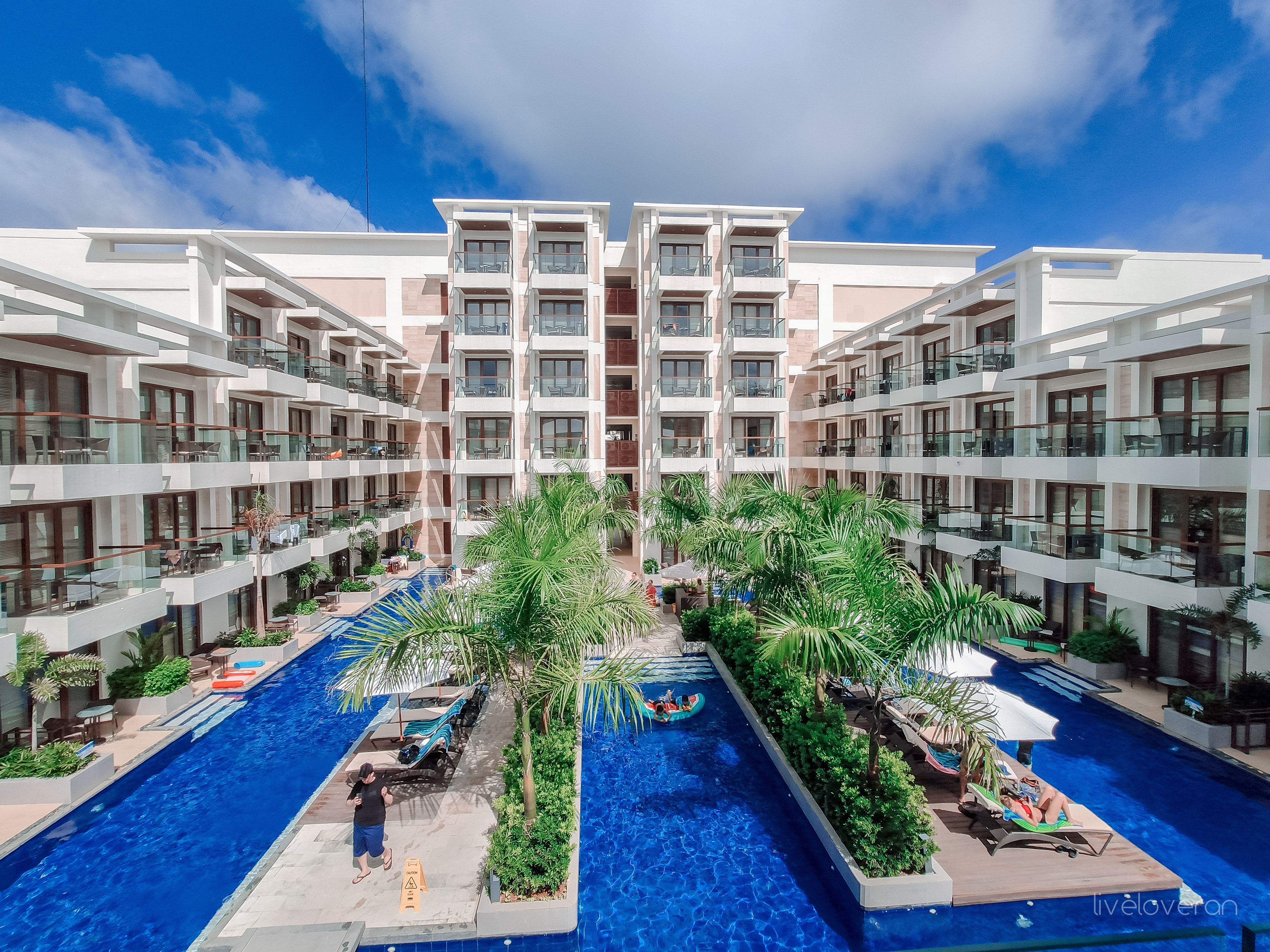 Henann Palm Beach is a 4-star hotel with a total of 250 guest rooms. The rates are considerably higher than many other properties in the area, but since it's not a 4-star, it's still less pricey than Henann Crystal Sands.
Here are some sample rates I got after searching on Henann Palm Beach's official website. Take note that these are all for peak dates, which run from November to May.
Deluxe – 9,108-11,984 PHP
Premier – 9,619-12,656 PHP
Grand – 10,215-11,156 PHP
Premier with sea view – 10,215-11,156 PHP
Premier with direct pool access – 11,236-14,784 PHP
I really wanted to book a grand room, but they only have a few in the entire property, and all of them were sold out for our dates of stay. Sadly, the grand rooms are the only rooms with a beach view, so we figured that if we couldn't have that, we might as well just settle for a basic room.
Check-in was a breeze, by the way! The front desk staff were all super nice and accommodating. We arrived at around 12:30PM and were immediately brought to our room even though check-in time was 2PM.
Room Inclusions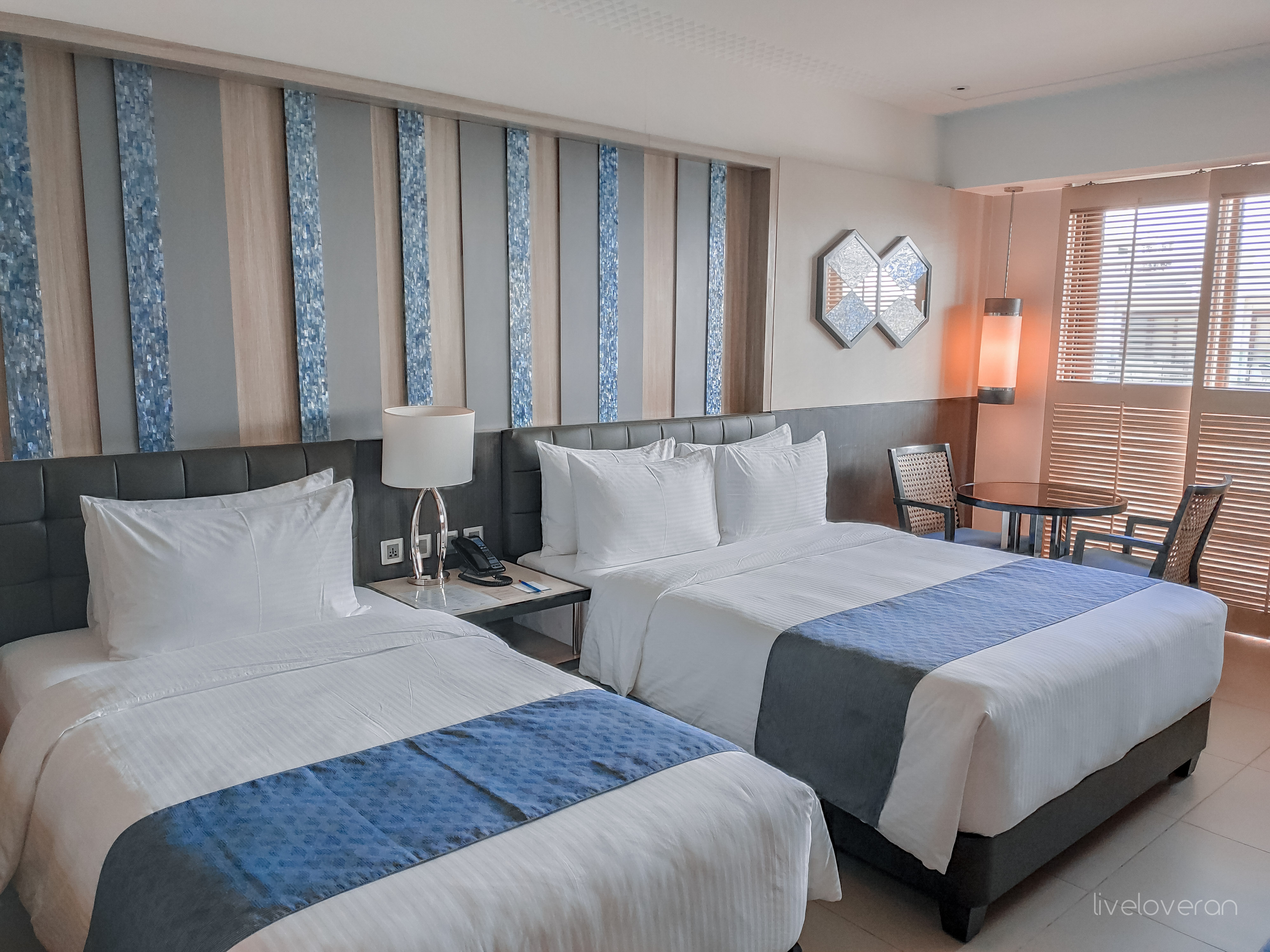 K and I got a premier room at Henann Palm Beach Resort for roughly 9,500 PHP per night. We booked our room via Agoda, which turned out to be the cheapest option out of all the booking sites we checked.
Our 38 sqm. premiere room included the following:
one queen bed and one single bed
43-inch flat-screen cable TV
vanity mirror and desk
balcony with pool view
mini refrigerator
bathtub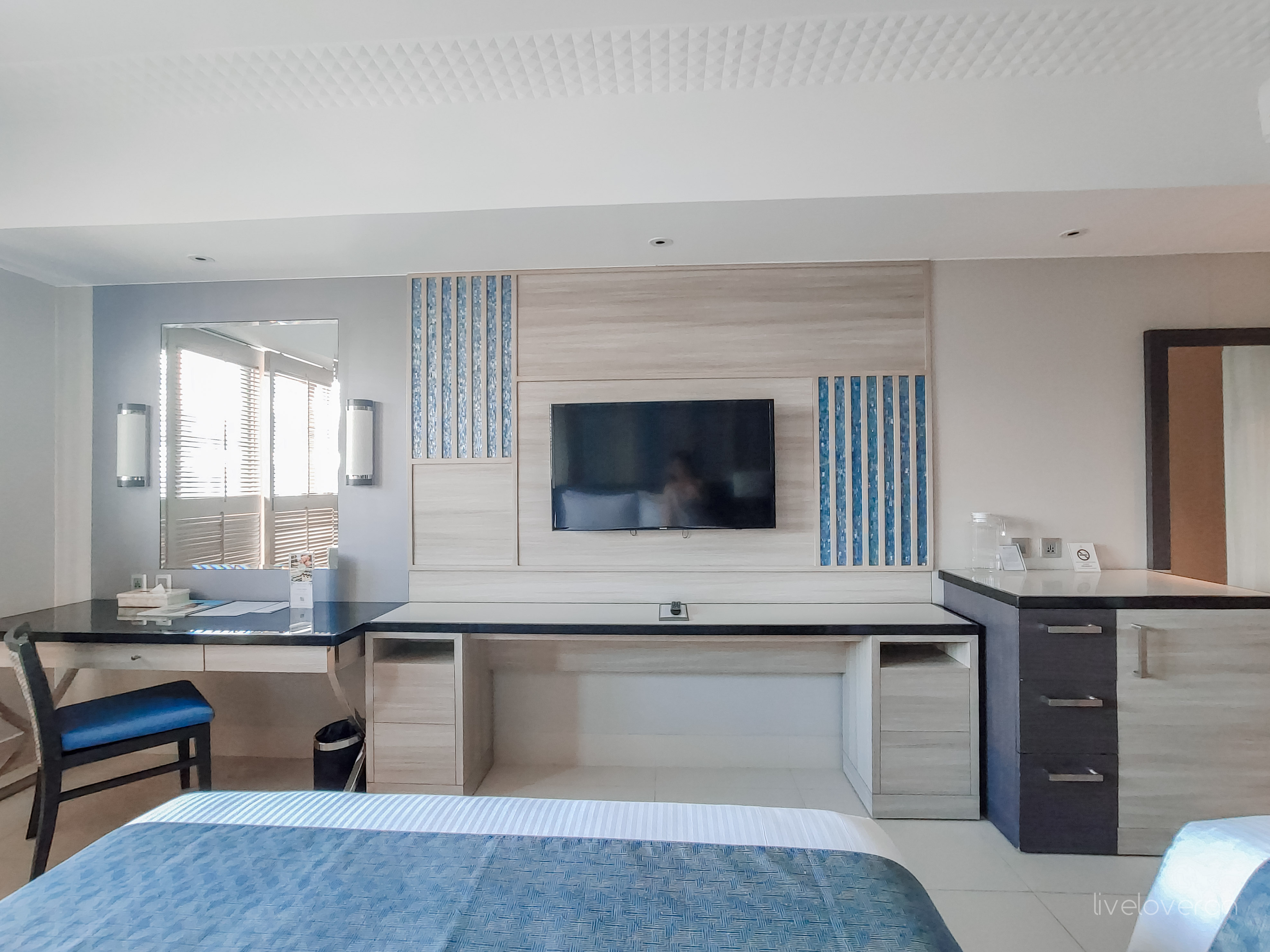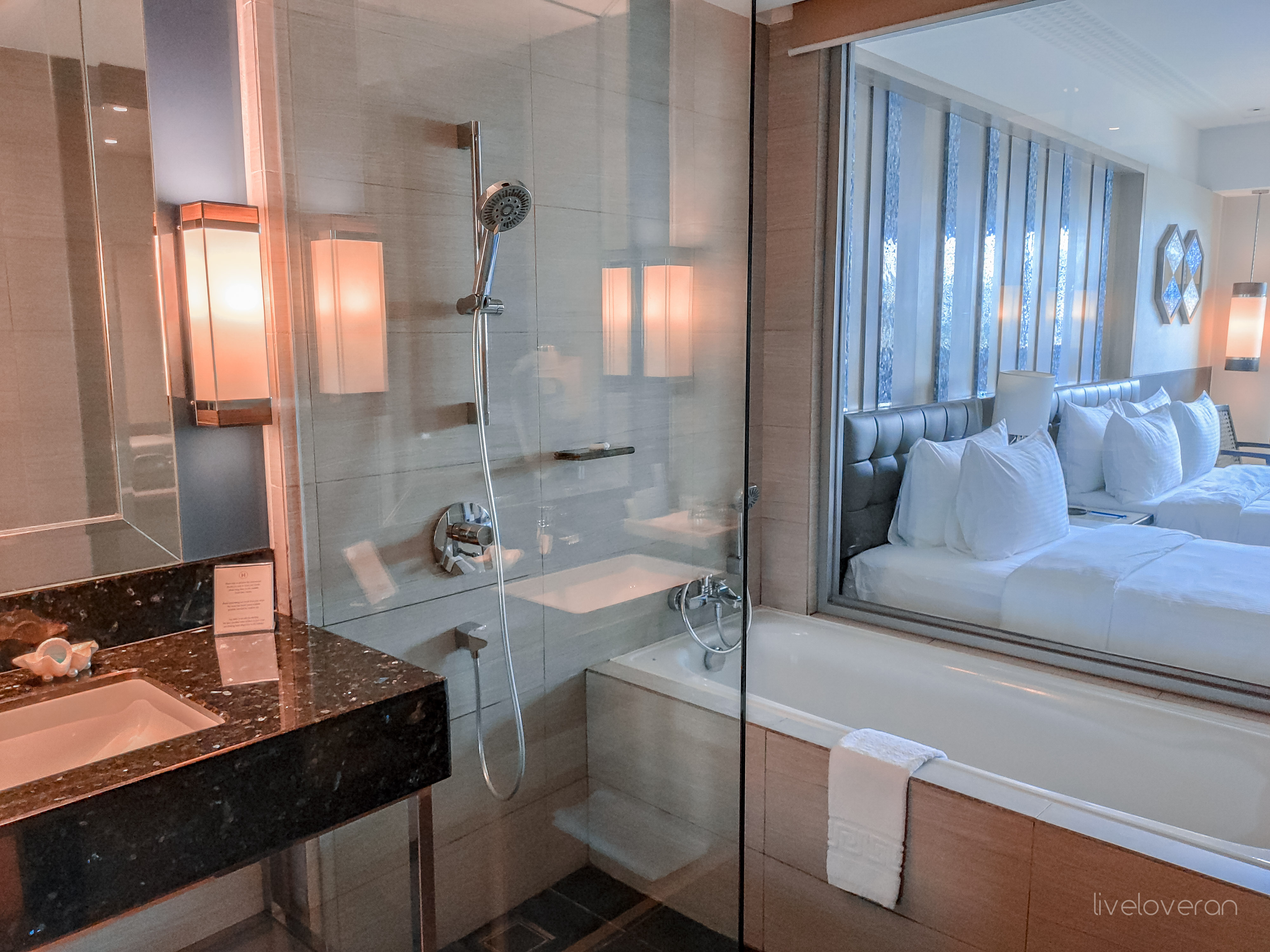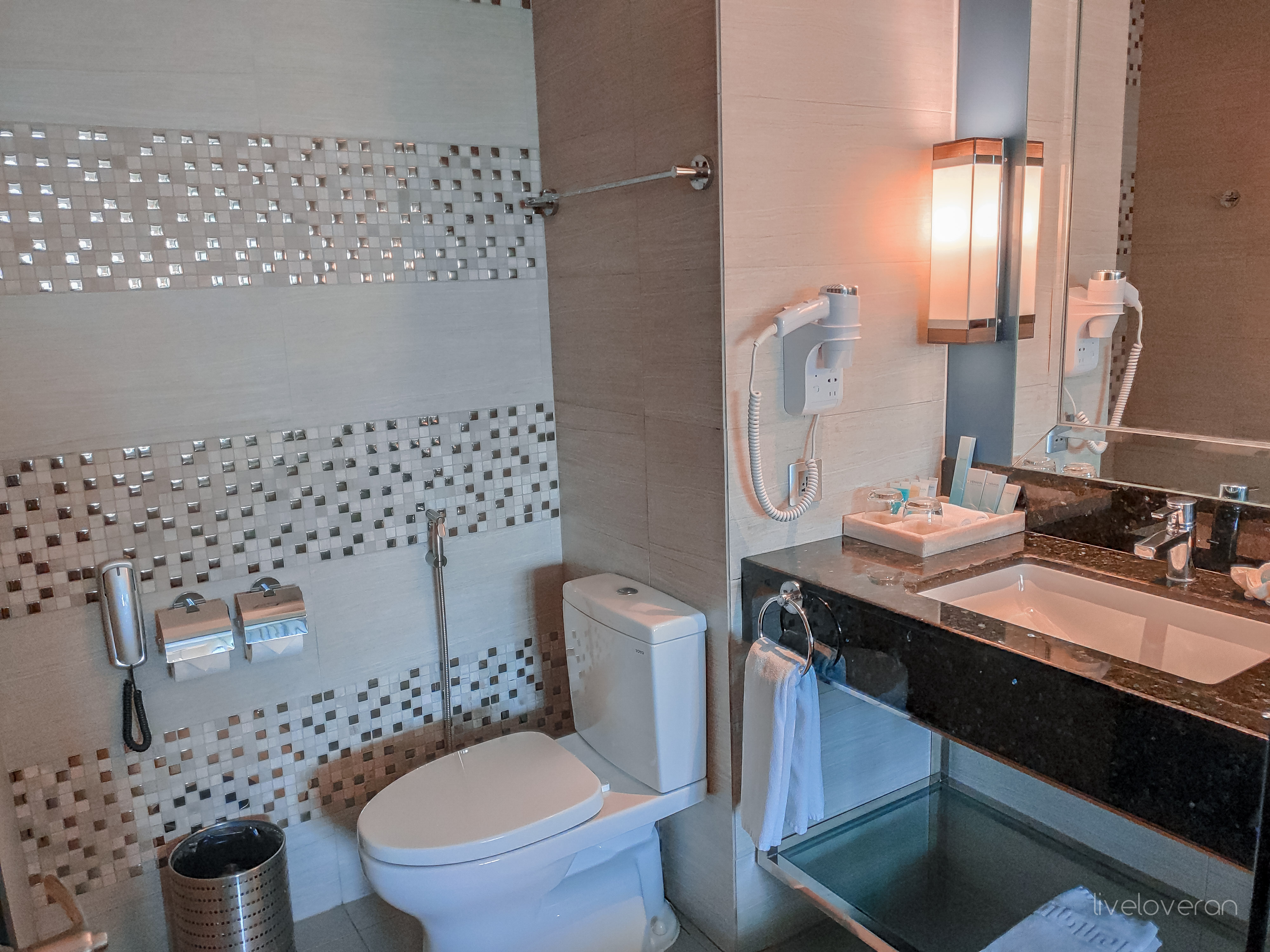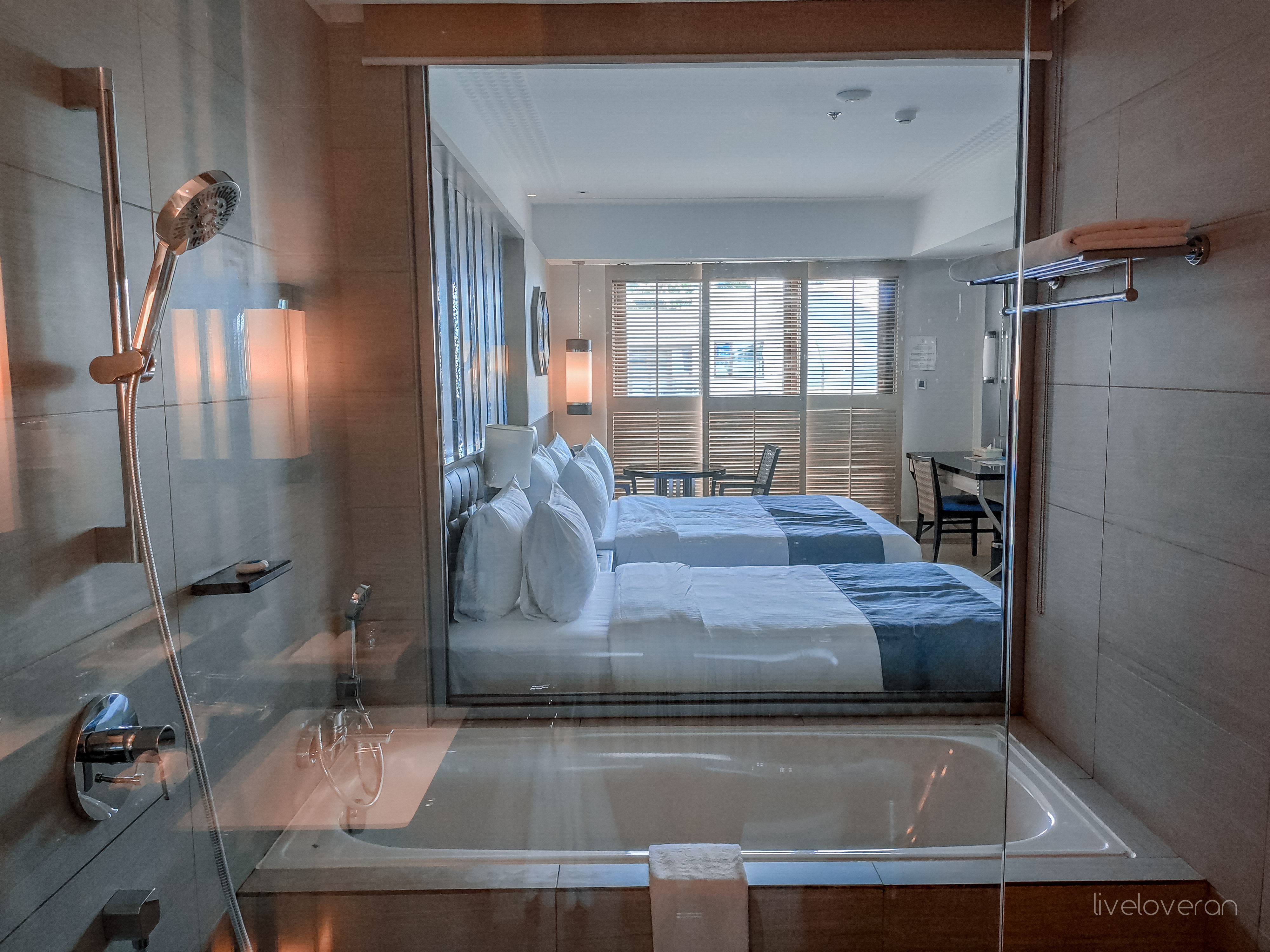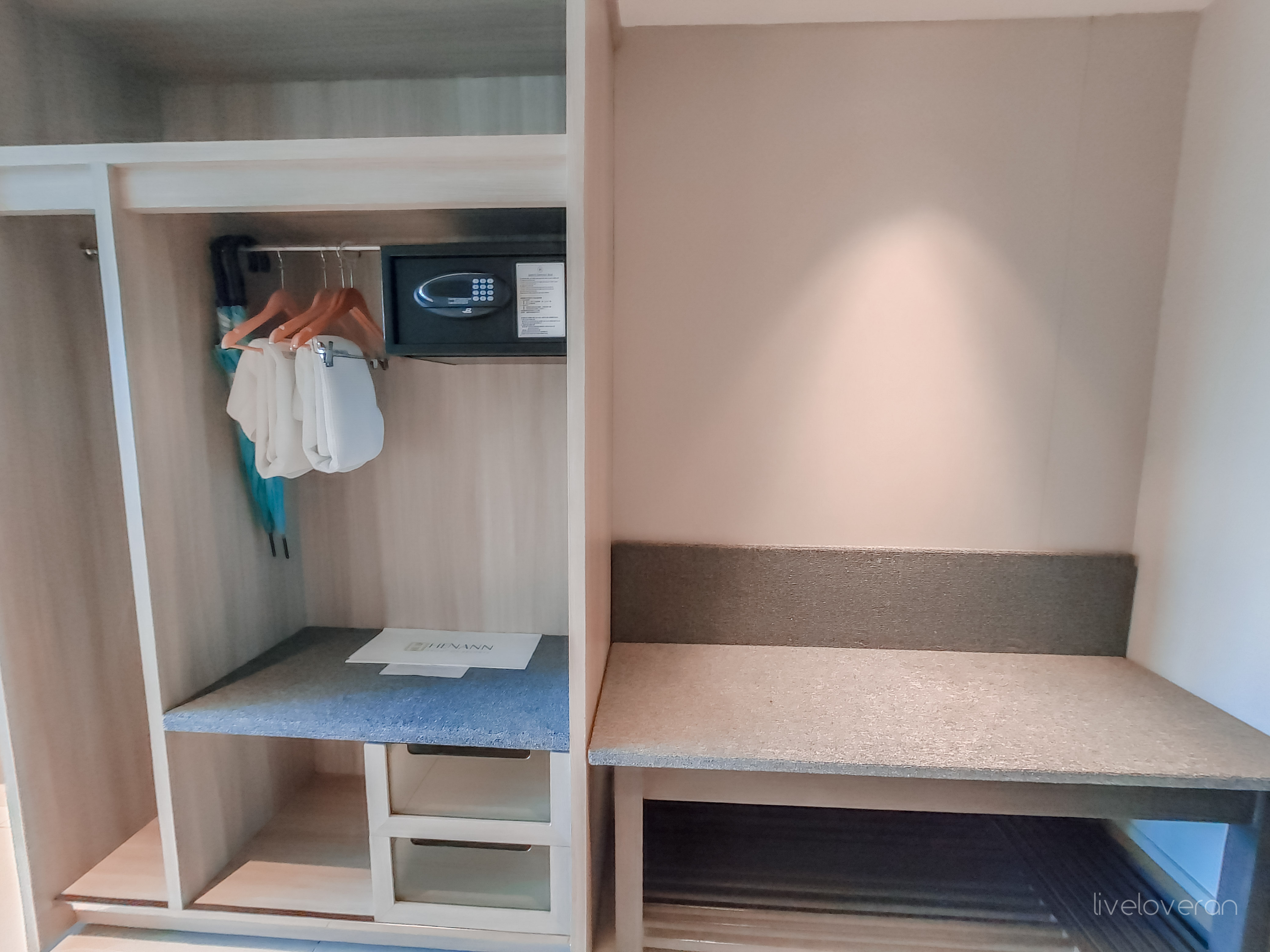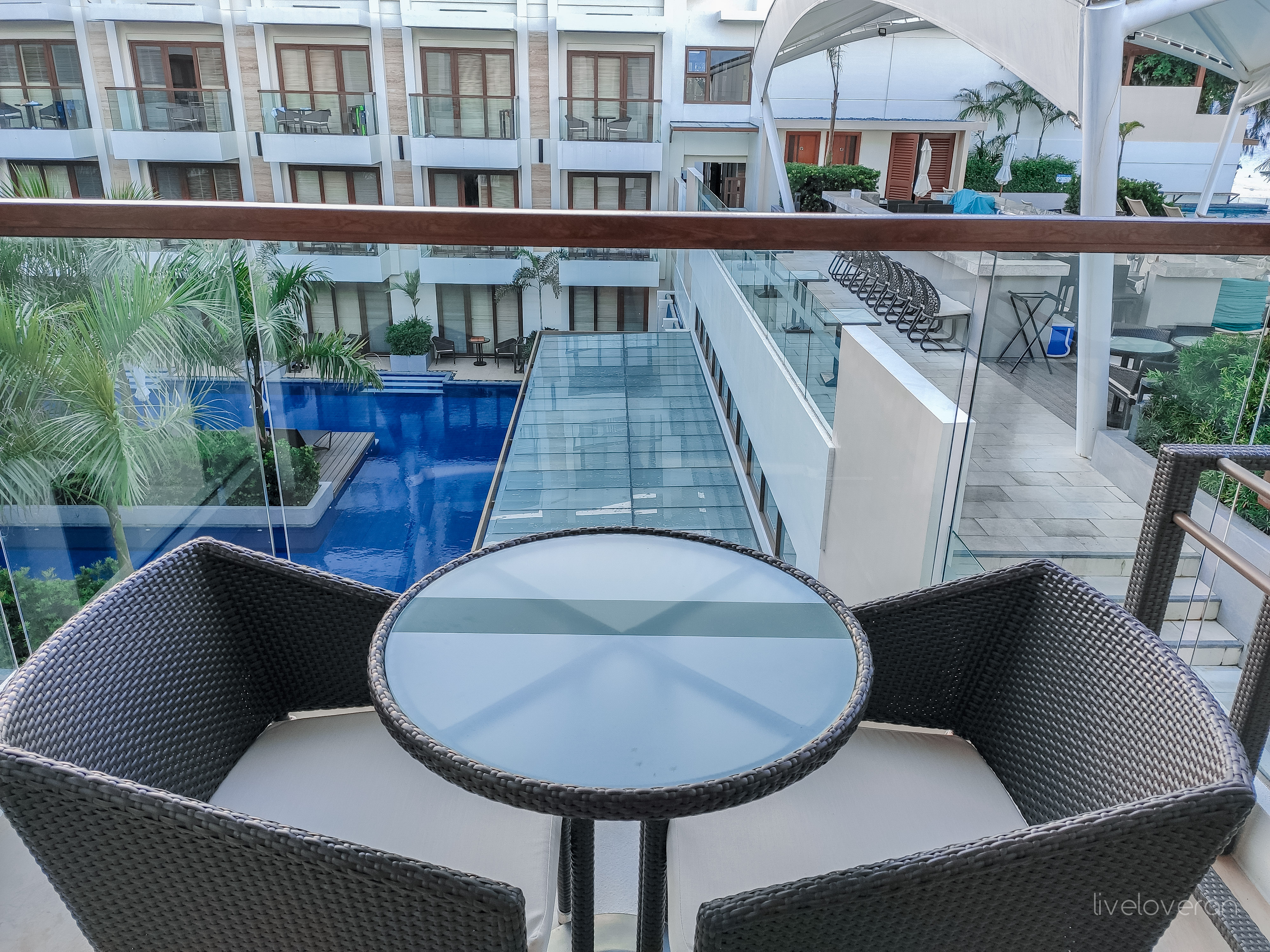 The room is super comfy, although it did feel a bit cramped to me due to the narrow layout.
I'm also not a fan of the bed configuration, but sadly they didn't have any more king rooms available.
Housekeeping replenishes the supplies daily if you allow your room to be cleaned. Weirdly enough, they only gave us one dental kit on the first day and didn't give us another one. I guess they forgot to replace the second dental kit that the previous guests used? K and I brought our own toothbrush sets, though, so it wasn't a big deal.
Oh, also, you have to remember to put a DND hanger on your door unless you want the housekeeping staff to automatically clean your room.
This came as a surprise for me and K on our first day because I'm the kind of person who doesn't really like anyone entering her hotel room, even to clean. 😅 When we arrived after one of our island-hopping tours, the room had been thoroughly cleaned, and all the supplies had been replenished.
In most other hotels I've stayed at in the Philippines, you have to add a hanger if you want to have your room cleaned. But here, it's the other way around. I'm grateful, of course, but I'm also feeling a bit embarrassed that I wasn't able to leave a tip because I was unprepared.
Amenities
Henann Palm Beach has so many amenities that you wouldn't even want to leave the hotel. I know I certainly didn't. If we hadn't already booked tours on Klook beforehand, I bet K, and I would've stayed inside the hotel premises all day, honestly.
Swimming Pool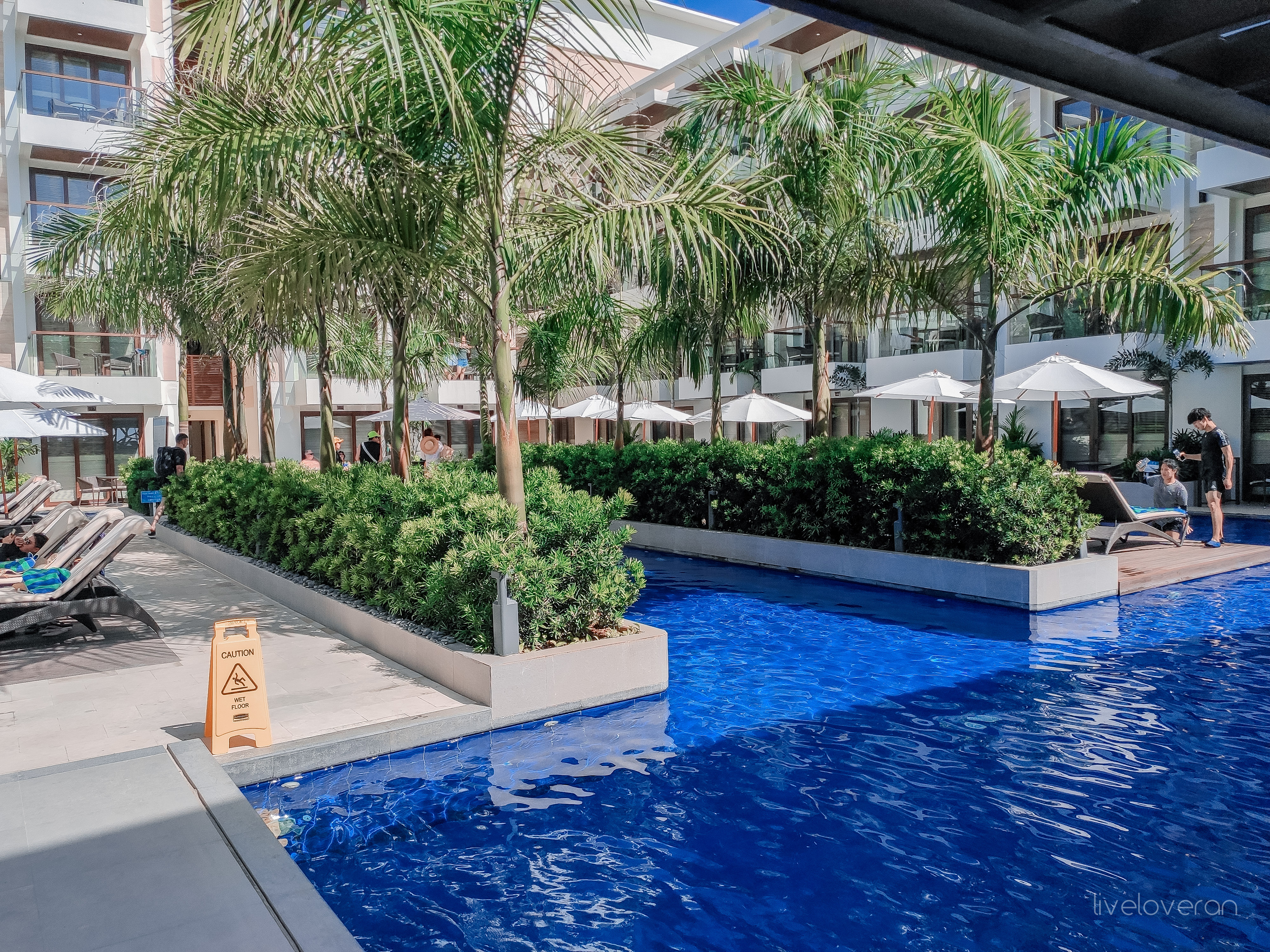 The swimming pools are an absolute joy. Since the hotel has two wings, there are also two main pools, one for each wing. Our room was in the wing nearest to the beach, and we also got a corner room, so we were very close to the pool area.
Both pools are completely symmetrical and basically just mirror images of each other, so there's really no need to try both (which we did because y'know how curious the two of us can get).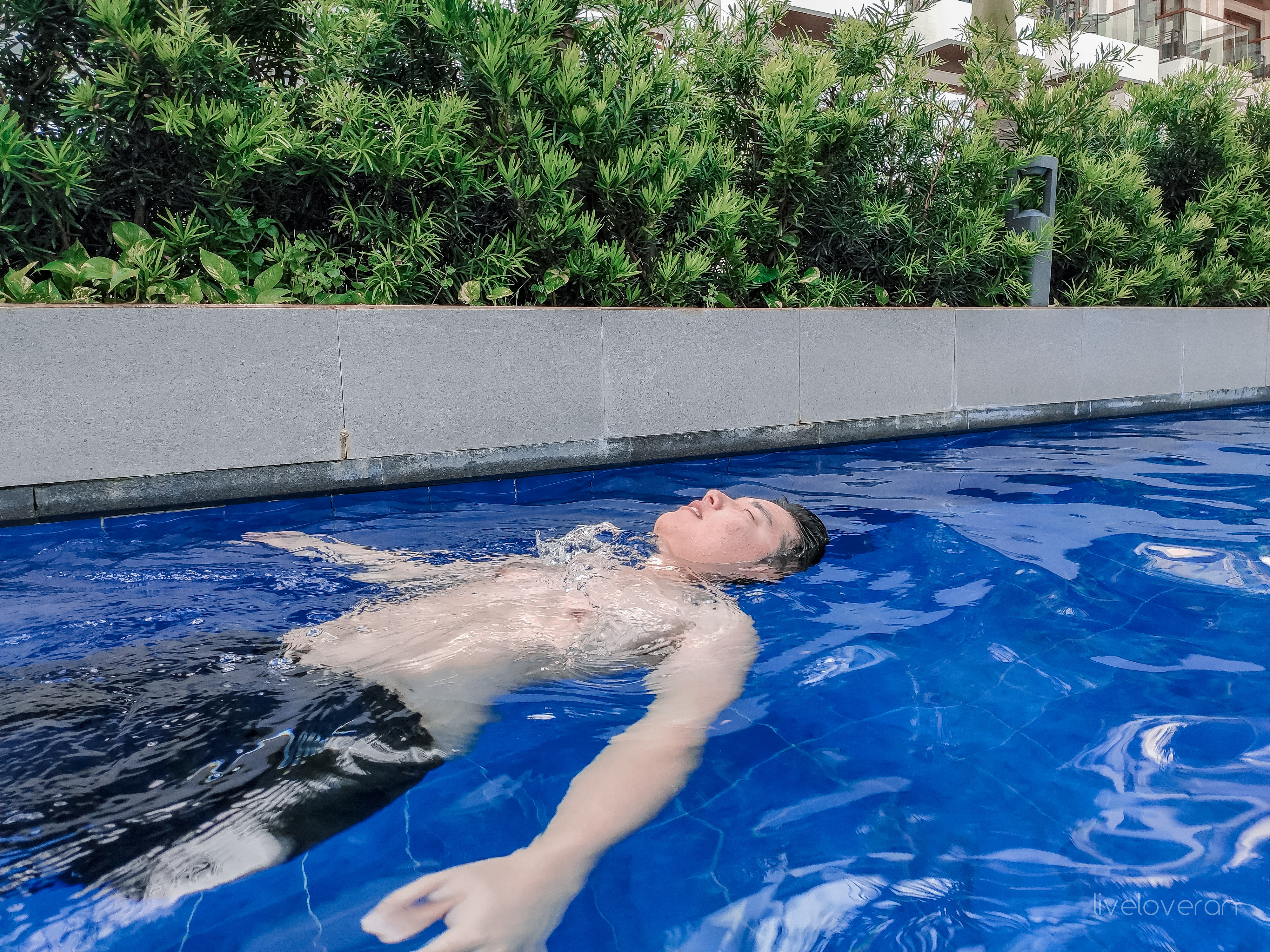 It's not a heated pool so do expect the water to be a bit cold at first. Then again, there's also no shade whatsoever, except for the area near the pool bar, so you can always just catch the sunlight for a little warmth. ☀
Pool Bar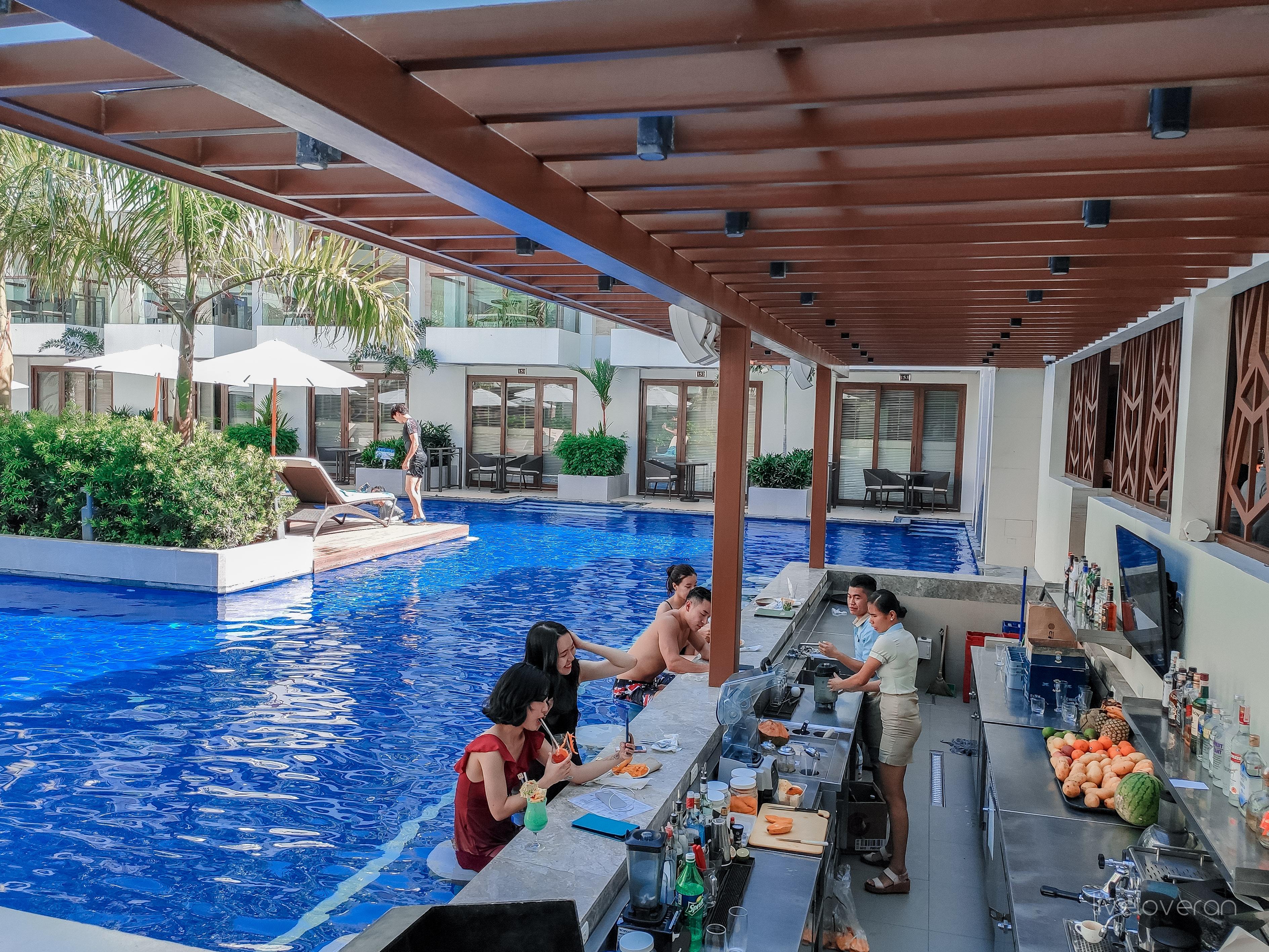 Speaking of the pool bar, it's probably my favorite feature at this hotel. Guests can order anything they want while swimming in the pool, how awesome is that? All you have to do is give your room number, and they'll charge your bill for room service. Of course, there was no way I wasn't ordering a chocolate milkshake.
Except for one tiny problem, at least for me: they didn't have any chocolate milkshakes.
I know, I know, it shouldn't be a big deal. And it really isn't, although, like I've already said on this blog, I'm on a silly quest to try at least one milkshake in every place I go to.
So I was kinda disappointed, but the bartender noticed and asked me what the matter was. So I told him that I had hoped there would be chocolate milkshake on the menu. I was about to order something else when he suddenly said that he'd see what he could do, and guess what? He whipped up one just for me! Five stars on the customer service, definitely. ⭐️
Oh, and since there wasn't any chocolate milkshake on the menu, they actually used the barcode for a coffee-based smoothie instead. I didn't know that was possible, but hey, I'm not complaining. 🙊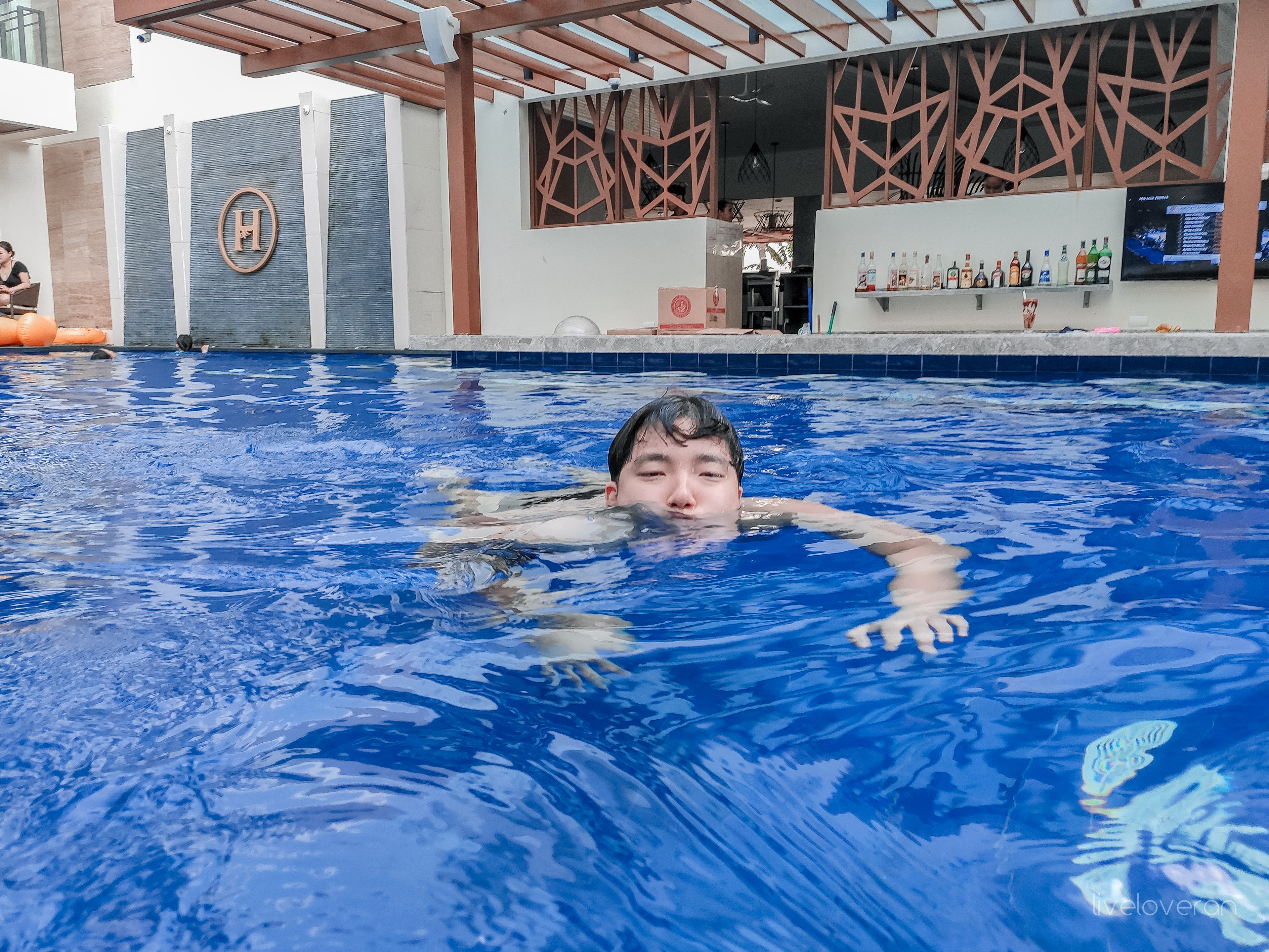 You can get your hotel towel at the booth near the swimming pools, just make sure that you present the correct room number. If you want to take the hotel towel out of the hotel, you can do so too, provided that you don't lose it.
Sky Pool and Bar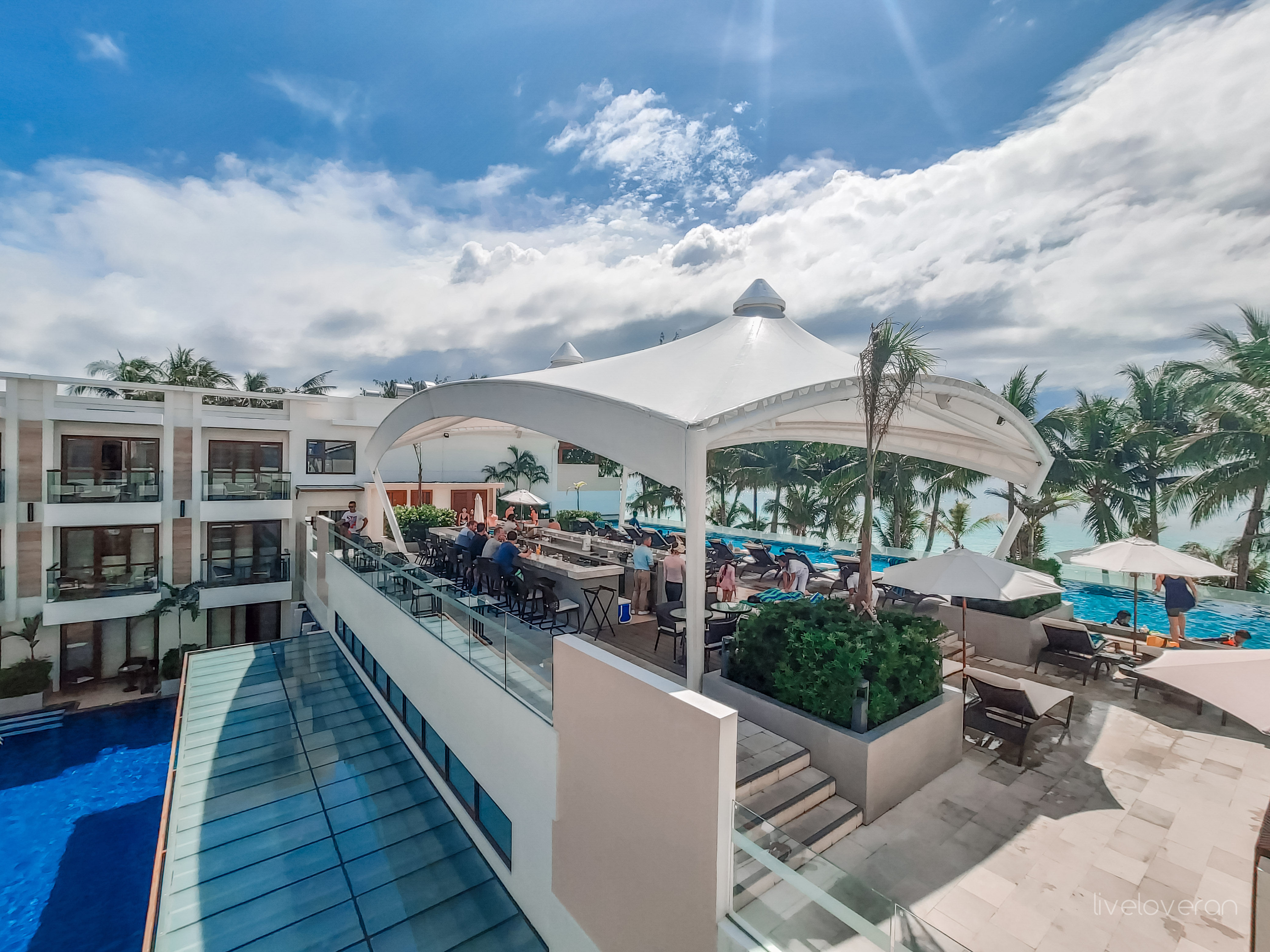 One of the main reasons why we chose Henann Palm Beach instead of all the other Henann resorts in the area is because of my good friend from college, Moi. Moi had previously stayed at Palm Beach before with her family, and I guess they had a blast because she really raved about it.
Upon learning that K and I will be spending a short vacation in Boracay, Moi told me a lot of good things about Henann Palm Beach's Sky Bar. Yes, she used the Sky Bar to convince me that Palm Beach is the Henann resort to go to.
Since my dream Henann resort was way too expensive for our budget anyway, we figured that Henann Palm Beach was the next best choice. And what do you know, it really was!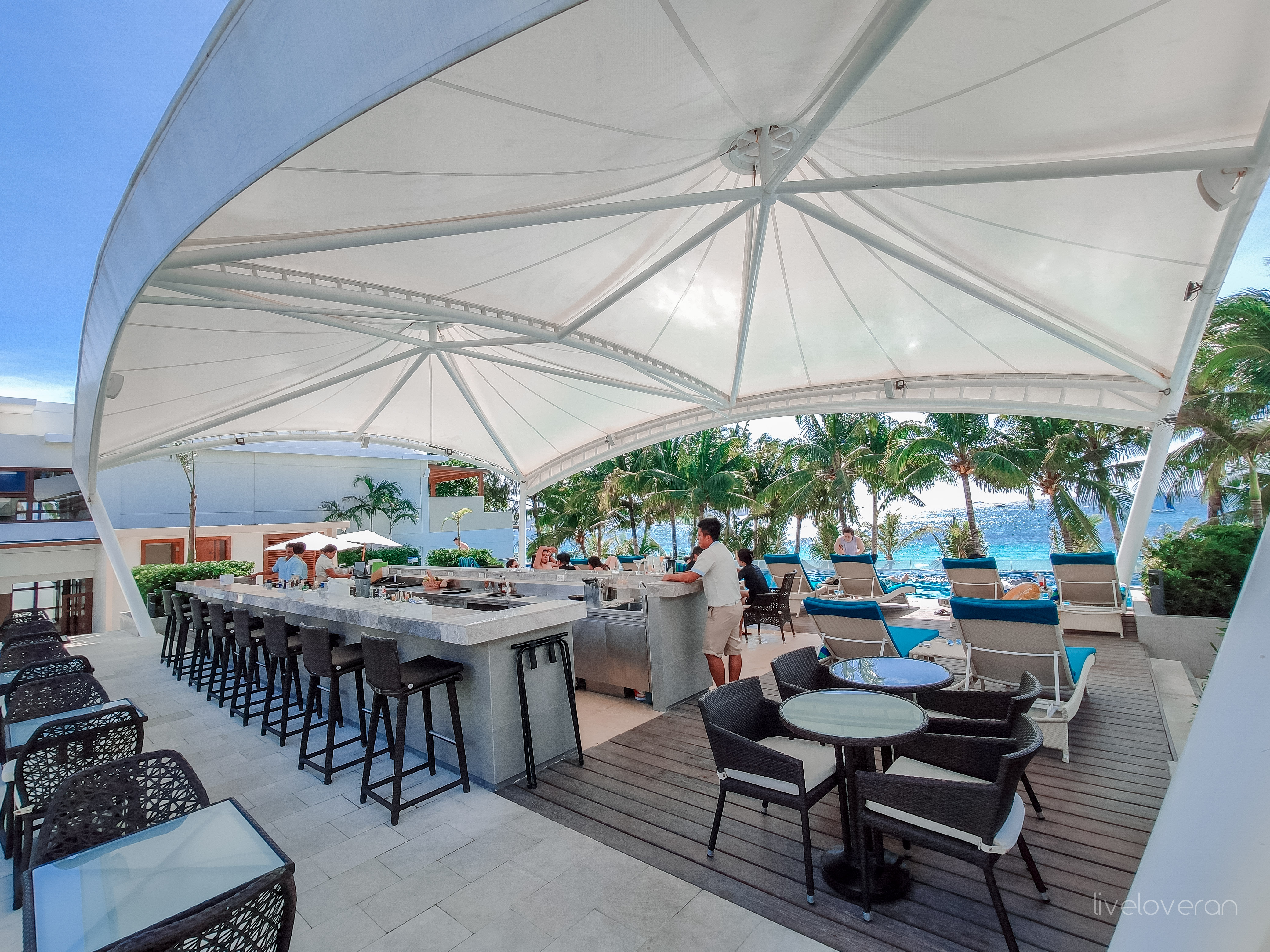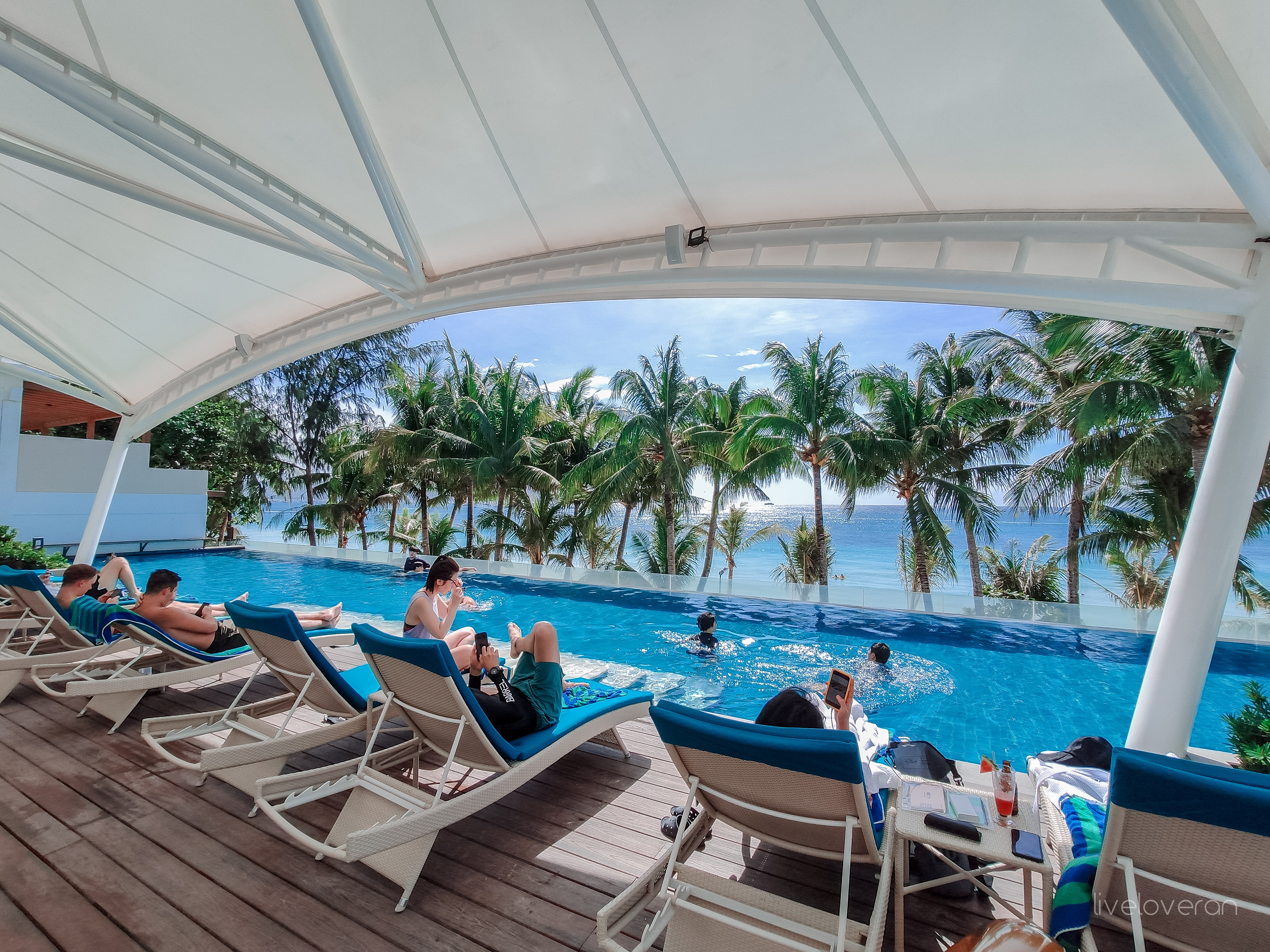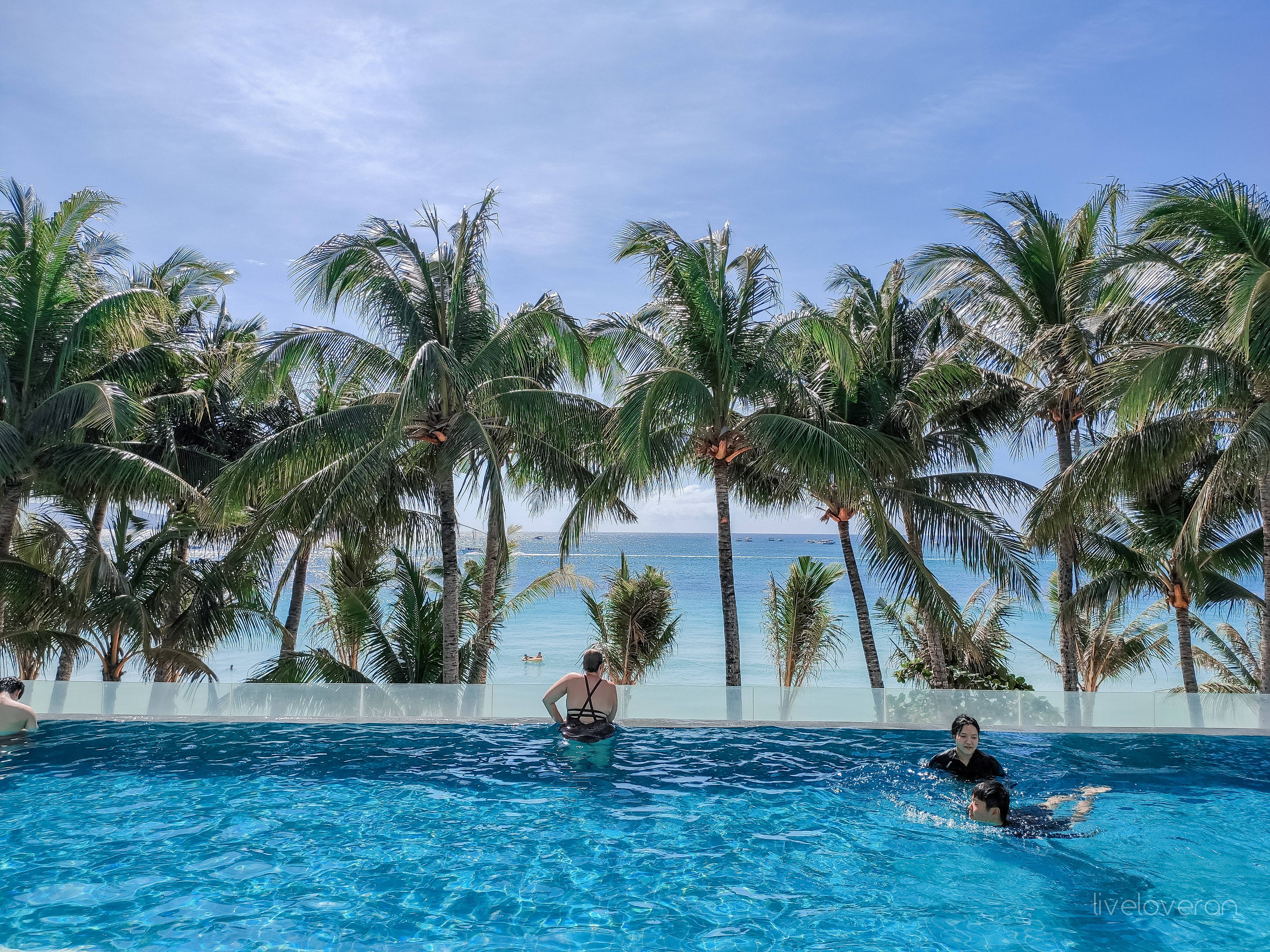 K and I got to swim here for two consecutive nights! We were actually planning on getting a massage, but the night rate caught us off-guard. It was like 1500 PHP for a one-hour massage, something we could get for 500 PHP mainland, or, you know, outside, I guess. We're definitely not rich enough to accept that rate with no hard feelings. 😂
Because of that, we ended up just swimming in the sky pool instead, and what do you know, it was pretty nice.
Palm Tree Restaurant
Dining at the Palm Tree Restaurant was a delight. Granted, it's not the best buffet restaurant I've been to, but it was still a very enjoyable experience.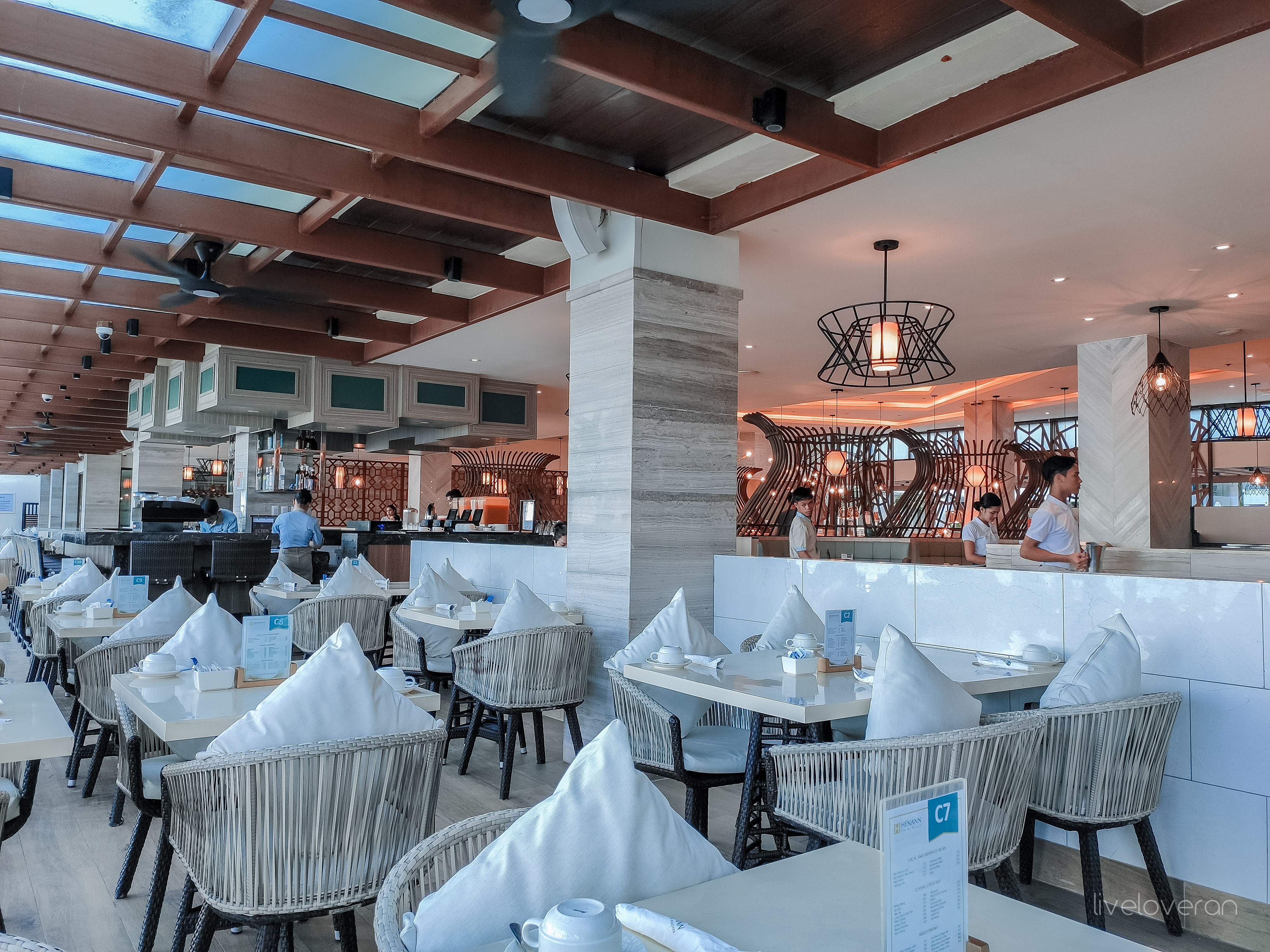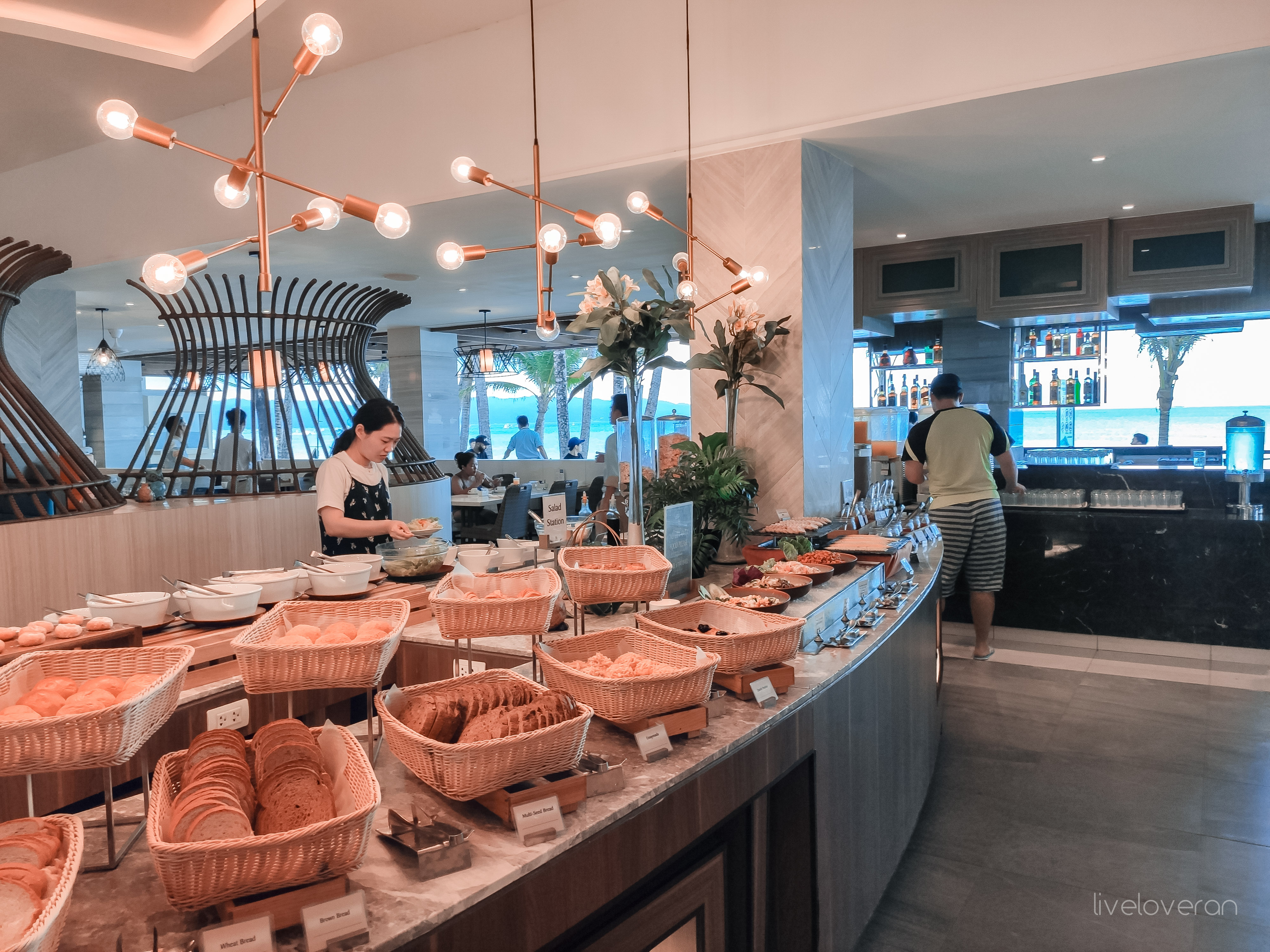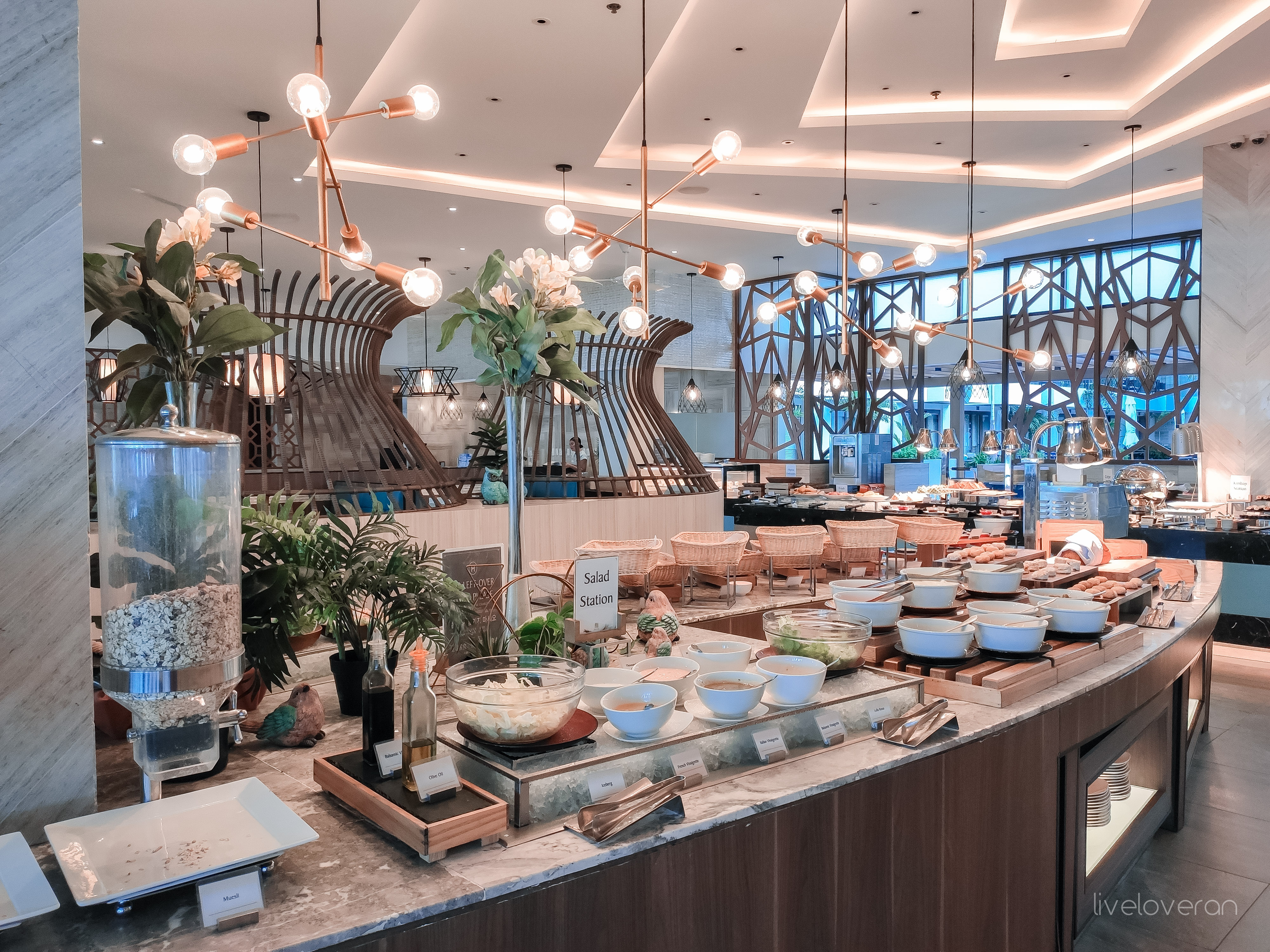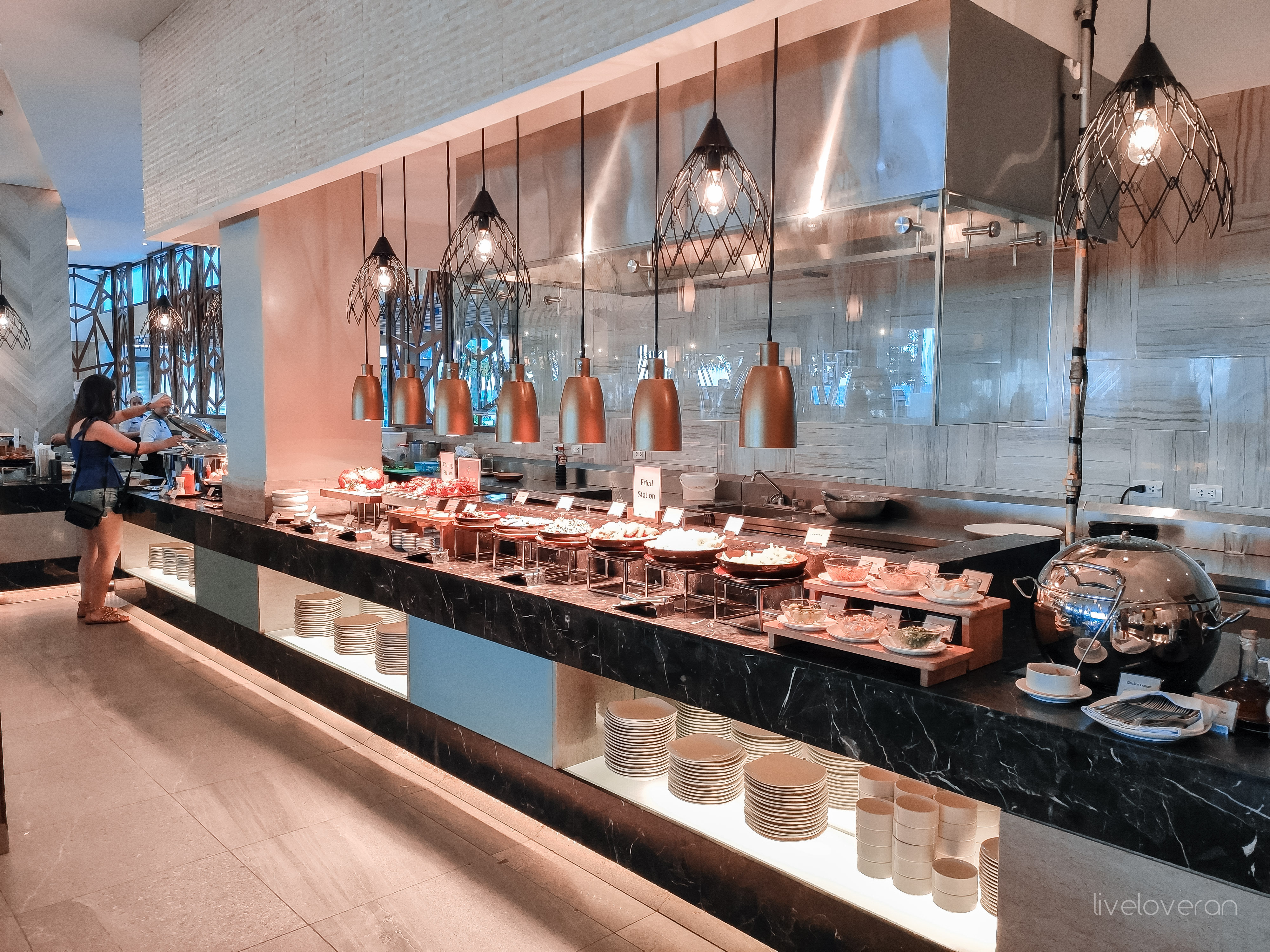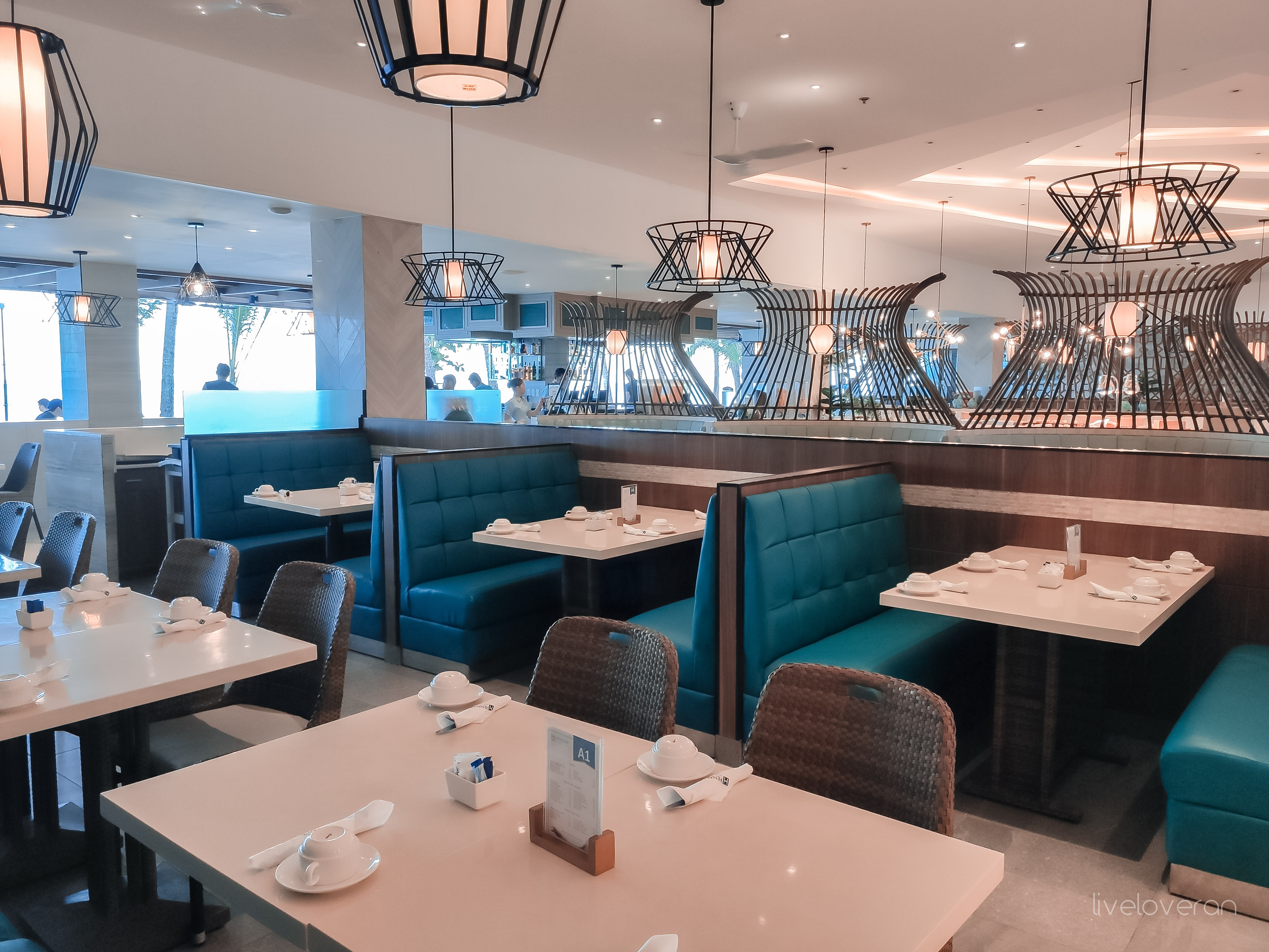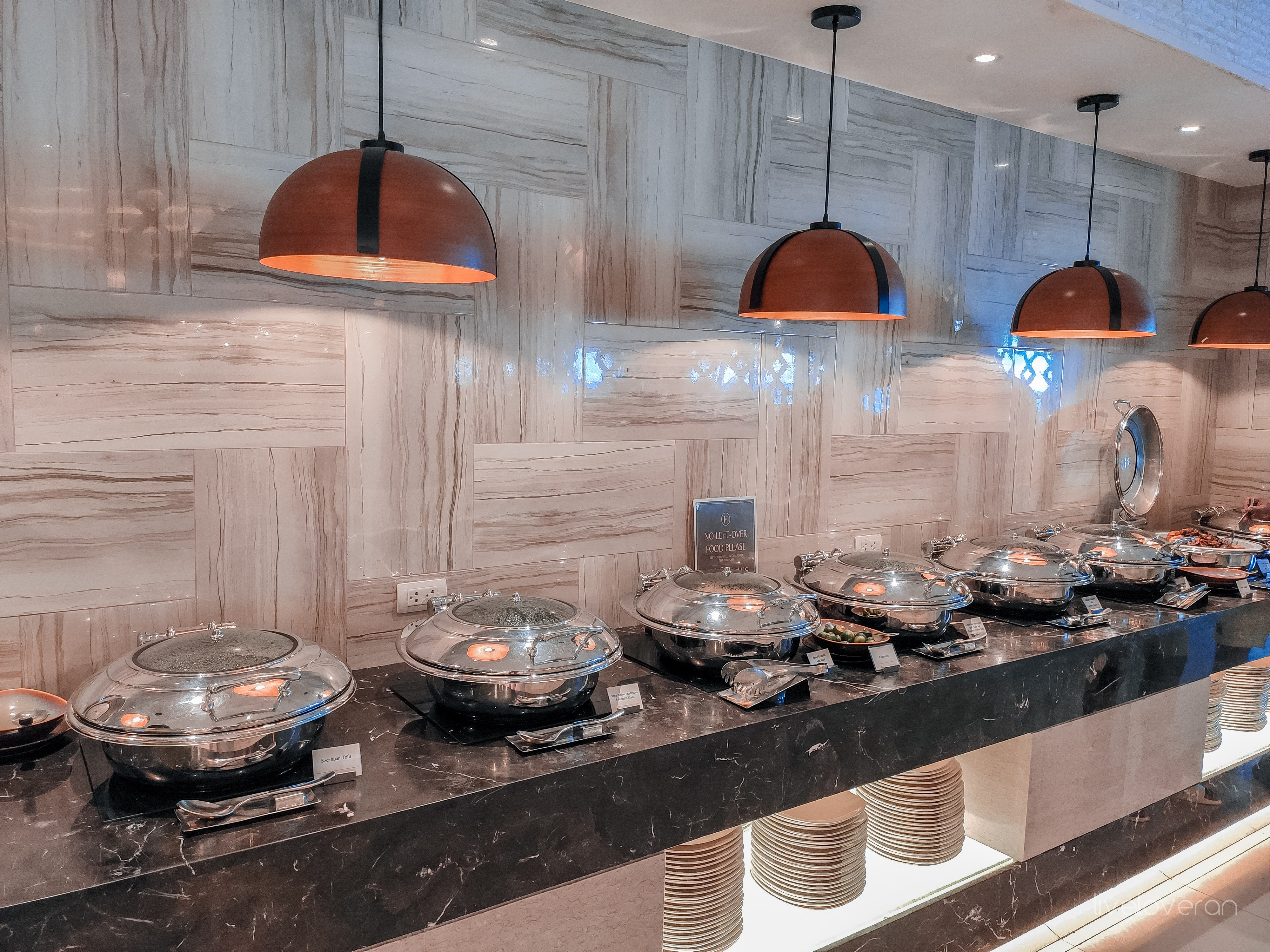 I absolutely loved all the food options. I don't really know how to describe it since I'm not very good at describing food, but I do like how diverse the offerings were.
They have traditional Filipino viands, a sushi bar, various pastries, and many others. I think even the pickiest eater will find something to eat here.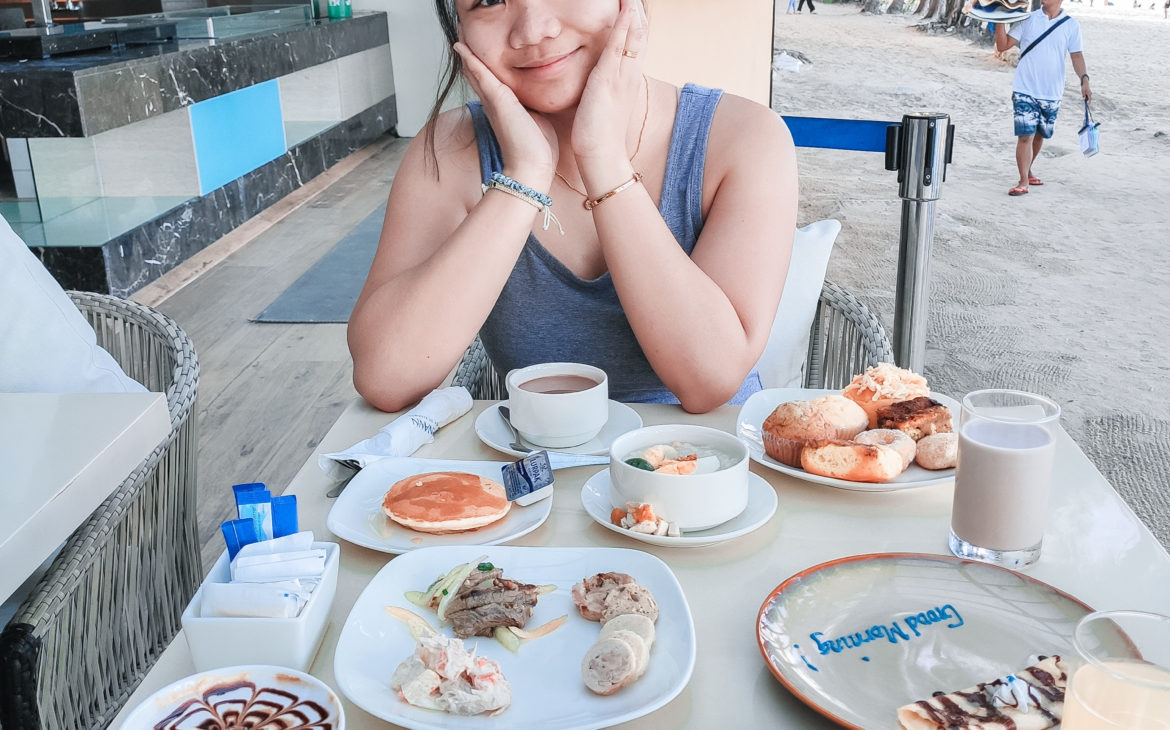 I also enjoyed having breakfast literally right next to the beach. The ocean breeze gently caressing my face as I ate was actually a very pleasant experience.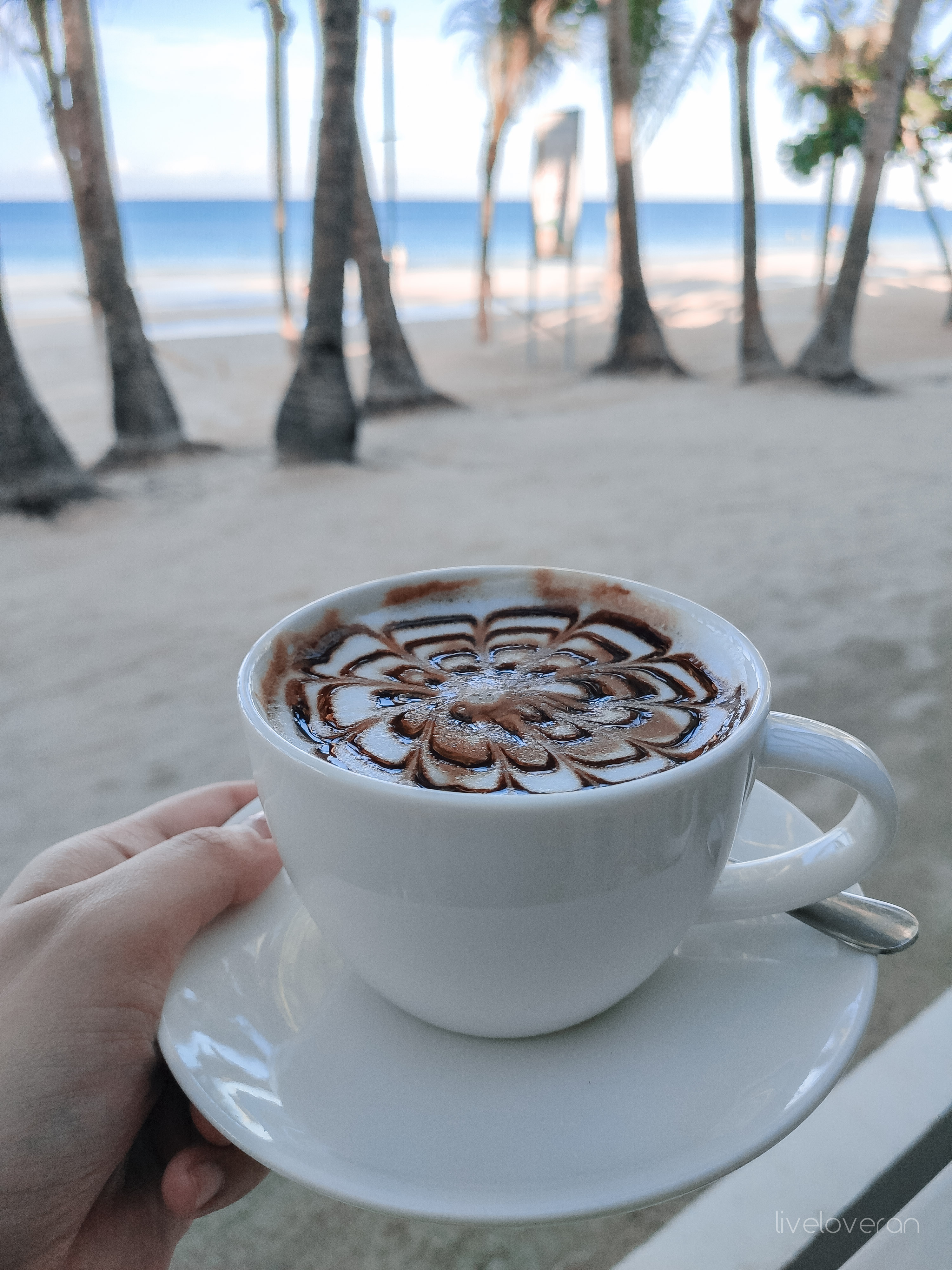 The only downside was that peddlers also kept trying to sell us their overpriced wares while we were eating. K and I just pretended to not be able to speak English or Tagalog (one of the few times I'm glad I can apparently pass as Korean to non-Koreans when I'm with K), and they left us mostly alone. Kinda evil, I know. But we just wanted to eat, you know? Nobody likes getting merchandise shoved to your face while you're having breakfast.
I really pity those two African-looking guys sitting just a few tables away from us who were sucked into buying a $20 monopod from a peddler. He was doing a demo of his product, and I noticed that it looked exactly like my dad's, who got his for just $2. Oh well.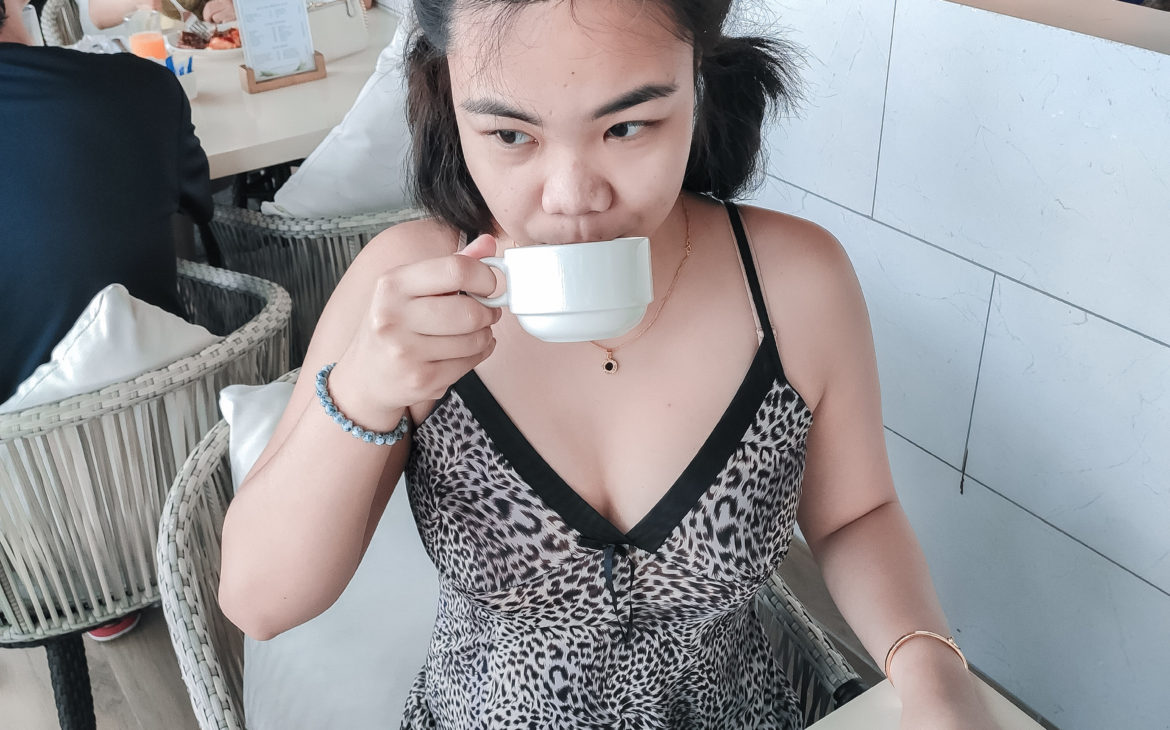 Oh yeah, surprisingly, someone was brave enough to have breakfast in her nighties! Or maybe not, I mean, that was our last morning, and I had run out of clothes. But I also can't deny that the only reason why I felt brave (or stupid) enough to do that was that I was in Boracay and within the hotel's premises. I would've never been able to do that outside the hotel, on the mainland, or anywhere else in the country, really.
I gotta say though, it felt really nice to be in a nightie and have nobody bat their eyes at you. 😂
Beachfront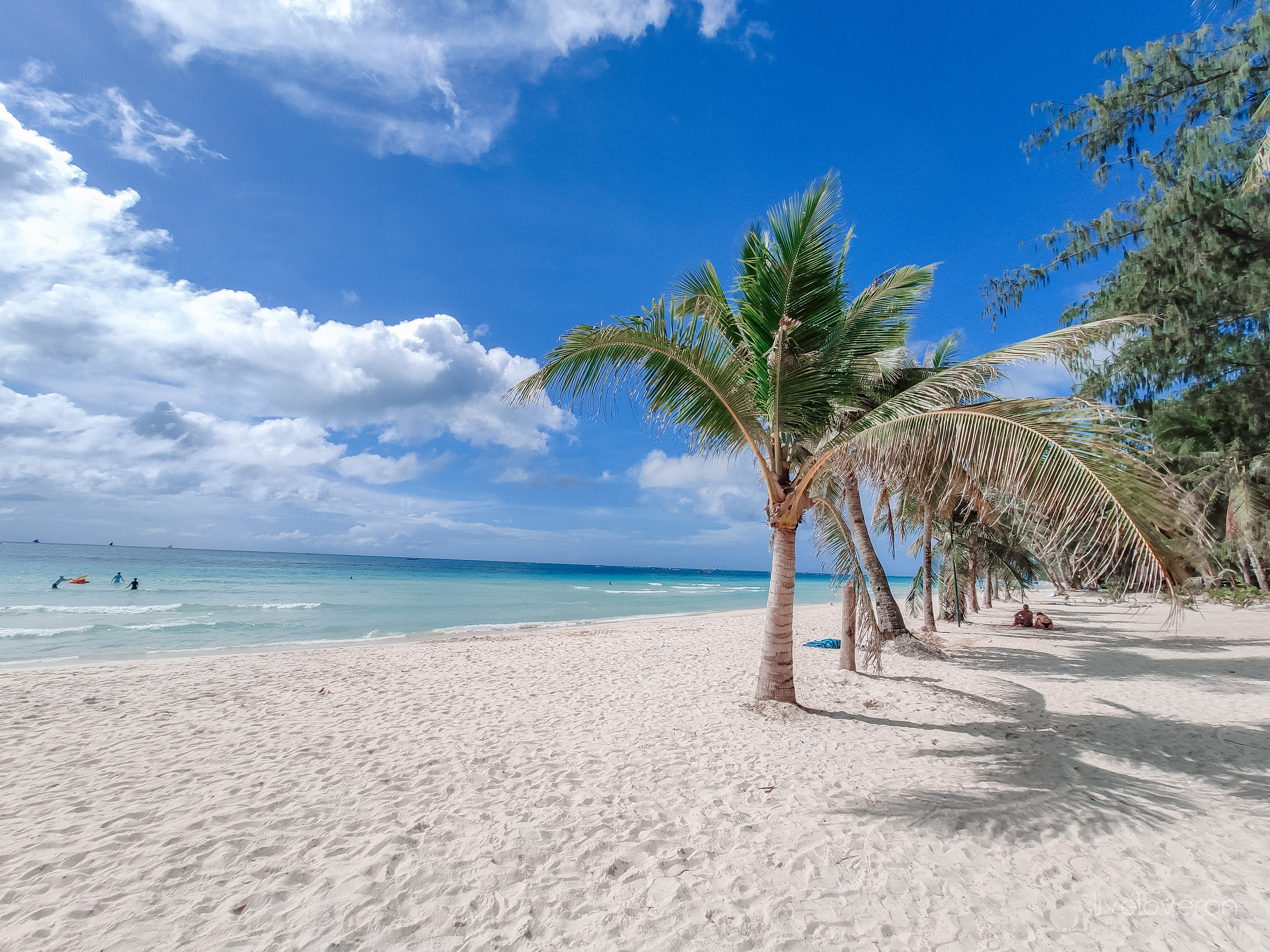 Beachfront properties always command higher prices, and in the case of Boracay's beachfront hotels, there's really no question why.
Just think of the smoothest, softest, finest sands you can think of, and you'll be getting close to what Boracay's beaches are like.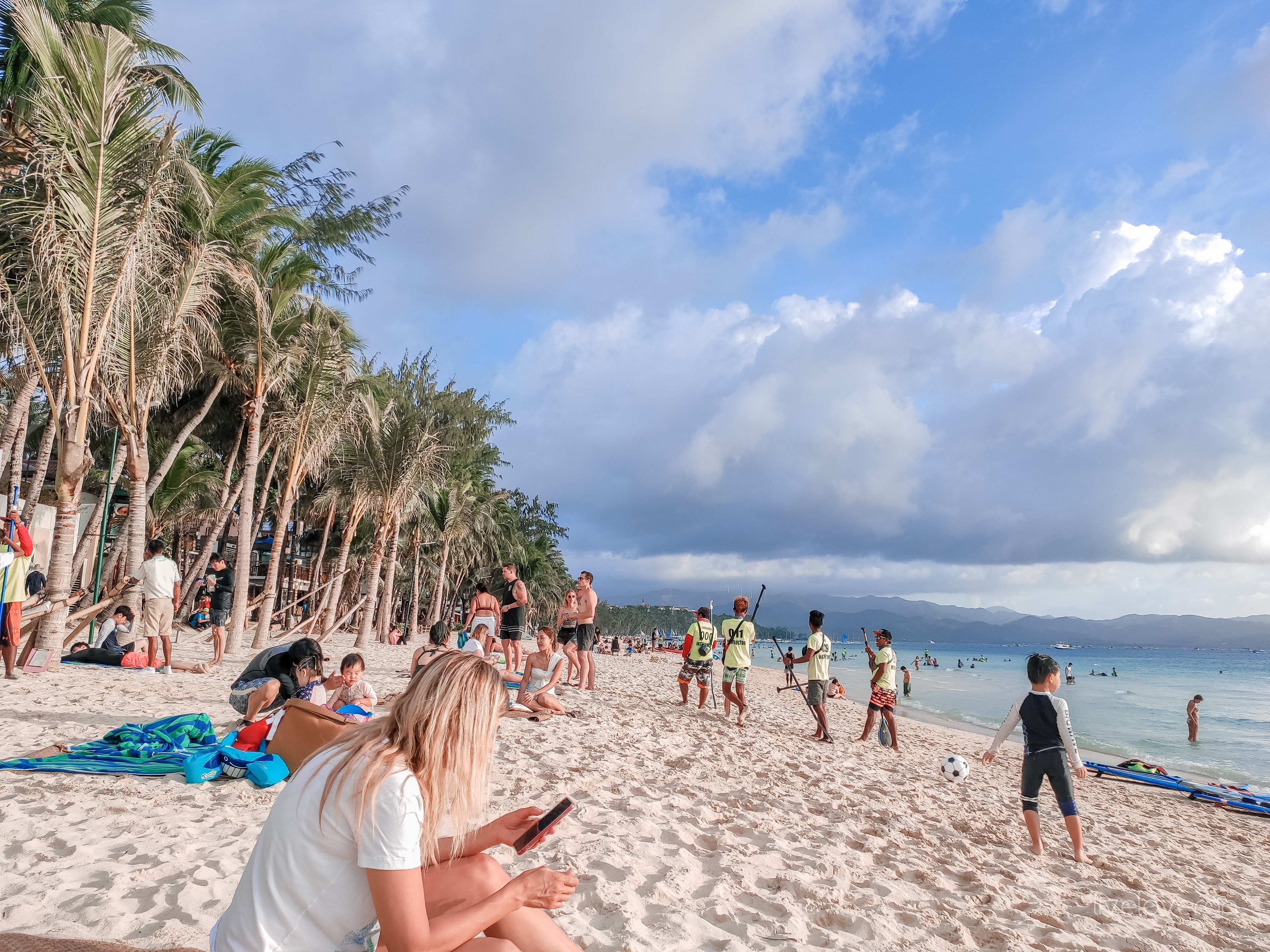 Interesting trivia: many years ago, Henann beachfront properties used to have a private section on the beach that only Henann guests could access.
After Boracay's rehabilitation, those kinds of practices were banned, so now the only thing Hennan offers on the beach is a mat. If you have Henann's very recognizable towel (and your room number, of course), you can request a mat from the attendant standing outside, and he'll happily give you one.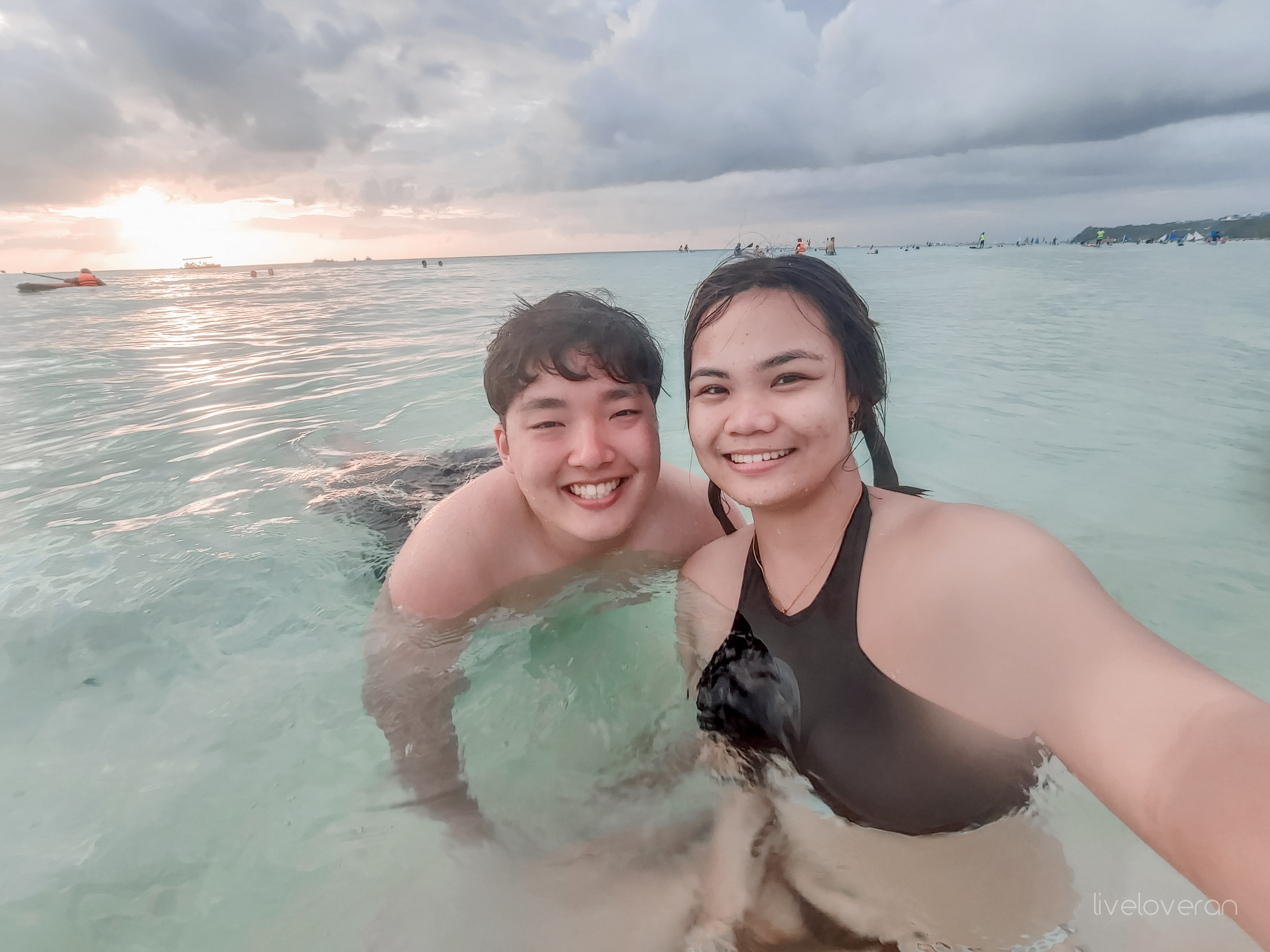 Watching the sunset from the beach was definitely an enjoyable bonding experience. There's a multitude of activities available to visitors, like paddle boarding, banana boat riding, and paragliding.
K and I opted to just relax on the shallow part of the beach, talking and playing with each other the entire time. The water was kinda cold at first, but after we adjusted to the temperature, we had a really great time. It was a pleasant experience through and through.
Extras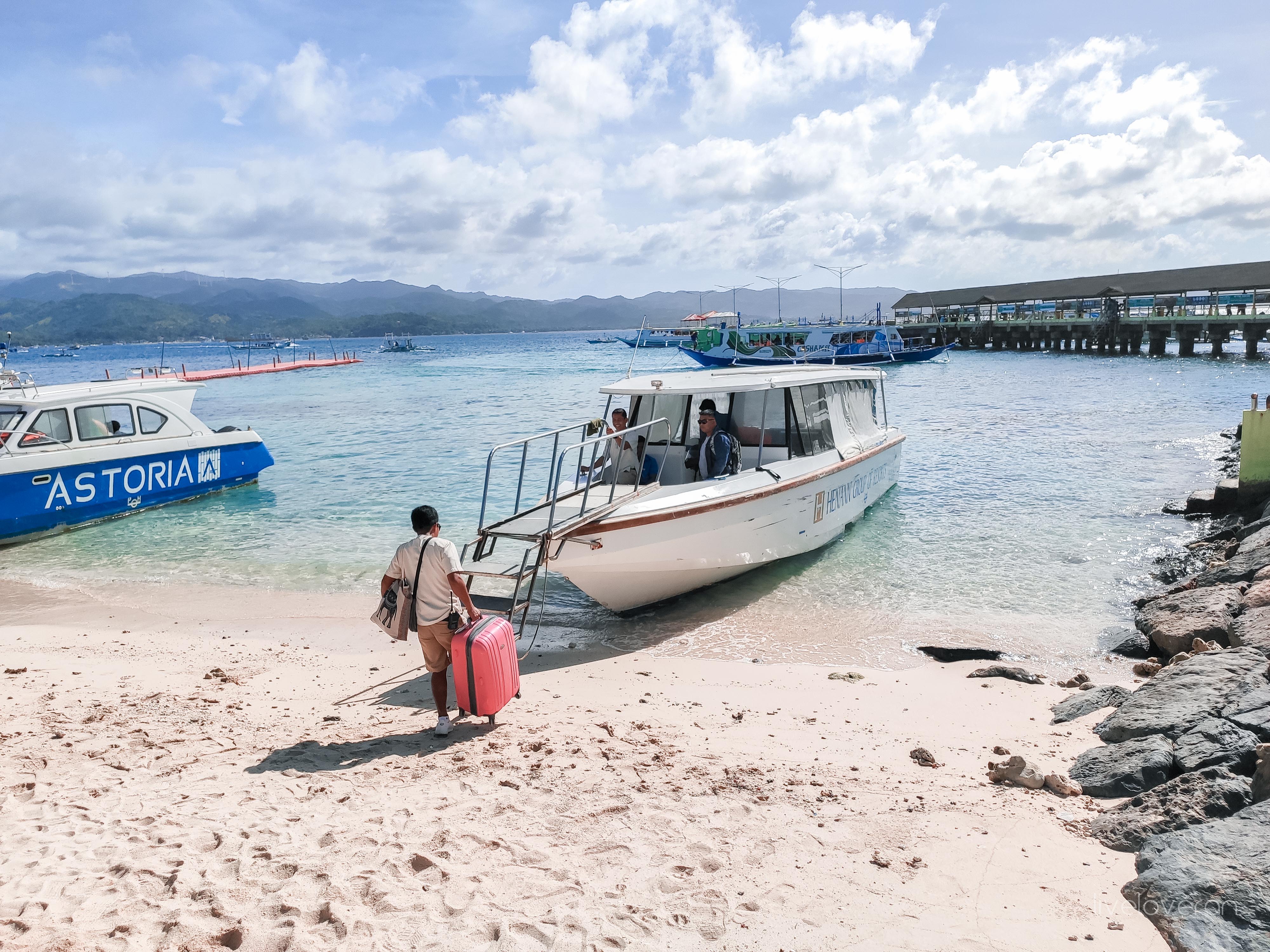 Henann Group actually offers roundtrip transfers from the airport and back. Depending on your booking, this could already be included in the rate. If it's not, though, it costs around 700 PHP per person for a one-way transfer. This includes the ride in Henann's private van and private speedboat.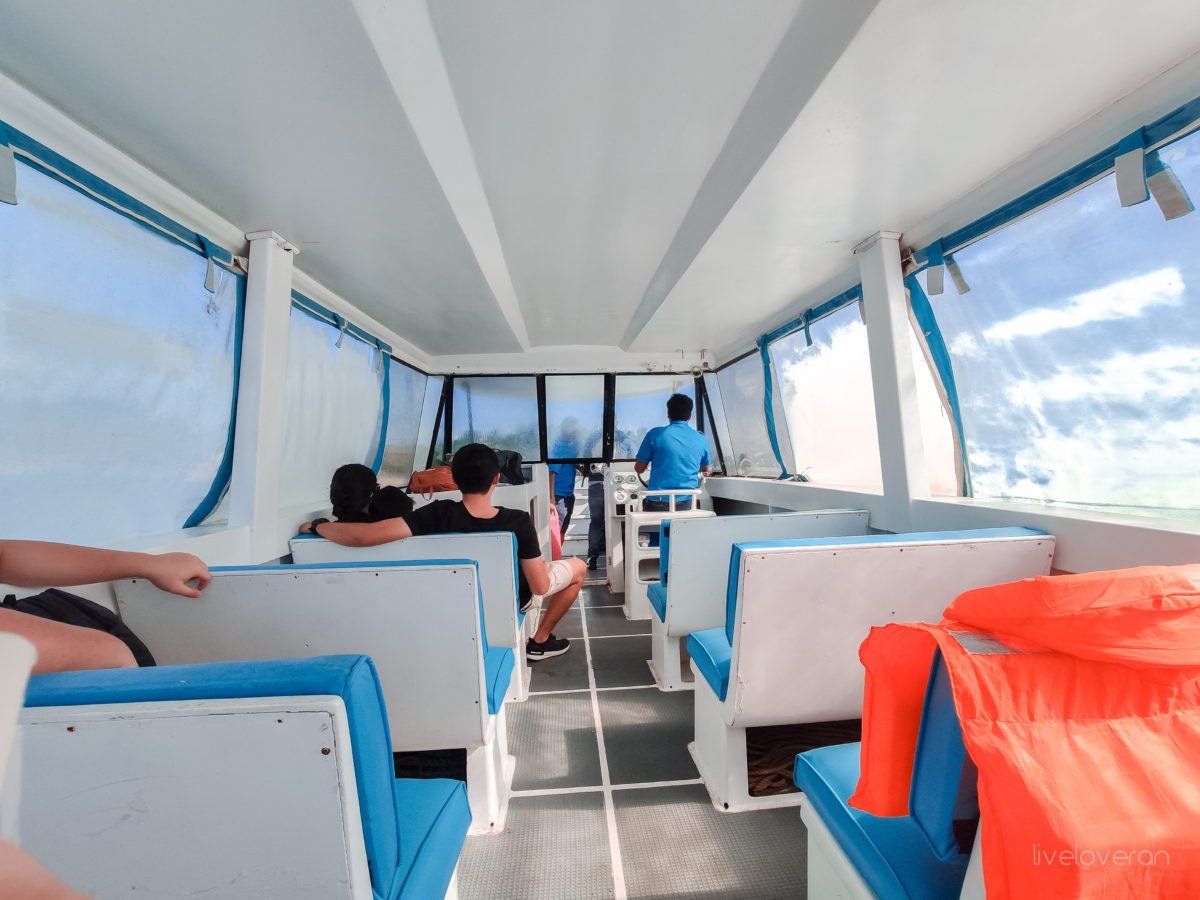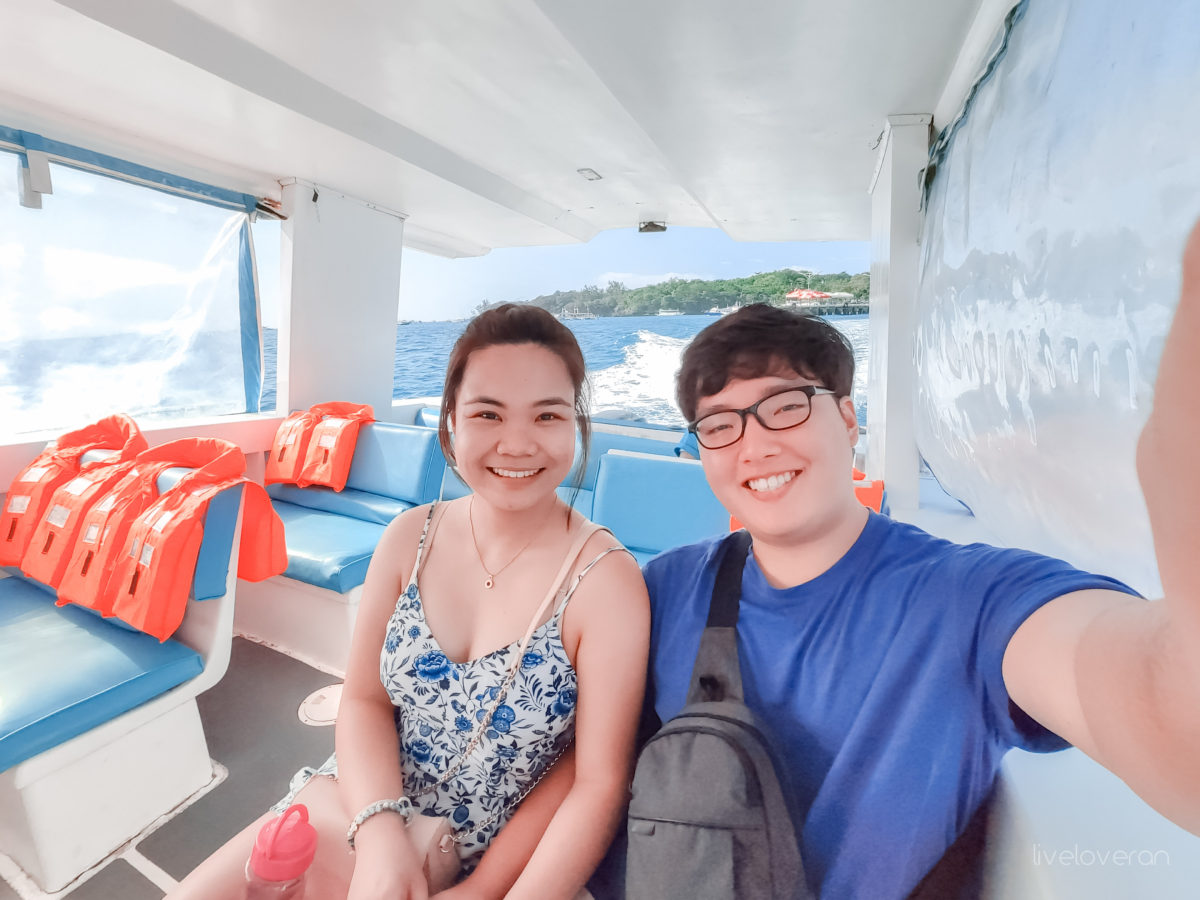 While we don't completely regret booking Klook's transfer service for our one-way transfer from the airport, we were a bit hesitant to book it again for the way back.
Why? For one, pick-up time is 5 hours before your flight. Since our flight was at 4PM, this meant we were going to be picked up at 11AM. That's certainly too early for us.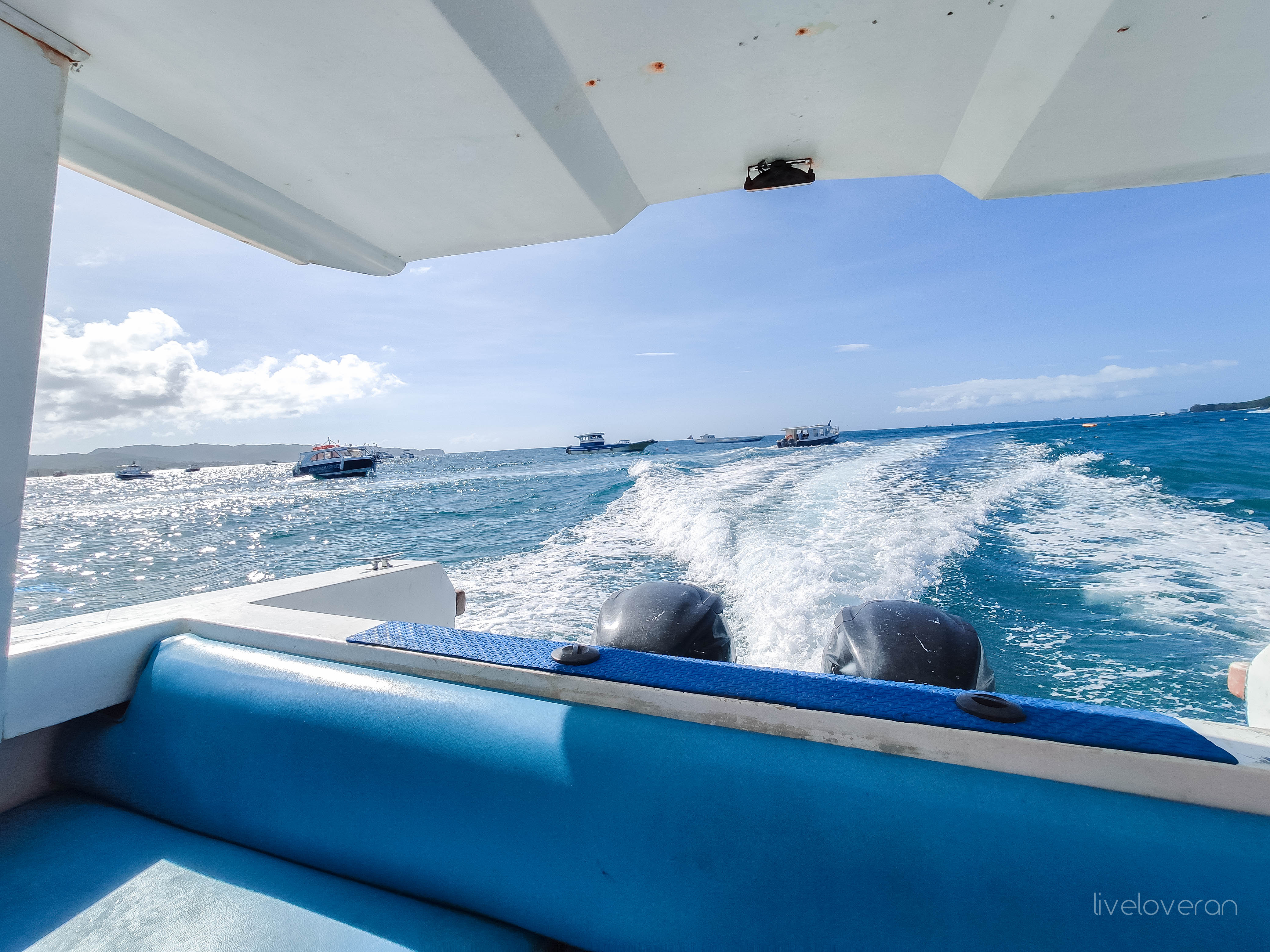 Two, the entire process was pretty slow. It took us nearly 3 hours to get from the airport to the resort. By availing Henann's service, though, we got to the airport in about 30 minutes.
Thoughts
Likes
Pool bar – If you've never seen a pool bar before (like me!) you're gonna have a fun afternoon at Henann Palm Beach.
Sky Pool – Few things can make a resort better than a sky pool with a view of crystal clear Boracay waters.
Check-in – Really fast! The entire process took under 30 minutes, even though there were so many other guests at that time.
Price – Reasonable for a beachfront property. That said, Palm Beach isn't actually a 5-star hotel, which kinda explains the price.
Location – Beachfront, so you only have to walk a few steps to get to the beach.
Staff – They were all so friendly! They exchanged greetings with us and went out of their way to assist us, even if we didn't really need any assistance.
Dislikes
Room – The room felt a bit narrow and cramped. The blinds also weren't enough to completely block out the sunlight, at least in our part of the building.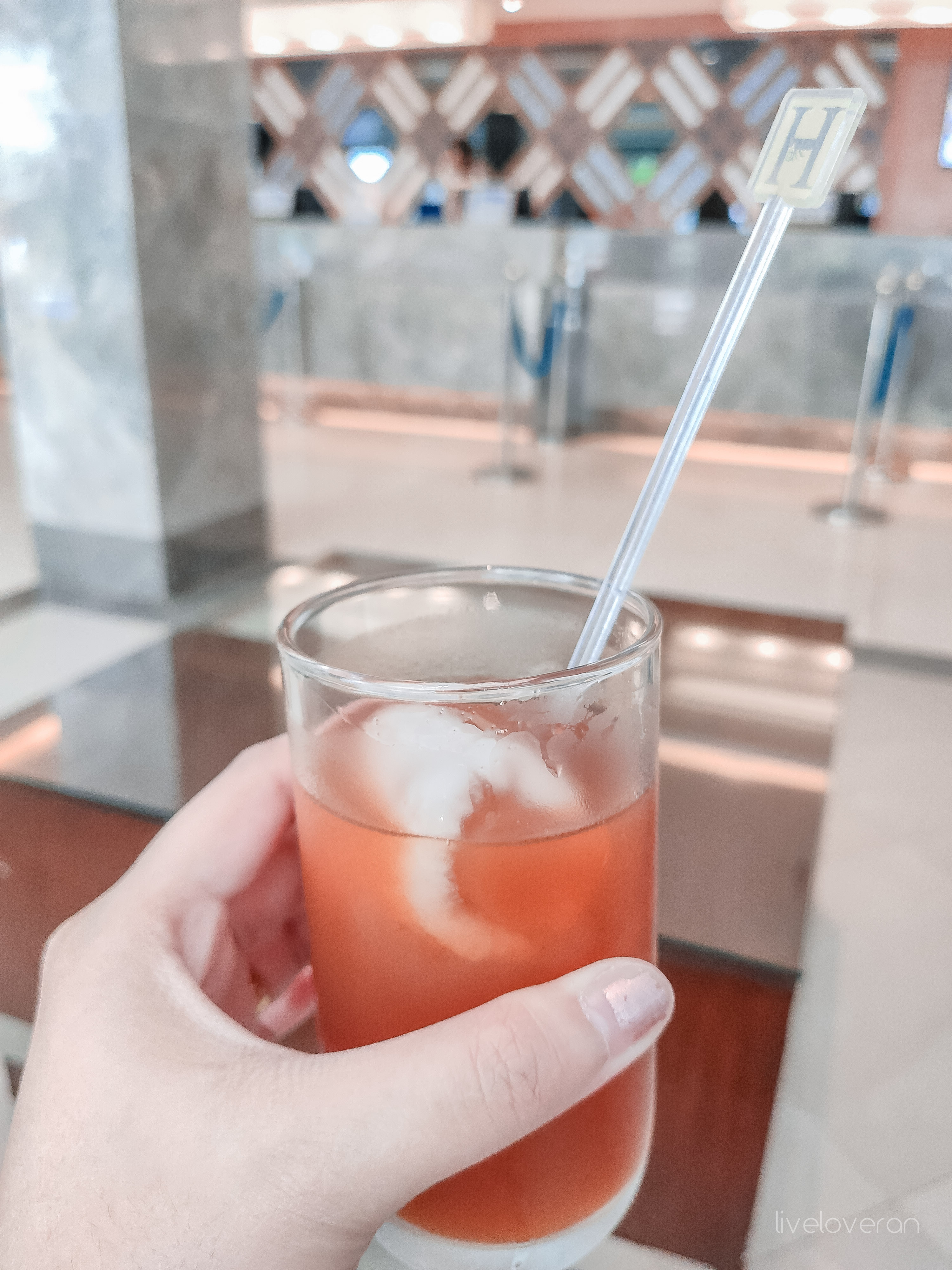 It's crazy how fast time flew while we were in this hotel! One moment we were excitedly heading to the airport for a week of fun, the next, we were already heading back.
If I were to go to Boracay again, I think I would be alright staying at Henann Lagoon all throughout. But if it's a beachfront hotel we're talking about, I couldn't recommend this property enough. Sure, it's not a 5-star property, unlike Henann Crystal Beach, but Henann Palm Beach has its own charms.
For more Boracay posts, check out this tag.
'til our next adventure,