Last Updated on December 10, 2022 by Ran
There's nothing I love more than staying in a nice and comfy hotel. I don't really know. While I love relaxing in the comforts of my own home, I will admit that there's something about good hotels that always get to me. I like seeing the interior designs, trying out the amenities, and basically just staycationing in cozy hotels.
I'm not sure if I've mentioned it here before, but my friends have previously teased me about my "hotel-hopping" addiction. If other people prefer staying in just one place during their entire trip, I'm the opposite. If I could get away with spending each night at a different hotel (and if it wasn't such a hassle in so many situations), I would.
Of course, that isn't always possible, but I did manage to convince K to let us stay in three different hotels during our 6-night Taipei trip. And in this article, I'll tell you all about my favorite one of the three: CitizenM Taipei North Gate.
CitizenM Taipei North Gate
CitizenM Taipei North Gate is a 4-star hotel from one of the trendiest, up-and-coming hotel franchises in the world. It opened in 2017 with 267 rooms on 26 floors as the first-ever CitizenM hotel in Asia.
I don't know if it's just because of the month we went, but the first thing I noticed upon entering the hotel was how packed the lobby was. There was no room to sit down and hardly any to stand up. Not that it's a bother, though. Checking in was a breeze since CitizenM makes use of self-service check-in machines instead of the traditional check-in.
Still, I was honestly surprised by how tiny the lobby was and how most, if not all, of the guests were Korean. Obviously, this made K really happy and he felt at home (quite literally) almost instantly. He even gladly helped assist some of the guests who were having trouble with the self-service check-in machines, mainly due to the lack of language options.
Again, I don't know if it's just a coincidence that there were so many Koreans when we went, but if it's a regular thing, maybe they could also include a Korean language option in the future? Just maybe. At the time, they only offered English and Chinese. Something something knowing your target market. Nonetheless, the staff members, called ambassadors, were all very helpful, albeit a bit limited by the language barrier as well.
Location
Like its name implies, CitizenM Taipei North Gate is located right beside the North Gate landmark in Taiwan.
It's just a 5-minute walk away from Main Station, where you can board all kinds of transportation to different areas in Taiwan. This makes this hotel perfect if you're coming from a late flight or something. Just take the airport line to the Main Station and walk for 5 minutes.
By the way, if you're going to take a taxi to CitizenM, K and I found that it's much easier to just show the location on Google Maps than trying to say "CitizenM Taipei" because none of the 3 taxi drivers we tried to ride understood what we were saying. I don't know if they pronounce it differently or if it has an entirely different name in the local language.
All I know is that K (who knows a little Mandarin) and I (who absolutely sucks at pronouncing words regardless of the language) both tried to repeat "CitizenM Taipei" lots of times with no luck. We even got kicked out
So to make things easier for both parties, just show the driver the North Gate location on Google Maps–with the Chinese name included–and they'll know instantly where to go. Once you're there, just point to the hotel, and they'll stop right in front of it. Or you can just walk too since it's right in front of the landmark anyway.
Price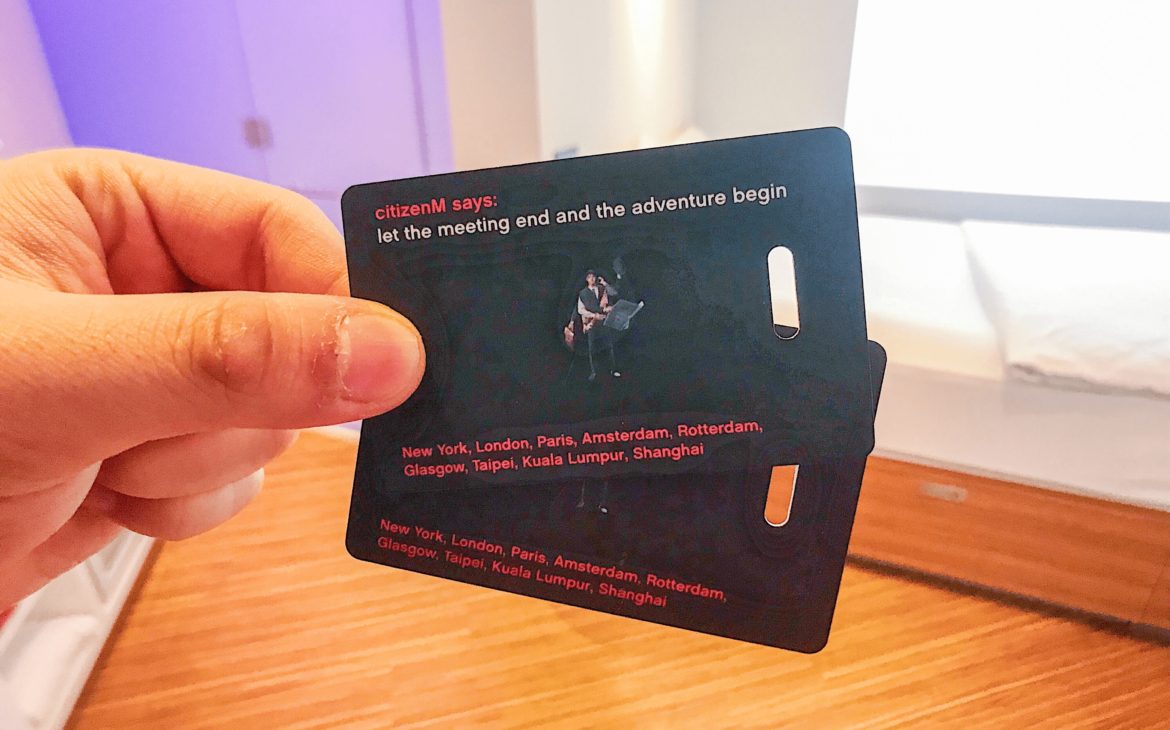 For a 4-star hotel in Taipei City, CitizenM Taipei North Gate is actually pretty affordable. When booking on the official website, rooms typically cost 3350 TWD (5650 PHP / 110 USD) a night if booked a month in advance. This rate is already all-inclusive, with a free breakfast buffet for two.
That said, booking via booking sites is still much cheaper. For example, on Traveloka, a room with free breakfast is only 4300 PHP (2545 TWD / 84 USD), while a room sans breakfast is even cheaper at 3800 PHP (2250 TWD / 75 USD). There's also an odd 'Queen Room' option at 3,600 PHP (2130 TWD / 71 USD), which is weird since all rooms at CitizenM Taipei have king-sized beds.
Anyway, thanks to Traveloka promos, we got a free 500 PHP voucher which further brought down the price of our room. Hence, we got to stay at CitizenM Taipei North Gate with a free buffet breakfast for just 3,800 PHP (2250 TWD / 75 USD) a night. I'm sure that if you book a couple of months in advance, you might see better rates, so don't think twice about looking around first.
Room Inclusions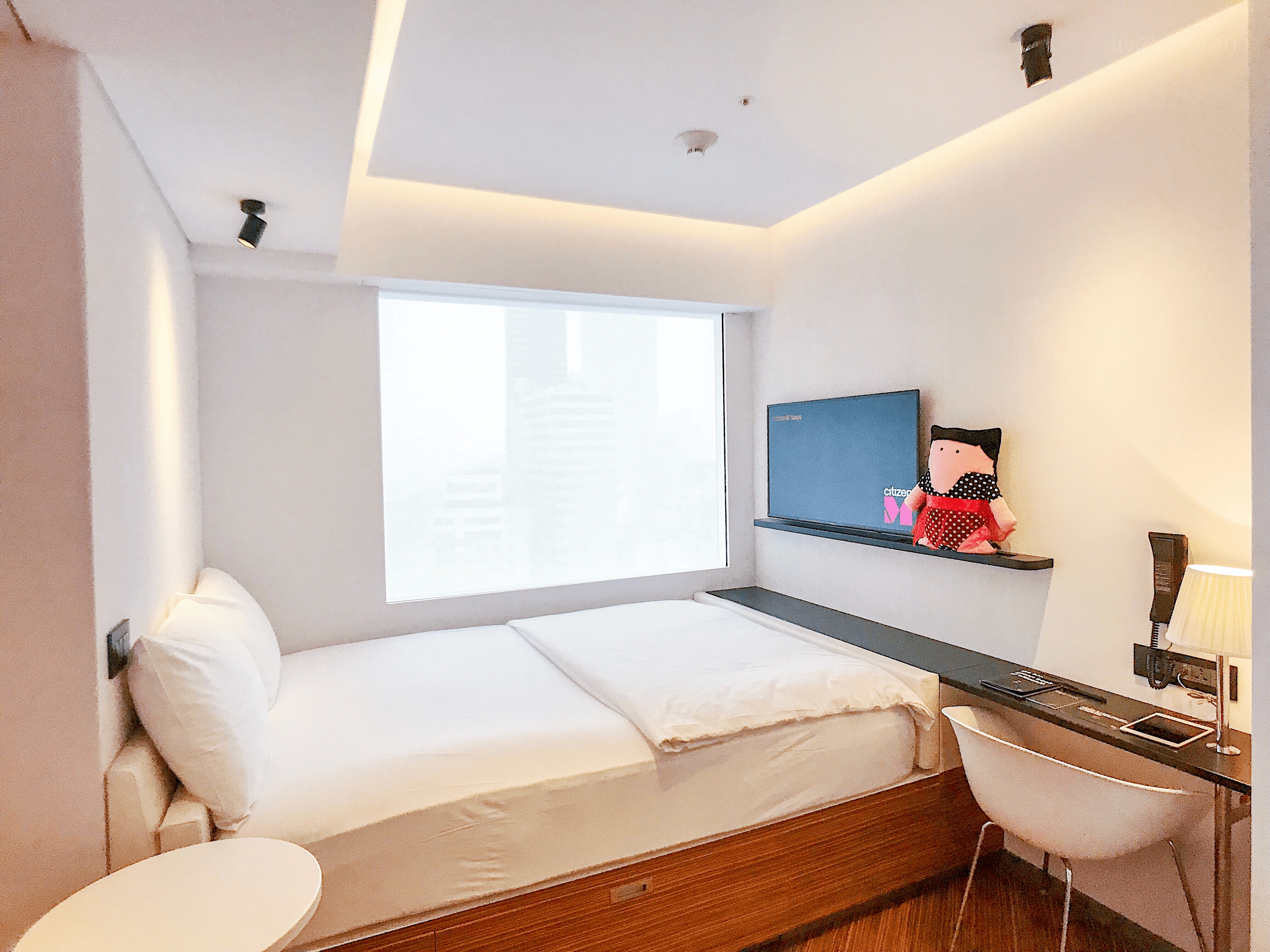 As with most rooms in Taipei, rooms in CitizenM Taipei North Gate are on the small side, but thankfully, they don't feel cramped at all. There's also ample storage space in the form of a small cabinet as well as pull-out drawers under the bed.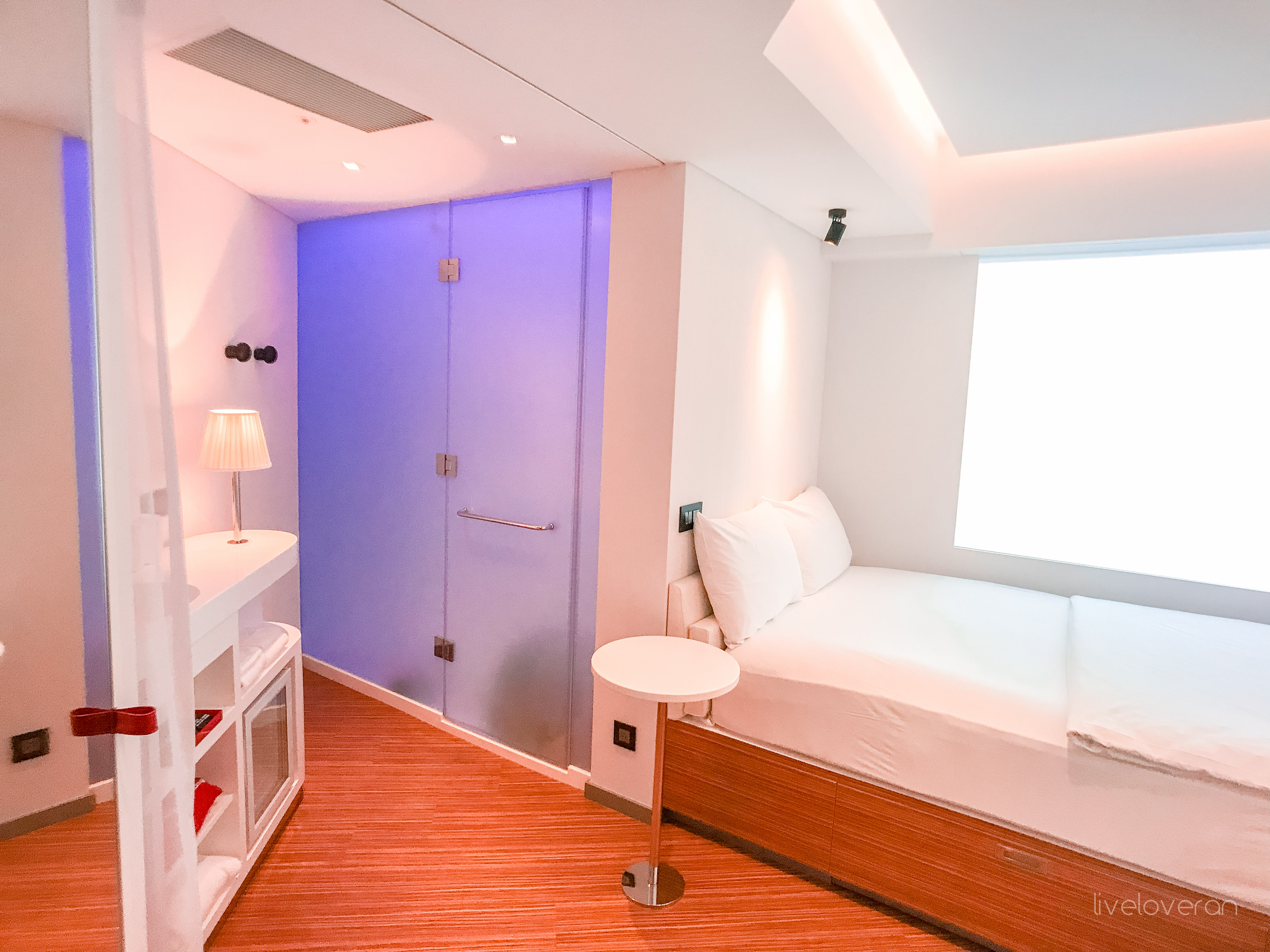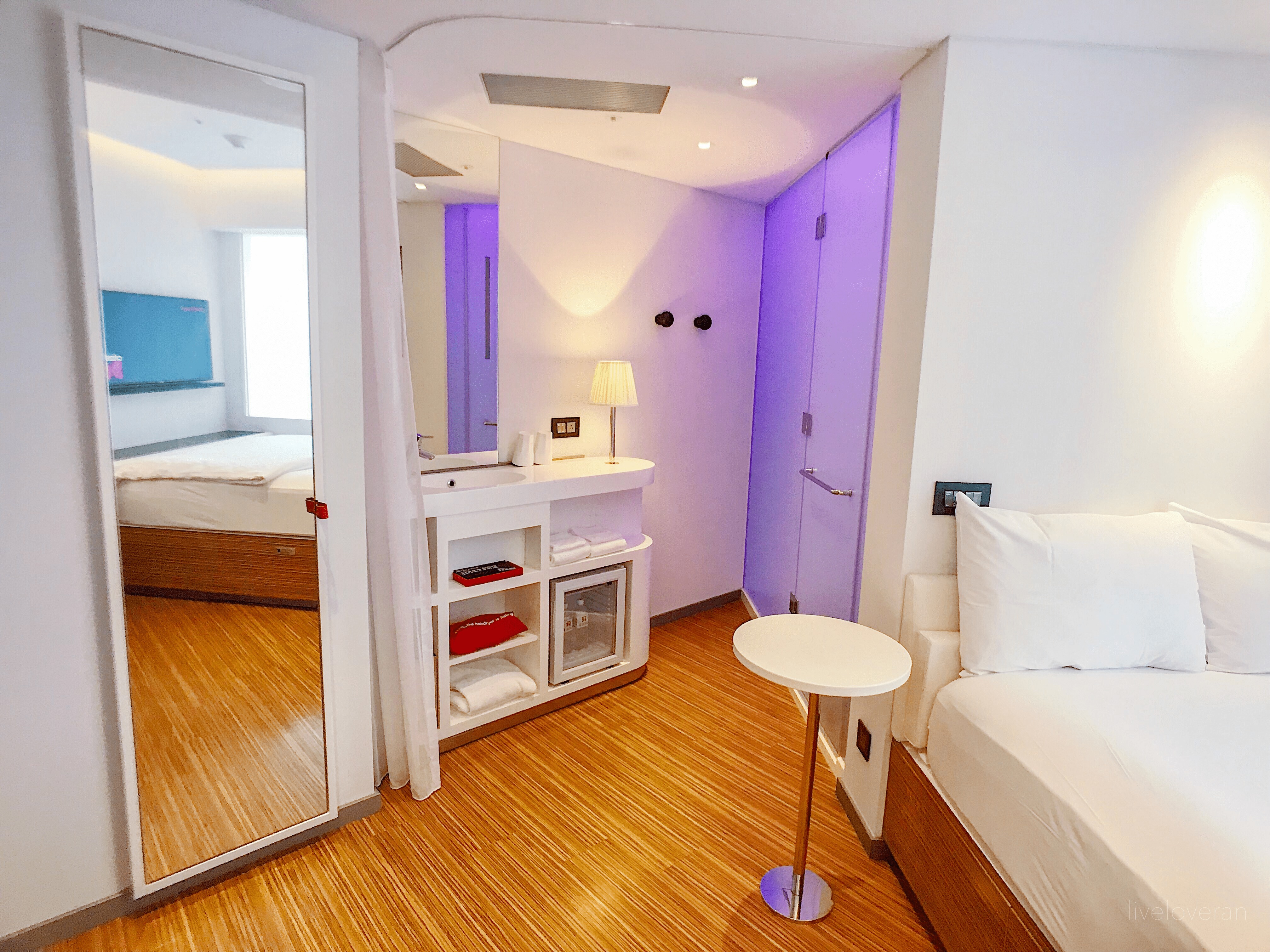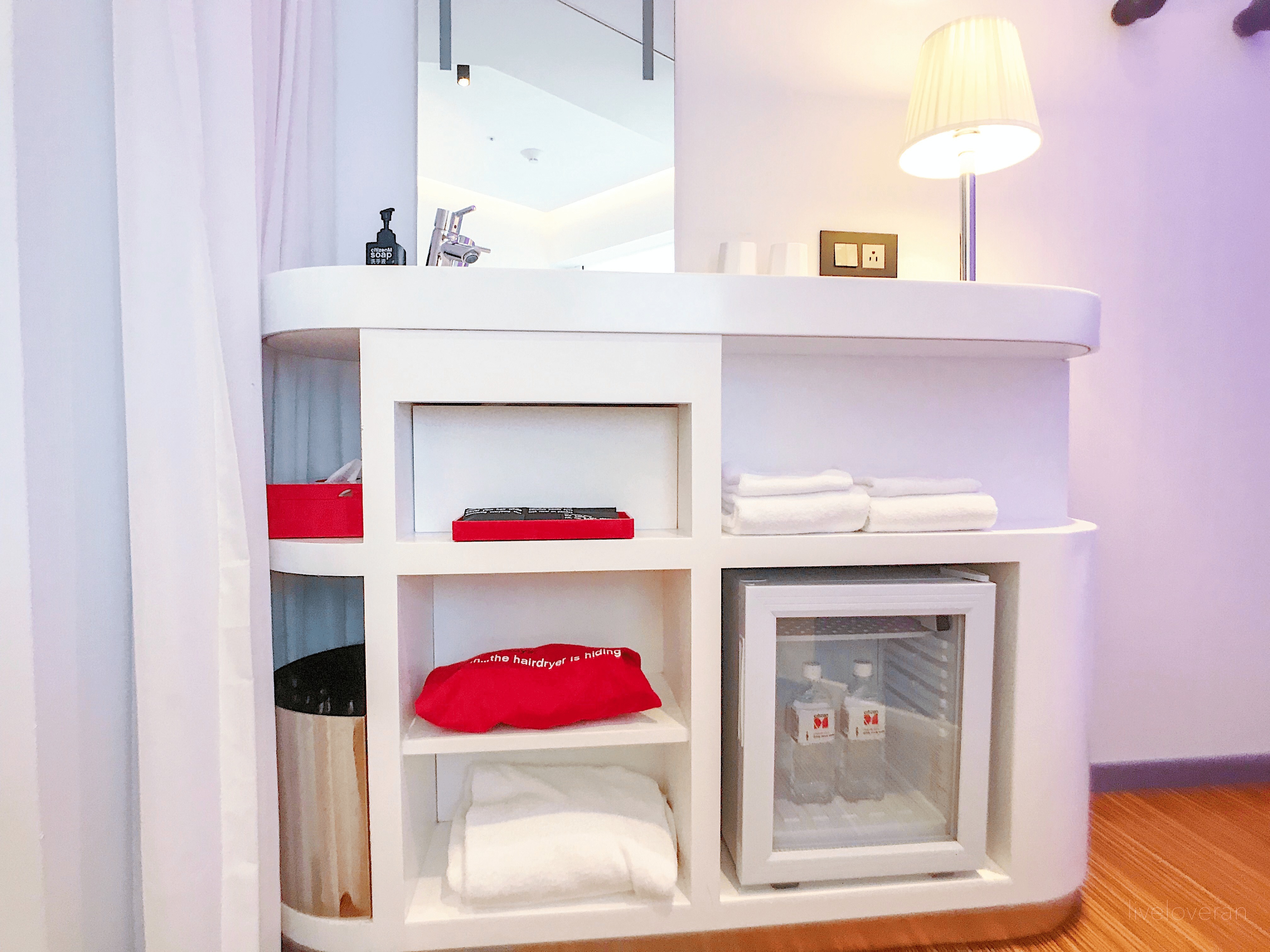 One thing I like about this hotel is how you're given the option of what room you want to stay in. You can choose between lower floor or higher floor, and city view or river view. K let me choose and I chose higher floor and city view. In hindsight, I probably should have chosen river view, though. I'm sure the Tamsui River would've been a spectacular view.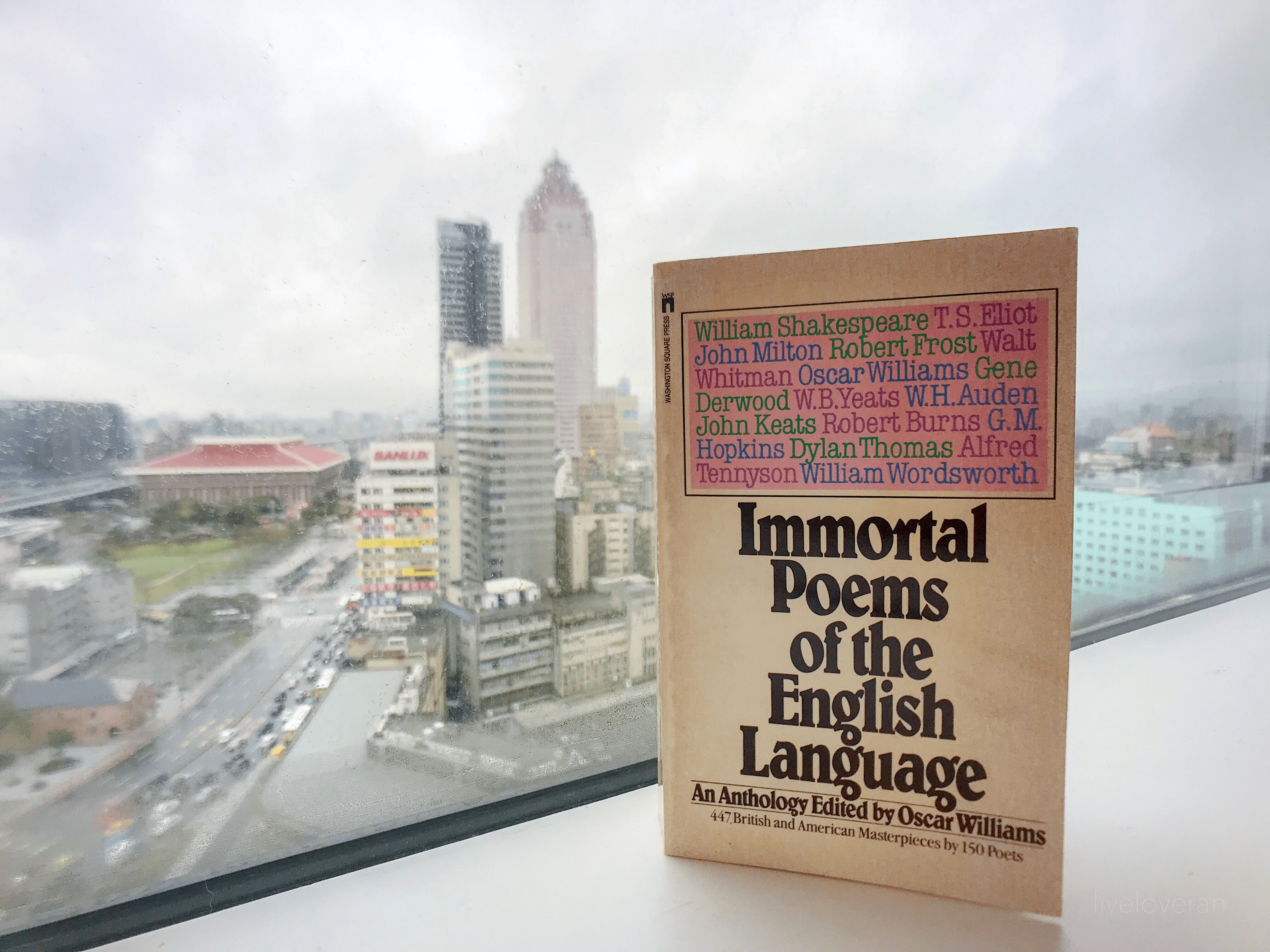 All rooms are the same, but there are special corner rooms that have two windows instead of one. K and I–okay, maybe mostly just I–really wanted a corner room, but we were too shy to request for it. Ah, it's a struggle to be so shy sometimes. 😅
Despite not getting our preferred room, we had a lot of fun in CitizenM Taipei North Gate, for a variety of reasons. Mostly it had to do with the room since it was just so cozy and comfortable to stay in.
Smart Technology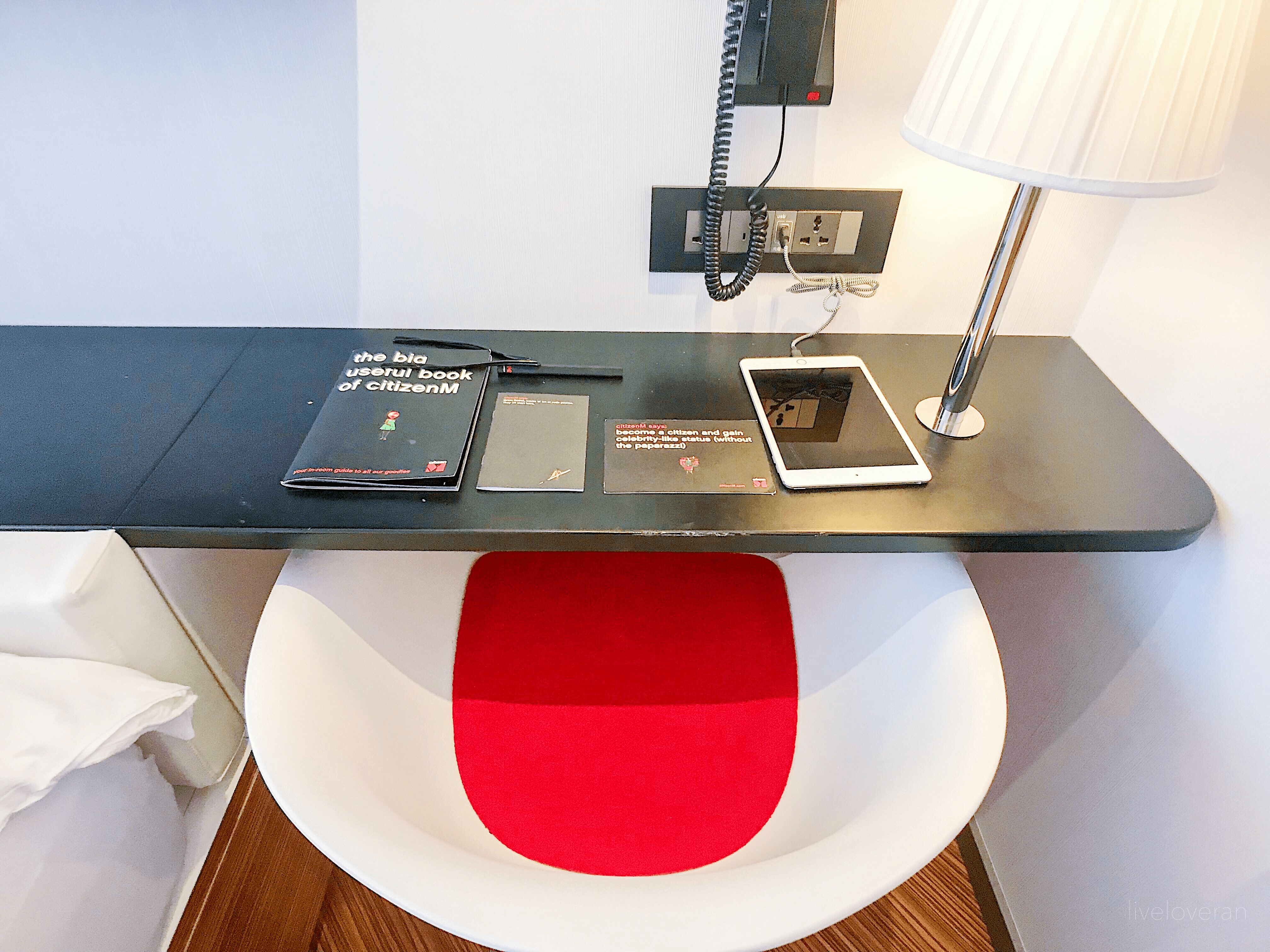 This is the first hotel I've ever stayed in where everything is run on smart technology–a pretty cool thing if you ask me.
Almost everything inside the room can be controlled via the iPad that is docked on the desk. You can connect it to the TV, adjust the room's lighting with it, listen to music via the in-room speakers, and change the temperature. You can even choose any color you want for the shower lighting, from red all the way to indigo.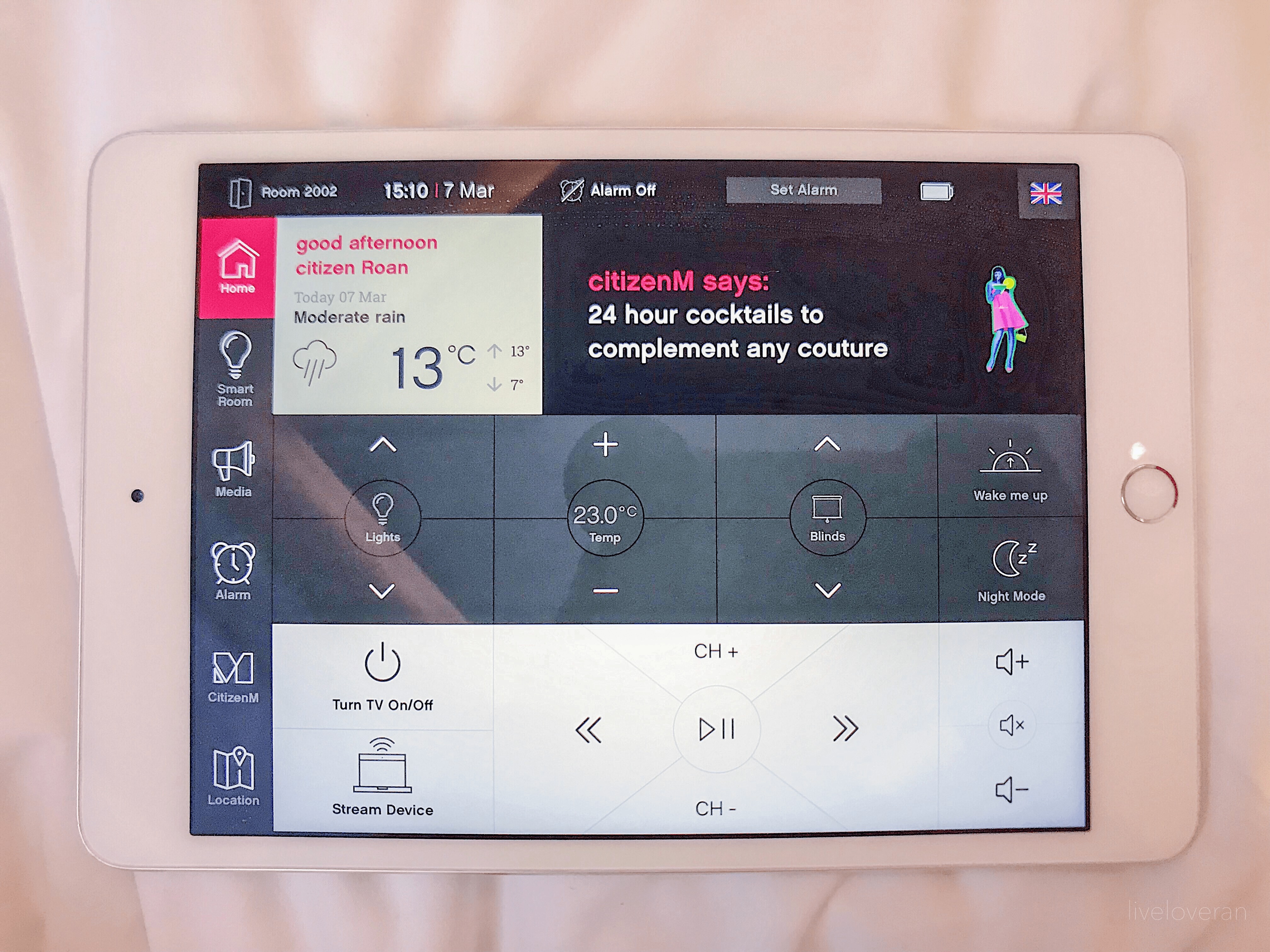 Personally, I really liked the wake-up feature, as I think it showcases CitizenM's smart technology best. Have you seen that Black Mirror episode where a tiny AI cloned from a human, called a 'cookie', would wake up its real human owner by adjusting the real-world room temperature and lightning from its tiny egg-shaped dwelling?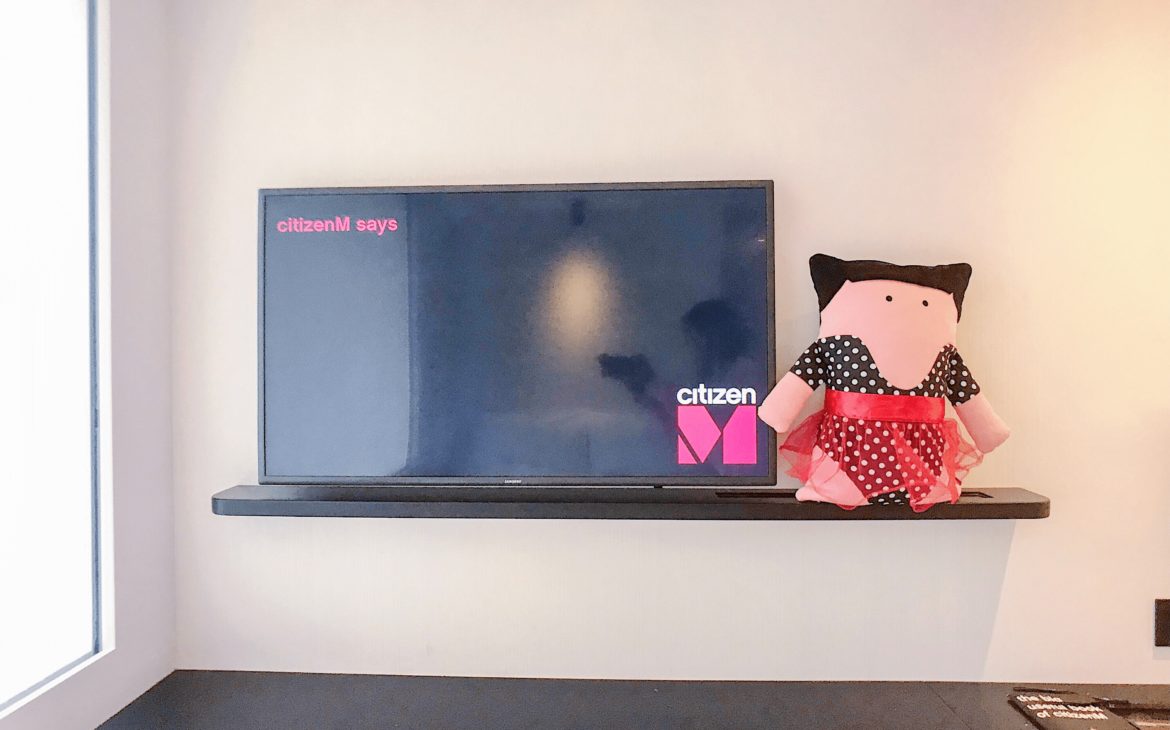 Well, CitizenM iPads work the same way, without the human clone, that is. If you set the wake-up time to, say, 6AM, right on the dot, the in-room speakers will play music, the lights will turn on, and the temperature will gradually increase. All these make waking up much easier for the guests. It's an amazingly simple yet complex technology that I personally would love to have at home. 💕
Amenities
CitizenM doesn't have a lot of amenities, but it does have a restaurant, along with an entertainment room and a lounge.
CanteenM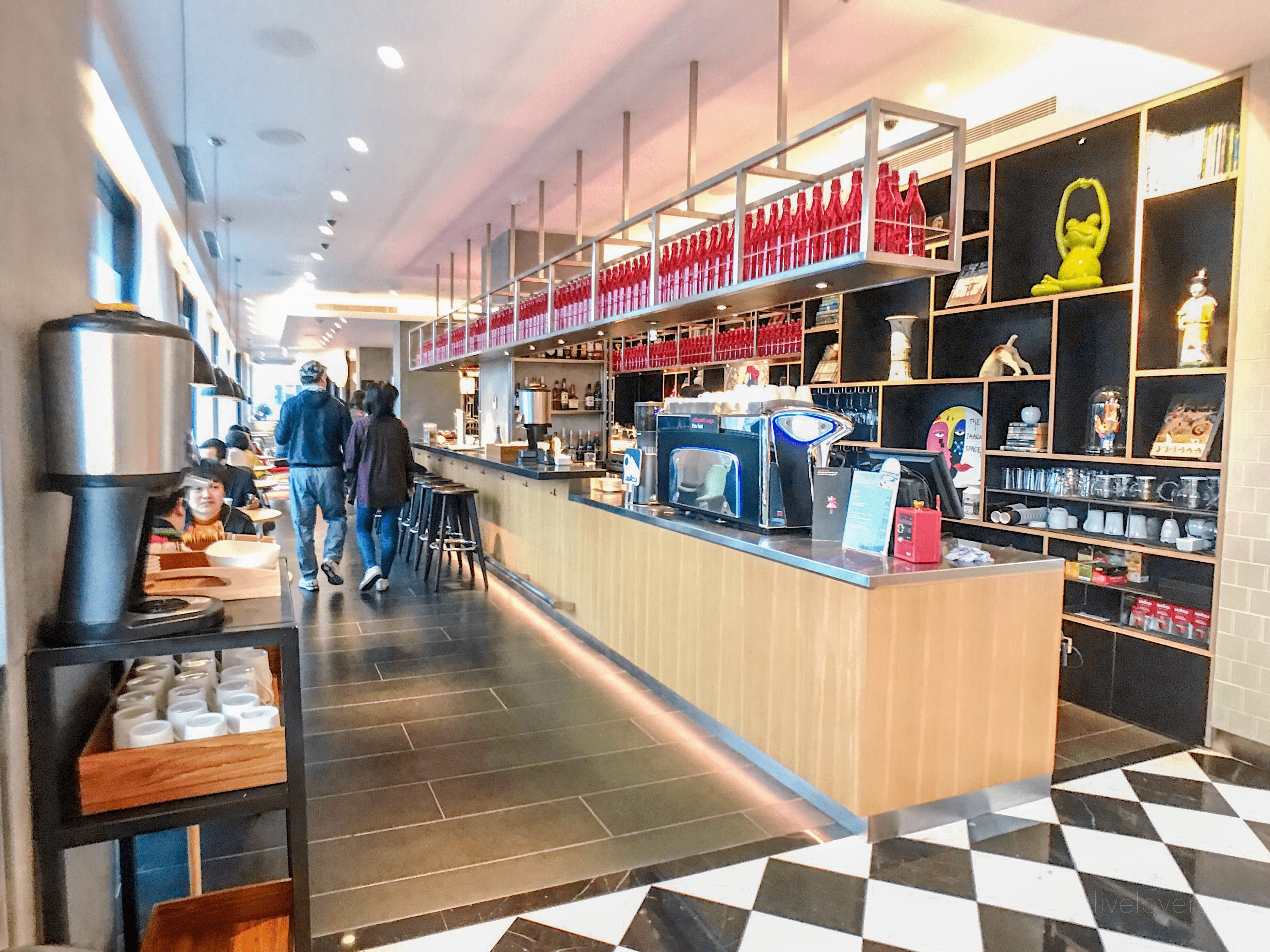 CanteenM is the restaurant area of the hotel. While it's actually only open in the morning for buffet breakfasts, the bar is open all day in case you have any orders.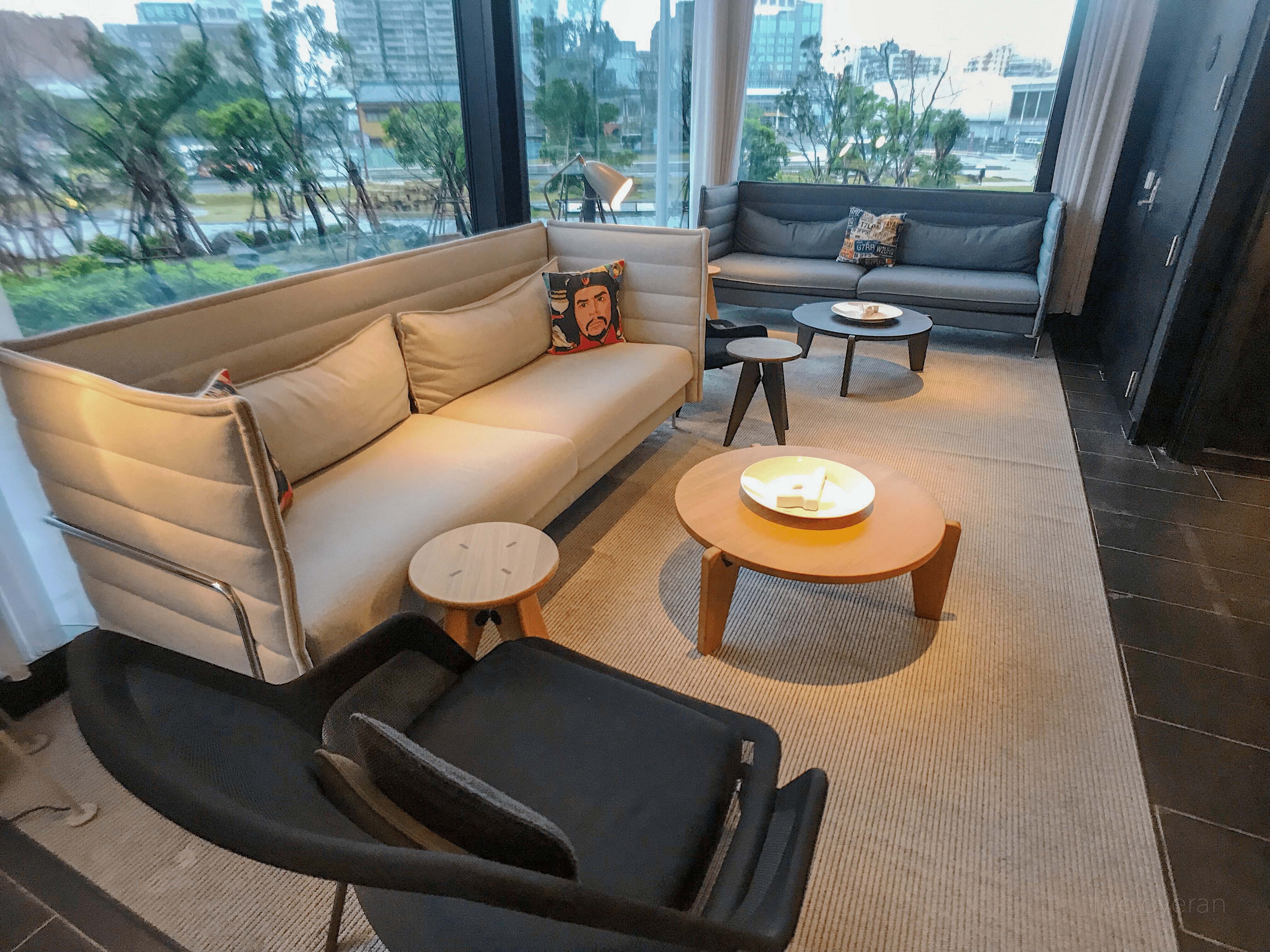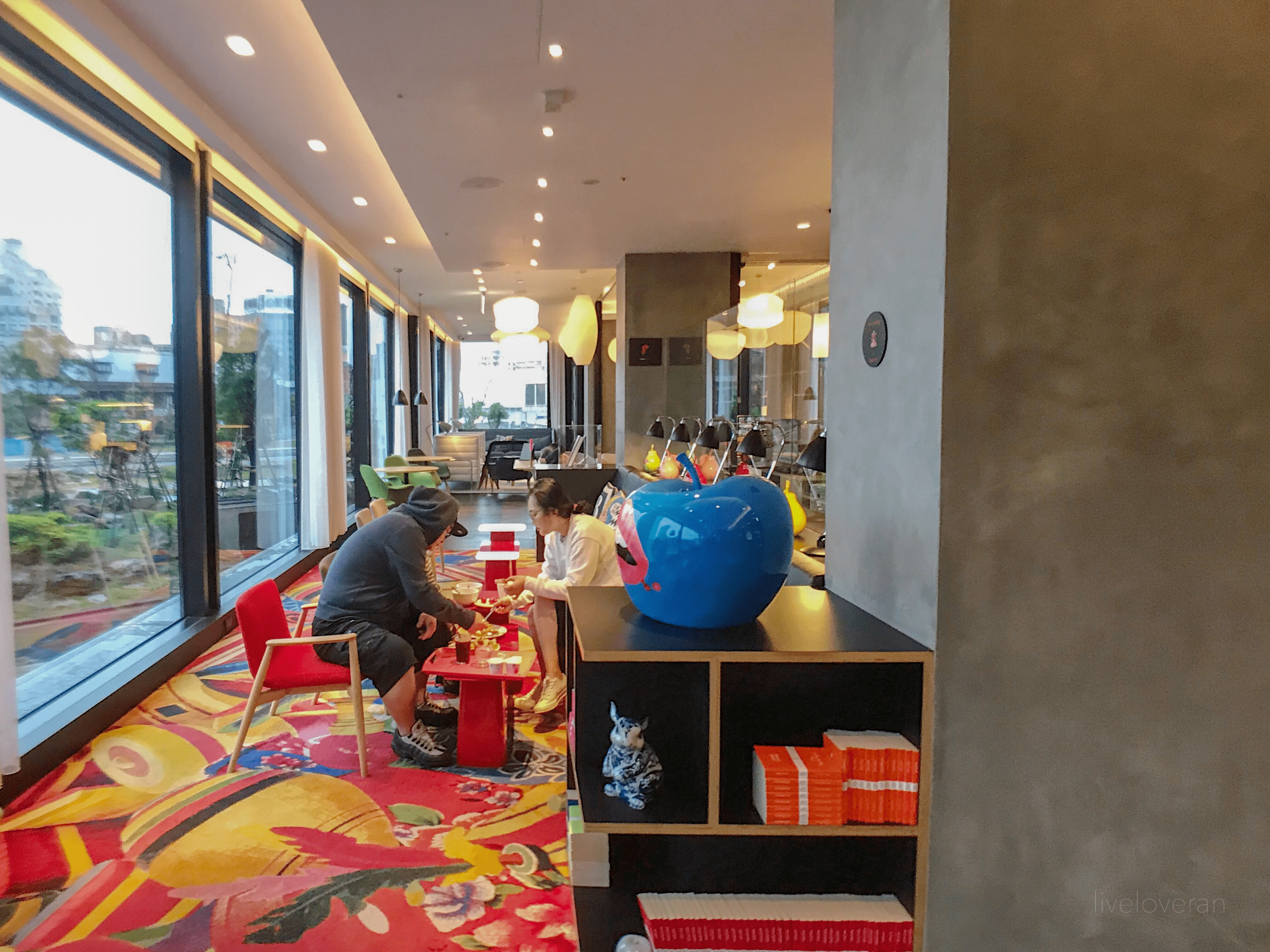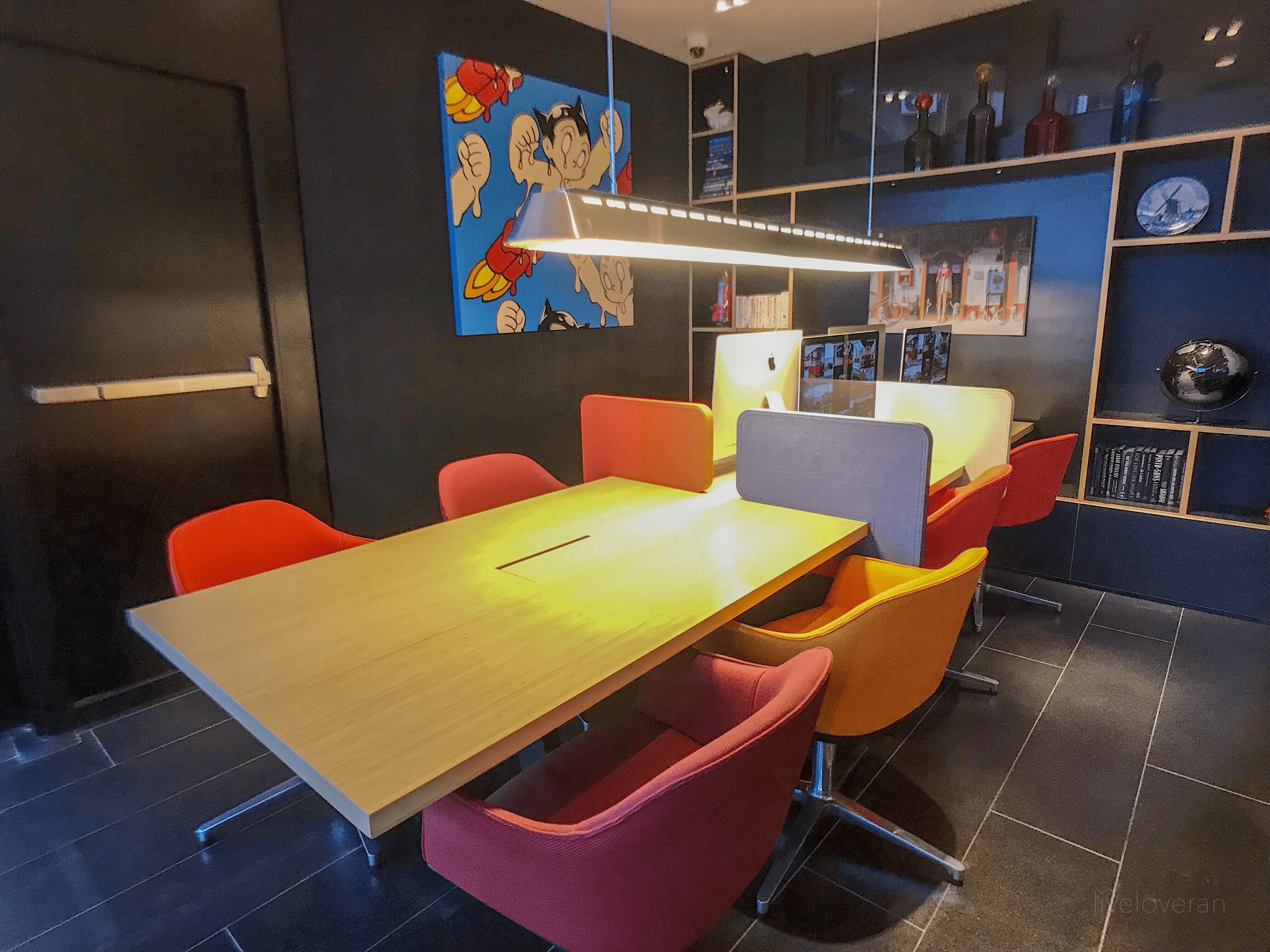 It also shares the space with the entertainment room and lounge, where you can sit around talking with friends, watching TV, using the computers, or reading one of the books on the shelves.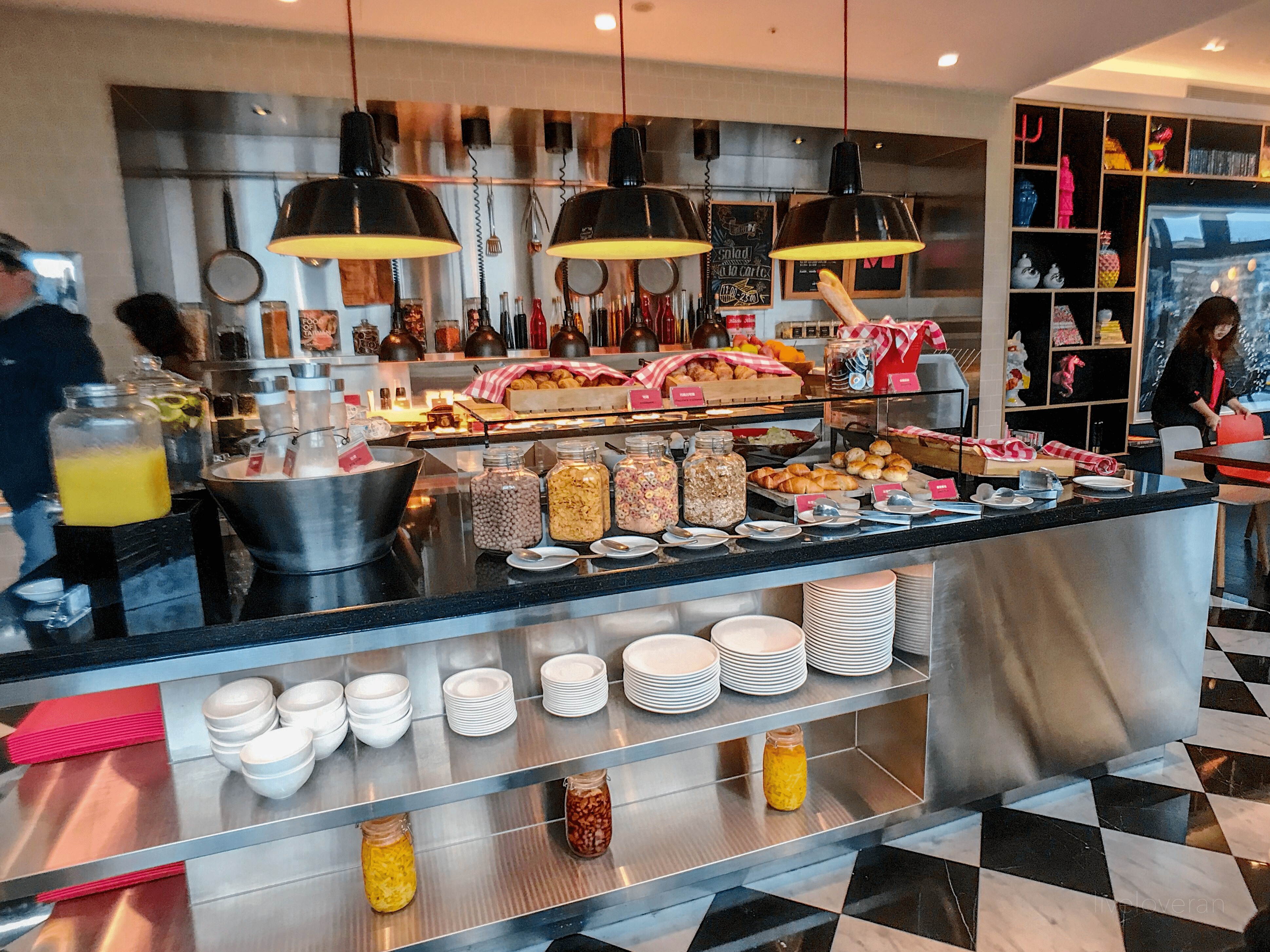 As for the buffet itself, I have to say that it was pretty decent. However, food choice was rather limited since there were only a few options to choose from. On the upside, you can request one complimentary drink from the bar, already included in your breakfast buffet.
Thoughts
I think I already mentioned this in a previous blog post, but K actually got sick during this trip, and we ended up having a mini staycation at CitizenM. To be more specific, he caught a fever the afternoon after we checked in. It was nothing serious, and since I always carry all kinds of OTC medicine with me whenever I travel, it was certainly nothing we couldn't deal with. However, that and the fact that it was raining in 13°C weather made us prefer to just stay all day indoors.
Likes
Smart technology. Oh, I definitely felt like a kid when I first discovered what the iPad could do. K and I spent an embarrassingly long time tinkering with all the controls, trying to see which did what. It was great, suffice it to say.
Cozy room. It's small, sure, but it's very cozy. One that you certainly won't mind spending your entire day in, especially in cold weather. Kind of like what we did, actually.
Witty marketing. Whoever did the materials for CitizenM was a genius, that I can say. Everything, from the dental kits to the shampoo bottles down to the notepad, was full of wit and clever humor. K and I had a lot of fun reading everything.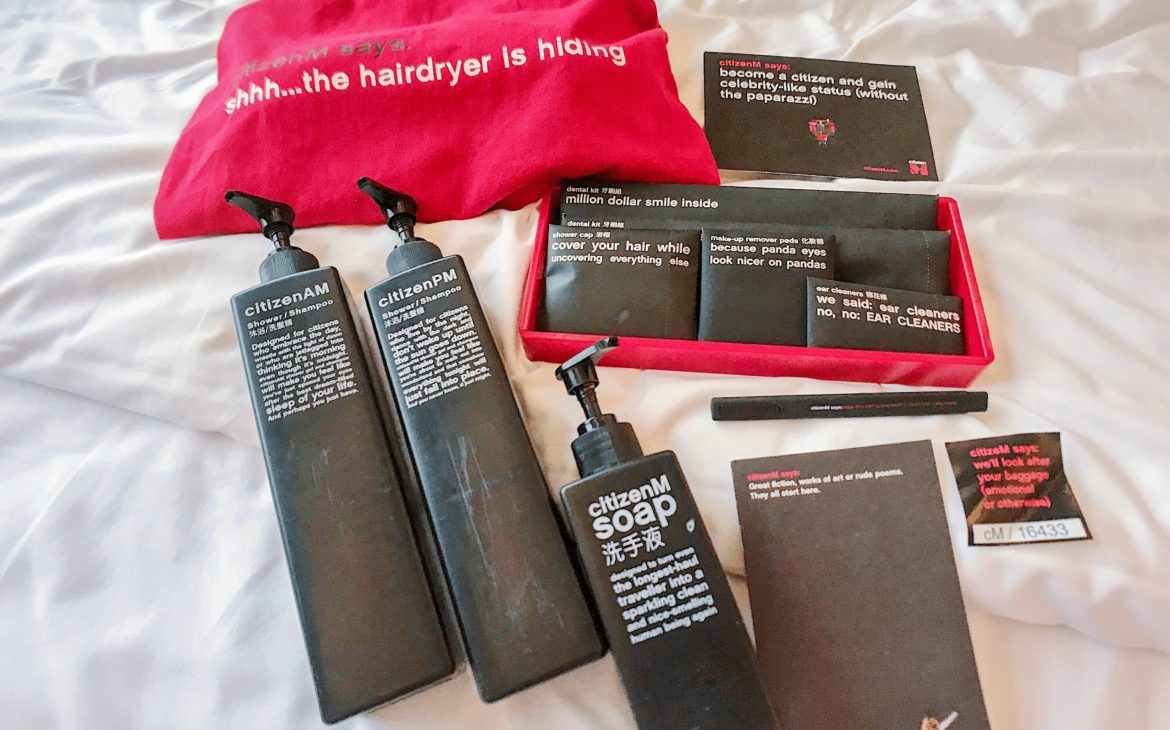 Dislikes
Few amenities for the price. ~100 USD is not too expensive for Taipei, I have to admit. However, there are still many hotels in this price range that could offer more value to guests. For instance, this hotel doesn't even have a swimming pool. It's the only 4-star hotel I've ever stayed in that doesn't have one.
Limited selection for breakfast. If you're a picky eater, even the included buffet breakfast may not satisfy you.
CitizenM Taipei North Gate is a strong contender amidst all the accommodation options you have in Taipei. It's chic, it's trendy (for good reason), and it's certainly worth a look.
That said, it may not be the best option for you if you're going with family or friends who you aren't too close with. The space may not be enough, and the lack of other configurations could pose a problem as well.
Will I book again if I have the chance? Certainly. And when I do, I promise I hope I will no longer be too shy to ask for a corner room!
'til our next adventure,