Last Updated on November 8, 2021 by Ran
During the two-hour ride to the first island in our Coron tour, our guide told us a really peculiar story.
One time, while he was on a tour with a couple of Chinese tourists, one of them commented to him that they were excited to see Banana Island because they wanted to see all the banana trees on the island.
The tour guide explained to them that there were no banana trees on the island; only coconut trees.
With a straight face, our guide told us that the poor tourists were absolutely confused.
Of course, we all couldn't help but burst out laughing. After all, how funny was it that an island named after a fruit didn't have even a single one of that type of fruit on it?
Then again, they said it wasn't really named that way because it had lots of that certain fruit. Apparently, the locals named it that way because of how they perceived the island as a rounded crescent shape, similar to that of the banana.
Pretty cool, I gotta admit.
Lunch by the beach at Banana Island
This is where we had our lunch, in the shade of a small hut near a line of perfect coconut trees. There were hammocks set up between the trees, where people could lie down while they enjoy the sun and sea breeze.
As always, I had a lot of fun during lunch! The food in Coron is really, really tasty.
Plus, there were only 20 of us, yet they served us food that could have fed 30 people.
Thou shalt not waste resources, right? Gotta eat them all!
Snorkeling in the clear seas
After that super delicious lunch, our guide took those of us who were interested in snorkeling, out to the water.
This was probably my favorite part of my whole Coron trip, to be honest.
Finding Nemo in Banana Island
As we went a bit further out, we got to see even more signs of life.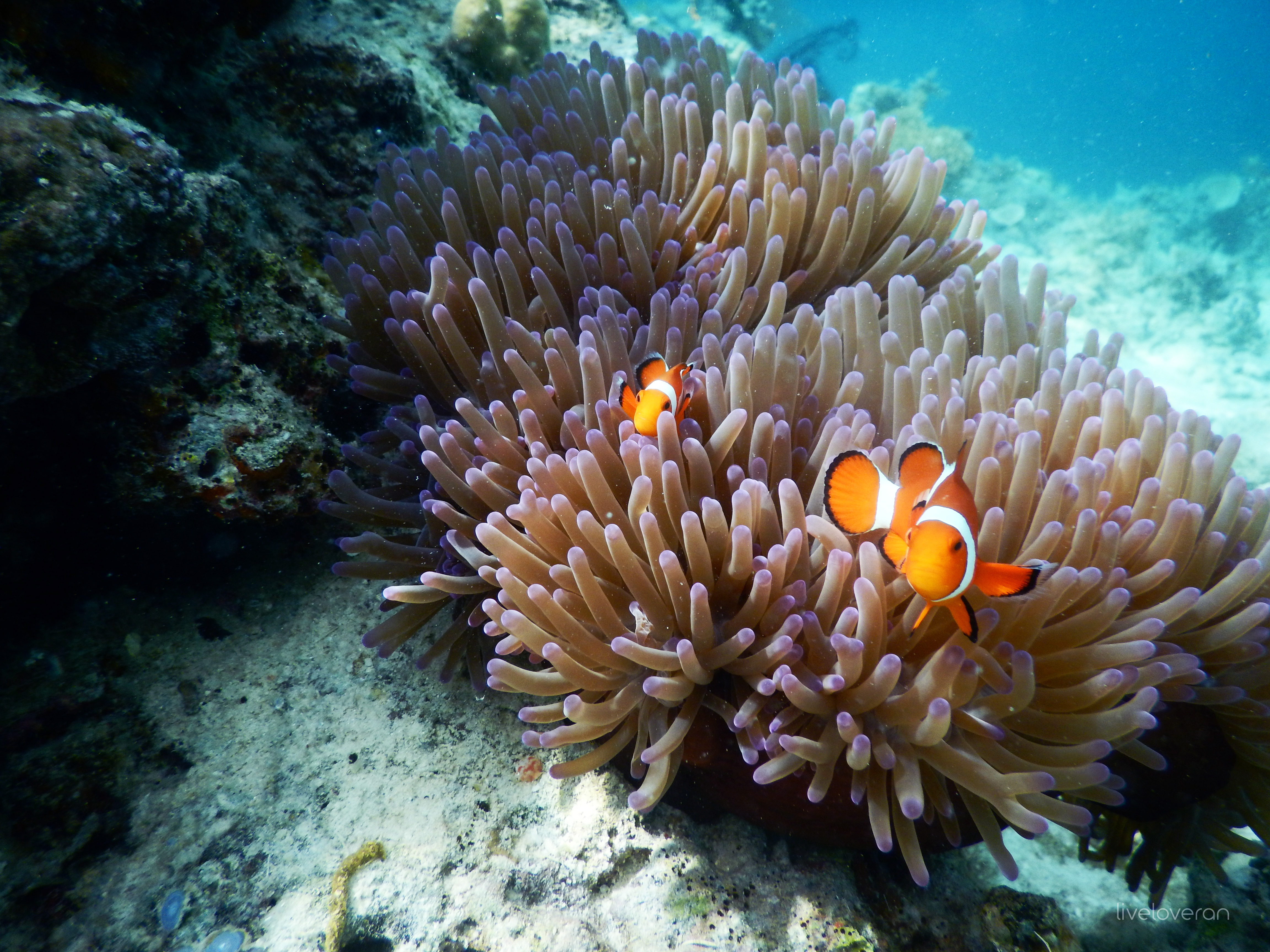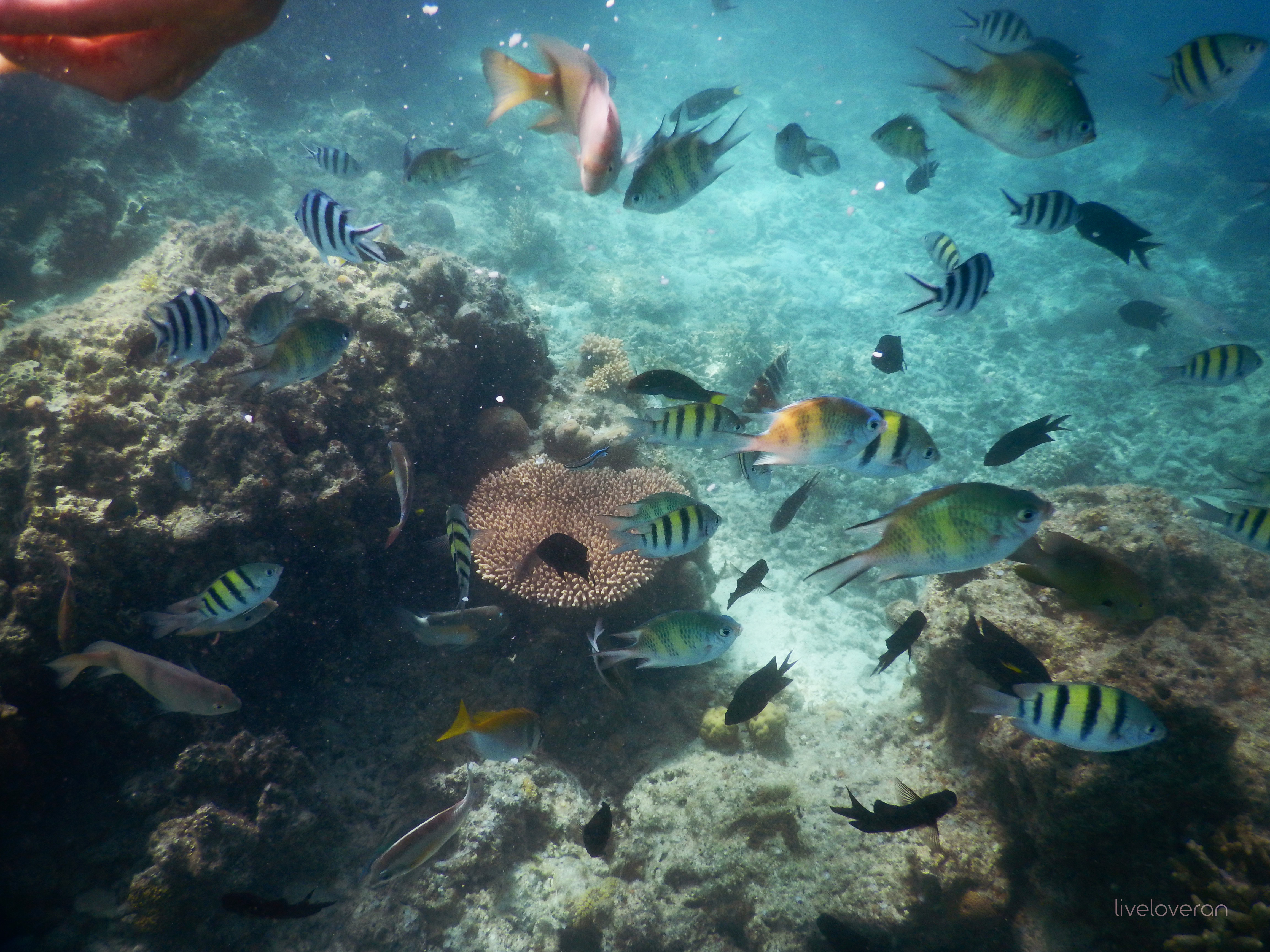 Not only did we manage to find Nemo–ahem, I mean clownfish, we also saw a bunch of other reef fish such as sergeant major, yellowtail snapper, and butterflyfish.
Feeding our fishy friends
We were allowed to bring loaves of bread here that we could feed the fish. They swarmed around us really gracefully, eager to get a piece of the food that we were offering. It was really a really amazing experience.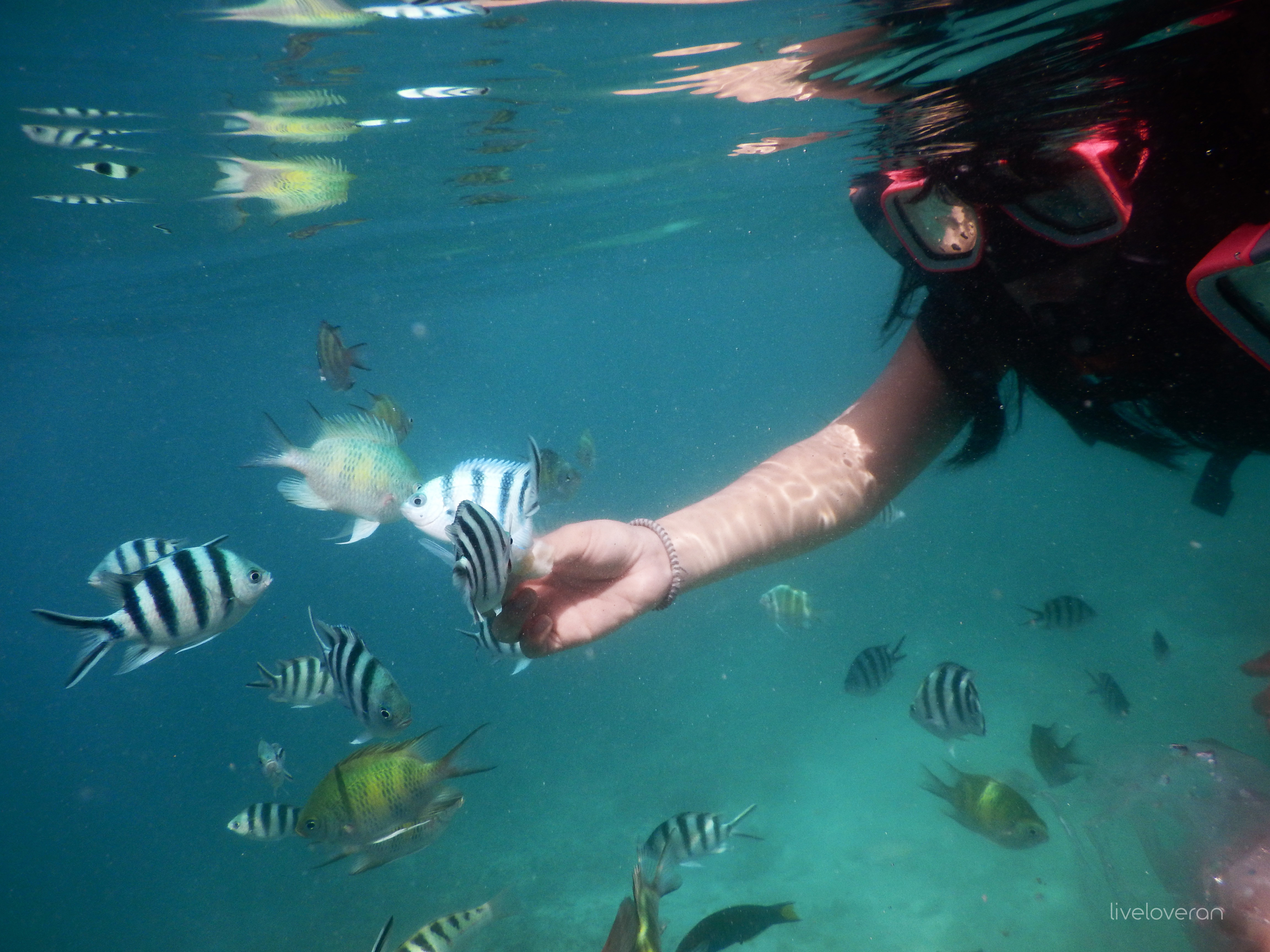 Most of the fish were sergeant majors, which our guide called the zebras of the sea. We also found a couple of others, like the parrotfish, which was pretty colorful.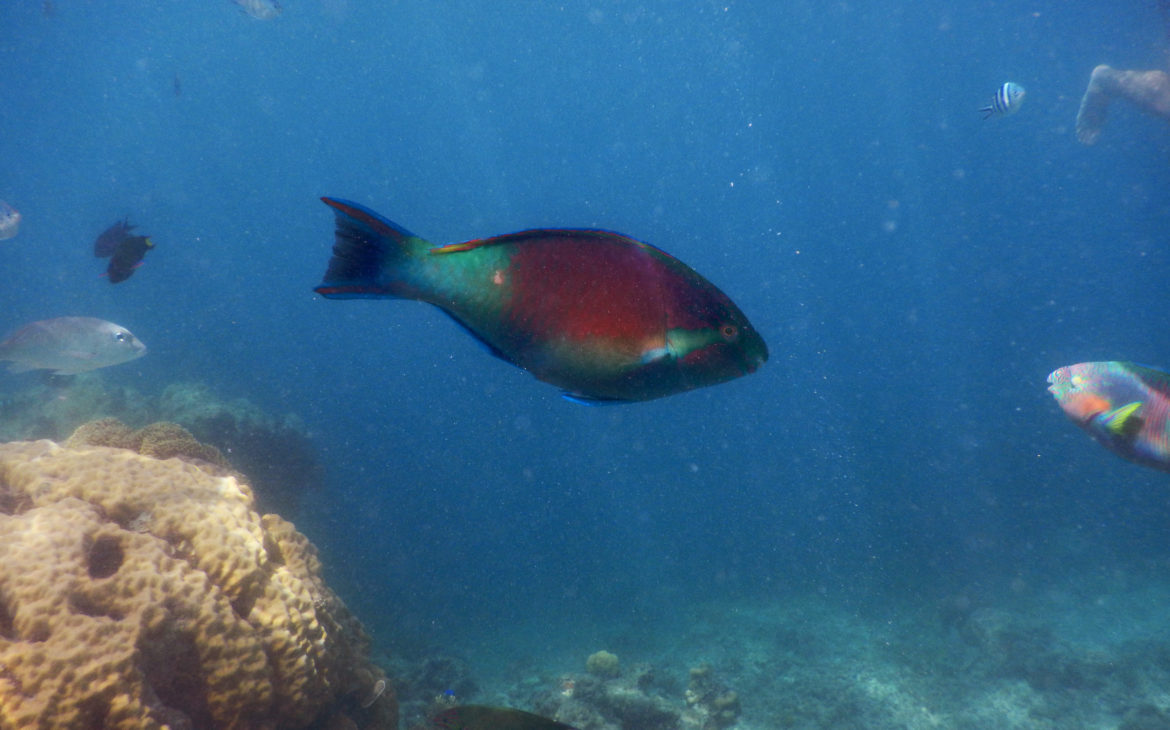 We even saw a giant clam resting on the sea floor.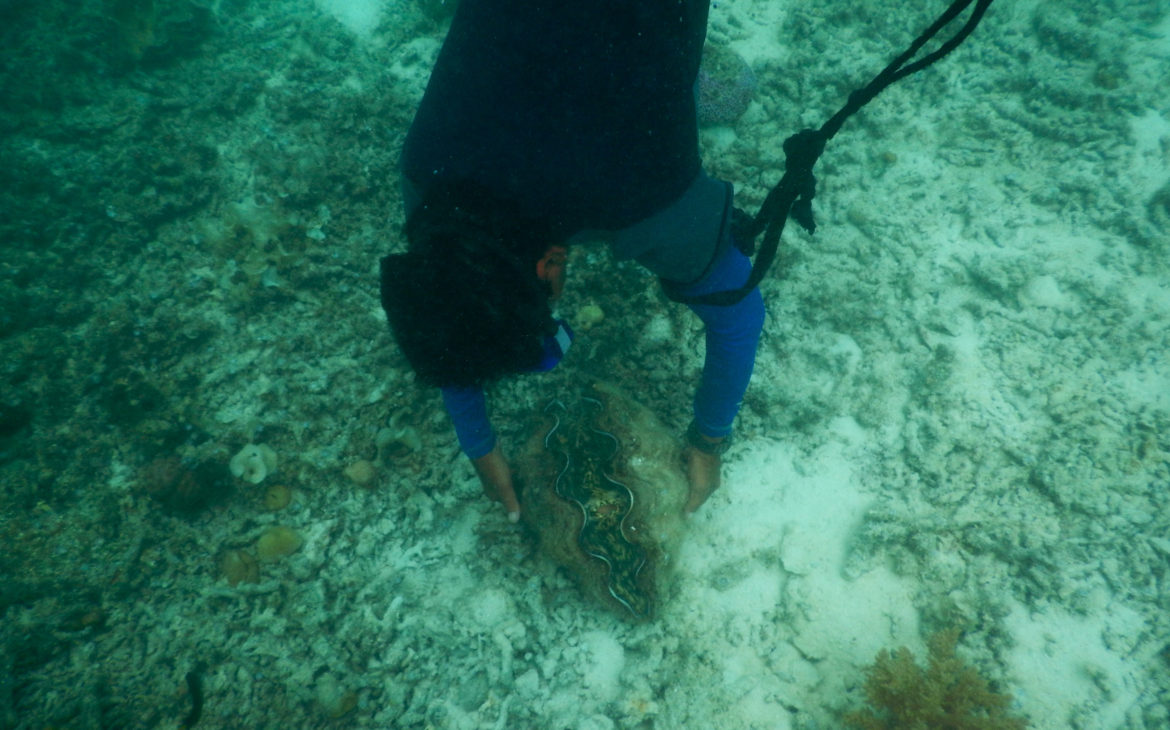 I'm sure everyone had a good time here, because we were so amazed by all the fish that surrounded us.
Even the other snorkelers in the area went to where we were fish-feeding, in order to watch the fish.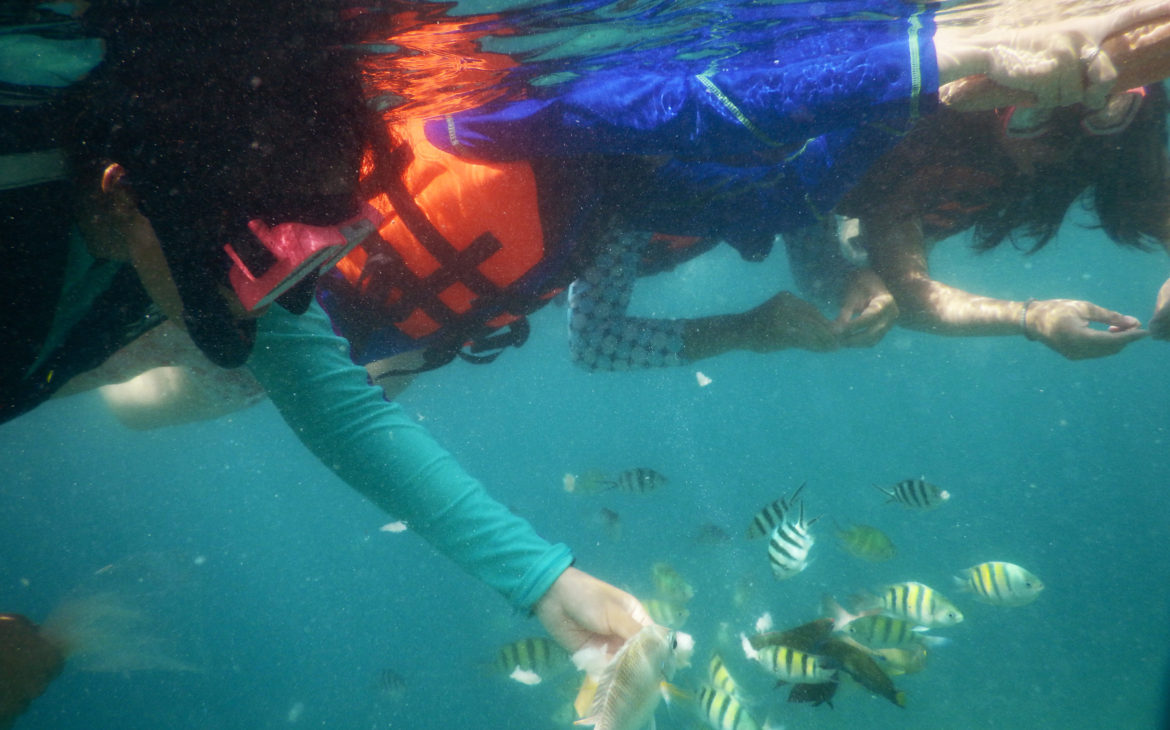 Our other groupmates, who weren't interested at first in snorkeling, actually joined in when they realized how fun it was.
Mistaken identity underwater?
We also had a really funny experience here. You know how everyone wearing snorkeling gear and life vests looks almost identical in the water?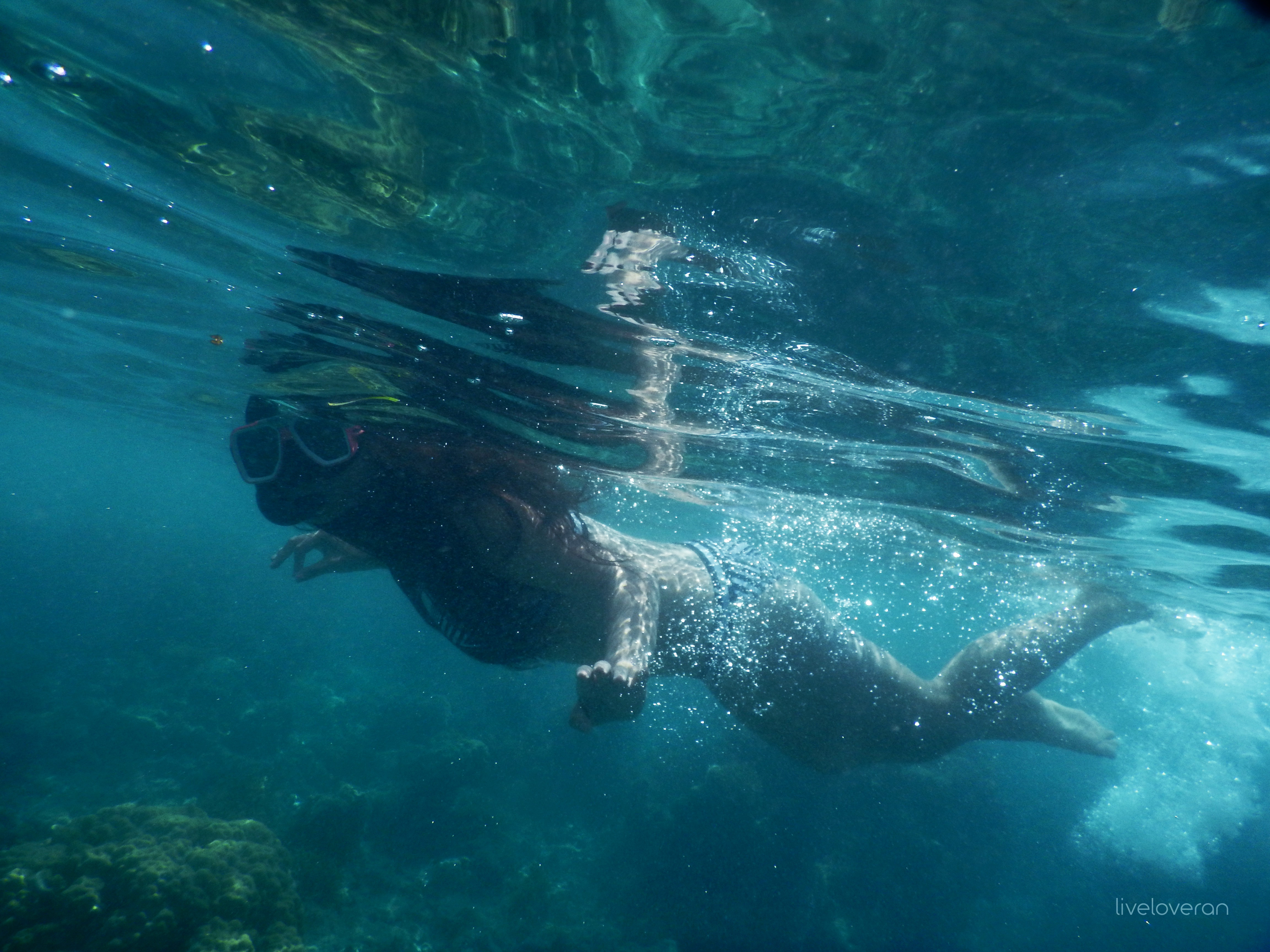 At one point, several of us were interacting with this one girl in braided pigtails, who seemed to be having a lot of fun playing with the fish.
I had shared our floater with her when I readjusted my gear, Kat had shared an exciting moment with her underwater, and our professor even almost had a picture taken with her!
And then suddenly, we all realized that… wait, no one in our tour group had braided pigtails this morning.
As if on cue, a guy who was wearing the same gear we were wearing called her… in Chinese. She looked at him, then stared at us.
We stared back at her as she slowly backed away, back to her own tour group.
Guess she has her own story to tell to her peers, huh.
Getting lost in the sea
Oh, and this is pretty silly of me, but I kinda got lost here. I think Banana Island might be on a continental shelf because the sea bed had a rather deep slope downwards.
I found that really interesting, so I went a little further out into the sea.
When I surfaced, I saw that the others were already nowhere to be found. Turns out they had returned to the shore, and since I wasn't wearing a life vest, they didn't notice me when I went underwater.
Oh boy. I swam back alone, deciding to use that time to take a picture of everything I could see.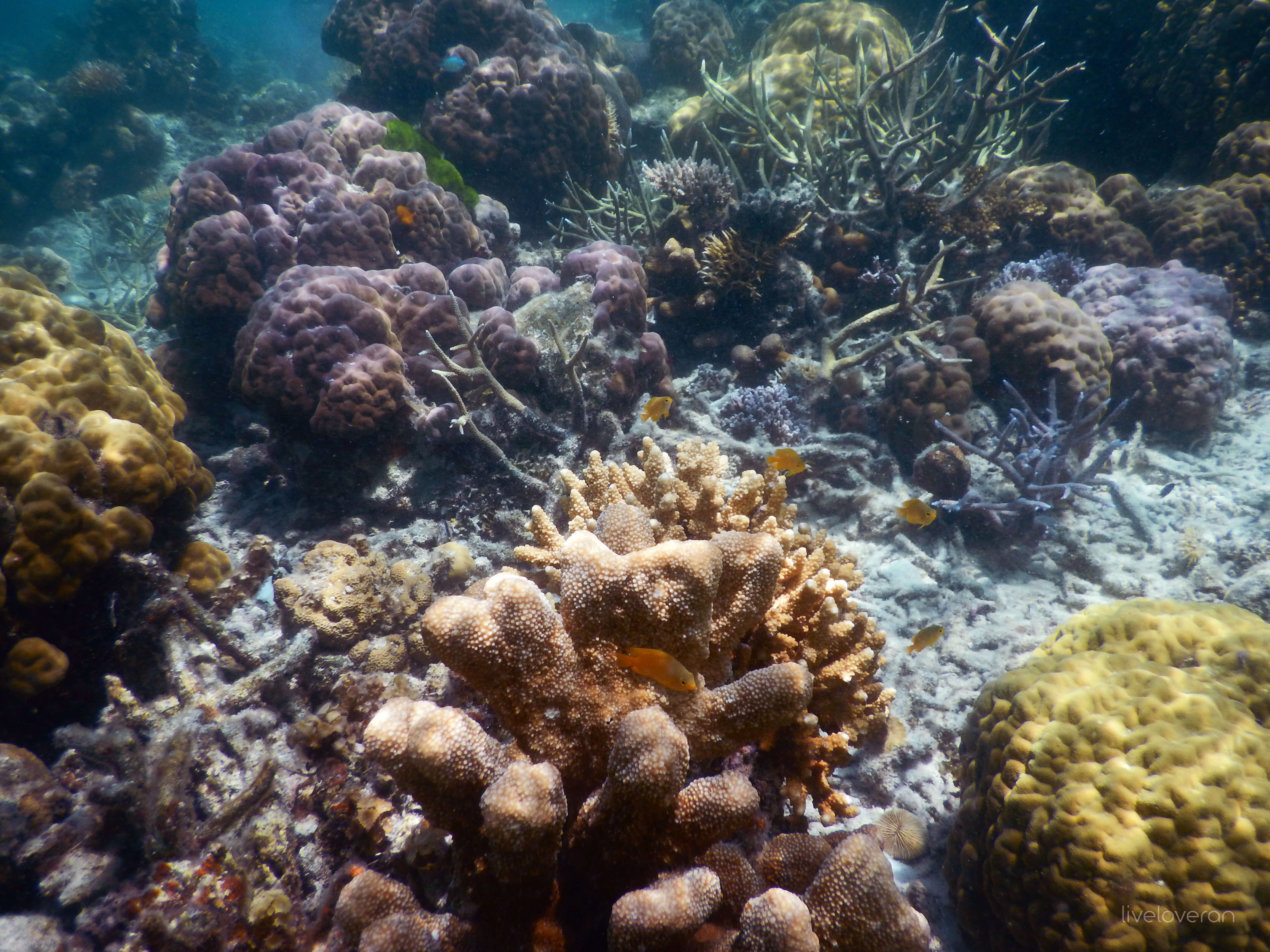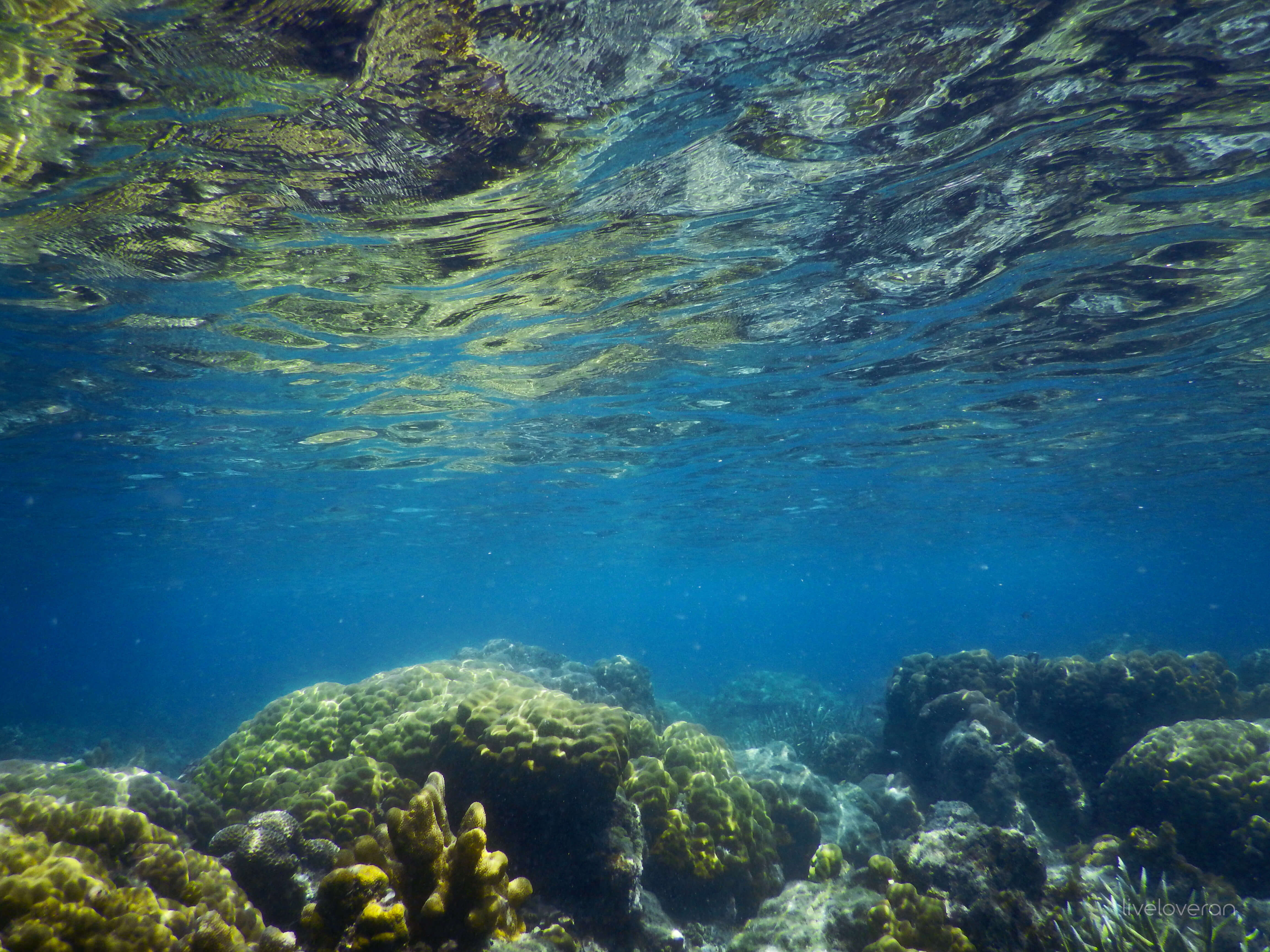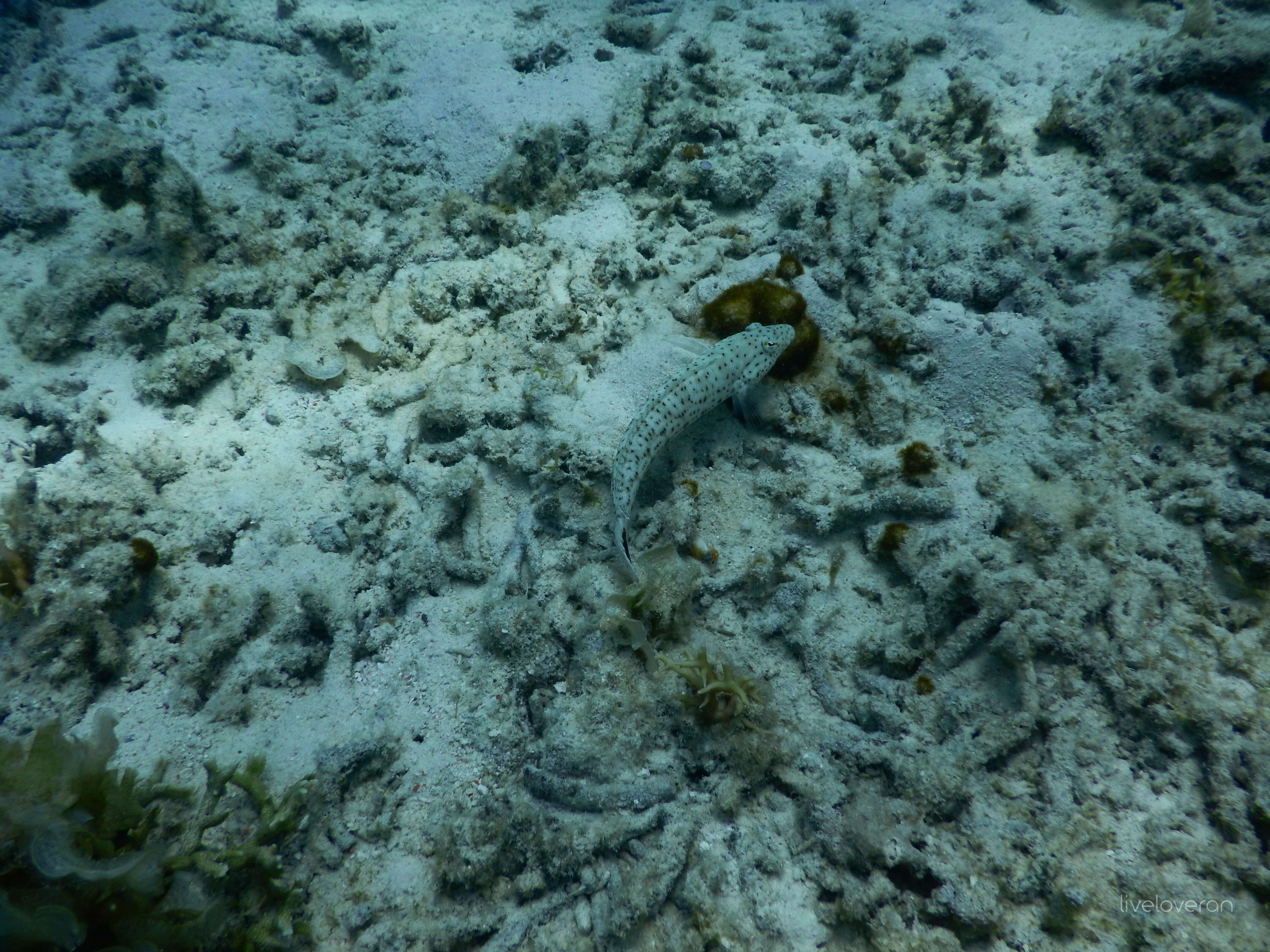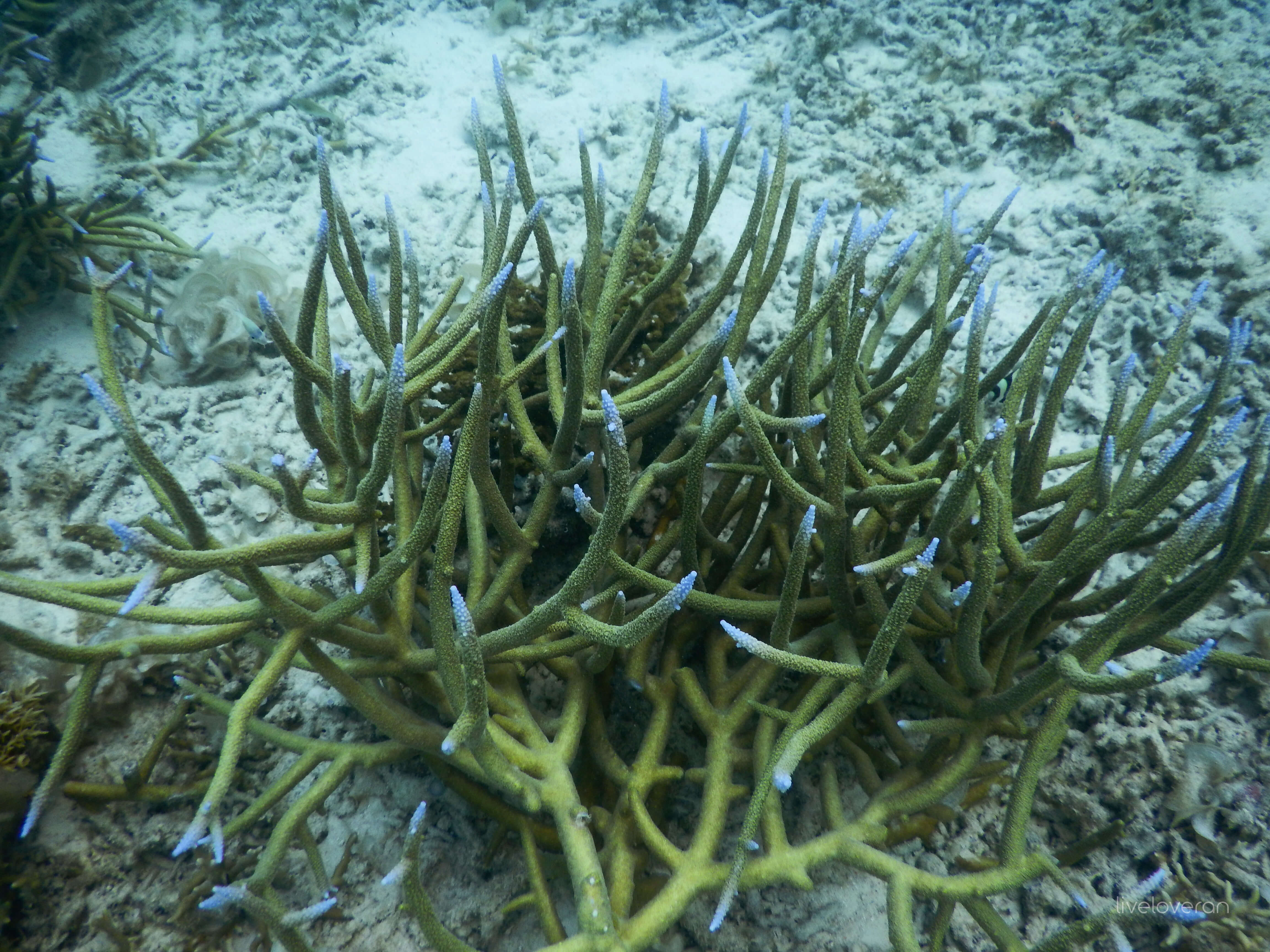 Hmm, but it was a little bit scary when I reached the shallow parts because there were sea urchins everywhere. Yes, sea urchins.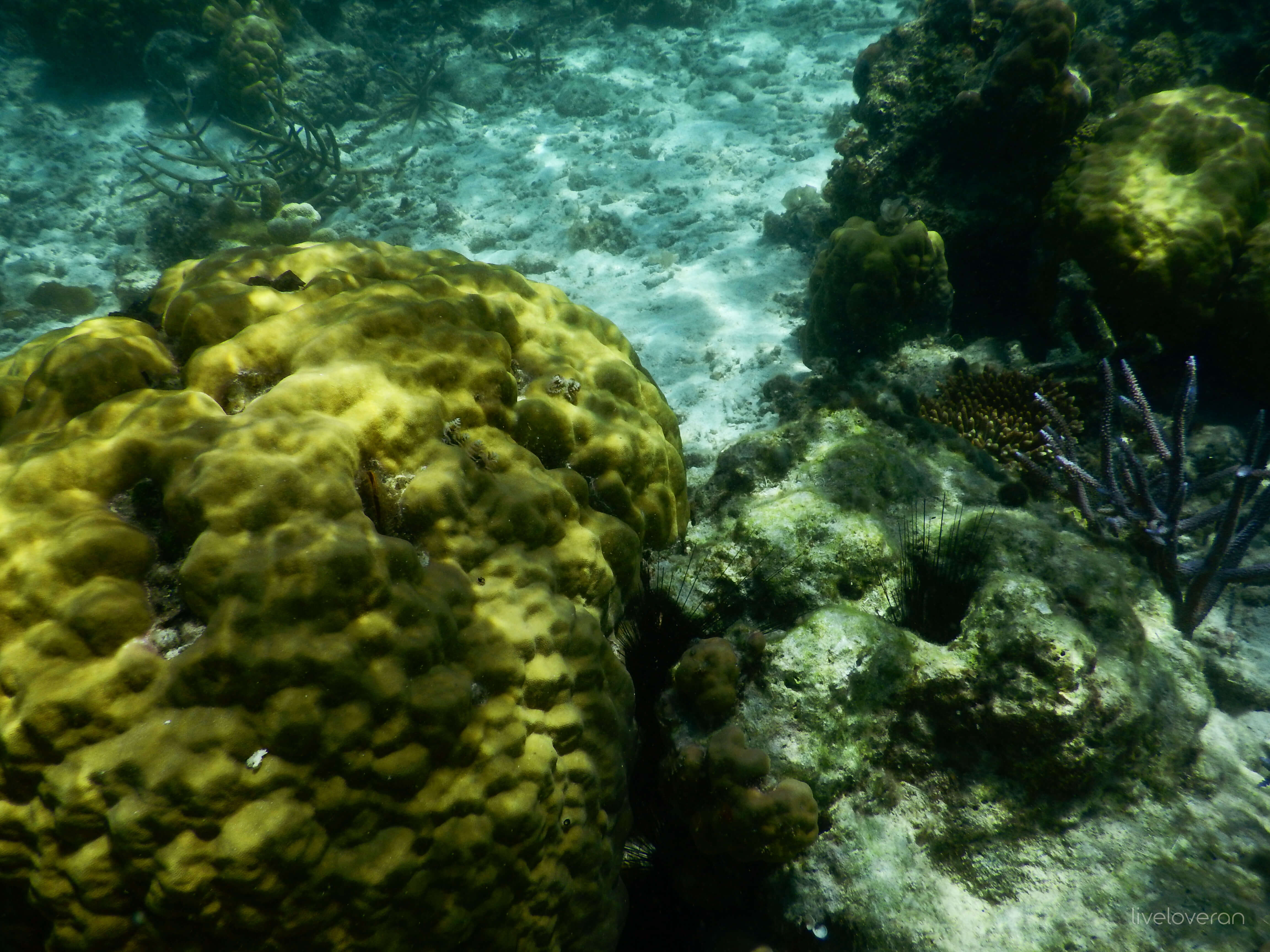 Sea urchins, like I already mentioned in a previous blog post, are best left alone when encountered at sea. Many species tend to have venomous spines that can be quite fatal to humans.
Some sea urchins even bite, depending on the species. Don't ever attempt to touch one especially if you don't know what it is exactly.
The horrors of the deep blue
The scary thing when you're swimming is that everything looks so near, even if it probably isn't.
That includes spiky corals and those pesky sea urchins.
I could barely swim. I was so scared that I was going to hit them. They looked so near that I could've sworn they were right beneath me!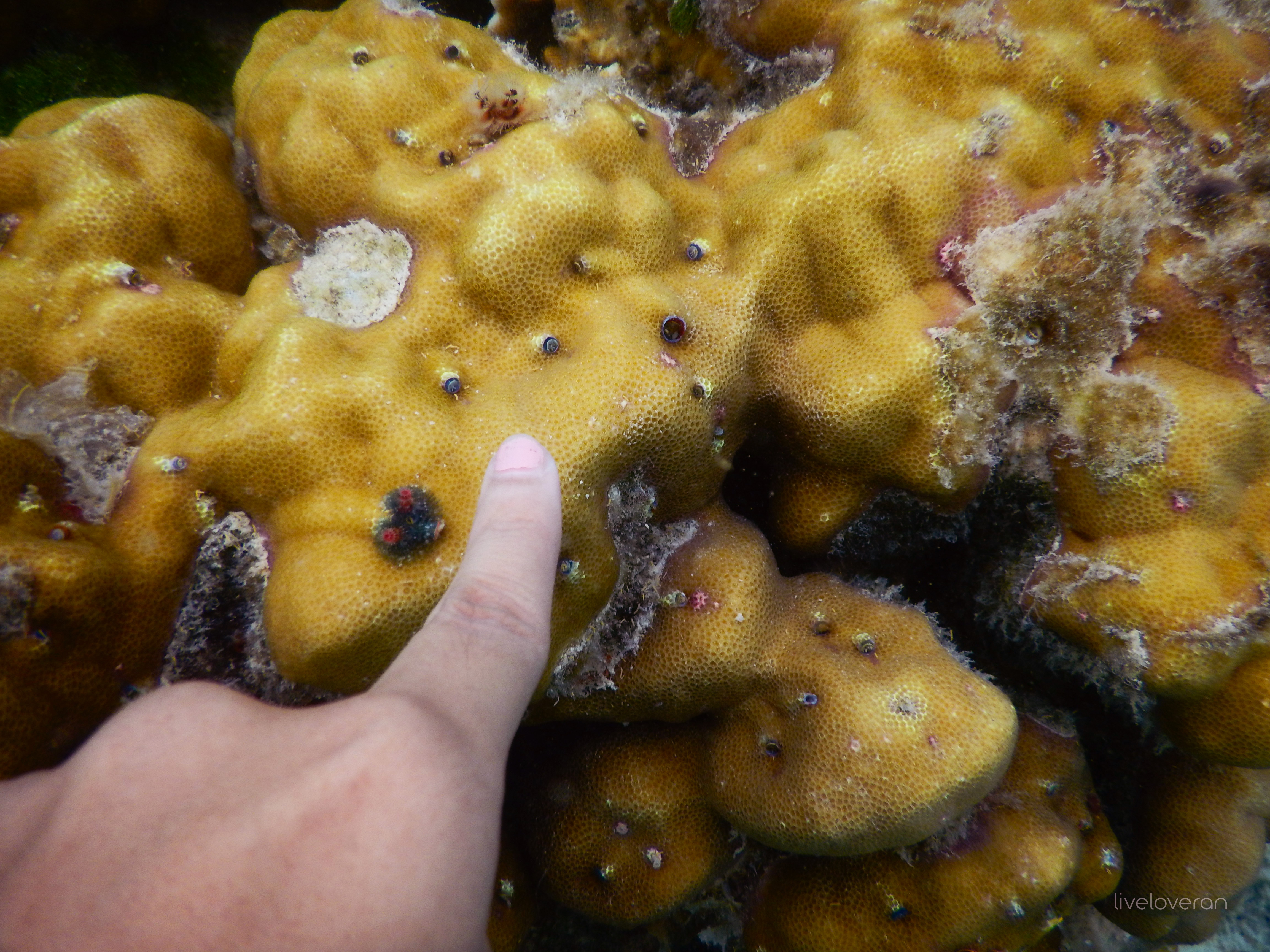 At one point, I panicked in the water and ended up letting go of my snorkeling mask. Legit scary moment there. I tried to stand up to put the gear back in my mouth, but I realized that my feet still didn't reach the floor (I'm 5'7″, for reference). Dude.
Besides, there was nowhere to stand yet, because the floor was filled with corals of all sorts. I was careful not to touch or accidentally kick even a tiny part of them.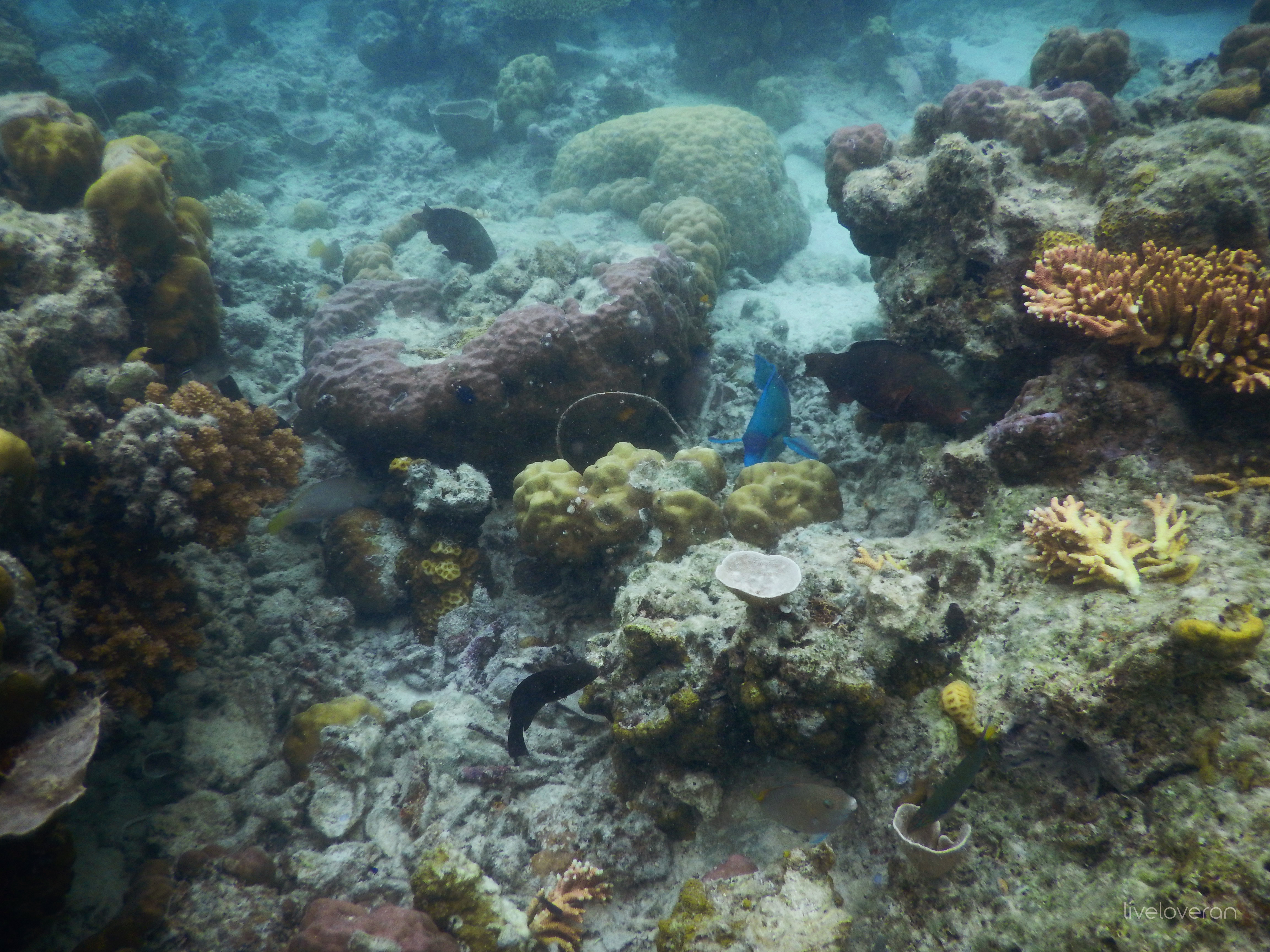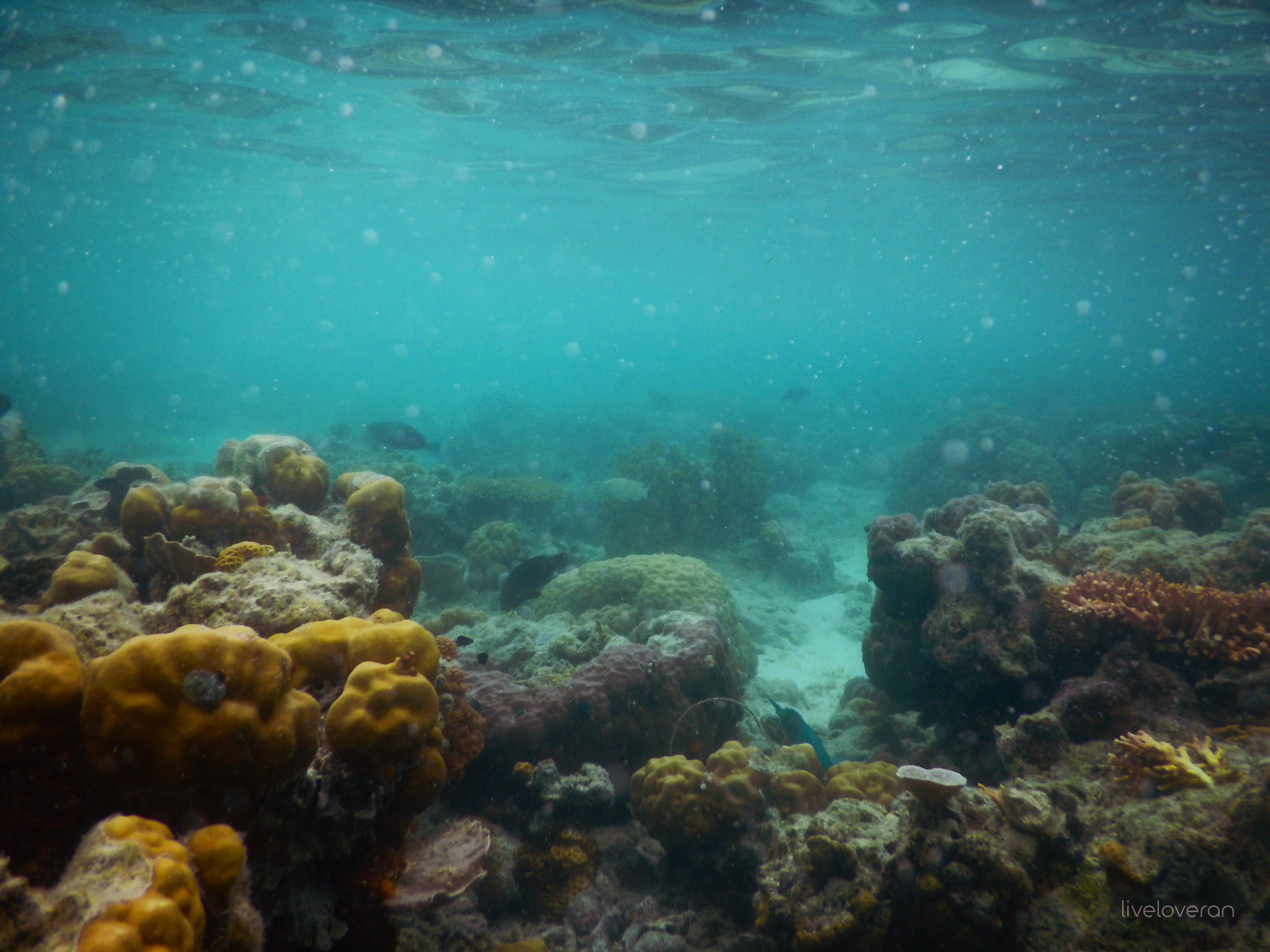 One guy who was also snorkeling alone saw me, and he actually stopped and watched me for a moment as I struggled in the water. I think he was contemplating on whether or not I was drowning (I wasn't, but I was close).
Just when he was about to approach me, I managed to put my gear back on. He paused and looked at me again, seemingly trying to see if I was already okay, before going on his own way. I don't know why but I found that very nice of him!
It turned out that the guide had been looking out for me from the shallower part too, and when he saw me, he waved and said, "Tara na po, miss na mahilig sa isda! (Let's go, Miss who likes fish!)" Hahaha.
Enjoying Banana Island
So, yeah, that was one heck of an adventure! I sure am gonna miss you (but not your urchins) Banana Island!