Last Updated on November 8, 2021 by Ran
It's a sweltering day here in Bangkok and the whole place is just sizzling. Temperature now: 31 degrees Celsius. Feel likes: 35 degrees Celsius. Hotter than our Manila, just great! I'm definitely feeling it alright!
It's a good thing K and I have already whipped up a quick breakfast at home. We've learned our lesson. We're prepared. We bought some 'freshly' packed chicken thighs at the 24-hour-open TESCO near our place. Why chicken, you may ask? One, it's easy to cook. Two, we get to save time and money by preparing our own food just once a day. Thai food may be really delicious, but eating out every single day does take a toll on our finances, too.
Exploring Bangkok Temples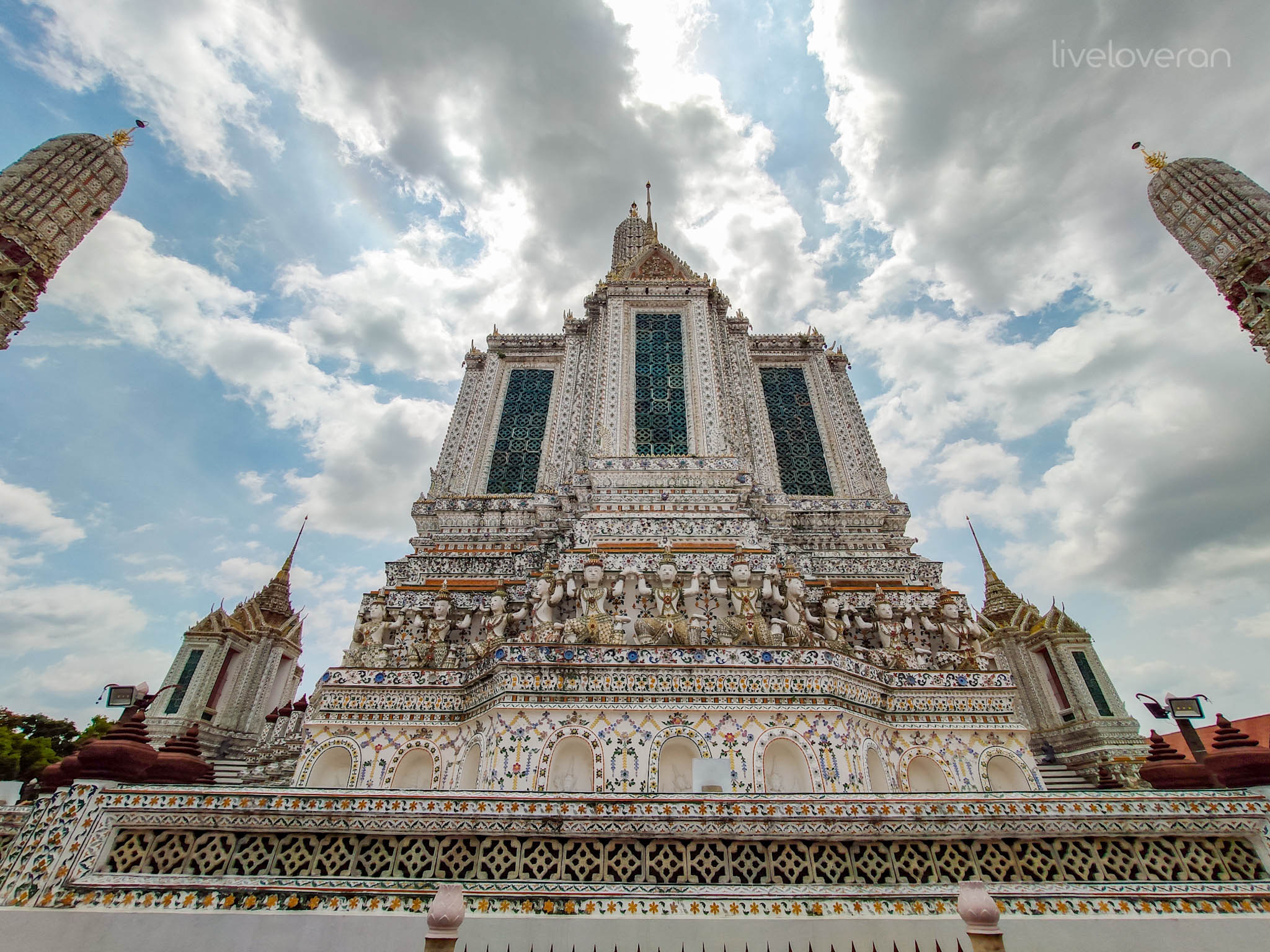 After eating a rather filling breakfast, we then book a Grab towards our first destination: Wat Arun, just one of the thousands of temples in Thailand. There are over 30,000 temples in the entire country, a few thousand of those located in Bangkok alone. Three of the most popular ones are Wat Arun, Wat Pho.
Initially, we were going to see the Grand Palace first, but we figured we could do it the other way around since it was already 10:30. All the blogs we read online said that it's usually crowded at this time so it's much better to visit after lunch.
The plan: spend an hour in Wat Arun, take a river taxi back to the other side of the Chao Phraya River, eat lunch at one of the many restaurants and fast food joints near the Grand Palace, spend maybe 3 hours in The Grand Palace, and then visit Wat Pho for another two or three hours. Hopefully, we'll make it to Khao San Road by 18:00. A full day out. Awesome plan, right?
Except… none of that came true. The main culprit? The weather. Bangkok at 11:00 is blazing hot. And I mean blazing! I could almost see the haze in the air as I looked around at other red-faced tourists. In an instant, we decided to just scrap all our plans and see how it goes.
Wat Arun, The Temple of Dawn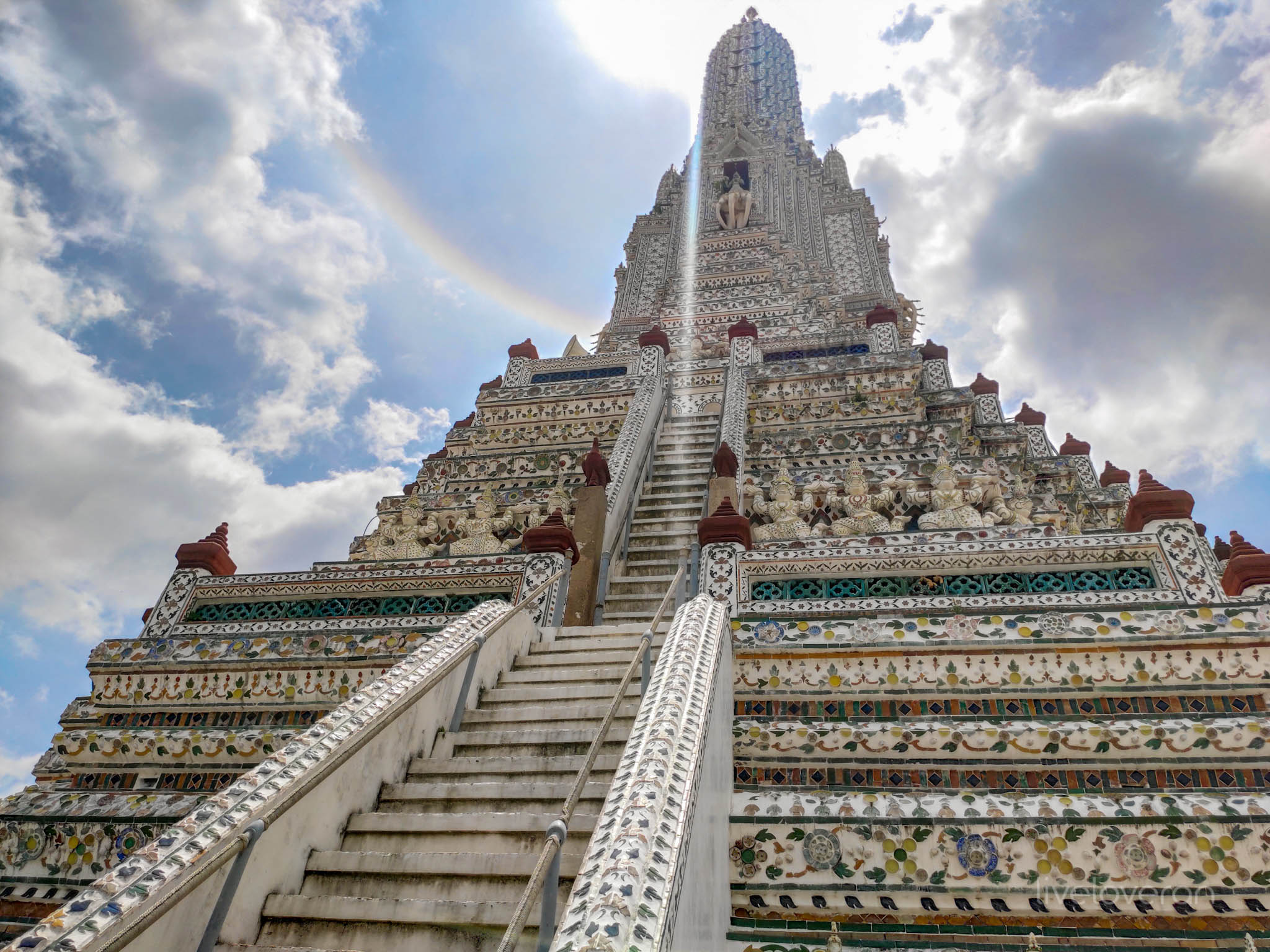 Our first stop is Wat Arun, also known as the "Temple of Dawn". Locals call it Wat Chaeng. It's completely marvelous, with high spires pointing towards the sky and plenty of colorful broken plates decorating its facade.
When K and I went, it was a pretty hot day, yet there were dozens of patient tourists around taking pictures in the area. The stairs are quite steep and slippery, so best be careful if you're going to climb up all the steps.
Fast Facts About Wat Arun
Full Name: Wat Arun Ratchawararam Ratchawaramahawihan
Schedule: 08:00 – 18:00
Admission Fee: THB 50
Address: 158 Thanon Wang Doem, Khwaeng Wat Arun, Khet Bangkok Yai, Bangkok 10600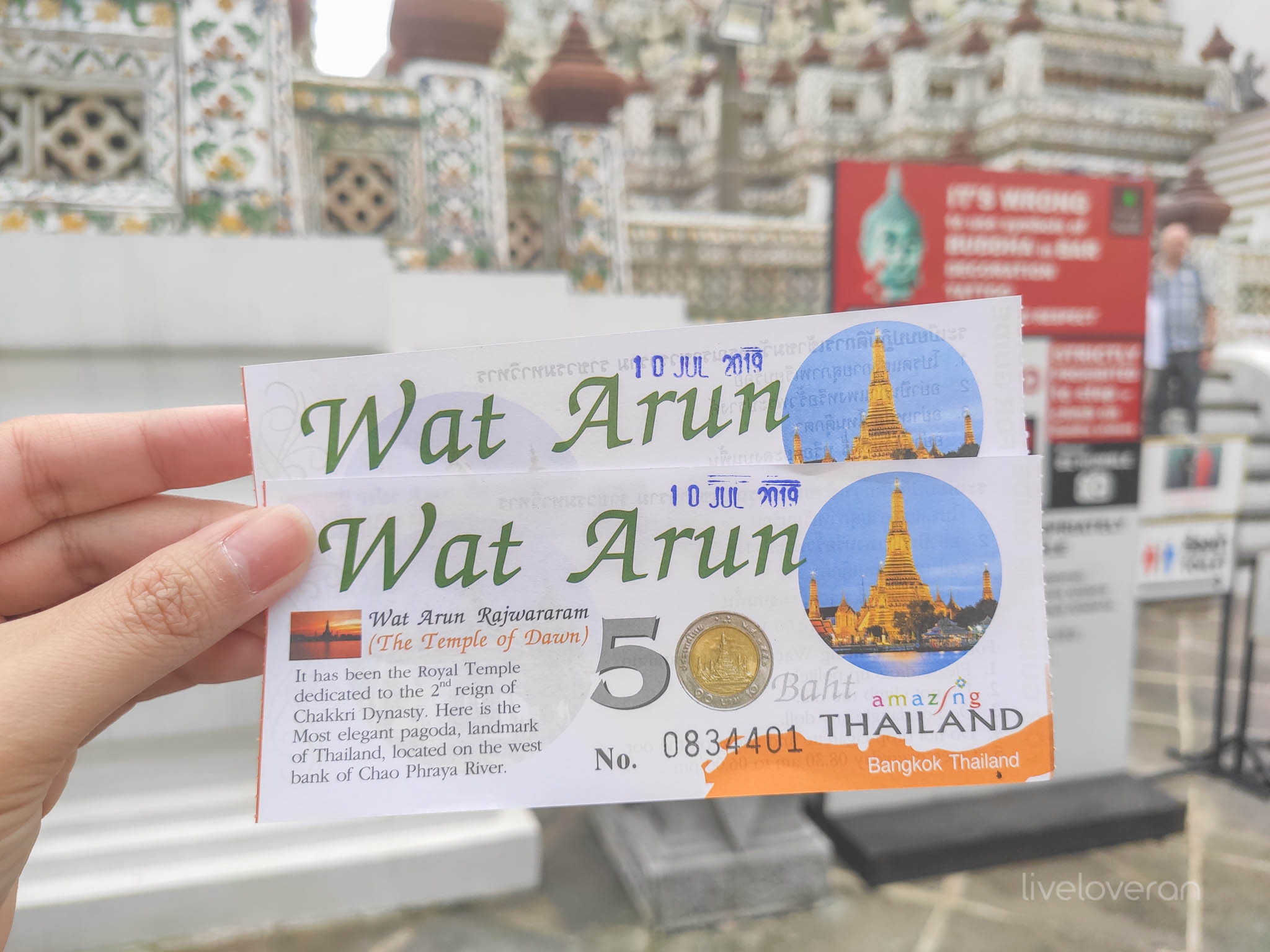 A Brief History Of Wat Arun
Named after the Hindu god of dawn, Aruna, the Wat Arun is actually one of the oldest temples in Thailand. Despite its relatively small size, it actually has a lot of history behind it.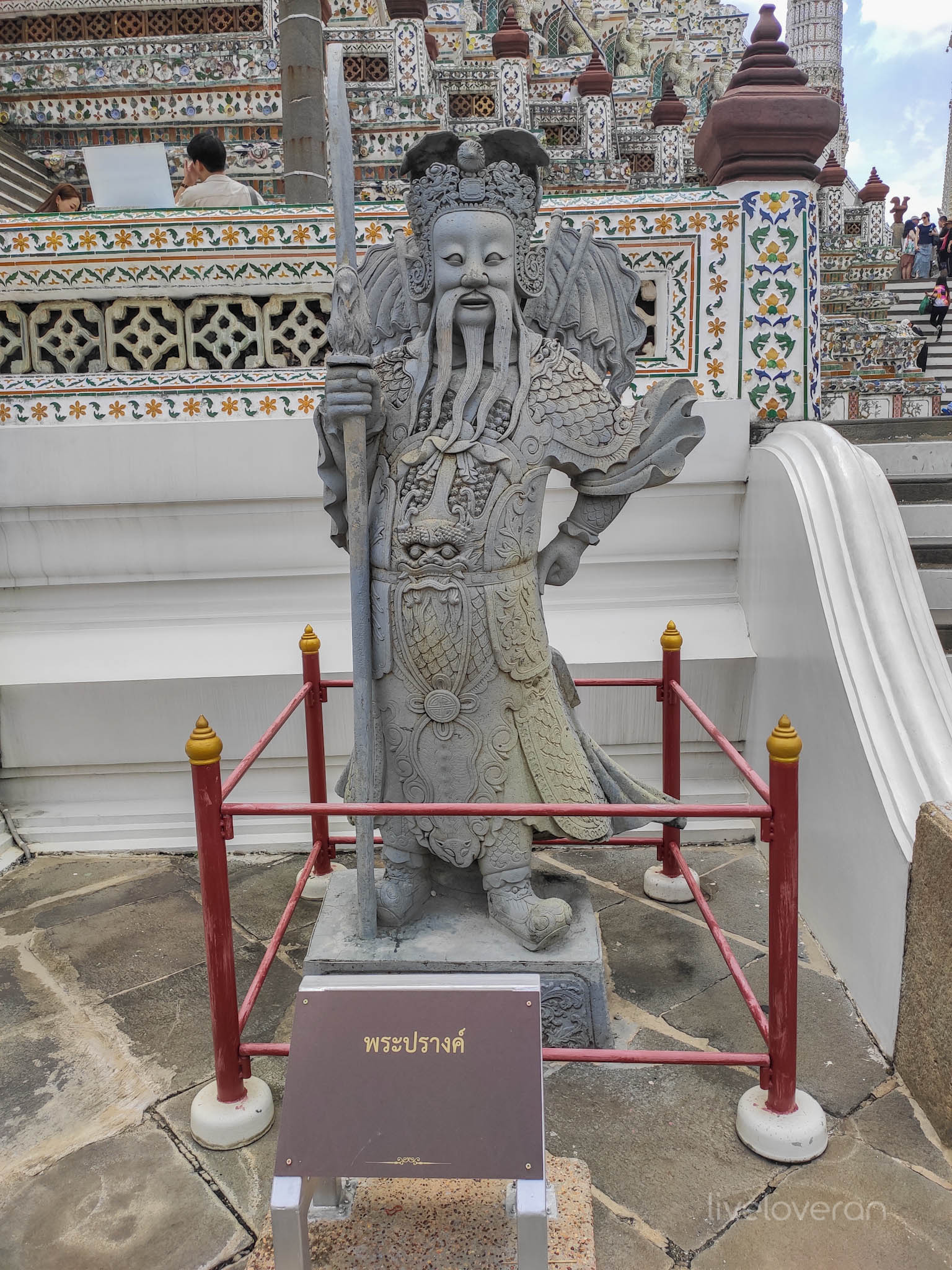 Back in the 14th-18th century, when the country was still known as the Ayutthaya Kingdom, a smaller temple called Wat Makok was built in this area within a village called Bang Makok. In 1768, a warlord called Taksin overthrew the kingdom, renaming it as the Thonburi Kingdom. It lasted for a mere 14 years, ending in 1782 after rebels managed to take down Taksin. By that time, Taksin had already rebuilt the Wat Makok and given it a new name: Wat Jeang, or literally Temple of Dawn. Later on, Taksin's former general, Thongduang, took on the royal name of Rama I and established the Chakri Dynasty – the same dynasty that currently rules over Thailand today.
Rama I moved the temple to the other side of the Chao Phraya River but it was Rama II that decided to restore it to its former glory, renaming it as Wat Arun after the Hindu god of dawn. Rama II also improved the aesthetics of the temple, increasing the height of its highest spire to 70 meters and adding more decorations that linked the temple to India, the home of Buddhism. The Wat Arun was finalized in 1847 during Rama III's reign, after a construction period of over 30 years.
How To Go To Wat Arun
Getting to Wat Arun is fairly simple if you're coming from Bangkok. If you're coming from outside the city center, your best bet would be to head to the city first, preferably Siam Paragon since it connects to a lot of other transportation options.
Via Taxi or GrabCar
Obviously, this is the quickest and, obviously, the most expensive option. When coming from Siam Paragon, it only takes about 8 minutes (8km) and costs anywhere from ฿150-฿200 depending on the traffic. I recommend getting a GrabCar instead of a taxi since Thai taxis are notorious for running scams on foreign tourists. #NotAll taxi drivers, of course, but it's still worth keeping in mind when you're deciding between these two options.
Via Bus
Going to Wat Arun via bus is the cheapest but most tiring option, at least in my opinion. From Siam Paragon, go on a 10-minute-walk (800m) to MBK Center. Buses heading to Wat Pho arrive every 15 minutes or so and cost only about ฿60. You can then get off at Wat Pho and walk approximately 5 minutes (400m) to Wat Arun.
Via BTS
From Siam Paragon, take the BTS to Sala Daeng. Walk for 4 minutes (370m) to the Silom MRT station and take the subway to Itsaraphap which costs approximately ฿40. From there, you'll have to walk for another 9 minutes (700m) to Wat Arun.
Via Ferry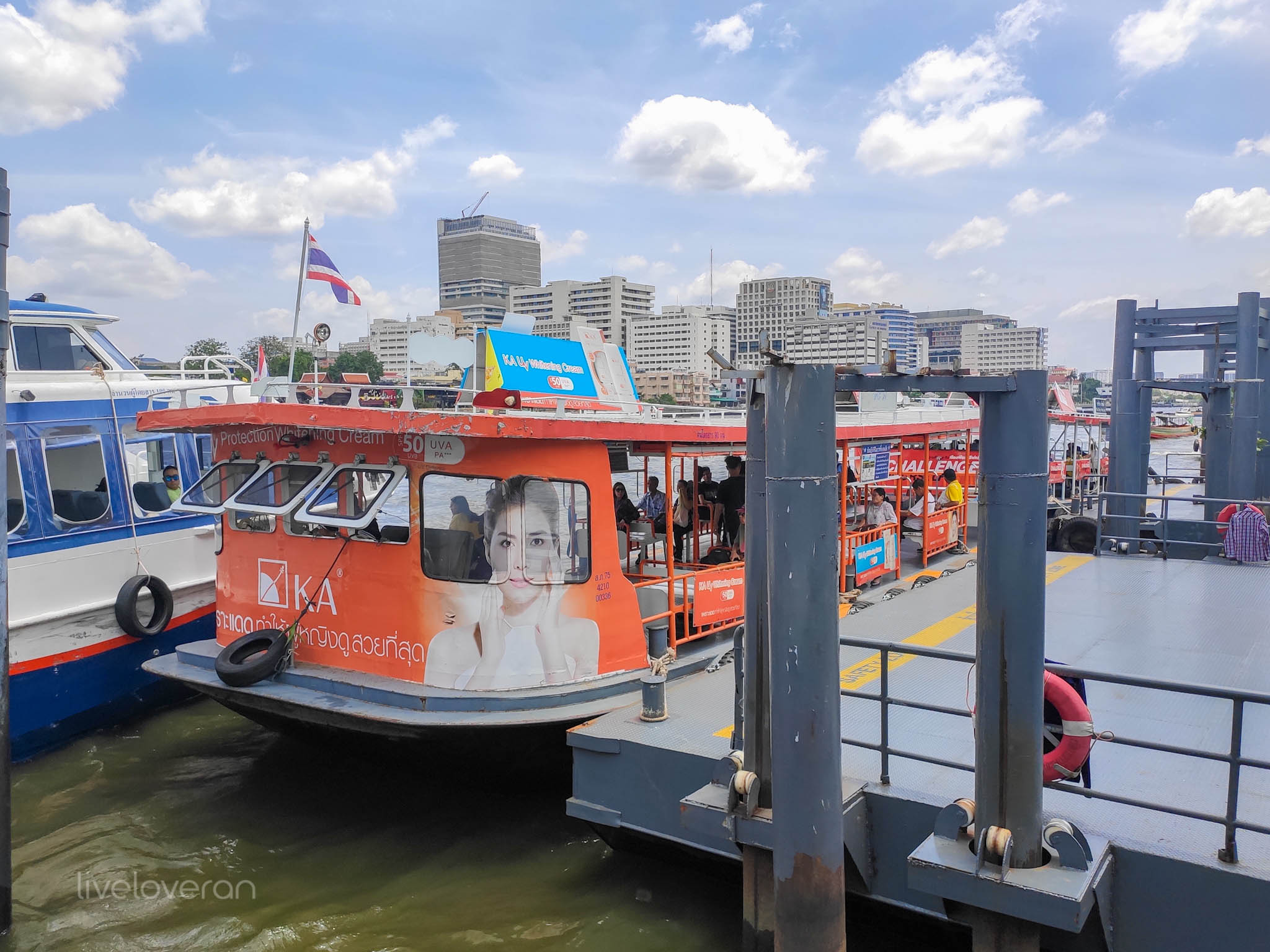 Going via ferry is a little less tiring than going via bus, but it's still complicated nonetheless. From Siam Paragon, hop onto the Silom Line and get off at S6 Saphan Taksin Station (Exit 2). Board the ferry at Sathorn Pier and get off at Tha Thien Pier. You'll get at Wat Arun after a 4-minute-walk (300m). If you want to skip the walk, you can also just take the Chao Phraya Tourist Boat and get off straight at Wat Arun Pier. It's a bit more expensive though, from ฿60 to ฿300.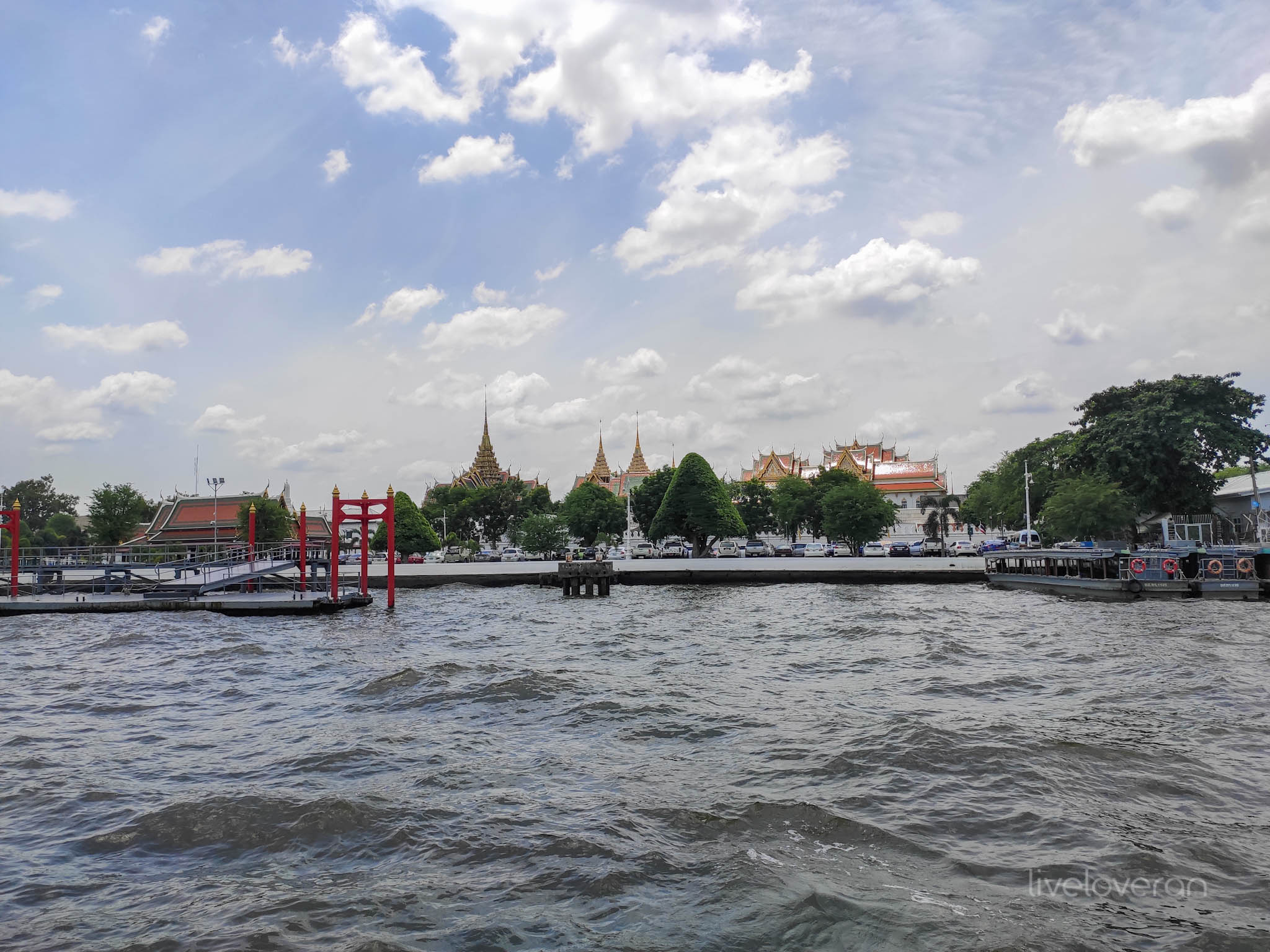 Best Time To Visit Wat Arun
As its name implies, the best time to visit Wat Arun in Bangkok would be in the morning, when it's still pretty cool and still fairly devoid of the swarms of foreign tourists coming in large tourist buses.
For instance, not a lot of tourists were here when we visited, at least compared to Wat Pho. That said, I'm not completely sure if it's because of the time we went or because of Wat Arun's location, but it's good to err on the safe side. Wat Arun is also not as big as the other temples so you don't have to schedule a whole hour to go around its premises unless you want to sit down and admire its gorgeous facade.
If your main goal is to take a magnificent shot of the temple though, your best bet would be to stay on the other side of the river and wait for the sun to set. Then again, with a place as beautiful as this, it's actually pretty hard to not take a good shot. Talk about photogenic!
Helpful tip: most temples and special places in Thailand have a dress code, so always keep that in mind. I had to wear these white pants and K's t-shirt just to be allowed inside because I didn't prepare enough 'decent' clothes beforehand. Shorts and sleeveless clothes are definitely a no-no!
Bonus: Outside Wat Arun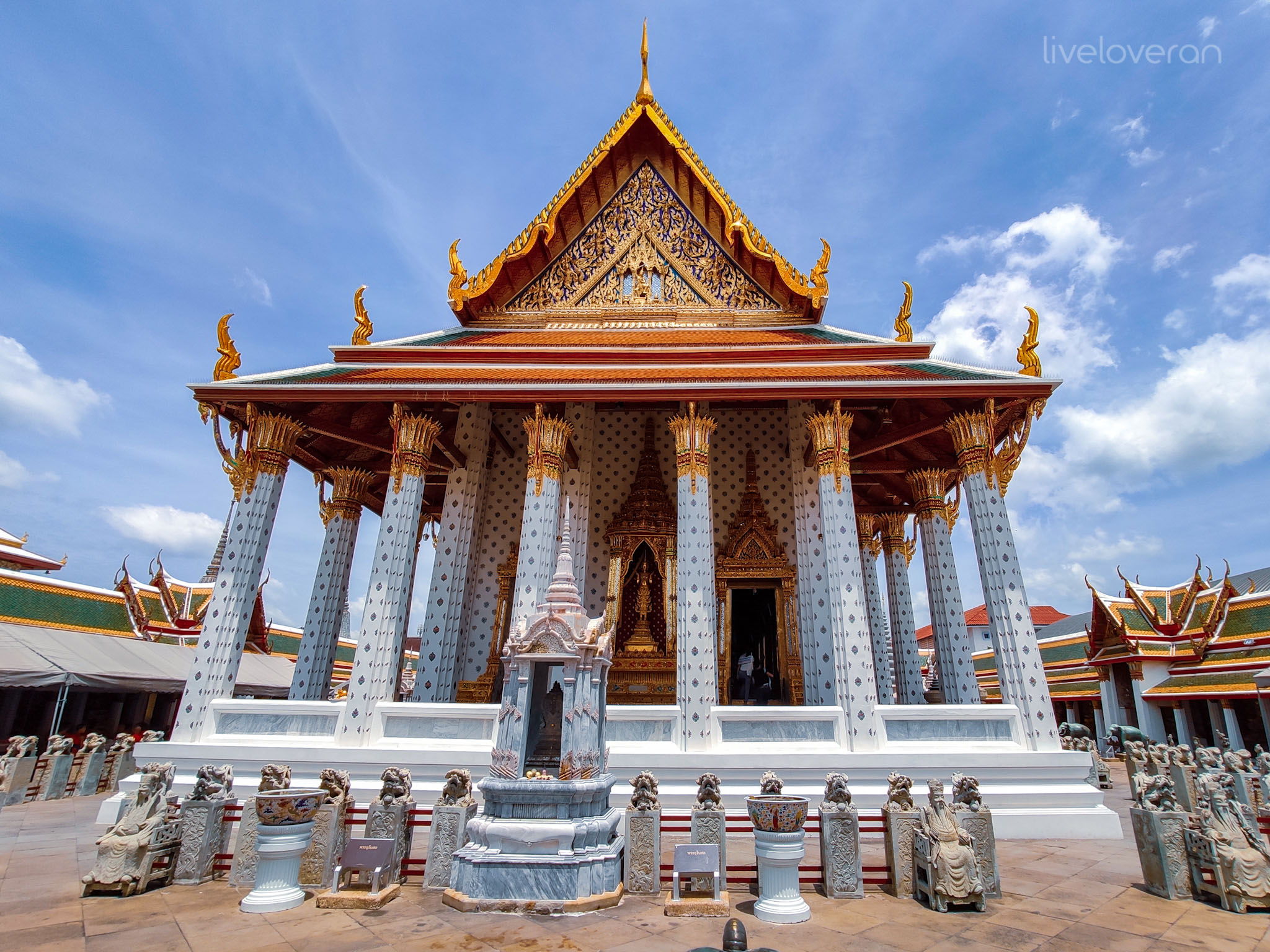 Outside Wat Arun, there are still a few points of interest for visitors. Aside from souvenir shops that sell uber-cheap elephant pants, there's also a smaller temple or shrine nearby where you can watch monks going about their daily lives.
Truth be told, we're honestly not sure if this is still a part of Wat Arun, though we're quite certain that we went out the exit before coming across this place. It's smaller than Wat Arun and it doesn't charge any entrance fee, so that's why we have no idea what it's called. I even tried looking it up online and I couldn't find anything (at least not on English Google). If anyone here can tell me what this temple is called, I'd certainly appreciate it!
When you're done sightseeing, just walk back a few meters from Wat Arun's exit and you'll see the pier where you can ride a ferry going to the other side of the river. This ferry is called the Chao Phraya Tourist Boat and it caters to tourists specifically. Of course, it's also a lot more expensive, like about 10x more. If you're on a budget and don't mind the heat, there's also a pier for the local river taxi nearby, but you'll have to walk a few hundred meters more for that one.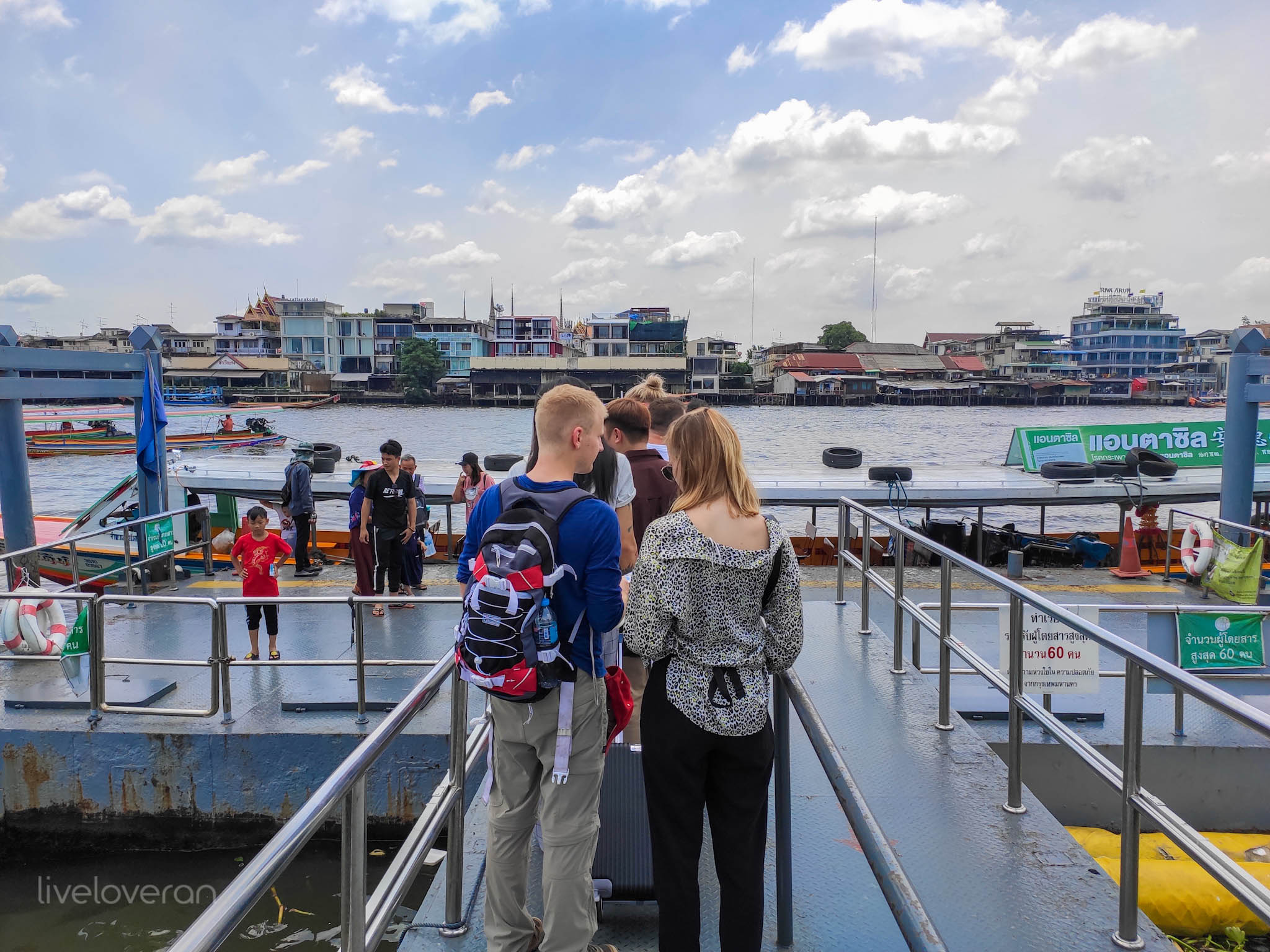 If you're just planning to cross the river, like literally go across it, we recommend just using the local river taxi. A one-way ride on the Chao Phraya Tourist Boat costs ฿60 and you won't even get to spend 10 minutes inside. For instance, we took the boat from Wat Arun to the Grand Palace and only stayed in the boat for maybe 5 minutes before getting off.
The Grand Palace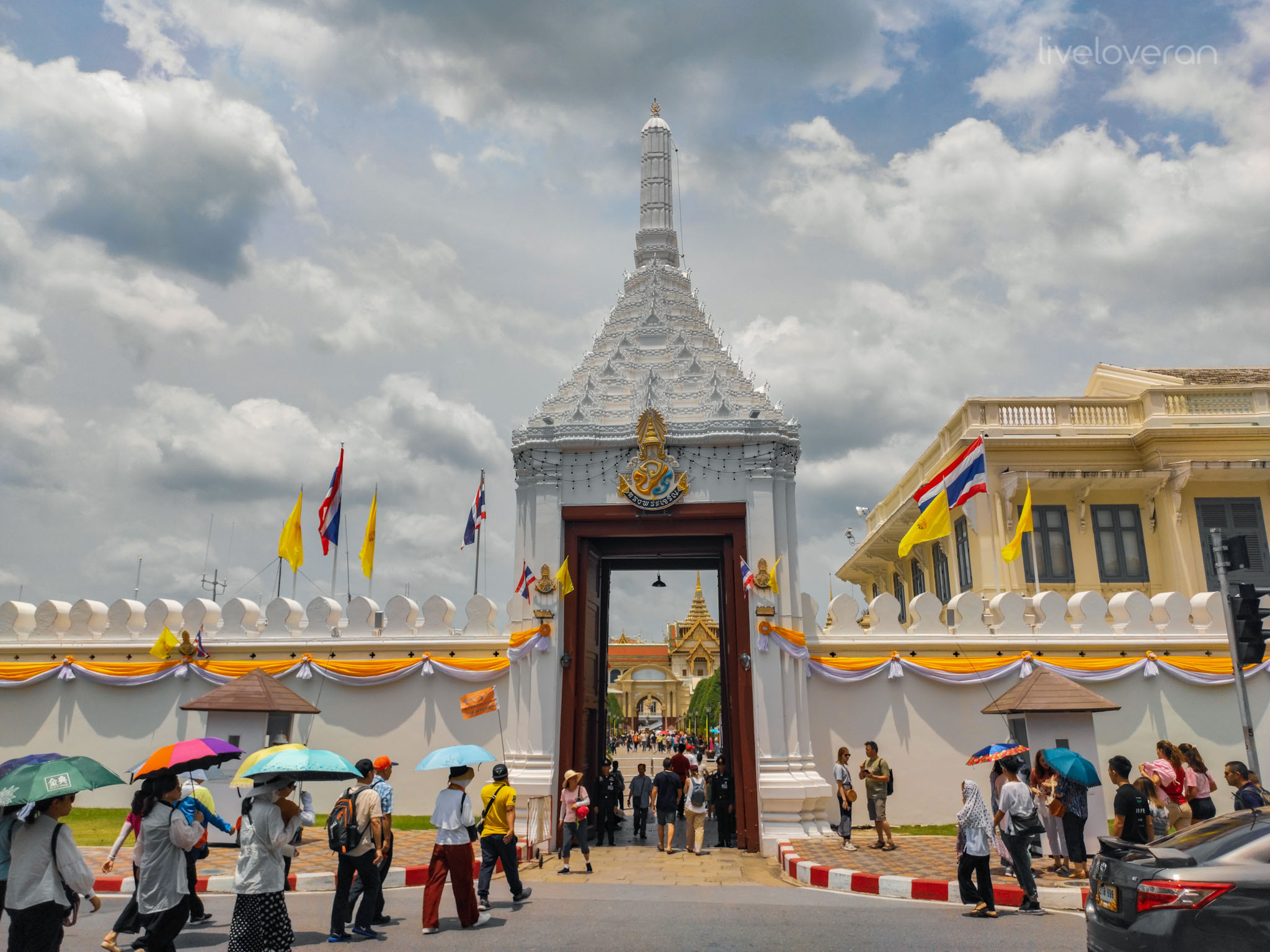 Once you arrive at the Grand Palace, you'll be surprised (or maybe not) at the throngs of people and buses waiting outside. Add that to the sweltering heat of Bangkok's July weather and the high entrance fee and… well, that pretty much sums up our reason for not going inside. 🙁
I know, I know, we're probably missing out on a lot. After all, the Grand Palace is one of the must-visit destinations in Bangkok, Thailand. But as I've said above, K and I are hoping to visit Bangkok again someday, maybe on a different month. You know, when it's a lot cooler and when there's not a lot of tourists, I guess?
Fast Facts About The Grand Palace
Full Name: Phra Borom Maha Ratcha Wang
Schedule: 08:30 – 15:30
Admission Fee: THB 500
Address: Na Phra Lan Rd, Khwaeng Phra Borom Maha Ratchawang, Khet Phra Nakhon, Bangkok 10200
A Brief History of The Grand Palace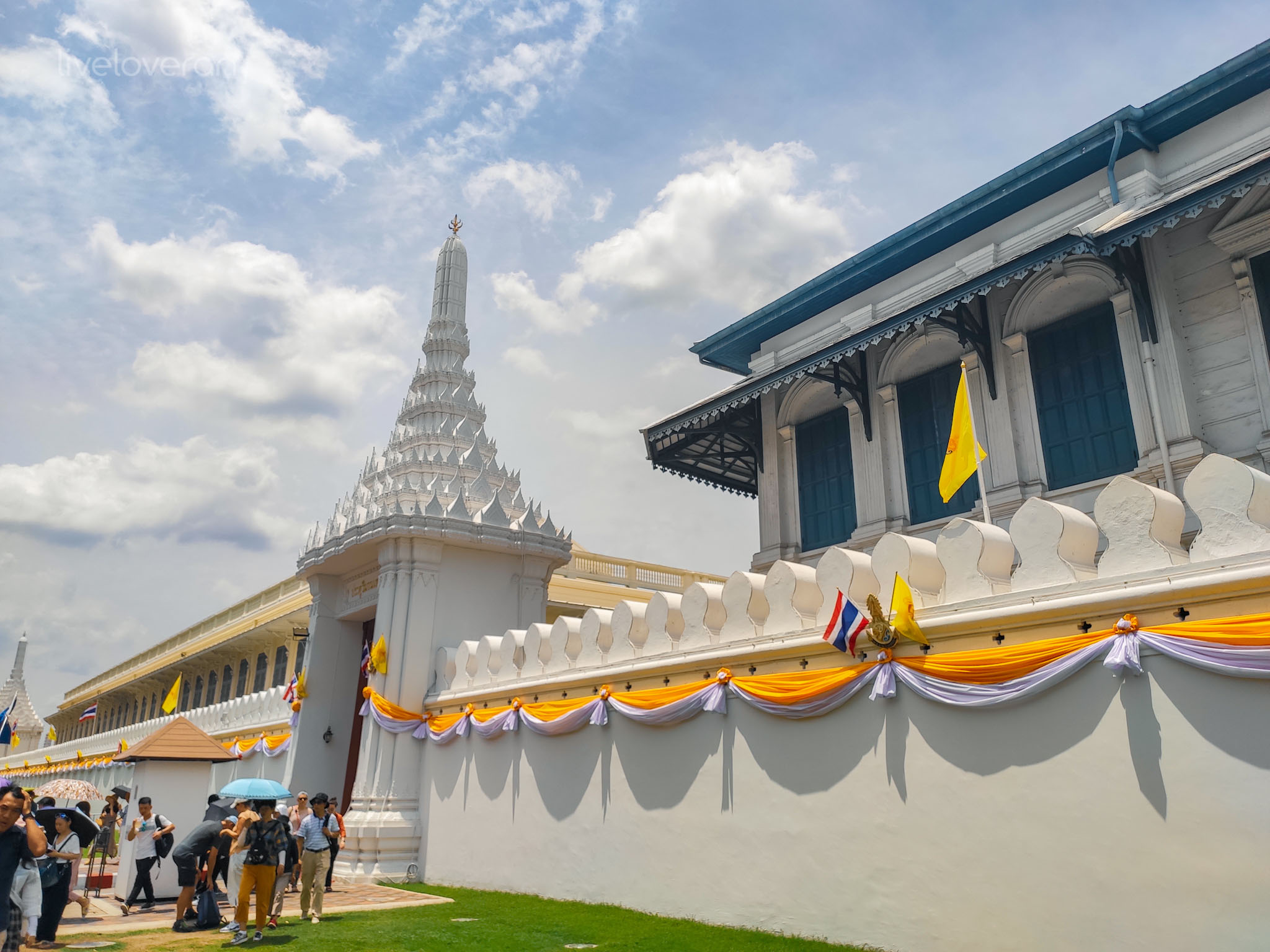 On May 6, 1782, King Rama I ordered the construction of the Grand Palace on the eastern side of the Chao Phraya River. The then-wooden palace was completed within a single month, with Rama I moving in by the second week of June 1782. Over the next three years, the king would order his subjects to find more durable and valuable materials for the palace.
In many ways, the Grand Palace greatly resembles Ayutthaya, the old capital city of ancient Siam. Whether this was done on purpose or not is unclear, but it's highly likely to be the case.
Although the Grand Palace is known as the official residence of Thailand's royal family since 1782, they actually haven't been living there for almost 100 years now, choosing instead to reside at the Dusit Palace also situated in Bangkok. Still, the Grand Palace remains to be the venue for official royal events such as royal ceremonies and state functions.
How To Go To The Grand Palace
Via Taxi or GrabCar
If you're coming from somewhere in downtown Bangkok, say, Siam Paragon, we don't recommend that you take the bus or the MRT. Either option just takes way too long, about 35-40 minutes, and costs almost as much as taking the taxi, anyway. Unless you're a solo traveler and have lots of time to spare, it's probably best to just pay for a taxi to take you directly to the Grand Palace.
Anyway, from Siam Paragon, the Grand Palace is just a quick 6-minute ride away. It's approximately 6 kilometers from the mall and the taxi/Grab fare just costs about ฿60 to ฿120.
Via Ferry
If you're coming from the other side of the Chao Phraya river, you can take the Chao Phraya Tourist Boat for ฿60, one way. Take the boat from any of the 7 stops and stop at the Tha Chang Pier. The Grand Palace is just a 5-minute (400m) walk from there.
Best Time To Visit The Grand Palace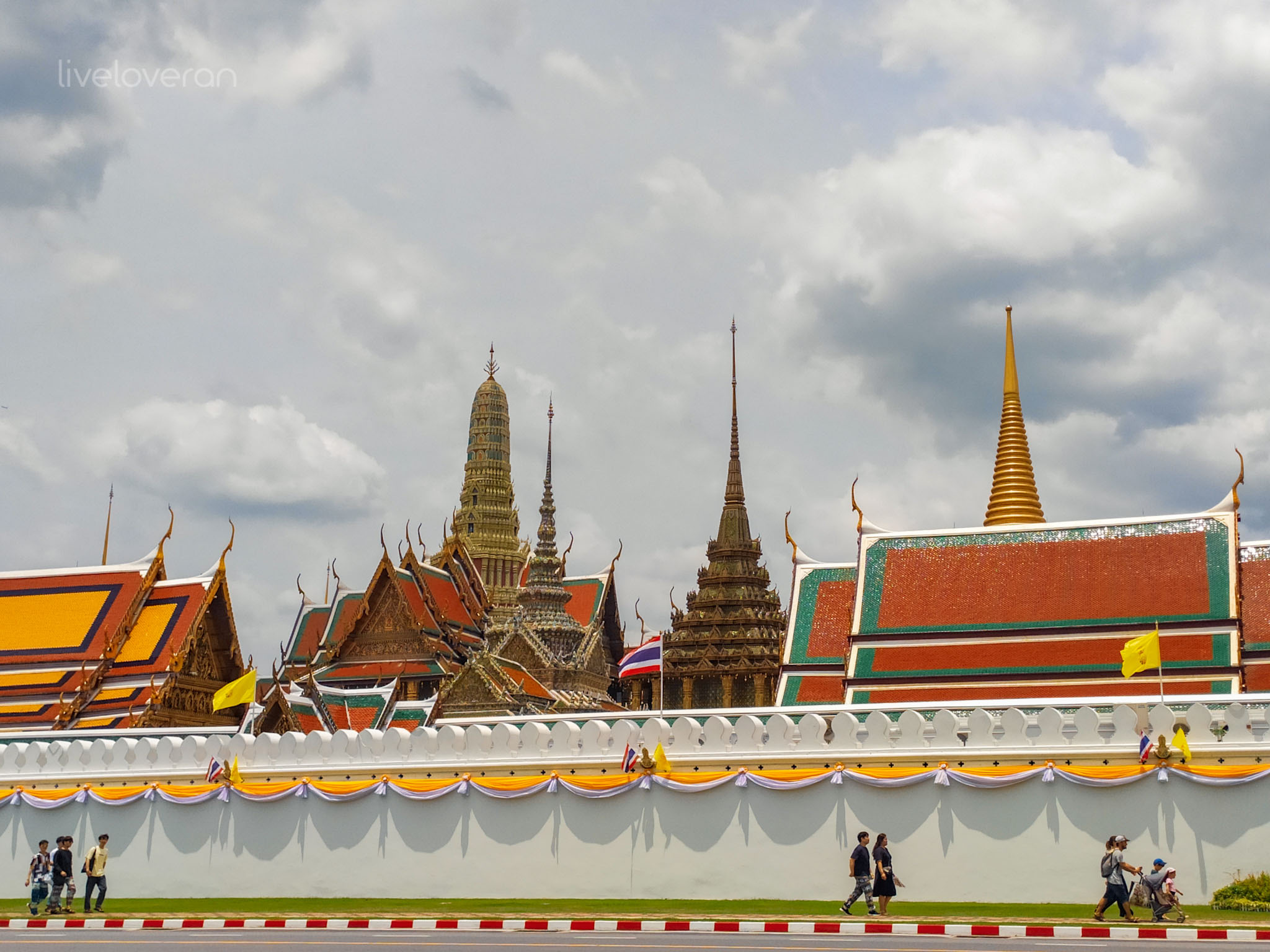 Like Wat Arun, the best time to visit the Grand Palace would be in the morning. The earlier, the better, as the palace is a much-loved destination for foreign tourists which makes it very crowded, very quick.
K and I arrived at the Grand Palace at around 12 noon, and boy, was it hot! I mean, we already had hesitations right from the start. The numerous tour buses that pulled up just as we arrived at the palace further exacerbated that.
In addition, according to all the reviews that we had read online, such scenes are almost a daily occurrence for the palace. One review even says that when they went, it was pretty impossible to walk around without bumping into somebody else. Sounds like an exaggeration, huh? However, based on actual statistics, the Grand Palace gets 10 million visitors every year, so we didn't want to take our chances, especially not in that weather. 35 degrees at midday? No thanks.
That said, I would still love to visit someday, maybe during a leaner, and hopefully cooler, season. I still do think that the Grand Palace is a must-see Thailand attraction for those who are keen on exploring Bangkok temples.
Wat Pho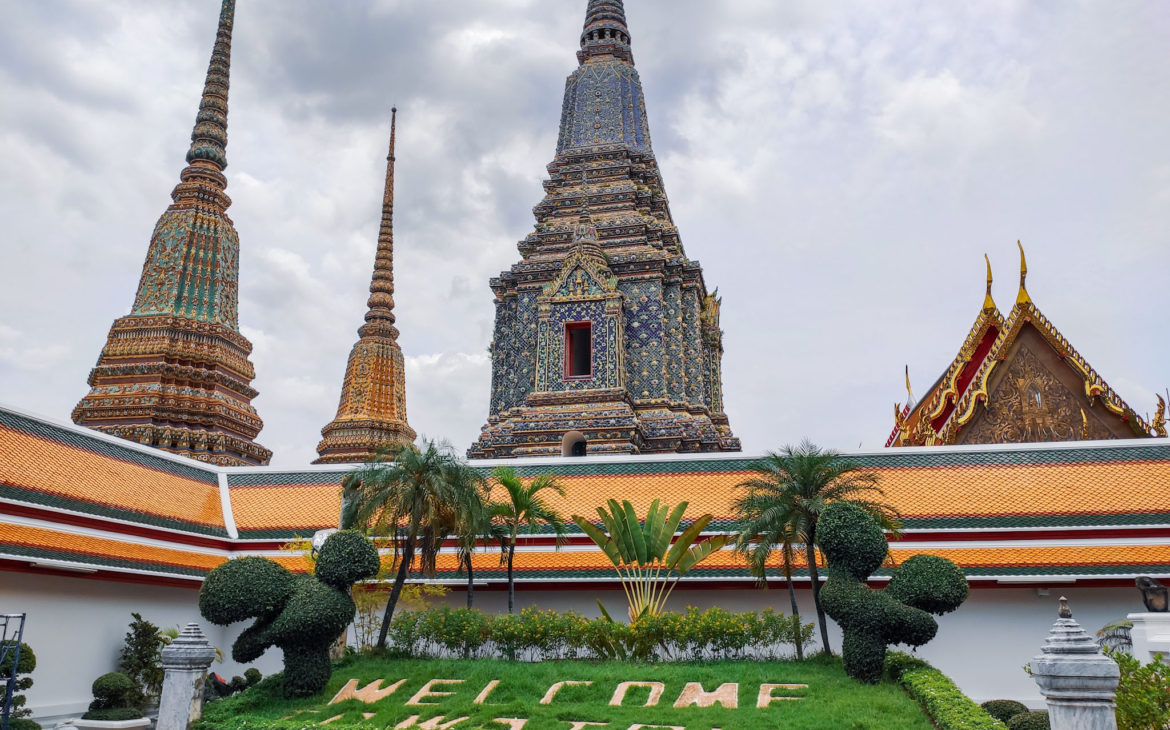 Covering roughly 8 hectares of land, Wat Pho is one of Bangkok's largest and oldest temples. But even that title pales in comparison to its main attraction: the large, golden statue of Buddha lying on its side, giving Wat Pho the nickname, "Temple of the Reclining Buddha".
While there are more than a thousand statues situated in the temple grounds, the reclining Buddha is one of the most special of them all. It stands (lies?) at 15 meters high and 46 meters long – definitely bigger than your average statue. All I can say is, you have to see it for yourself. Even if I write a thousand paragraphs about it, it's truly impossible to put into words just how magnificent it is.
Full Name: Wat Phra Chetuphon Wimon Mangkhalaram Rajwaramahawihan
Schedule: 08:00 – 17:30
Admission Fee: THB 200
Address: 2 Sanam Chai Rd, Khwaeng Phra Borom Maha Ratchawang, Khet Phra Nakhon, Bangkok 10200
A Brief History of Wat Pho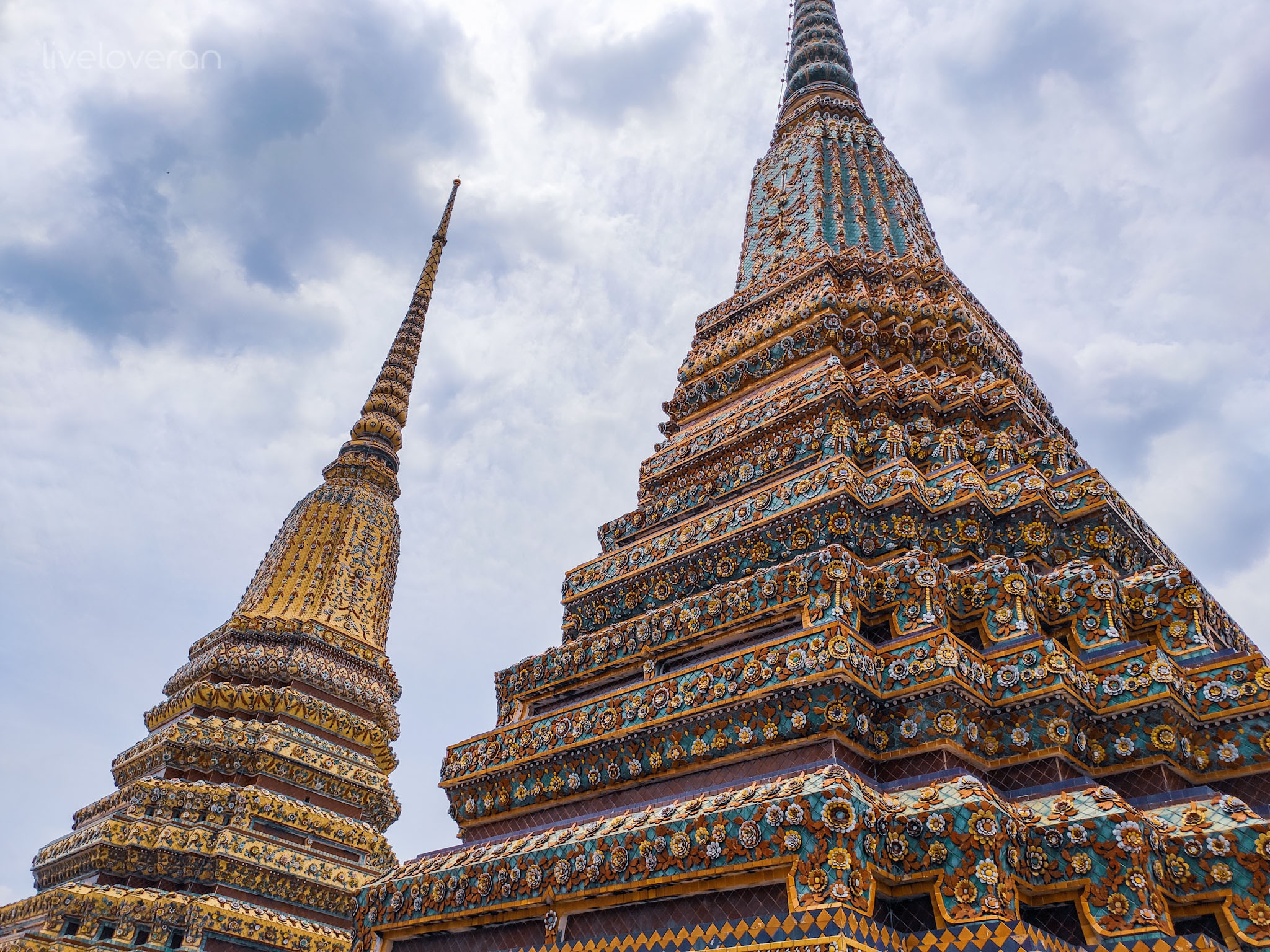 Little is known about Wat Pho's actual founding date or first founders, but Thai historians believe that the temple was renovated during the time of King Phetracha during the 1600s.
In 1788, King Rama I moved his royal palace next to the Chao Phraya River and proceeded to renovate all nearby sites, including Wat Pho and Wat Arun. It took almost a hundred years and three crown turnovers for the temple grounds to look the way they do today. Although minor repairs have been ongoing since the time of Rama I, no significant changes or renovations have been done on the site since Rama IV's reign from 1851 to 1868.
Currently, Wat Pho tops the list of Thailand's six first-class royal temples, mainly due to its proximity to the Grand Palace. Its name is derived from its older name, Wat Photaram, which in turn was taken from the Bodhi tree monastery in India where Buddha apparently attained enlightenment.
How To Go To Wat Pho
Via Taxi
Wat Pho is very close to the Grand Palace, so the fare costs pretty much the same if you're coming from downtown Bangkok. Expect to pay about ฿60-฿120 for the 5-10 minute ride to the temple.
Via Bus
This is the cheapest, but longest, way to get to Wat Pho if you're coming from Siam Paragon. However, if you're in the area, specifically MBK Center, it might be worth your while. Simply take the bus from MBK Center and get off at Tangtrongchit College. The ride costs roughly ฿30 and takes approximately 25 minutes. From there, you can then take the 7-minute-walk (605m) to Wat Pho. All in all, you'll need about 40 minutes of your time if you're planning to go this route.
Best Time To Visit Wat Pho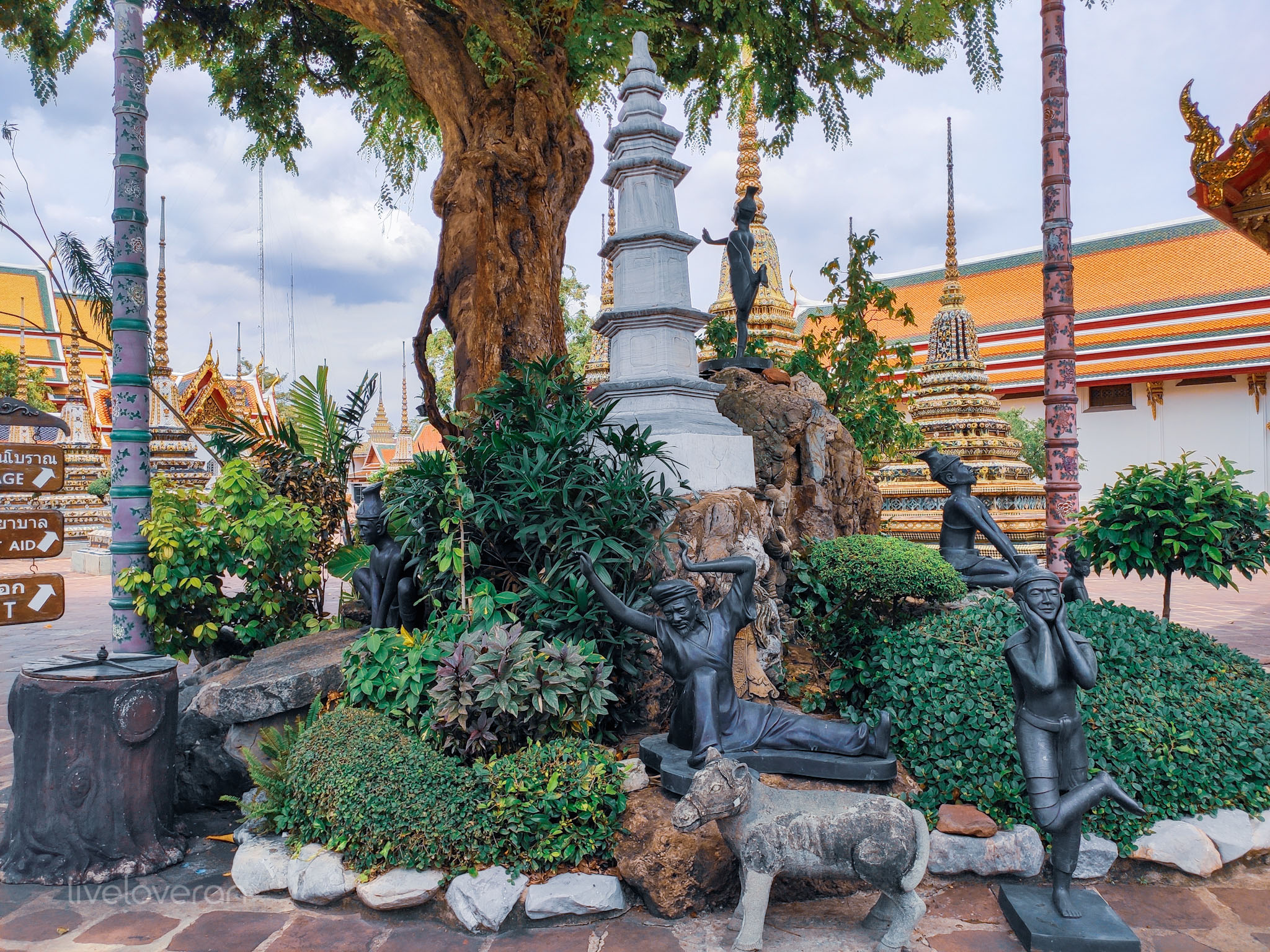 While the best time to visit Wat Pho is (surprise!) in the morning, it doesn't get as bad as the other temples during the afternoon, at least in terms of tourist density. As crazy as this sounds, we don't think it really matters what time to visit this temple, as Wat Pho isn't as 'exposed' and as crowded as the others on this list. And by that, we mean that it actually has a lot of shaded parts where people can just sit down and recuperate their energy. Plus, since it's already larger than most other temples, it doesn't feel as crowded, either.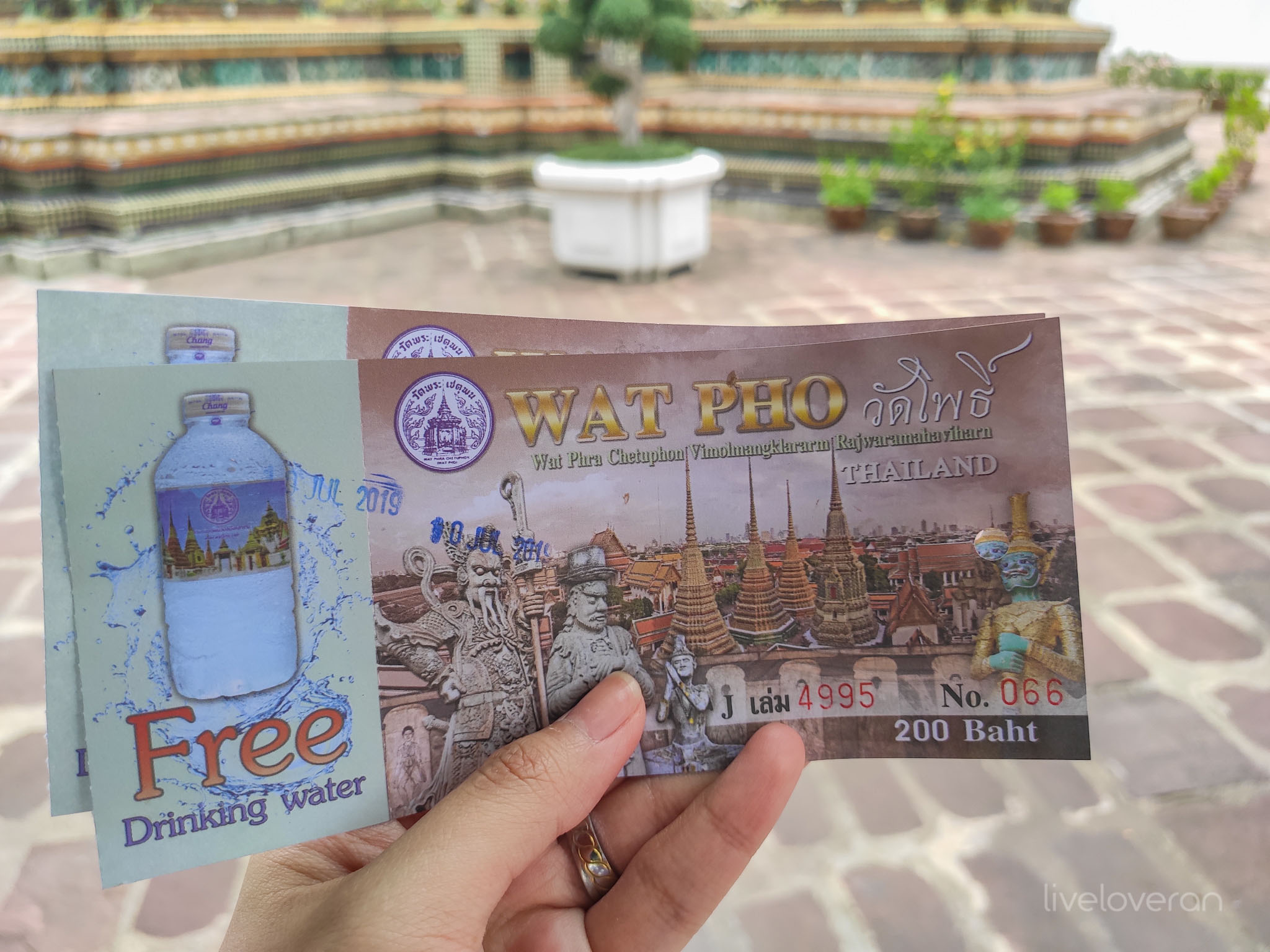 Wat Pho even gives out free bottles of water with every purchase of the temple, which is pretty kind of them. After all, exploring Bangkok temples isn't an easy task, especially if it's a temple as big as Wat Pho!
Have you visited these must-see Thailand destinations before? How about the temples themselves? Which one is your favorite? I'd love to hear about your own experiences and thoughts below!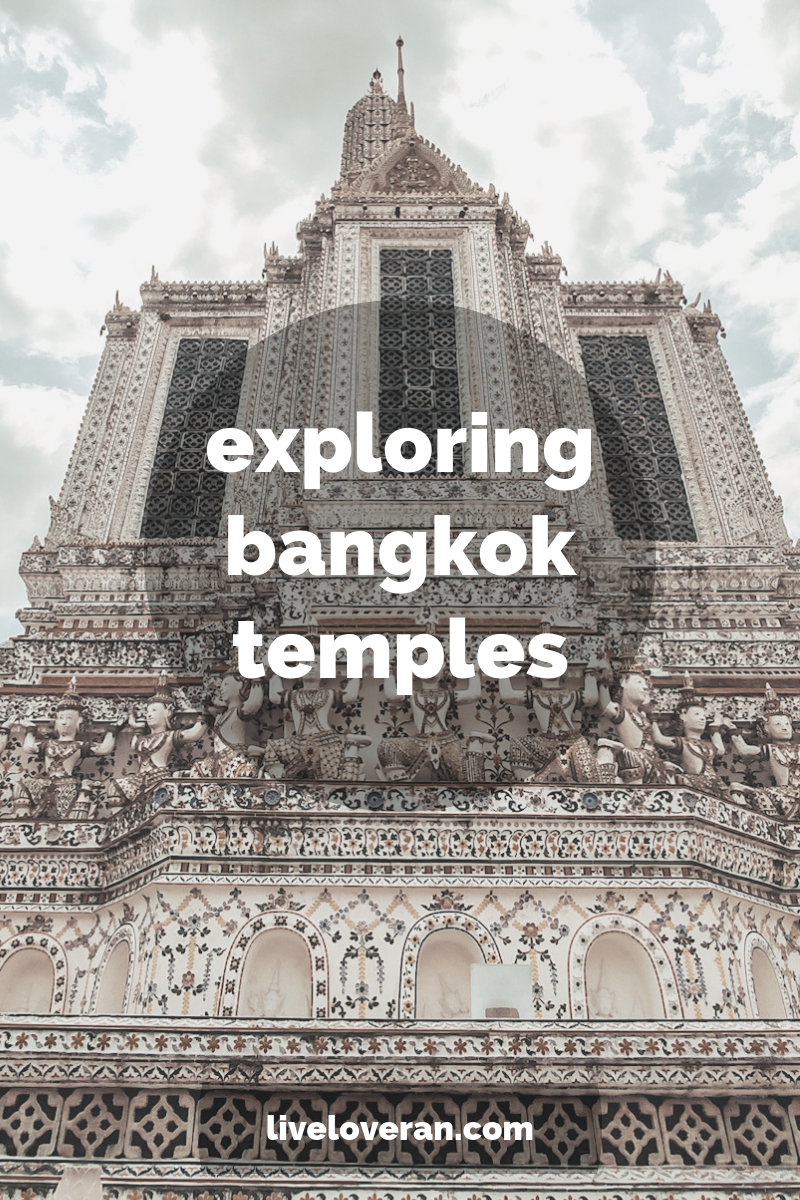 If you want to see more posts about Thailand, feel free to check out this tag!
'til our next adventure,